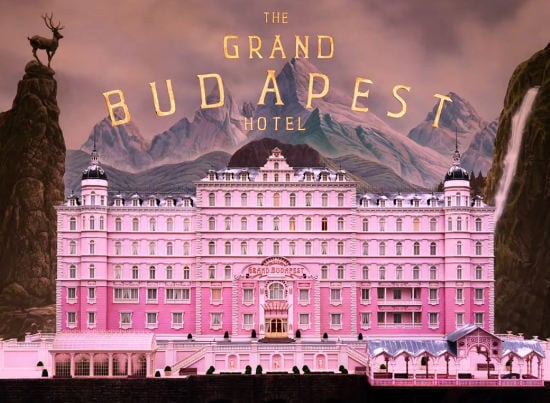 Video Screenshot
Wes Anderson's newest film, The Grand Budapest Hotel, has a little bit of everything – humor, tragedy, action, adventure, and of course, beautiful sets and costumes. Set in a fictional European country, the story involves a legendary hotel concierge, his trusted friend and lobby boy, and the theft of a priceless painting.
The film features a large ensemble cast, so rather than focusing on specific characters, I drew my inspiration from a few motifs that appear again and again in the film. Keep reading to learn more, and to see a few outfits inspired by The Grand Budapest Hotel:
The Hotel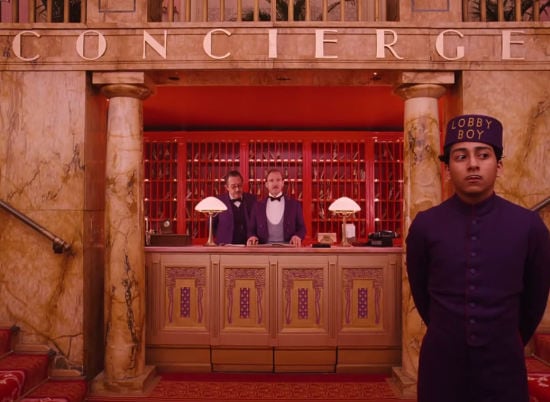 Video Screenshot
In its 1930s heyday, The Grand Budapest is an ornate hotel with a dedicated staff led by the dashing concierge, Monsieur Gustave. This outfit captures the hotel's professional polish and luxe details.
Start with a crisp purple blazer (like the hotel staff's uniforms) and black slacks, paired with a fun button-down shirt. A pair of red suede heels bring to mind the hotel's rich red carpets, while a black bowler bag is the perfect work-appropriate accessory. Lastly, instead of a real bowtie, try a pair of cute bow earrings.
Product Info: Blazer, Pants, Shirt, Heels, Bag, Earrings
Mendl's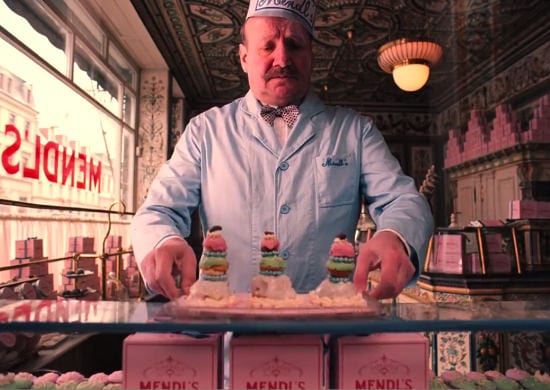 Video Screenshot
In the film, Mendl's is a bakery that makes the "Courtesan au Chocolat," a beautiful pastry that is always wrapped in their signature pink box (there are even instructions on how to make your own!). The bakery and its pastries are all in soft, pretty pastel colors, which can easily be translated into spring fashion.
For a look inspired by Mendl's, try a pink collared dress with light blue flats and a red belt. Add a pair of red earrings and a sweet yet simple cross-body bag. Polish it off with a lovely crown braid, just like the one Agatha, the baker's assistant, wears.
Product Info: Dress, Bag, Flats, Belt, Earrings | Hair Photo: ELLE
Boy with Apple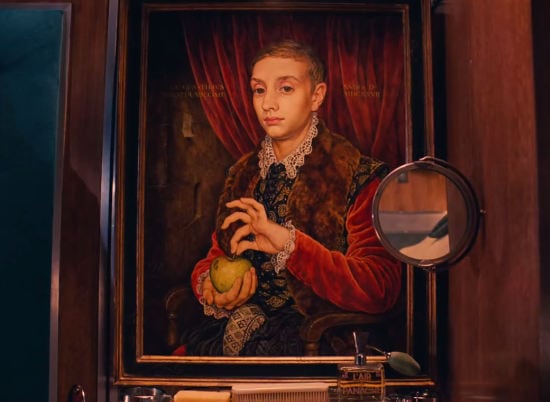 Video Screenshot
At the center of the plot is the famous (and utterly priceless) painting Boy with Apple, which many of the characters would like to get their hands on. If it still feels like winter where you are, try this luxe going-out look inspired by the painting.
Pair a red velvet dress with a faux fur vest and heeled oxfords, then add a gold apple charm necklace for a cute nod to the film. Finish off the ensemble with a few rings and a clutch in an elaborate Baroque print.
Product Info: Dress, Vest, Heels, Necklace, Bag, Rings
Thoughts?
Have you seen the film? Which look is your favorite? What other fashion inspiration posts would you like to see? Let us know in the comments!