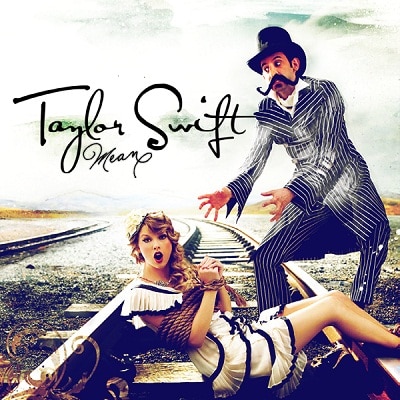 Taylor Swift has a knack for releasing hit songs, and one of her newer singles, "Mean", is no exception. The song's music video is particularly noteworthy; it has a vintage feel that makes it stand out from Taylor's past videos. Various scenes throughout the video are reminiscent of the early 20th century, focusing heavily on styles from the '20s and '30s.
Below, I've created three outfits inspired by Taylor Swift's "Mean" video for you to use as inspiration for your own unique looks.
Outfit 1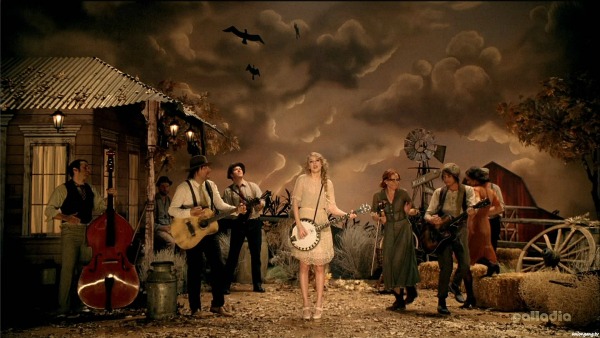 The first scene of the video is set to look like a farm house on the prairie. Taylor is dressed in a very vintage knee-length neutral-colored dress paired with tan Mary Jane heels as she strums on her banjo. Although this look might be a little too country for your personal taste, the key to achieving this look is focusing on understated appeal.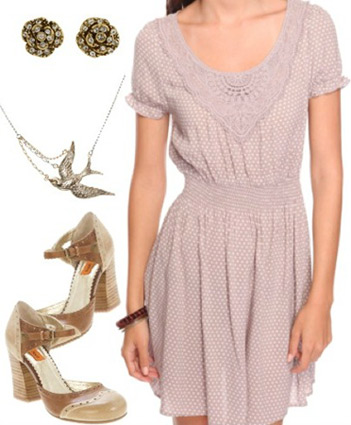 Dress, Shoes, Necklace, Earrings
For a more everyday look appropriate for class, try a vintage-inspired dress such as this one with lace detailing. Pair the frock with neutral Mary Jane pumps. Subtle touches like the bird necklace and rose earrings give the look an understated, muted vibe and finish the ensemble.
Outfit 2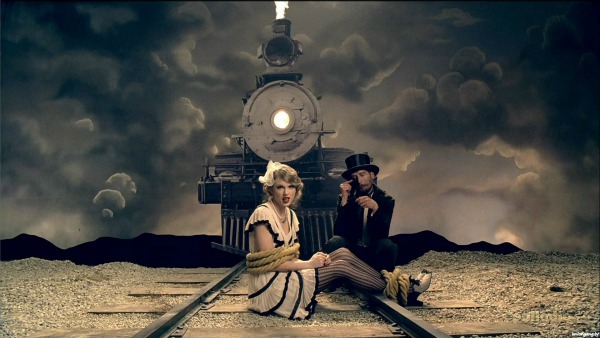 The next outfit change for Taylor is introduced in a scene centered around a train and railroad tracks. Taylor is literally tied up in ropes while wearing a very ruffly dress over striped tights. She adds classic oxfords, a floral headpiece, and a pearl statement necklace to complete the ensemble. This is the outfit featured on the single's album cover as well.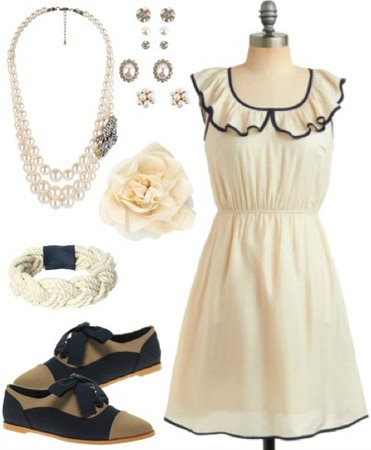 Dress, Shoes, Necklace, Bracelet, Earrings, Flower Clip
Even though you (thankfully) won't be tied up in ropes on railroad tracks, you can wear a cute ruffle dress like this one inspired by Taylor's. Pair it with vintage-inspired oxfords and add a flower clip to your hair for a completely put-together look. For jewelry, wear dainty pearl earrings to contrast with the chunky statement necklace. Add a fun rope bracelet as a playful hint to the scene in the video!
Outfit 3.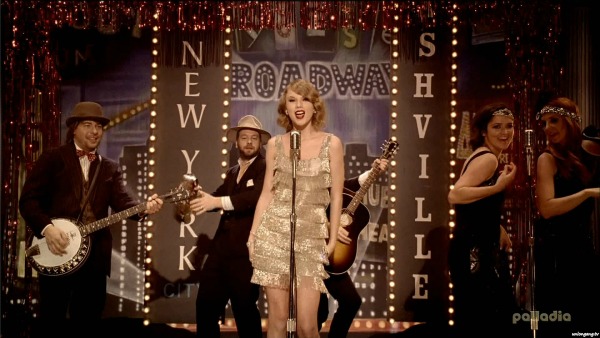 The final outfit Taylor wears in the video is glitzy to the max! Her metallic gold fringe dress highlights a '20s flapper appeal. Bright lights and flashing signs make the set look as though it was pulled from Broadway itself, making Miss Swift's outfit shine even more.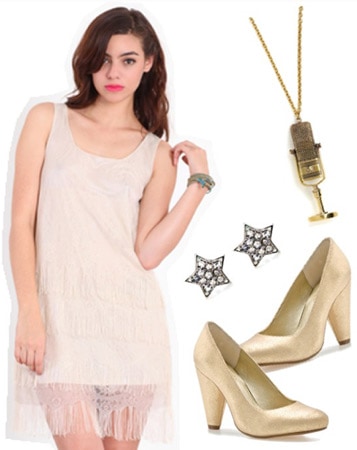 Dress, Shoes, Necklace, Earrings
For a dressier look inspired by the glitz of the final "Mean" look, try out this cream-colored, flapper-inspired fringe dress! Pair it with metallic pumps for a modern and fun look. As for accessories, less is more, so add a pair of star stud earrings and a cute microphone charm necklace. Whether you're on stage or on campus, you're sure to shine with this look!
What do you think?
Do you like Taylor Swift's new single? Do you like the music video? Are you inspired by vintage pieces from the '20s and '30s? Would you wear any of the looks? Which one is your favorite? Would you like to see more posts like this in the future? Let me know in the comments!