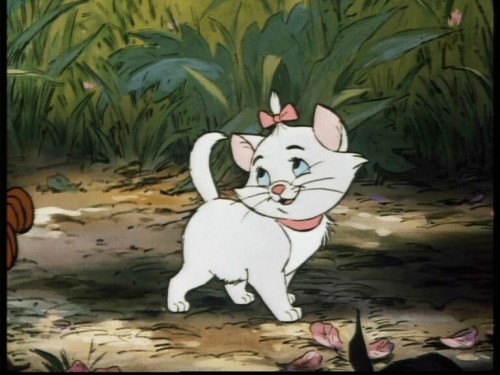 Continuing our ever-popular Disney fashion series, this week we have a new film for inspiration! Walt Disney's The Aristocats is undoubtedly among my favorite animated films. The charming storyline follows a family of felines whose plush life gets turned upside down when they are suddenly cat-napped and taken to far away and unfamiliar place. Luckily for Duchess and her three kittens, Marie, Toulouse, and Berlioz, they meet a street-smart alley cat named Thomas O'Malley who help them find their way back home.
In the movie, Marie is easily one of the most loveable characters. Her feminine charm is perfect inspiration for your own wardrobe – if you have a super girly sense of style, this is the post for you!
About Marie
She is a lady, and proud of it! Being the only girl in the family with two brothers, she constantly reminds everyone that she should be respected for the lady that she is.
She dons a huge pink bow collar and matching hair bow as a part of her signature look.
She can be a little bit sassy and prissy when it comes to dealing with her two brothers.
Now that you know a little bit more about this adorable character, scroll down to see the outfits I've put together inspired by her "look".
Outfit 1.
Dress, Flats, Necklace, Earrings, Bows
This sweet and girly look is purr-fect for channeling your inner Marie. Pair a simple white dress with pale pink ballet flats. Wear a collar necklace and heart stud earrings for accessories. And in your hair, put in a cute pink bow clip to complete the look!
Outfit 2.
Top, Skirt, Shoes, Necklace, Earrings
For a simple look inspired by Marie, wear a pastel-colored tee with a cream-toned, bow-accented skirt. Neutral colored pumps, bow earrings, and a pearl necklace combine to create a pretty and feminine outfit.
Outfit 3.
Wear a pretty pink bow-collar blouse with a pair of tan skinny jeans for an updated girly aesthetic. To finish off the ensemble, slip on a pair of metallic gold flats and put in a cute hair bow for a look Marie would be sure to approve of!
What do you think?
Have you seen The Aristocats? Do you have a girly sense of style? Would you wear any of the looks above? Which one is your favorite? Would you like to see more posts like these in the future? Let me know in the comments!