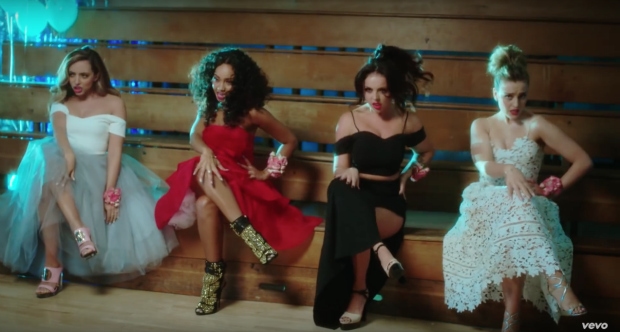 Girl-band Little Mix (consisting of members Jade Thirlwall, Perrie Edwards, Leigh-Anne Pinnock, and Jesy Nelson) JUST released a new music video for their song, "Love Me Like You", last week. The song is one that will be stuck in your head for the next month if you listen to it — but it's so worth it, because it's got a '50s style jive that makes you want to get up and dance!
The basic premise of the vid is that a school dance is coming up, and all the girls want to be asked by their dream dates. I'm sure all you College Fashion girls can relate 😉
Check out the music video below!
Little Mix - Love Me Like You (Official Video)
Here are three looks inspired by Little Mix's video:
1. Sha-la-la-la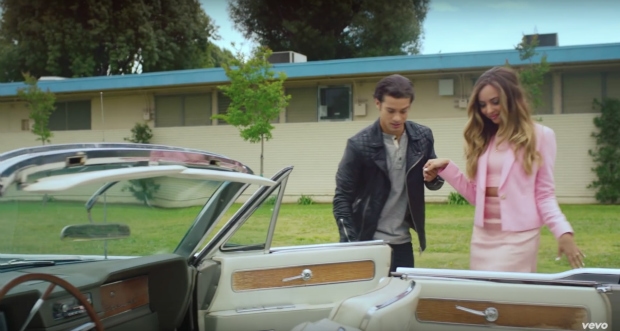 This scene encompasses my ideal date. Yes, leather-jacketed cutie, please do hold my hand while I get into the passenger's seat of your vintage convertible while dressed like a slightly more risqué Kate Middleton!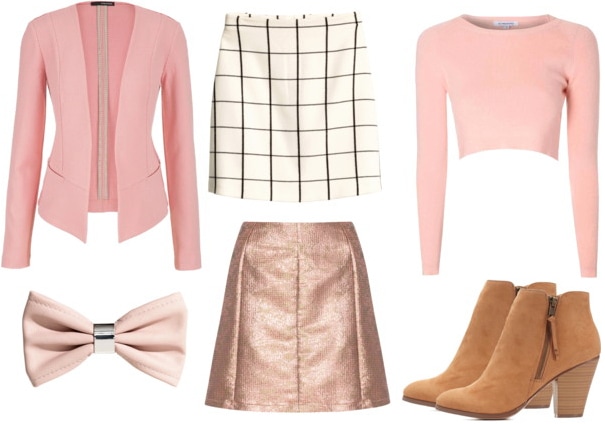 Product Info: Blazer // Cropped Sweater // Windowpane Skirt // Rose Gold Skirt // Booties // Hair Bow
There is a whole lot of pink goin' on in this look, so I tried to break it up a bit. Start with a blush-toned blazer layered over a crop top in the same color family. Don't worry, these hues don't have to match completely — slightly darker or lighter pinks will work just fine!
Next, pop on a fun mini skirt. Here are two equally charming options: In regard to the top skirt, I love the trendiness of the windowpane pattern this year. The other skirt is glitzy and girly, repping the rose gold trend that's gotten a little out of control this season (anyone else coveting the rose gold iPhone 6s?). Clip a cute pink bow into your hair and slide on a pair of camel booties to complete the look.
2. I Tried To Find Somebody New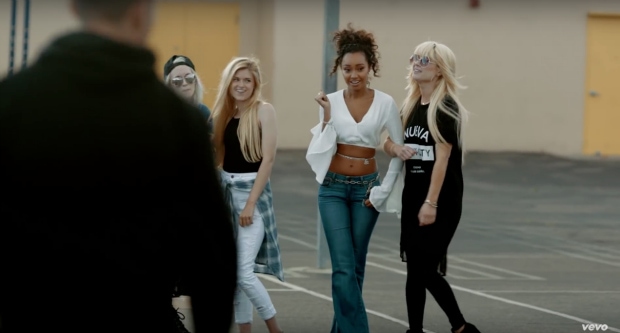 This look takes me back to the early 2000s (perhaps it's the silver chain belt she's wearing). Regardless, I've really missed flare jeans and bellbottoms being trendy, so I am eternally thankful to the '70s and '00s style gods for bringing them back.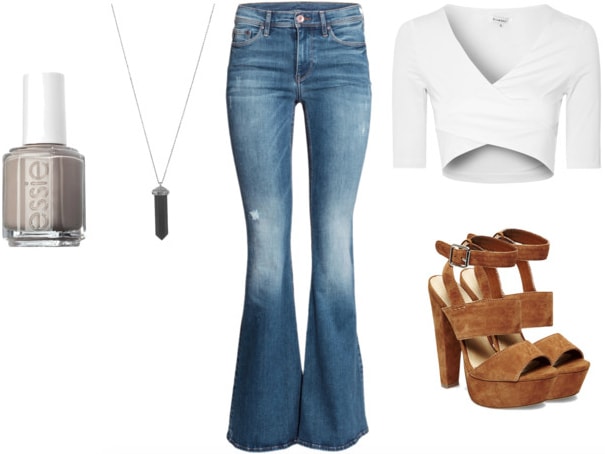 Product Info: Jeans // Wrap Top // Sandals // Pendant // Nail Polish
My favorite types of flare jeans are those that are fitted through the thigh and don't start to "bell out" until below the knee. This helps keep everything in neat proportion and also allows you the option of wearing a looser blouse on top without looking like you're swimming in material!
Pair the jeans with a white crop top. I love the way this one wraps around — think grown-up ballet class. Slip on a pair of '70s-esque suede heels and a crystal pendant to add a little interest. Finally, swipe on some neutral-toned nail polish (Essie's "Sand Tropez" is a beautiful option) to really pull the look together.
3. They Can't Love Me Like You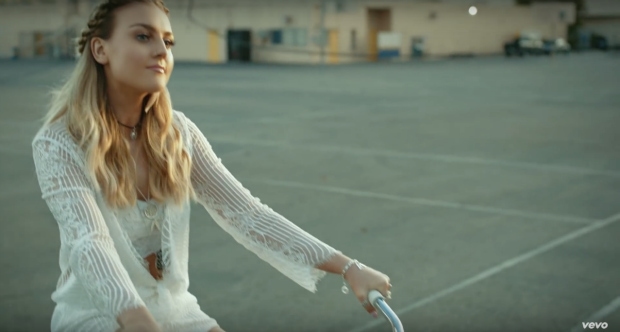 This soft bohemian look is to die for. From the pretty braids to the lacy paneling of the romper, this all-white ensemble is gorgeous… just don't fall off your bike while staring at your crush like Perrie did.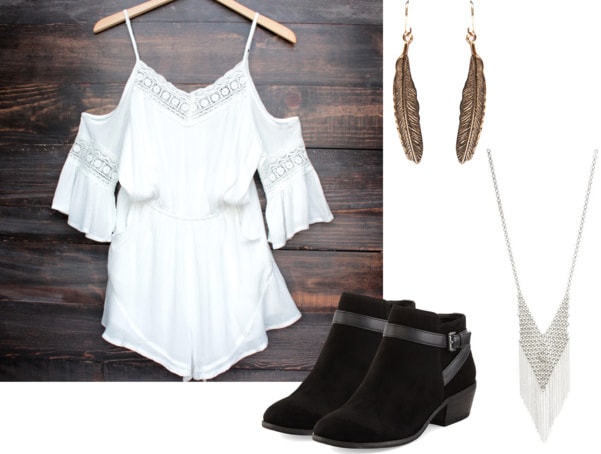 Product Info: Romper // Booties // Earrings // Necklace
If it's still warm enough where you are, try styling a romper for fall. (Here in Denver, it's still in the 80-degree range!) Give the outfit a little edge by mixing metals: I've picked out a pair of bronze-y feather earrings and a silver chainmail bib necklace. Wearing different metals in one outfit is a low-effort way to look on-trend for this season! Finish with a simple pair of flat black ankle boots.
Your Turn!
Do you like Little Mix's music? I'm a newer fan myself, but I love what I've listened to so far! Which look is your favorite? As always, let me know by leaving a comment below!