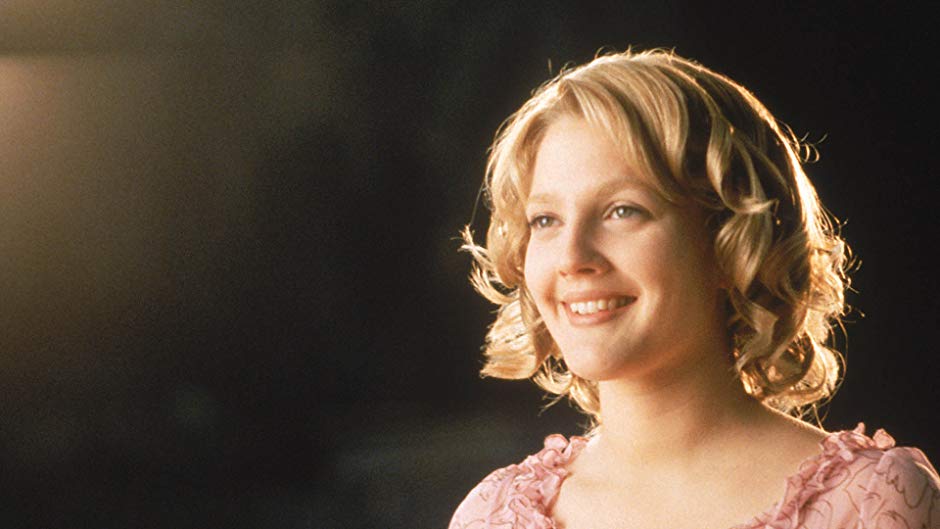 The '90s are back, and we've got you covered if you want to channel the decade in your wardrobe, or just learn a little something about its fashion stars. Previously, I listed the nine '90s fashion icons you need to know about, and this week I'm breaking down the first from that list. Today I'm covering the one, the only, the Hollywood legend Drew Barrymore.
Drew Barrymore Biography
Drew comes from a Hollywood dynasty family, so acting is in her blood. (Seriously, this girl's family has been in the biz since her great-grandparents.) Drew's godfather is acclaimed director Steven Spielberg, and one of her godmothers is the famous actress Sophia Loren.
Drew rose to stardom at an extremely early age. In 1982, at just 7 years old, she starred in E.T. the Extraterrestrial. Stealing hearts as the adorable little Gertie, the role — only her second ever — cemented her status in Hollywood as one to be watched.
And while being a successful child actress was a dream for Drew, her childhood (which she depicts in her 1991 memoir Little Girl Lost) became a wild spectacle that played out in public. Drew's mother took her along to night clubs as a little girl, and Drew began drinking and taking drugs when she was still in elementary school. By age 12, she had already become an addict. When she was just 13, she had an extended stay at a rehabilitation hospital to be treated for drug and alcohol addiction.
She became legally emancipated from her parents at age 14 and moved out on her own. Her Hollywood career had never looked more iffy, but being the warrior that she is, Drew managed to turn things around.
As a teen in the '90s, Drew starred in a string of movies as the "bad girl," merging her public and private images and becoming the ultimate tabloid cover girl. But never one to be undermined by headlines, Drew earned a Golden Globe nomination in 1992 for her performance in Guncrazy. And by 1995, at just 20 years old, she had co-founded a production company that would soon make one of her most famous and beloved movies of all time, 1999's Never Been Kissed.
Drew was just a teenager for most of the '90s, but she'd already experienced more success — and more tragedy — than most do in a lifetime. Still, this girl boss never let anything get in the way of her dreams or her sense of style. Drew has an unparalleled sense of self, having completely reformed her image and taken one of the toughest industries out there by storm. Her style has always reflected her cool, independent, and courageous attitude.
Drew Barrymore's '90s Style
Here are some tips on how you can get Drew Barrymore's style from the '90s:
Get yourself a stylish leather (or faux leather) jacket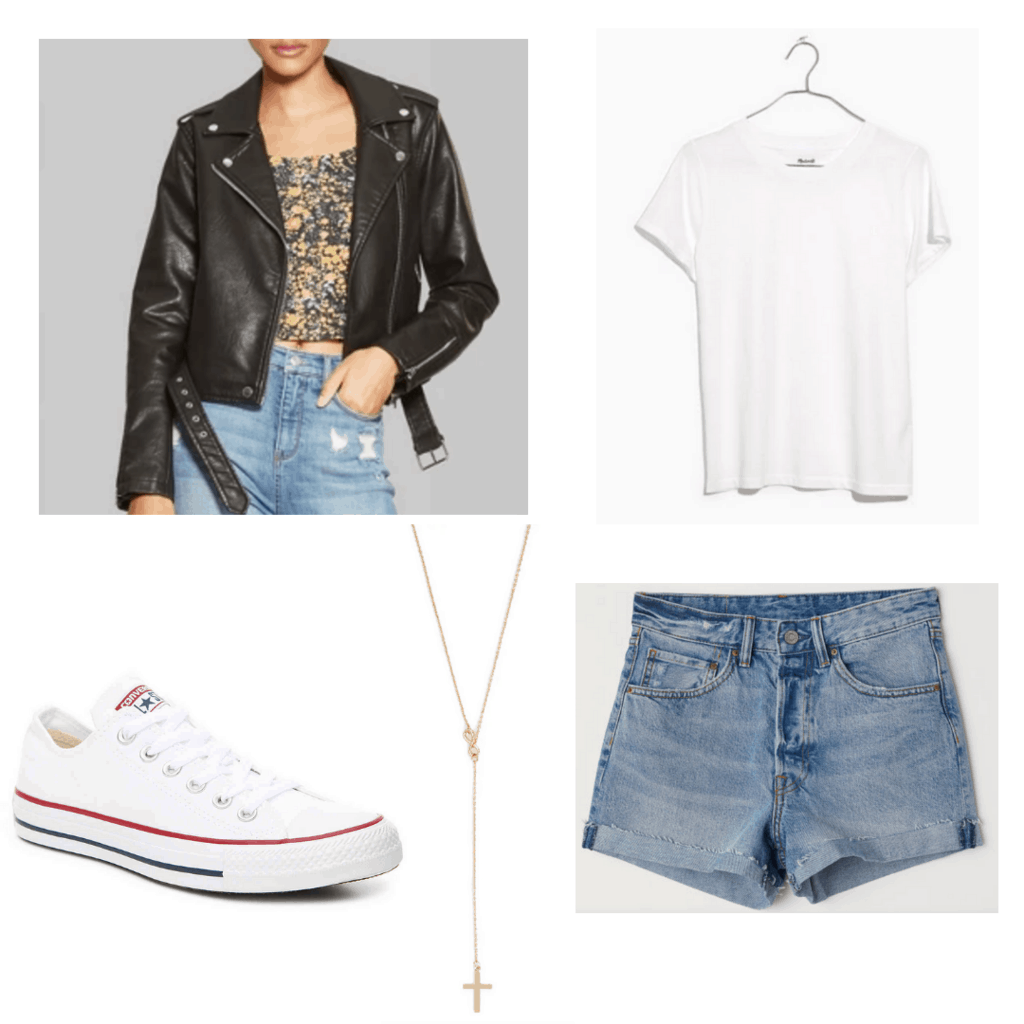 Products: Jacket – Target, Shirt – Madewell, Shoes – Amazon, Necklace – Forever 21, Shorts – H&M
The classic greaser aesthetic has been popular since the '50s (think Danny Zuko and Elvis), but as the decades went on, we saw women adopt the trendy style, too. A good pleather or leather jacket will last you ages, and you can be guaranteed it won't be out of style by then. When styling, stick to the basics — white t-shirts, jeans, simple accessories. That's what Drew did! She sported this style dozens of times, and it helped anchor her rebel image in the media.
You don't want to go overboard with leather. Even if you prefer a baggier look, make sure your jacket isn't not too wide or too long. Otherwise you might end up with something that's more The Matrix than Drew Barrymore. And though some starlets of the '90s were rocking leather-on-leather, it's a look that might feel a little dated today, and not something Drew would have worn around.
Pull out the denim!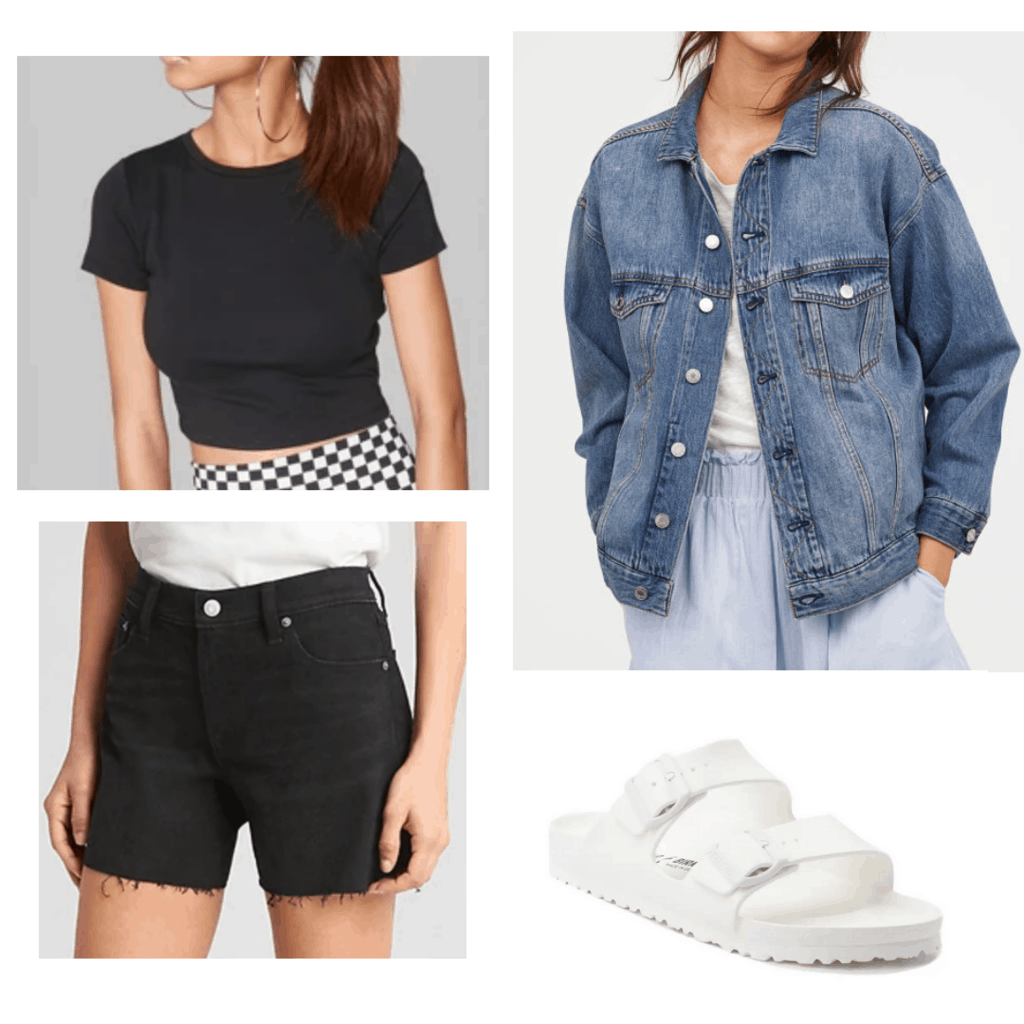 Products: Shirt – Target, Jacket – H&M, Shorts – The Gap, Shoes – Journeys
Drew's love for denim kept her looking casual and cool throughout the decade. Distressed jeans were kind of a big deal (as they are now), and Drew knew how to pull off torn baggy pants.
The denim jacket is and was a staple every young woman should have in her closet. It instantly adds style to any outfit. If you want to channel the '90s with your jacket, try to look for one that is a little bit baggy and oversized. Cropped or fitted jackets are cute, and you could totally pull off this look with one, but Drew definitely preferred the baggier styles of the day.
If you decide to go for a double-denim look, don't go for skinny jeans/shorts. I know, we all have our favorite pair. But skinnies weren't the style back in the '90s. Challenge yourself to rock new shapes and silhouettes, whether they be mom shorts or bell-bottoms, and you may end up with a never favorite pair of jeans.
Play around with dresses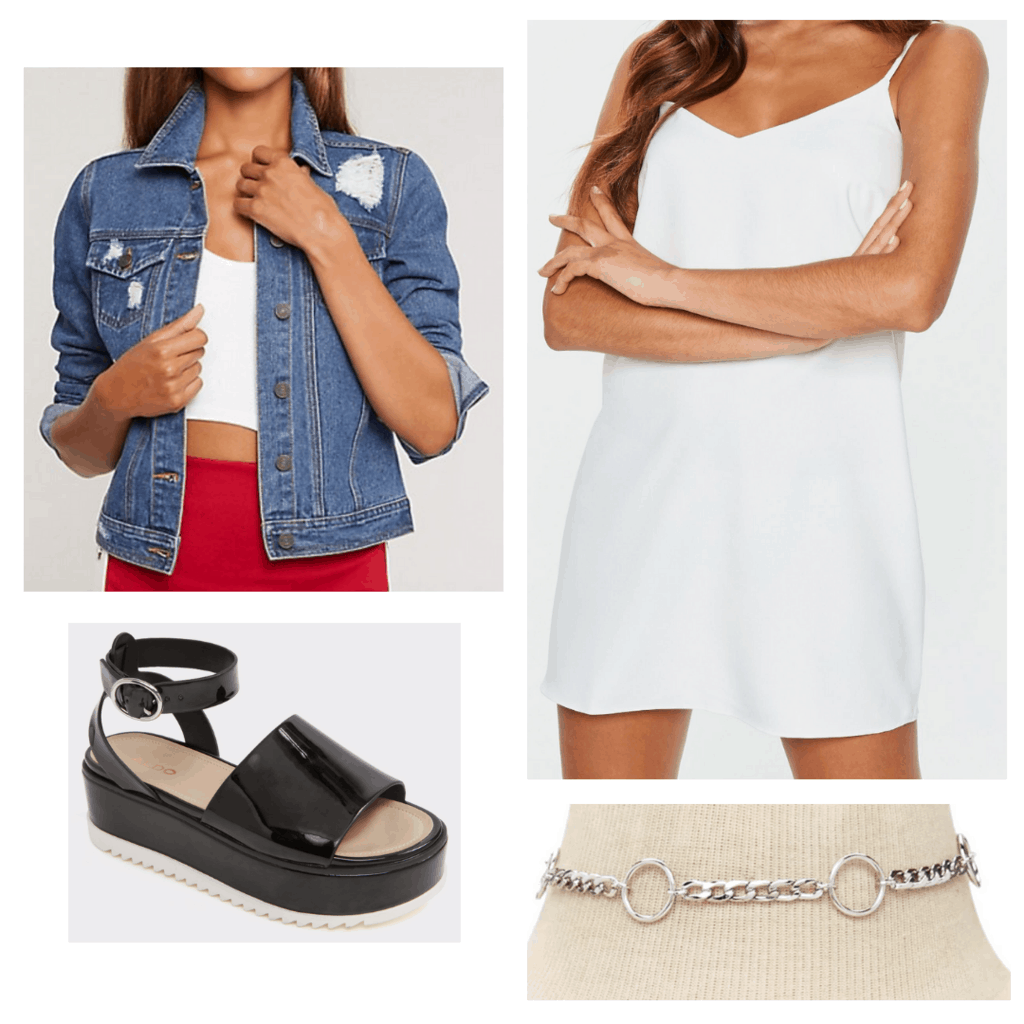 Products: Jacket – Charlotte Russe, Dress – Missguided, Shoes – Aldo, Necklace – Forever 21
Drew's '90s style was known for being edgy and baggy, but she could also be seen sporting gorgeous dresses both on and off the red carpets. She wasn't limited to a single look.
Fashion should be experimental, so even if you're used to wearing more casual, two-piece outfits, try out a flirty dress and see if it's your thing! And if you're already obsessed with dresses, then pull out your best slip dress! The sexy shape was the silhouette of the '90s and one Drew loved.
Chokers and platform shoes are back in, but if you want something else, you could also try to modernize your outfit with more current accessories. They can make your look appear more timeless, and the contrast in aesthetics will make for an even more interesting outfit.
What do you think of Drew Barrymore's '90s style?
She's still killing it today! But there's something about her older style that still holds up. What's your favorite Drew Barrymore movie? Let us know in the comments!
And for more information on Drew Barrymore, check out these sources: