L-R: Lord and Taylor, Dillards, Nordstrom Rack
Finally! The skinny jean alternative we have all been searching for has arrived. Fringe jeans have hit the mainstream we should all be so grateful for that fact. Of course, basic skinnies are our favorite tried and true jean look, but it's impossible to deny how adorable the fringe jean trend is.
With warmer weather slowly but surely approaching, this ankle baring jean is a great way to switch up your denim wardrobe for Spring. So read on to see some ways to style fringed jeans for class and a night out.
Fringed Jeans: Class
Products: Top – Banana Republic, Jeans – Topshop, Jacket – H&M, Bag – Selfridges, Shoes – Mindy Maes Market, Bandana – Claire's
A really good pair of jeans can cost a bit more than you'd usually spend, but these fringed jeans from Topshop are a great investment piece that will last you forever. Plus you can wear them with almost anything! They're especially good if you already have a boho-chic sense of style.
This classic brown suede jacket thrown over a nautical sweater is definitely something Serena Van der Woodsen would wear. Mix up your prints by adding some cute leopard flats to the look as well. A simple red bandana is another great nautical touch to add to this outfit.
Fringed Jeans: Night Out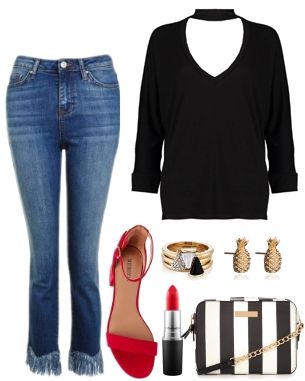 Products: Top – Boohoo, Jeans – Topshop, Shoes – Target, Bag – Very, Lipstick – MAC, Earrings – the Dressing Room, Ring – Buckley London
You'll find that it's simple to make fringed jeans work for a night out too!
This black choker neck top is a great choice for a casual night out with friends. Add some red heels and lipstick for a more sultry look as you head out on the town. A striped black crossbody bag will hold all your essentials plus it will look amazing with the red features of this outfit.
What do you think?
Do you like the the fringed jeans trend? Would you wear them to class? How about a night out! Talk to me in the comments below!