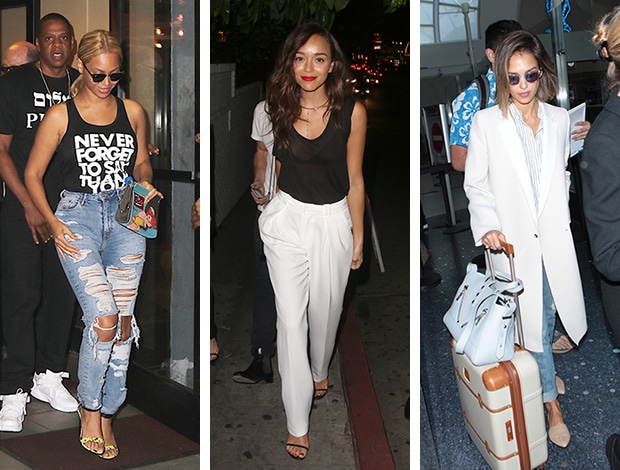 Every week, we scour the web to find the best celebrity street style looks and recreate them on a budget.
This week, we loved Beyoncé's distressed jeans and tank, Ashley Madekwe's fancy night-out look, and Jessica Alba's travel-ready ensemble. Want to get their looks for less? Keep on reading.
Look 1: Beyoncé's Ripped Jeans & Message Tank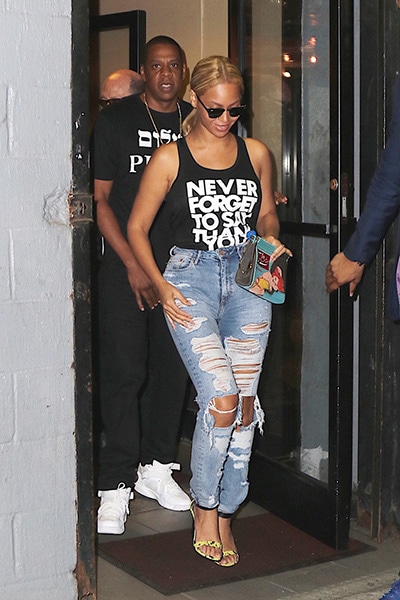 Beyoncé is always a trendsetter and she turned heads this week by pairing ripped jeans, neon heels, and a message tank. (It reads "Never forget to say thank you.")
The best part about this look? Bey is actually wearing something affordable! Her jeans are H&M, and though they're currently listed as sold out (sob!), they will likely return. Check your local H&M if you need them ASAP.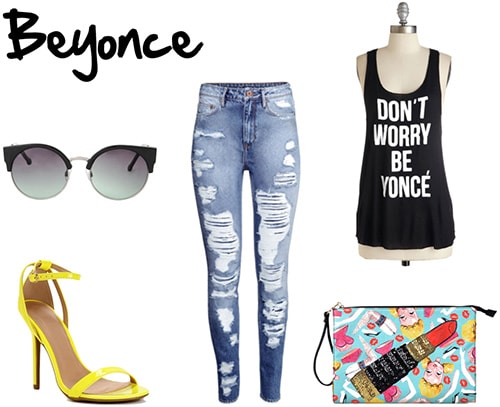 Products: Sunglasses, Heels, Jeans, Tank, Clutch
Beyoncé's look centers around her statement-making H&M jeans. Balance out the attention-grabbing denim with a monochrome message tank – this one gives a direct nod to the queen.
Now it's time for extras. Neon yellow heels add a pop of color, as does a graphic-printed clutch – this one mirrors Beyoncé's with its color palette. Retro-styled sunglasses complete the look.
Look 2: Ashley Madekwe's Polished & Relaxed Night-Out Look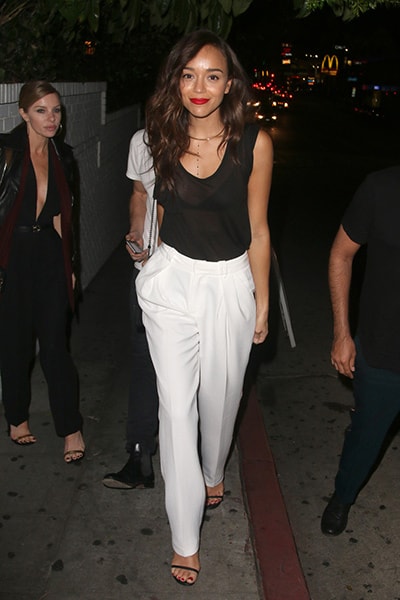 While we featured Ashley Madekwe in last week's celebrity street style post, we had to feature her again for this chic night-out look, consisting of white pleated trousers, a scoop-neck tank, and strappy heels.
Although Ashley's pieces are expensive (hi, Saint Laurent shoes), it's easy to copy her look on a student budget.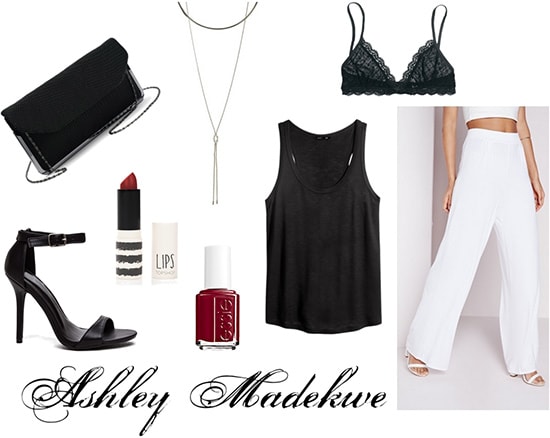 Products: Bag, Necklace, Heels, Lipstick, Polish, Bra, Tank, Trousers
As with Beyoncé's look above, this outfit centers around the pants. A white wide-leg trouser looks elegant and on-trend when paired with a slightly sheer tank and black triangle bra.
Add sass to the look with accessories and makeup. A chain strap bag stores essentials like red lipstick. (This shade is Topshop, though Ashley loves MAC's Ruby Woo.) Finish things off with strappy heels, a layered necklace, and burgundy polish on your toes.
Look 3: Jessica Alba's Chic Travel Ensemble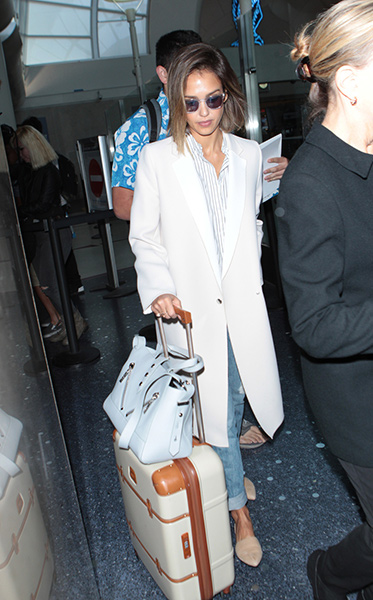 Jessica Alba is one busy woman, as an actress, mother, and head of the billion-dollar Honest company. As such, she has travel style down to a science.
Jessica was spotted at LAX this week in a comfy yet polished travel look. With finals ending soon, many of us are taking summer trips, so this outfit is perfect airport inspiration.
Products: Coat, Sunglasses, Jeans, Shirt, Bag, Flats
To recreate Jessica's look, you need a statement coat. This one, which costs less than $40, mimics her white one for a fraction of the price.
Keep things easy-going and comfy for a flight by pairing boyfriend jeans with a relaxed striped shirt – this one from Zara is just like Jessica's, except with a bolder stripe.
This look only needs three accessories. Throw on some d'orsay flats and classic aviators, then grab a pastel-hued satchel (and your luggage) and you'll be ready to jet off to Paris – or your hometown.
What do you think?
Which celebrity's street style look is your favorite? Which outfit would you be most likely to wear? Leave a comment and let us know!