From the costumes to the set, from the words of the script to the movements of the actors, everything on stage tells a story. Stage-Inspired Fashion explores ways to add a little dramatic flair to your style.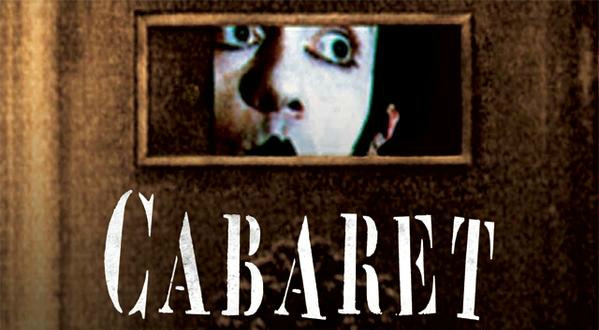 We're taking a look at this scary show just in time for Halloween! Cabaret isn't a horror story, exactly, but its ending remains the most chilling piece of theatre I have ever seen.
Behind the Scenes
John Kander and Fred Ebb, the team behind Chicago, adapted Cabaret from Goodbye to Berlin by Christopher Isherwood and I Am A Camera by John Van Druten. It takes place in and around the seedy Kit Kat Klub in 1931 Berlin and features a memorable cast of characters, including Sally Bowles, a British cabaret singer; Cliff Bradshaw, an American writer; their landlady and her Jewish suitor; the performers in the Kit Kat Klub; and the omnipresent Master of Ceremonies.
The structure of the show is unusual: there are traditional scenes with songs and dialogue, and then there are numbers performed by the emcee and the cabaret boys and girls that provide commentary on those scenes and on the atmosphere of Berlin. It's satirical, silly, and sexual — and yet, it is also haunting. As the Nazis rise to power, the characters find themselves in more dangerous situations, resorting to more desperate measures.
These outfits were inspired by the 1998 and 2014 Broadway revivals featuring Alan Cumming. The movie with Joel Grey and Liza Minnelli is definitely creepy, but these versions retain the creepiness and kick up the sleaziness!
It was a challenge to create outfits that stayed true to the spirit of the show but didn't look too much like costumes, because I like to put together outfits that I would actually wear. I ended up creating three outfits inspired by the performers at the Kit Kat Klub. Keep reading to see them all!
Sally Bowles
Life is a cabaret, old chum, Come to the cabaret!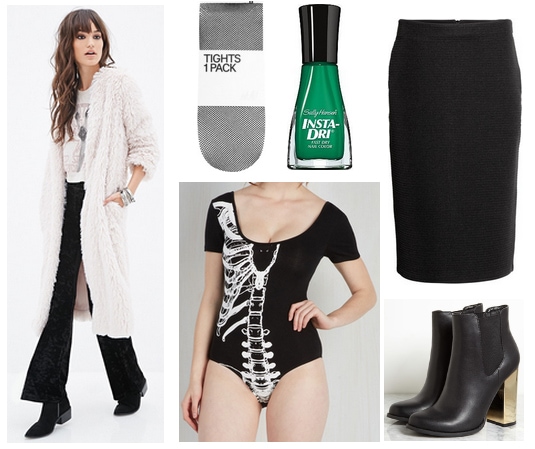 Products: Bodysuit, Skirt, Coat, Tights, Boots, Nail Polish
Look like the toast of Mayfair in this black bodysuit and pencil skirt. The skeleton print represents Sally's combination of toughness and vulnerability — the image looks edgy, but also looks like an X-ray, allowing people to metaphorically see right through its wearer.
Hint at her Kit Kat Klub costumes with black fishnets, and add the touches of luxury that she craves with gold-heeled chelsea boots and a long faux fur coat. To make your outfit "perfectly marvelous," paint your fingernails bright emerald green.
The Emcee
Glücklich zu sehen; je suis enchanté. Happy to see you! Bleibe, reste, stay!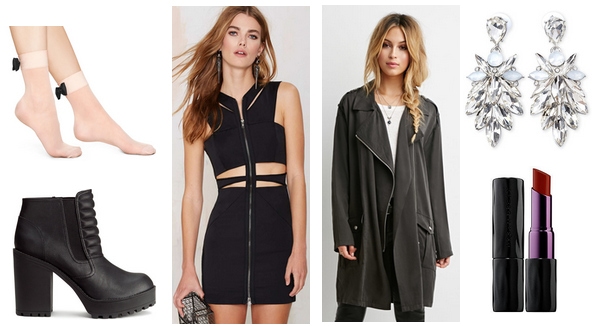 Products: Dress, Coat, Socks, Boots, Earrings, Lipstick
Alan Cumming's Emcee dresses more provocatively than any other character! Wear a black dress with cutouts to reference his suspender-harness-top contraption, and add sheer socks with little bows that look like his bowtie.
Put on a long black coat for a tamer take on his dramatic leather trenchcoat, and accessorize with chandelier earrings that represent his drag look for "I Don't Care Much." Finish the look with sturdy heeled boots.
The Cabaret Girls
Life is beautiful…The girls are beautiful…Even the orchestra, is beautiful!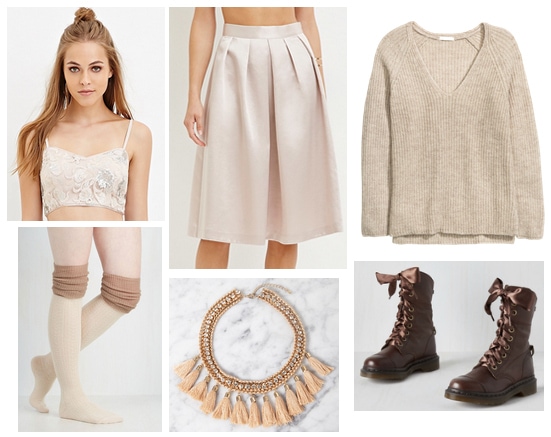 Products: Top, Sweater, Skirt, Socks, Boots, Necklace
The cabaret girls, with their slip-like costumes and unamused expressions, straddle the line between girly and grungy.
For the girly part, think light neutrals: blush pink, champagne, oatmeal. Put on an embroidered crop top and sateen midi skirt, and add a loose, ribbed sweater. Add a tasseled gold necklace and two-tone knee socks. For the grungy part, go for these brown Doc Martens with satin ribbon laces.
Epilogue
Cabaret is a classic that still manages to be imaginative and provocative. It gives us a great lesson for theatre and fashion — don't be afraid to reinvent the old standards!
Your Thoughts?
Have you seen a production of Cabaret? Are you dressing up as a character from a play or musical for Halloween? Are there any plays or musicals you would love to see covered in this column? Let us know what you think in the comments below!