This week, given how many of you readers are graduating or about to graduate, we're going to keep this article (relatively) short and sweet – and perfect for a quick study break. Enjoy!
Reading Between the Lines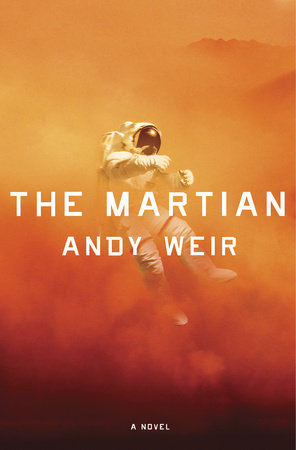 The Martian by Andy Weir has a backstory almost as fascinating as its plot. The novel was originally written by Weir and serialized online for free, allowing him to receive feedback from readers and revise his work throughout the writing process.
Weir finally released The Martian as an e-book in 2011, and it took off from there. A major publishing house picked it up in 2014, and it was later turned into a major 2015 film starring Matt Damon as the titular Martian.
Plot-wise, The Martian is straightforward: Mark Watney, an astronaut on a 6-person mission to Mars, must survive for as long as he can on the red planet after an accident separates him from the others. Although he is not completely without resources, Mark must rely on his wits and expertise in botany and engineering in order to stay alive until the next Mars mission arrives.
Despite his struggles (think a grown-up, sci-fi Hatchet), Watney is able to maintain a humorous narrative style that is totally unlike what you might expect from a man stranded alone on a planet. He's heartbreakingly relatable as well as likable, and you'll root for him until the very last page.
The three outfit sets below are based not just on Mark, but also on two other main characters: While The Martian claims to be the journey of an individual, it's just as much a story of the collective effort to save him.
Note: There are mild spoilers in the outfit descriptions, but nothing from the last third of the novel.
1. Mindy Park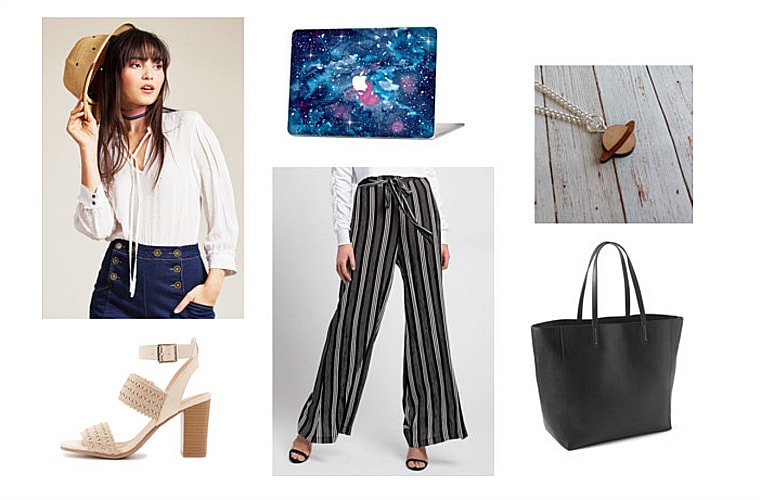 Product Info: Blouse – Modcloth, Pants – Sans Souci, Shoes – Charlotte Russe, Bag – GAP, Necklace – Etsy, Laptop Skin – Etsy
Mindy Park, an employee of SatCon whose job is to monitor Mars satellites, is one of the most important characters in The Martian. Not only is she the one who discovers that Mark is alive, but she's also the one assigned to watch his movements after the discovery.
Although she initially appears meek, sensitive, and forgettable, Mindy becomes a crucial communicative link to Mark. She devotes herself to the job 24/7 and even learns Morse code to help decipher the messages Mark leaves on the Martian landscape.
This business casual outfit set is meant to represent ordinary life as an office worker. After all, prior to the book's events, Mindy was just another employee wasting her engineering degree on a desk job. Her ability to gain a new purpose – albeit reluctantly, at times – indicates the collective spirit of not just the rescue team but of all of America during this crisis.
This outfit is conservative and clean-cut, but retains quirky elements and statement pieces that allude to Mindy's introverted nature. The wide-legged pants are the focal point of the outfit, and are balanced by nude block heel sandals and a cream blouse with subtle dots.
The necklace is a one-of-a-kind wooden planet necklace, and the laptop skin is galaxy-themed to pay homage to Mindy's workplace.
2. Commander Lewis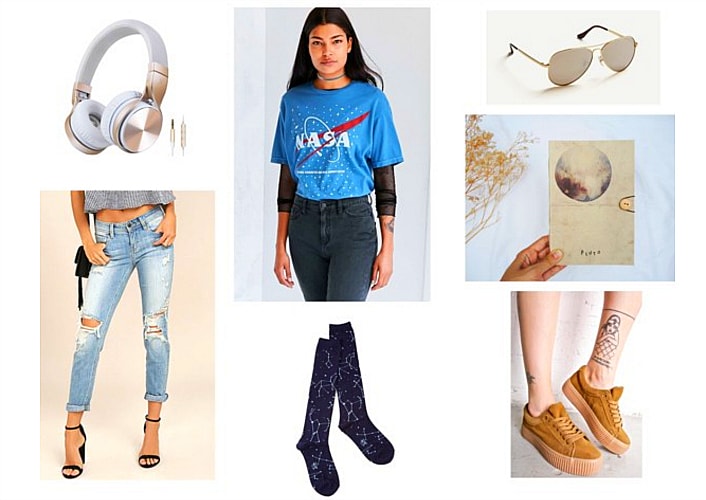 Product Info: Shirt – Urban Outfitters, Jeans – Lulu's, Sunglasses – Ann Taylor, Socks – Uncommon Goods, Shoes – Dolls Kill, Headphones – Amazon, Notebook – Etsy
Melissa Lewis is the disco-loving woman in charge of the Ares 3 mission that brought her, Mark, and four other astronauts to Mars, whose guilt for leaving Mark behind guides the crew's major decisions in the second half of the novel.
Lewis is a capable and assertive leader with an unusually strong moral compass. She guides crew members Johanssen, Martinez, Vogel, and Beck to a rescue mission for Mark despite the sacrifices – both personal and professional – they must make to add 500+ days to their time in space.
This outfit is casual and edgy, having a clear attitude without veering towards the rebellious. The accessories revolve around the complexity of Lewis's character, and especially her feelings of guilt and determination. The sunglasses are mirrored and not at all transparent, referencing Lewis's authority, and the notebook is indicative of much of what goes unsaid during the mission.
The metallic theme in this look is based on the rocket and space-proof material involved in space exploration as well as the way in which Lewis is able to deflect anything that could keep her off-course, both morally and in her duties as Commander.
The headphones represent her endless selection of '70s music that Mark is left with on Mars that serves as comic relief throughout the text.
3. Mark Watney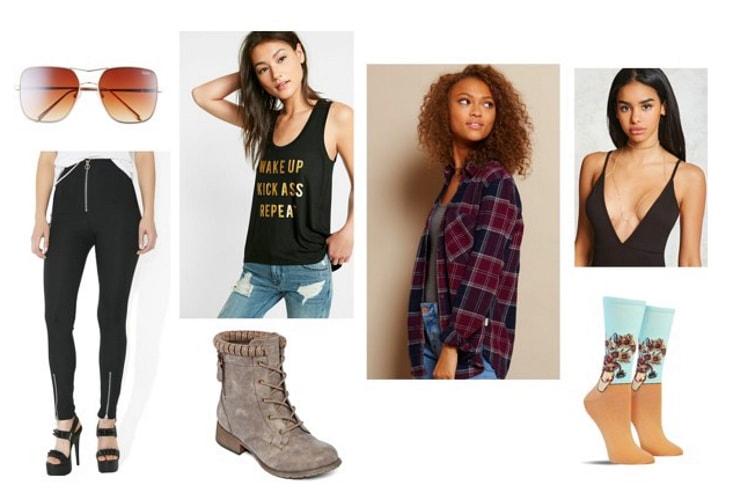 Product Info: Tank – Express, Pants – Dolls Kill, Socks – Sock Drawer, Boots – JC Penney, Body Chain – Forever 21, Sunglasses – Nordstrom
And, of course, we're finishing up with the Martian himself, who becomes instantly famous on Earth for surviving the freak accident that leaves him on Mars.
Any lover of "real" sci-fi can appreciate Mark's accurate scientific odyssey, but his uniquely witty narrative voice is especially appealing given the severity of his situation. He is well aware of his flaws and of the risks that he takes, and he makes light of the situation anyway.
Other than being a capable astronaut, Mark is also a trained botanist who grows thousands of potatoes on Mars to feed himself. The first piece I selected in this outfit set, accordingly, is this pair of plant-inspired socks.
The outfit is all-over-the-place, reflecting Mark's chaotic circumstances. The oversized flannel is red and black, to reference the book's cover. The base of the outfit (tank and pants) replicate a bodysuit, based on Mark's spacesuit, and the entire outfit allows for movement without sacrificing structure.
The subtle gold body chain is a reference to the way that Mark is chained to his spacesuits in order to survive. And finally, like the outfit set inspired by Lewis, this set includes sunglasses to represent the emotions restrained by Watney in his carefully curated logs.
Your Thoughts?
Are you a fan of sci-fi? Do you prefer realistic sci-fi to the sweeping sci-fi that's unconcerned with accurate science? Let us know in the comments below!