Fashion inspiration can be found anywhere, and books are incredible sources for style innovation. Book-Inspired Fashion explores these treasure troves, and brings them them to you in looks inspired by vibrant characters, far away lands, brilliantly woven plotlines, and more.
Today, I'll be providing fashion inspiration from just the first book of recently-completed Raven Cycle series, The Raven Boys, due to the complexity and length of the series. I'm really excited, as this is one of my favorite fantasy series of all time, and look forward to hearing your reactions!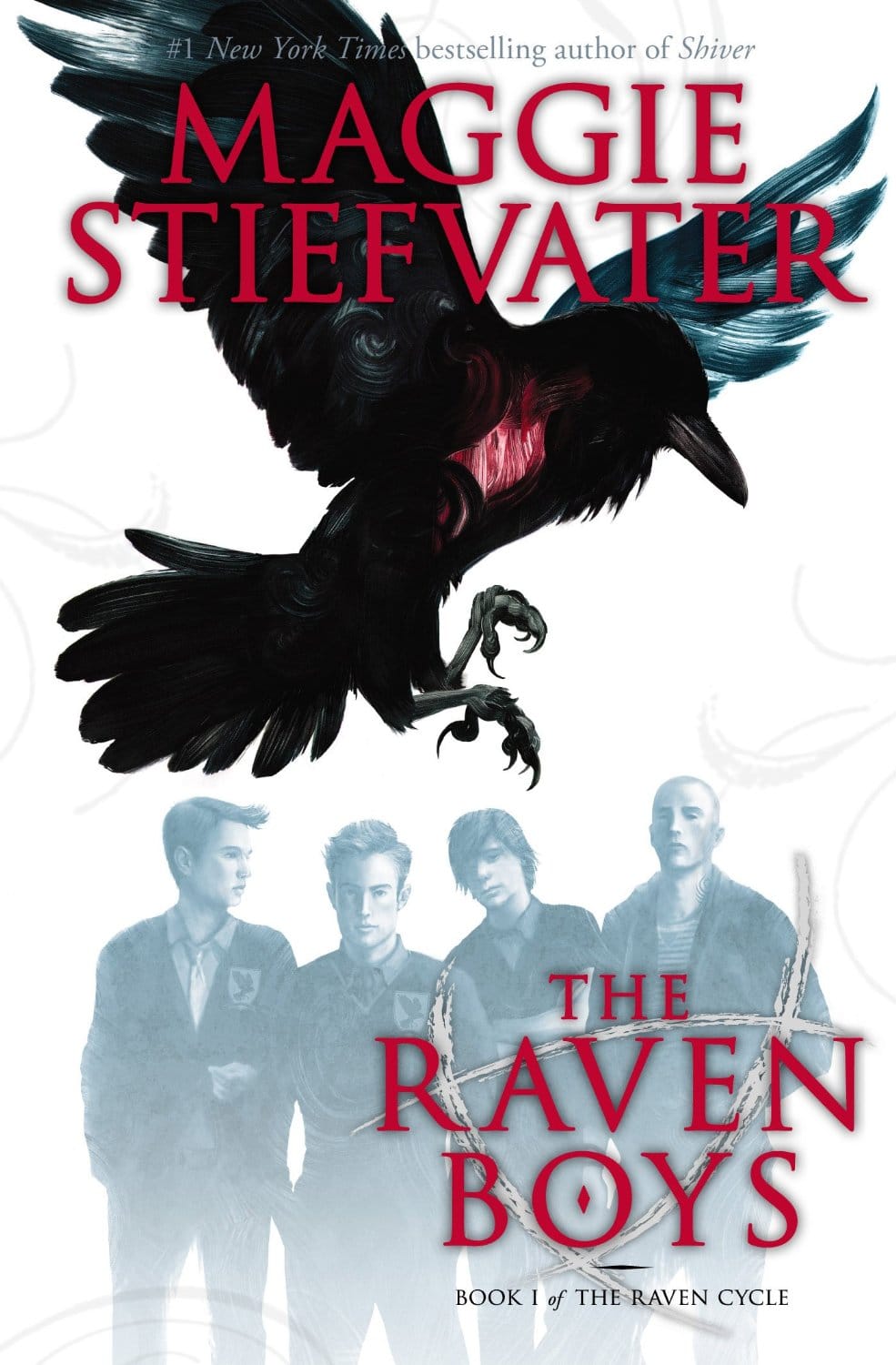 Reading Between the Lines
The Raven Cycle by Maggie Stiefvater is a fantasy series that wrapped up this year with the release of the fourth and final book, The Raven King. For those of you who have read Stiefvater's Shiver trilogy, it's important to note that this series is completely different: it is set in a world of dreams, psychics, and living mythology, has a much stronger focus on friendship, and is refreshingly different from most of the other major fantasy series that I have read in recent years.
The Raven Cycle series follows a group of five high school students (although school features less and less as the gang becomes more deeply immersed in magic): Blue, the heroine who was raised among psychics; Gansey, the princely leader; Ronan, who dreams like no other; Noah, the smudgy friend who disappears quite literally into the background; and Adam, whose ambitions are tempered only by the strength of his loyalty. (I challenge you to pick a single favorite character!)
The plot surrounds Gansey's attempt to track down the ancient Welsh king Glendower, but the other characters are more interwoven into this search than they realize. It's really a lot more fun than it sounds. Who knew ley lines could be so compelling?
The series is dreamlike, emotional, and equal parts fragile and resilient. The mythology and large cast of characters round out this world so well, and I don't think the same level of genuine feeling and delicate language could be replicated in a television or movie adaptation.
The three outfit sets I created are based on three central locations in the books, because in the Raven Cycle, setting is just as significant as character and plot development. And although this article is technically drawing inspiration from just the first book of the series (so no major spoilers!), these locations remain important through the end.
1. Aglionby Academy
"I passed by a school on the way into town. Aglionby Academy. Is that where you go?"

Blue's eyes widened with humor. But of course Neeve, an outsider, couldn't know. Still, surely she could have guessed from the massive stone great hall and the parking lot full of cars that spoke German that it wasn't the sort of school that they could afford.

"It's an all boy's school. For politicians' sons and oil baron's sons and for" – Blue struggled the [sic] think of who else might be rich enough to send their kids to Aglionby – " the sons of mistresses living off hush money" (9)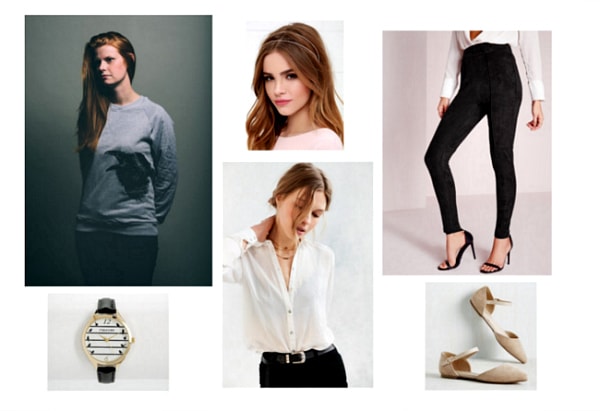 Products: Sweater, Shirt, Pants, Shoes, Watch, Headband
As a series that's shaped in part by the (mis)image of the preppy, all-male private school Aglionby Academy, I couldn't leave out the establishment that plays roles of varying importance for each of the Raven Boys as well as Blue. One of the major supporting characters in the last two books, Henry Cheng, is described as the "most raven" of all the Raven Boys, and is still able to shatter the Gossip Girl-esque stereotypes that the main cast (perhaps with the exception of the adored Gansey) seem to break simply by existing.
That's not to say, however, that the "old money" image isn't worthy of inspiration – Gansey's old Virginian accent, for example, is charming and doesn't hurt his boyish, larger-than-life aspirations.
The Aglionby uniform is a symbol of status, upper-class education, and privilege, and features significantly in subtle ways: The fact that Blue envisions Gansey's death in his Aglionby sweater, Ronan's inability to find a clean uniform, Adam's struggle to maintain a single clean tie, etc. This outfit is inspired by this structure.
The sweater is probably the most casual piece in this outfit set, but the raven artwork is incredibly detailed and beautiful, and the contrast between its slouchy fit and the blouse/black pants combination underneath adds some visual interest to an otherwise plain outfit. The watch has some great bird detail as well, and complements the subtle gold headband and neutral flats.
2. Monmouth Manufacturing
1136 Monmouth was a hungry-looking brick factory, gutted and black-eyed, growing out of an overgrown lot that took up nearly all of a block. A clue to the building's original identity was painted on the eastern side of the building: MONMOUTH MANUFACTURING. But for all their research, neither Gansey nor Adam had been able to figure out precisely what Monmouth had manufactured […]

Something that the world no longer needed (39-40)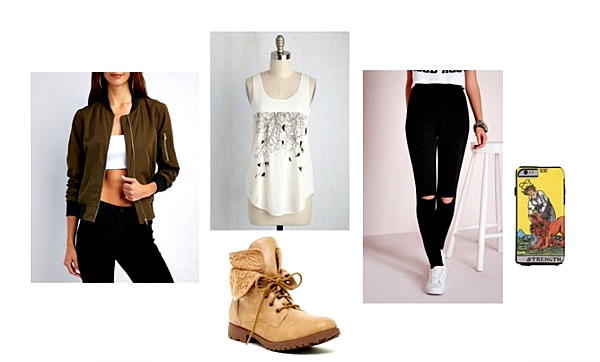 Products: Jacket, Shirt, Pants, Shoes, Phone Case
Monmouth Manufacturing is the home base, so to speak, of the Raven Boys and later Blue. While harsh in appearance, it is a place of comfort away from the pressure and strictness of society, welcoming outsiders like Adam and Blue as much as it does genuine blue-bloods like Gansey.
This outfit is casual, with a slight tough-girl vibe because of the bomber jacket and ripped leggings. The shapes, however, are still very feminine because Blue is both one of the boys and not, and this tension drives much of the plot.
Because Blue grew up in a house of psychics who always rely on their tarot deck, I threw in a bright, tarot-themed phone case, featuring the card "strength."
3. Cabeswater
There was something about the word itself that was magical. Cabeswater. Something old and enigmatic, a word that didn't seem to belong in the New World […] It wasn't difficult to adhere to the directions Ronan had translated. The creek was wide here, the water cold and slow between white-frosted banks. Following it took them steadily downhill, and gradually, the air around them began to warm. Sparse red leaves spotted the branches, and by the time Blue pointed out a massive sycamore, the peeling white and gray trunk too wide for her to put her arms around, they were in the sticky grips of summer. The leaves were full and green, moving and rubbing against one another in a constant murmured rustle […]

"We missed summer before," Adam pointed out. "When we came the other way. We went straight to fall" (246-251)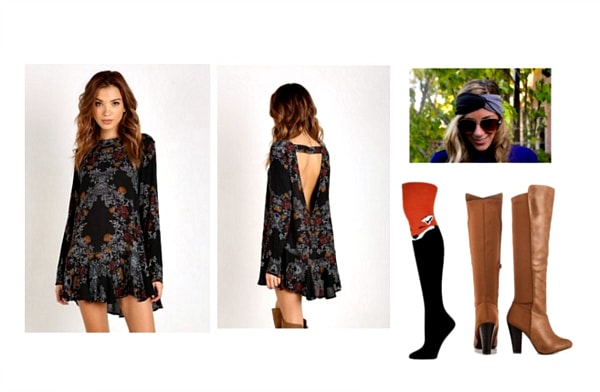 Products: Dress, Socks, Boots, Headband
Cabeswater is ethereal, intangible, and inextricably connected to Ronan in a way that is truly magical. From whispering trees to changing seasons, Cabeswater is one of my favorite places in the world of the Raven Cycle, and it only becomes more complex and magical as the story moves on.
As an outfit set, this look is inspired by what I imagine when I think of a world of impossible beauty, feeling, and complexity – an interesting print, fabric with movement, and a purposeful abstractness that opposes the structure of the Aglionby uniform. The real inspiration here, in a way, is the articulation of mind and individuality, which becomes increasingly more obvious.
This dress is relatively simple, but has a dark, antique-floral print that reminded me of the imposing trees in Cabeswater. It allows for movement, and is just short enough that along with the fox socks, it fits in with Blue's unconventional fashion sense. The boots also add a slightly risqué touch to the look, and I added the turban because as a hair accessory, it's both comfortable and functional.
As well as being somewhat loud and quirky, the fox socks are also a reference to Blue's house, at 300 Fox Way, which I almost chose as a location for fashion inspiration.
Your Thoughts?
What's your favorite fantasy book? Let us know in the comments below!