Fashion inspiration can be found anywhere, and books are incredible sources for style innovation. Book-Inspired Fashion explores these treasure troves, and brings them them to you in looks inspired by vibrant characters, far away lands, brilliantly woven plotlines, and more.
I knew I wanted to cover a graphic novel for quite some time now, and while it was incredibly difficult to pick one, I ended up choosing the groundbreaking Persepolis, which is a powerful visual and written account of an Iranian child growing up to the be an independent woman who has learned the value of family, tradition, freedom, and individual identity.
Reading Between the Lines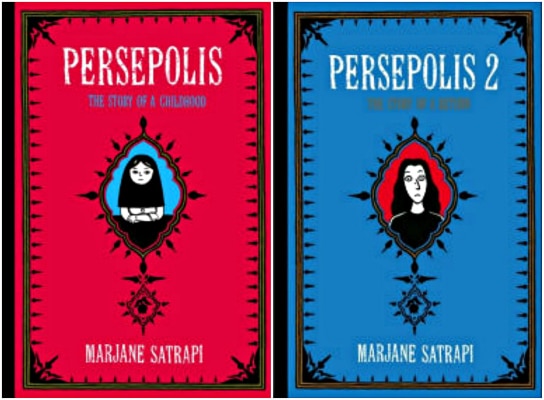 Persepolis is an acclaimed nonfiction graphic novel that was originally published in French in the early 2000s by author Marjane Satrapi. It is a subversive and poignant autobiography detailing Satrapi's life from the onset on the Iranian Revolution to her final move to Europe in her mid-20s.
Persepolis is, at its heart, a coming-of-age story about a girl who is faced with the trauma and radical change of a revolution in her own country. Marjane (or Marji) attends school in Austria from ages fourteen to nineteen, and undergoes an often-painful transformation of identity in her attempts to reconcile her warring Iranian and Western sides.
As an autobiography as well as an unflinching account of the turmoil occurring in Iran in the late 20th century, Persepolis has been widely influential and crucial for offering a wider representation of Iran to Western audiences. A film adaptation was released in 2007, which garnered a nomination at the Academy Awards and introduced Satrapi's work to an even broader audience.
The three outfit sets below represent major turning points in Marjane's personal development, from being a rebellious child to establishing herself as an assertive woman and artist worthy of global recognition.
This article will focus mostly on the second half of Persepolis, in which Marji moves to Europe and struggles both to fit into Austrian society and to retain independence as a proud Iranian.
1. The Child of Revolution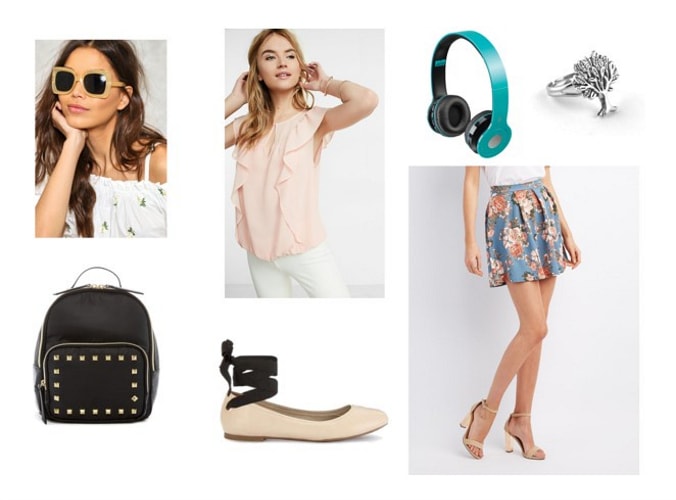 Products: Top – Express, Skirt – Charlotte Russe, Shoes – Miss Selfridge, Backpack – Nordstrom Rack, Sunglasses – Nasty Gal, Headphones – JC Penney, Ring – Etsy
Unusually for an Iranian family of the time, the Satrapi family allows Marji many freedoms, including going places on her own and immersing herself in Western pop culture. Marji is a strong-willed child who is precocious and independent, yet still heavily affected by the civil unrest in Iran after the revolution that changed everything for her (for example, forcing her to don a headscarf at all times in public).
This outfit is based on the idea of naiveté and childlike innocence leading way to confusion, chaos, and a lack of stability for any child growing up in such a polarized community.
The pink blouse and floral skirt are carefree and feminine, but the black ankle wrap of the ballet flats and black backpack disrupt a pastel color palette. The quirky sunglasses are a statement piece, along with the tree of life on the ring.
The headphones directly reference Marji's use of music (Iron Maiden, Kim Wilde) to escape the chaos of the crowds and escalating tensions outside of the safe haven of her home.
2. The Rebel Student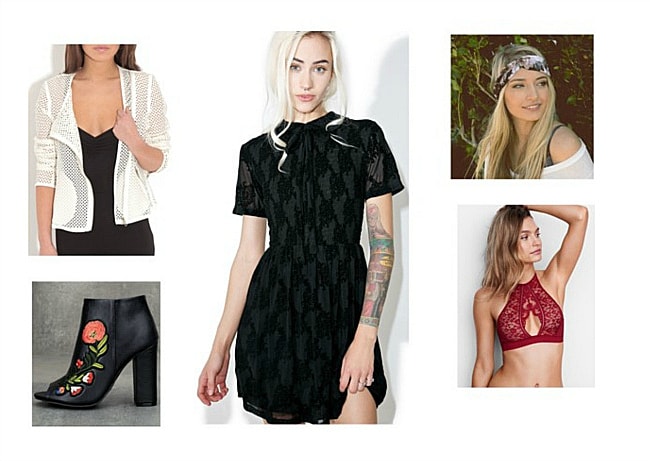 Products: Dress – Dolls Kill, Jacket – Pretty Little Thing, Shoes – Lulu's, Bralette – Victoria's Secret, Headband – Etsy
Upon arriving in Austria on the insistence of her parents, Marjane is forced to confront an entirely new society. The apparent decadence and outward sexual liberties of European society is not something she understands until she experiences life as a Western student of the 1980s.
Marji has growing pains that are intensified by her status as an outsider, her distance from her family and homeland, as well as her constantly-evolving physicality – so drastic, in fact, that she grows seven inches in a year!
But as always, Marji is able to find a way to rebel against the status quo and establish herself as an individual that will live life as she pleases. She maintains her pride and assertiveness through crisis, and elects to return to Iran after deciding that a terrible breakup is not going to destroy her spirit.
This black collared dress is reminiscent of a school uniform and structure, but the color and texture put an unusual twist on the otherwise classic silhouette. The laser-cut design on the jacket and embroidery on the booties make them stand out as well, complicating the textures and colors of the outfit.
The bralette represents the moment during which Marjane comes to terms with her sexuality, because although the context of Persepolis is the aftermath of the Iranian revolution, it is still a coming-of-age story that confronts common teenage issues. The red color indicates the initiative Marjane takes, but the high-neck shape retains some of her modesty.
And finally, the floral-print headband references both her free-spirited attitude, and the fact that she chooses to return to the veil when deciding to leave for Iran.
3. The Artist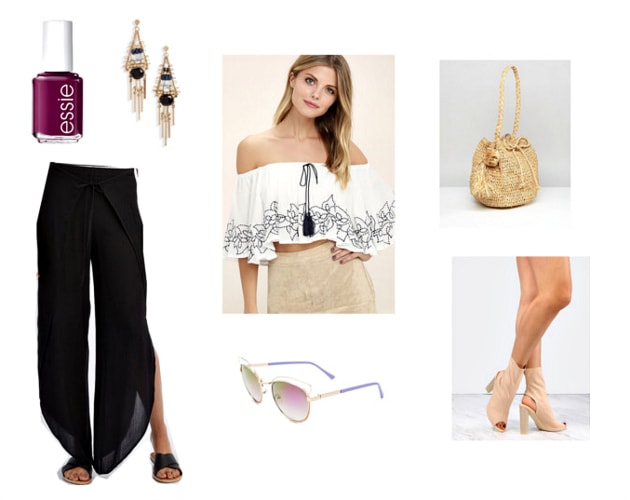 Products: Top – Lulu's, Pants – Charlotte Russe, Shoes – Make Me Chic, Nail Polish – Target, Earrings – Nordstrom, Bag – ASOS, Sunglasses – Forever 21
After serious bouts with depression and internal conflict, Marjane regains a purpose through her artistic endeavors. She successfully attends college with her fiancé-turned-husband, Reza, and is able to express herself and her push for independence as a student.
Marjane redesigns women's uniforms to be more practical (a shorter headscarf and wider pant-legs) and is even given the opportunity to design a mythology-based amusement park with her husband. Unfortunately, the plans do not come to fruition.
For the last time, Marjane leaves for Europe, but as we readers know, she turns her artistic talent into the tremendous accomplishment and body of work that is Persepolis.
This outfit set features a sharp color contrast to represent the partition that exists between Marjane's life and family in Iran versus the weight of the unknown future in Europe. It illustrates both sides of Marjane, as she herself states that she is a westerner in Iran and an Iranian in the West, but the contrast also exists within her own identity as a westernized woman with certain traditional values.
Both the top and pants are free-flowing and allow movement, which is exactly what Marjane seeks throughout Persepolis. The booties and nail polish make subtly assertive statements, and the accessories have a quirky, creative edge that makes it clear that it is an outfit inspired by an artist.
Your Thoughts?
Do you read any graphic novels? What are your thoughts on the work that Marjane accomplishes in Persepolis? Let us know in the comments below!