Fashion inspiration can be found anywhere, and books are incredible sources for style innovation. Book-Inspired Fashion explores these treasure troves, and brings them them to you in looks inspired by vibrant characters, far away lands, brilliantly woven plotlines, and more.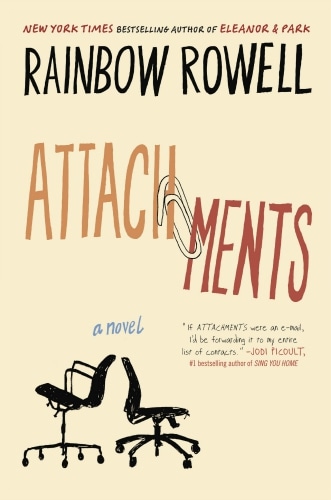 Book Cover via Amazon
I've actually wanted to cover this book for a long time, but I've shied away from it simply because I don't want the movie adaptation to be the first thing to come to mind. Regardless, this book is chock-full of inspiration, fashion or otherwise, and it's going to be a treat to explore a world so different from most of ours.
Reading Between The Lines
As always, I'm starting with a bit of background so you guys can get to know the story behind the movie. Memoirs of a Geisha was published in 1997 by author Arthur Golden, after years of crafting, editing, and re-editing his drafts for the book. Despite having studied Japanese history and art for years, the "cultural divide" that he had to cross in order to write Memoirs of a Geisha in first-person was a challenge that was laboriously difficult to realize.
An unexpected but assuredly welcome source of help came from a retired geisha named Mineko Iwasaki, who provided a lot of insight and knowledge that would enable Golden to eventually complete his manuscript. This caused some controversy, however, because Mineko had asked to be a confidential source– an agreement that Golden failed to uphold, due to his mentioning of her name is his acknowledgments of the published novel. This ruined many of Mineko's close relationships and ties to the Japanese geisha community, but she fought back and eventually published her own nonfiction memoir, called Geisha, a Life.
Much of this controversy came from the fact that Golden had supposedly depicted a world that was inaccurately sexualized and at times offensive. Keeping this in mind, it's important to note that this novel is not a real memoir by any means, and is classified as a historical fiction novel. It's true that there are many parallels between Mineko's life and the life of the novel's protagonist, Chiyo/Sayuri, but don't be fooled by the deceivingly realistic translator's note (read: this book was originally written in English) because this book really is a work of imagination.
It's always interesting to see how an outsider in almost every way– a white American man living in the late 20th century– could craft a novel that seems so compellingly honest, but despite all of the book's faults, this feeling really does come through. In addition, the sheer imagery of this novel really paints a world that is equal parts believable and fascinating. This visual depiction is part of the reason I chose kimono as my hint word last time, and the outfits I've created all include this magnetically visual aspect. Without further ado, here are looks inspired by Memoirs of a Geisha:
1. Work of Art
Then she put it into my hand, and held my hand over the lovely kimono, and said to me: "Practice your calligraphy, little Chiyo." This kimono belonging to the geisha named Mameha […] was a work of art. Weaving its way from the hem up to the waist was a beautiful vine made of heavily lacquered threads bunched together like a tiny cable and sewn into place. It was a part of the fabric, yet it seemed so much like an actual vine growing there.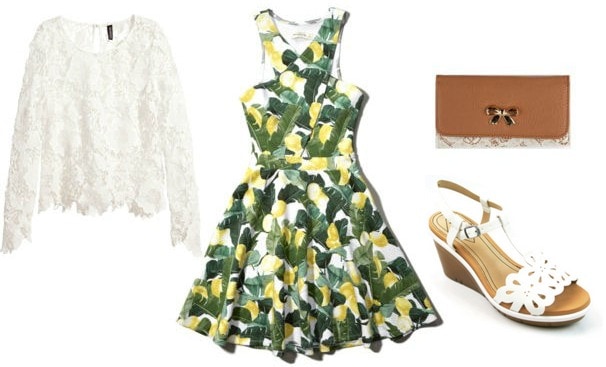 Product Info: Dress- Abercrombie, Shoes – JCPenney, Top – H&M, Wallet – Tilly's
This scene occurs near the beginning of the book, when the protagonist, Chiyo, is forced by the spiteful geisha Hatsumomo to ruin one of the pricelessly beautiful kimonos of her rival Mameha. The decision to obey Hatsumomo is one that can destroy any potential future as a geisha for Chiyo, and is a huge turning point– but an unexpectedly good one. Mameha, the most successful geisha of Gion, decides to take Chiyo under her wing and is the driving force behind Chiyo's eventual rise from worthless servant to celebrated geisha.
I found inspiration in this scene because even in a moment of despair, the kimono shines through as an almost living work of artistic majesty. Therefore, I chose a dress with a vibrant, nature-like print to reflect the lifelike depiction of the kimono's design.
This outfit has a naïve edge to it, with the slightly daring cutout on the dress covered by the lacy white top. The shoes and wallet have a similarly younger feel, and I kept them simple while still allowing the future extravagance of Chiyo/Sayuri's clothing to peek through.
2. Foolish Things
"Young girls hope all sorts of foolish things, Sayuri. Hopes are like hair ornaments. Girls want to wear too many of them. When they become old women they look silly wearing even one."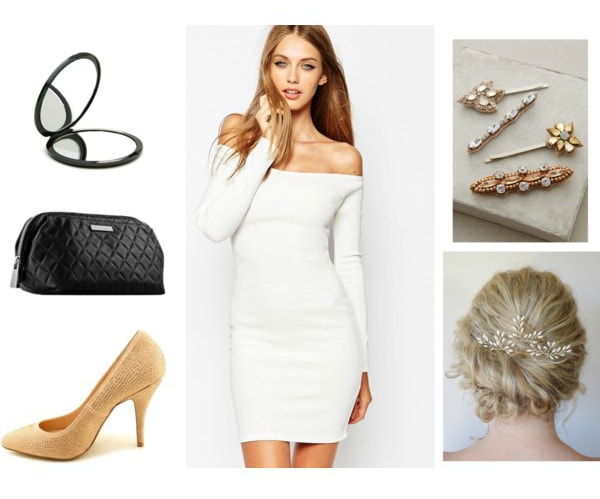 Product Info: Dress – ASOS, Shoes – Shoe Metro, Assorted Hair Pins – Anthropologie, Branch Hair Pins – Etsy, Compact – Walgreens, Makeup Bag – Sephora
At this point, Chiyo has transitioned into Sayuri, which is the name chosen for her by Mameha after she begins her training as an apprentice. Sayuri, who has longed for the Chairman since she first met him as a child, is bitterly disappointed by the thought that she may have to accept a different patron whom she has no romantic feelings for. It's definitely a sad moment for all of us girly-girls who had been hoping she could be with the Chairman from the very beginning, but it's also a poignant scene because Sayuri's idealistic image of her future is shattered.
The aesthetic symbol here is not a kimono but a hair ornament. Hair ornaments are universally seen as beautiful accessories that enhance the hair, outfit, and face, and I tried to incorporate that into this outfit.
The dress and shoes are devoid of color/embellishments because I wanted to incorporate the idea of identity loss and anonymity. Geisha are mistakenly viewed as visual objects whose presence and performances are simply for the pleasure of the recipient. In a way, it doesn't matter who they really are– just that their exterior is beautiful, and this is an unavoidable concept in the world of aesthetics. That's also why I included the compact and makeup bag: everyone's makeup is done to mirror the same type of image.
Thus, the look is defined only by the hair accessory. I did, however, include several, because even the hair accessory isn't an individual object.
3. Dancer's Hands
My delicate dancer's hands, which I'd once nurtured with the finest creams, now began to peel like the papery outside of an onion, and were stained all over the color of a bruise […] I worked very hard during those years. But every night when I went to bed, I thought of Gion.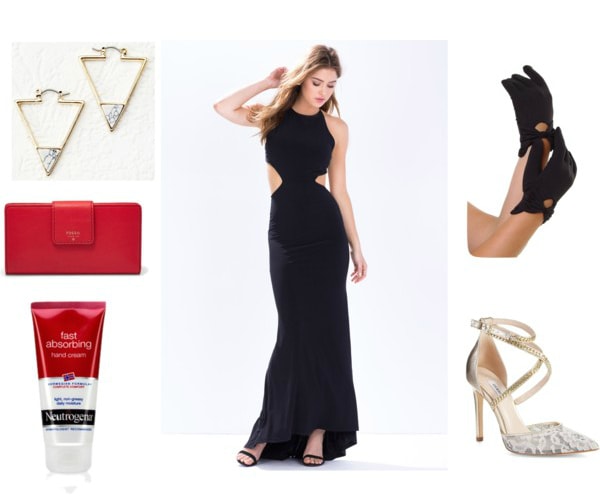 Product Info: Dress – A'GACI, Shoes – Lord & Taylor, Earrings – Forever 21, Gloves – Unique Vintage, Hand Cream – Neutrogena, Wallet – Fossil
Surprise! My final look is not, in fact, an outfit representing an end point of the novel– although it's not too far from the end, occurring after Japan has surrendered after being torn apart by war. Geisha, like everyone involved in artistic professions, have been forced to leave Gion to find other work to survive.
This scene sticks out to me because it really feels like rebirth and renewal. Even the image of Sayuri's peeling hands seems to be literally revealing her new skin underneath, and the break from her years as a geisha really clears her mind and changes how she views both herself and her profession. In a moment of clarity, she realizes that she appreciates the art of being a geisha more than she had known, and wants to return to that life not as the naïve, young Sayuri, but as the more mature, experienced Sayuri.
I threw in the hand cream as a little tongue-in-cheek gesture to represent this snippet from the novel, but the rest of the outfit consists of cleaner lines and simple colors. Sayuri does not view glamour and luxury in the same way that she did before, and this experience of helping the kimono maker during wartime teaches her so much about the creation of art and how it's different for everyone.
The gloves and hand cream do draw attention to the concept of her once-beautiful hands, which continues off of the theme of the aesthetic symbol in Golden's writing. Hands, typically representative of agency and control, seem especially appropriate for Sayuri's subtle transformation into a new woman. No longer a woman who wants to be like every other successful geisha, she gains a strong sense of self and identity in a way that shapes the rest of her life.
The dress is much more mature than the previous two, and is sexy without being over-the-top. In fact, this dress is very simple, aside from the small cutouts. I did, however, keep some glamour and drama because Sayuri does, after all, return as a skilled and experienced geisha.
Final Words
I strategically didn't want to choose a scene from the very end of this novel because although many of you may have seen the movie or read the book, I wanted to emphasize the fact that the end is not always where life-changing paradigm shifts occur. (I also managed to avoid major spoilers by doing this!) Sure, this novel has a fascinating twist at the end, but I found the idea of rebirth just as moving and impactful.
I don't think this book has huge literary merit, nor do I see in it stark cleverness, innovation, or unpredictability. But what this book does have is the intensity of involvement on the part of the reader: the powerful, simmering emotions encased in Golden's language is subtle but vulnerable, and when Sayuri unleashes her loneliness, you feel the same strange emptiness that she does. When she gazes upon a beautiful scene, you appreciate its beauty as much as she does, and I find this a precious quality for a book that seems, at first, so matter-of-fact and detached.
I liked the book much more than I expected to, and it's largely due to the fact that I can imagine myself in Sayuri's world, whether it's in flashy Gion or her unsophisticated, fishing hometown. There's no need to fantastic cinematography when plain language can produce the same vivid visuals, and I truly appreciate the glimpse into the partially-imagined stage of the geisha of early 20th century Japan.
Next time, I'm going to cover a childhood favorite of mine, which is much lesser-known and read than the ubiquitous Dr. Seuss. It does tackle some tough issues for the little girls in the book, but I think they're applicable to a much wider audience, which is why I've chosen it. (The fantastic illustrations are also just incredible!)
Hint: Dresses
Your Thoughts?
Have you read or watched Memoirs of a Geisha? Do you feel inspired by Sayuri's world? Let us know in the comments below!