Fashion inspiration can be found anywhere, and books are incredible sources for style innovation. Book-Inspired Fashion explores these treasure troves, and brings them them to you in looks inspired by vibrant characters, far away lands, brilliantly woven plotlines, and more.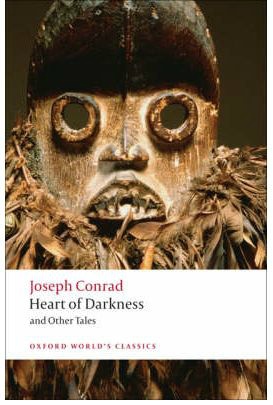 Rather than choose a fun, spring break-themed read for this week (although I thought about it!), I wanted to provide a bit of contrast by covering a book that's as dark as you can get and just as influential. We're diving into the source material of Apocalypse Now, for a turn-of-the-century novel by none other than Joseph Conrad.
Reading Between the Lines
Published in 1899, Heart of Darkness contains a scathing statement on not only imperialism but about humanity as a whole. It questions civilization, primitivism, geography, and a variety of sociopolitical, historical, and cultural issues on the part of both the colonized and the colonizer. BUT, all that said, that's not why I'm focusing on this book today.
No, you can't ignore the very real colonial conflicts within central Africa, but beyond the politics of this book, there is beauty in Conrad's style of writing that is so often overlooked in favor of its content. The language Conrad employs is delicate and measured – doubly impressive when you consider that English wasn't Conrad's first or even second language! Conrad's poetic writing evokes both physical and intangible feelings, and conveys much more than the shocking, dramatic storyline.
Marlow is the primary narrator of this tale-within-a-tale, and describes his experience journeying to the center of Africa on a boat, and learning of and eventually meeting the infamous ivory trader Kurtz. It's around Kurtz that the book actually revolves, and his frightening position as a quasi-godlike figure of the natives is simultaneously found admirable and repulsive by the other characters of the novella. This setup foreshadows that the ennui of the situation will culminate in something bigger and much worse than what Marlow has experienced before.
And because I'd like to take a different angle with this book, I won't be going into plot details as much as I usually do, instead focusing on Conrad's writing style, with three outfit sets representing passages that perhaps aren't the best-known, but hold significance regardless.
1. Still and Exquisite Brilliance
The day was ending in a serenity of still and exquisite brilliance. The water shone pacifically; the sky, without a speck, was a benign immensity of unstained light; the very mist on the Essex marshes was like a gauzy and radiant fabric, hung from the wooded rises inland, and draping the low shores in diaphanous folds (Conrad).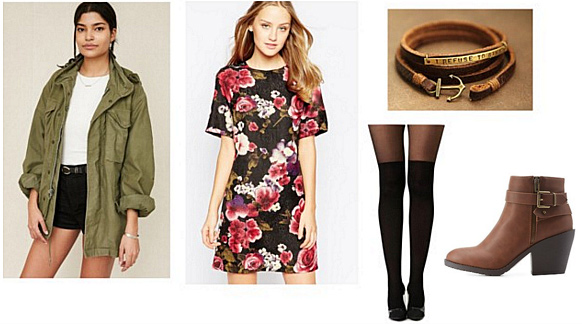 Product Info: Dress, Jacket, Tights, Boots, Bracelet
Before really delving into the darkness to come, this short scene introduces Conrad's abilities as a writer of nearly tangible texture and beauty. The scene is described by an unnamed narrator who is among the men to whom Marlow recounts his experience in the "heart of darkness," and is a surprisingly beautiful introduction to the novella.
I wanted to use an impressionist-inspired print that could illustrate the abstract culmination of light, shadow, movement, and fragility of the landscape before dusk. Of course, I couldn't find one that truly did justice to this brief moment, so I chose this dark floral dress instead. The textured fabric and contrasting print evokes the twilight abstractness right before the sun sinks into the horizon, and I used brown and black accessories to foreshadow the darkness that comes ahead.
The leather wrap bracelet has an anchor and the words "I refuse to sink," which is appropriate for a book that is, for the most part, set on a boat. It also suggests that the wearer will not succumb to the metaphorical darkness Marlow eventually finds.
2. Heart of an Impenetrable Darkness
"The point was in his being a gifted creature, and that of all his gifts the one that stood out preeminently, that carried with it a sense of real presence, was his ability to talk, his words – the gift of expression, the bewildering, the illuminating, the most exalted and the most contemptible, the pulsating stream of light, or the deceitful flow from the heart of an impenetrable darkness" (Conrad).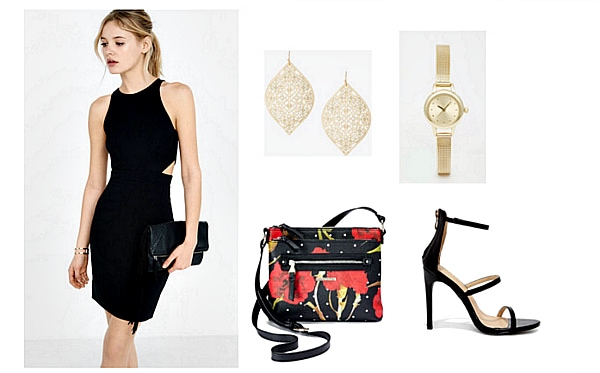 Product Info: Dress, Earrings, Watch, Bag, Heels
Like any kind of polarizing figure, Kurtz's qualities include the enviable and the horrifying. His ability with words, however, casts him as a charismatic leader whose powers of persuasion and rhetoric allow him to control and terrify the natives and other colonizers alike.
This is a rather professional outfit that almost strays into the unprofessional (for anything outside of the fashion world). This expresses the poise of a leader while suggesting a little hint of something more sinister. It's like a killer smile – think James Bond villain – that elicits envy as much as it does admiration.
The accessories here are delicate and feminine, but the earrings are almost too formal, and the heels almost too high (despite being minimalist). This is reminiscent of Kurtz in that he has mastered his career as an ivory trader, but plays outside the rules to do so. He stretches expectations, but is able to deliver far better than the other traders because he goes the extra (horrific) mile.
3. Striking and Disturbing
"Now I had suddenly a nearer view, and its first result was to make me throw my head back as if before a blow. Then I went carefully from post to post with my glass, and saw my mistake. These round knobs were not ornamental but symbolic, they were expressive and puzzling, striking and disturbing – food for thought and also for the vultures if there had been any looking down from the sky, but at all events for such ants as were industrious enough to ascend the pole" (Conrad).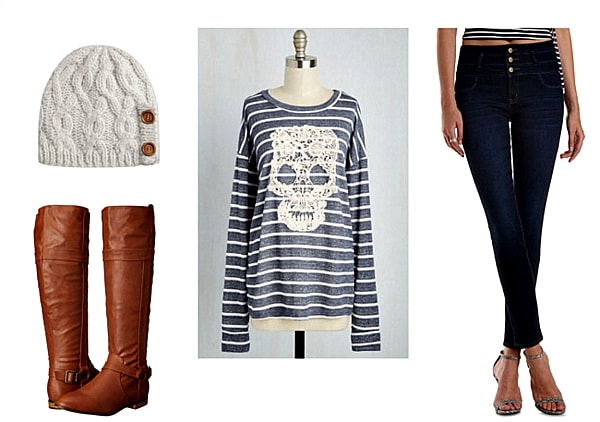 Product Info: Sweater, Jeans, Beanie, Boots
Without going into excruciating detail or featuring the explicit description of these "knobs," it's obvious that these are human skulls – one of the most gruesome images in the entire book, but also one of the most well-known and shocking. They demonstrate the horror on Marlow's part that belies the frightening evil lurking around Kurtz. Lots of adjectives – "expressive and puzzling, striking and disturbing" – embody the mess of emotions and confusion warring within Marlow.
This feminine sweater softens up the image of a skull – symbol or not, skulls represent death, and so I wanted to create an outfit that was aesthetically pleasing while still paying homage to this terrifying scene that leads up to Kurtz's dramatic death.
The rest of the outfit is relaxed in the way that plays up the almost nonchalant, understated reaction of some of the characters to Kurtz's death, that a show of mortality is just the cycle of life and nothing of note.
This is probably the simplest outfit I've ever put together, but since Heart of Darkness is a complex, ambiguous novella, I thought it'd be appropriate to end this article with something understated – a reaction to horror that needs no further explanation.
Your Thoughts?
Was this one of the books you read in high school, college, or just for fun? Does it number among the darkest narratives you've ever read? Let us know in the comments below!