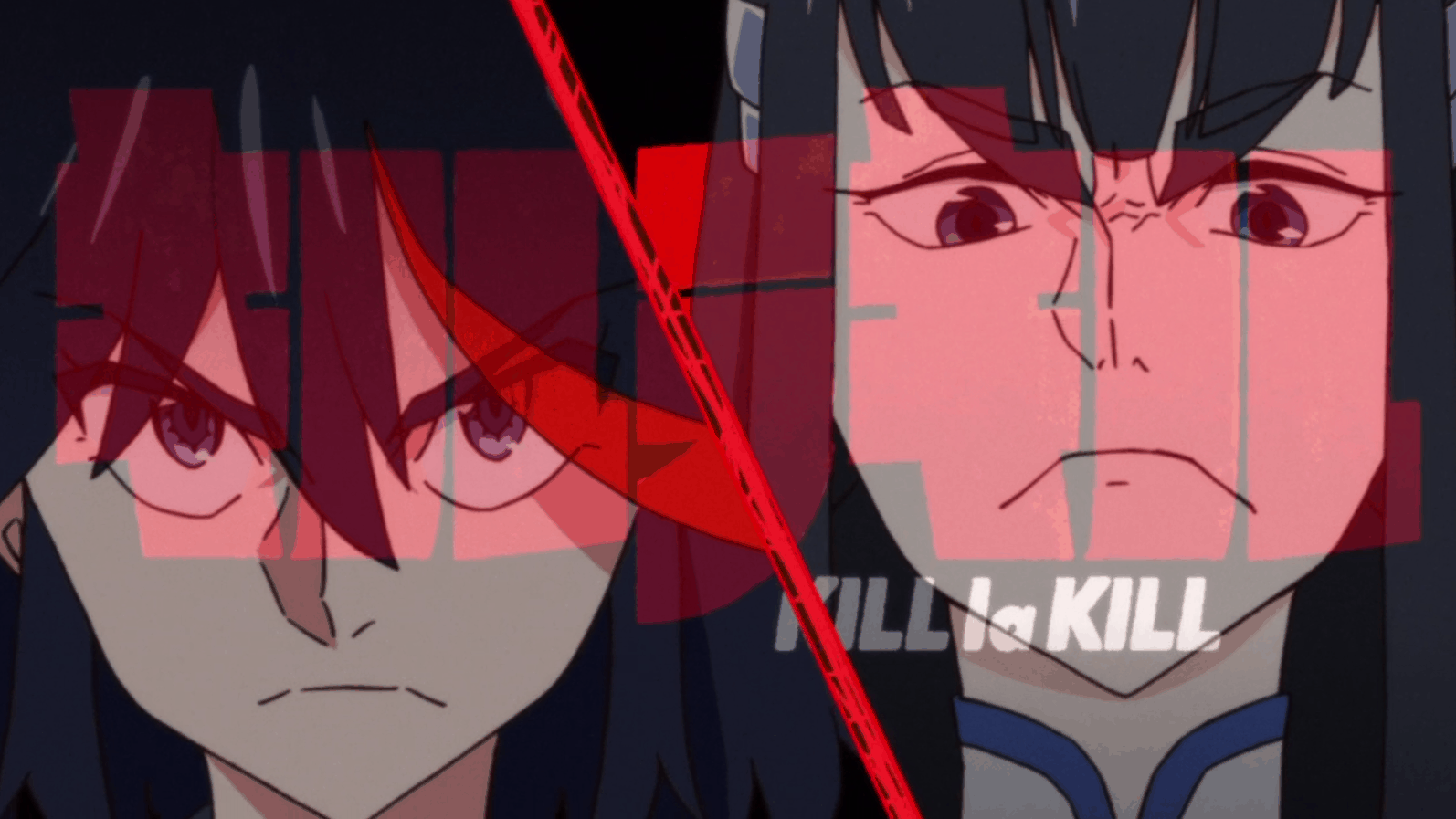 Nearly a year ago (!!!) CF readers thunderbuckett and Kelsie recommended Kill la Kill for an Anime Inspiration article, and at first I was apprehensive. (Read: a loooooooootttt of partial cartoon nudity.) But after watching the first episode, I was HELLA hooked…like bingewatched-in-less-than-72-hours hooked.
With its breakneck pace, imaginative action sequences, humor, and self-awareness, Kill la Kill flips the script on the magical girl anime trope that defined major anime hits like Sailor Moon, Cardcaptor Sakura, and Tokyo Mew Mew. Its protagonists are badass but feminine, driven but vulnerable, dynamic and robust, and its treatment of the protagonist's fukus (and their skimpiness) is funny and fairly woke, IMO.
Kill La Kill Crash Course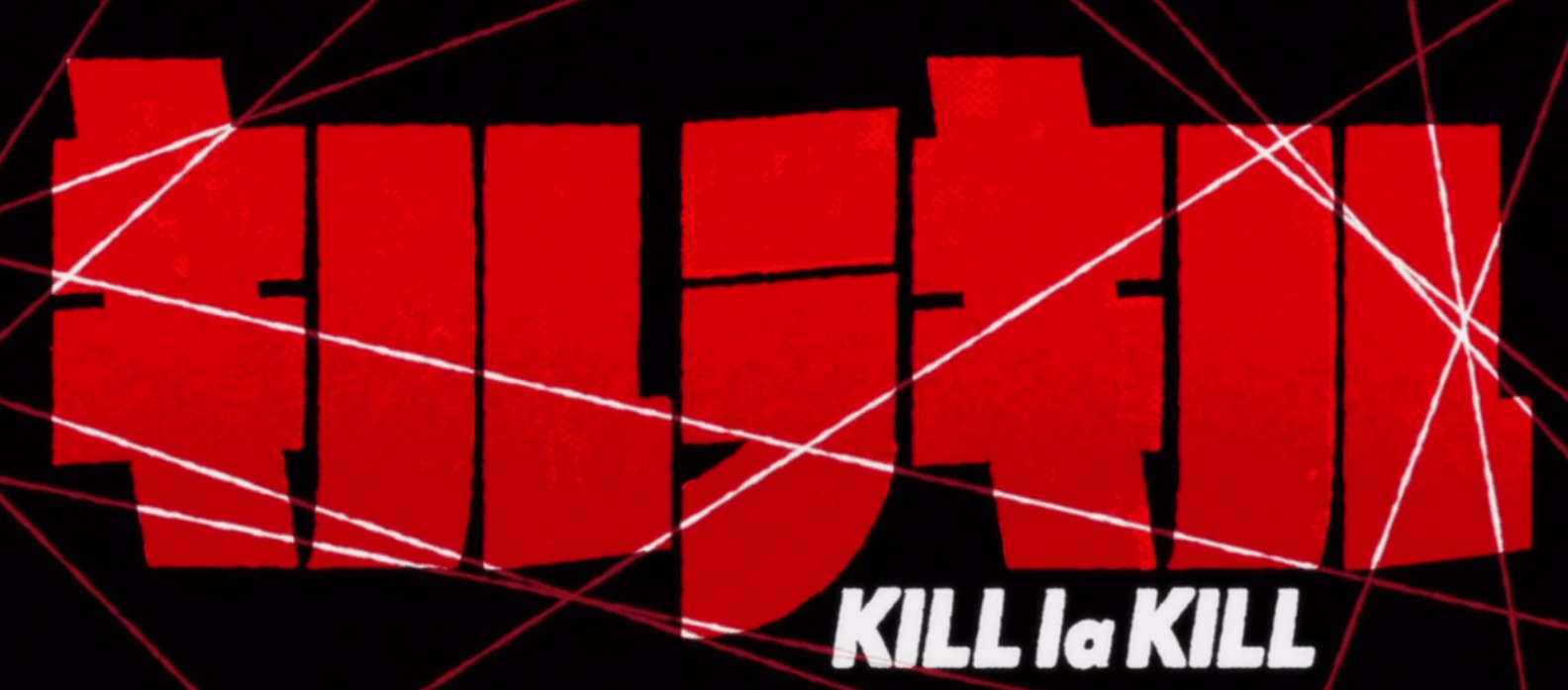 Kill la Kill follows the adventures of Ryuko Matoi, the daughter of an assassinated scientist who seeks revenge for her father's death. Armed with only a half of a pair of giant scissors left behind by her father's assailant, Ryuko enrolls in the totalitarian Honnouji academy, where students are assigned scientifically enhanced uniforms made in part of an alien species called life fibers that grant the students superhuman abilities.
Honnouji is lead by the ferocious and beautiful Satsuki Kiryuin, the daughter of an equally totalitarian and powerful fashion designer. An altercation between Satsuki and Ryuko reveals that Satsuki knows something about the origin of the scissor blade, and Ryuko swears that she will defeat Satsuki to learn who killed her father.
After a swift defeat by one of Satsuki's underlings, Ryuko retreats to the ruins of her and her father's home to find a sentient uniform made entirely of life fibers (a kamui) designed especially for her. With her kamui and scissor blade, Ryuko fights her way through the ranks of Honnouji academy in order to face Satsuki and avenge her father.
Ryuko Matoi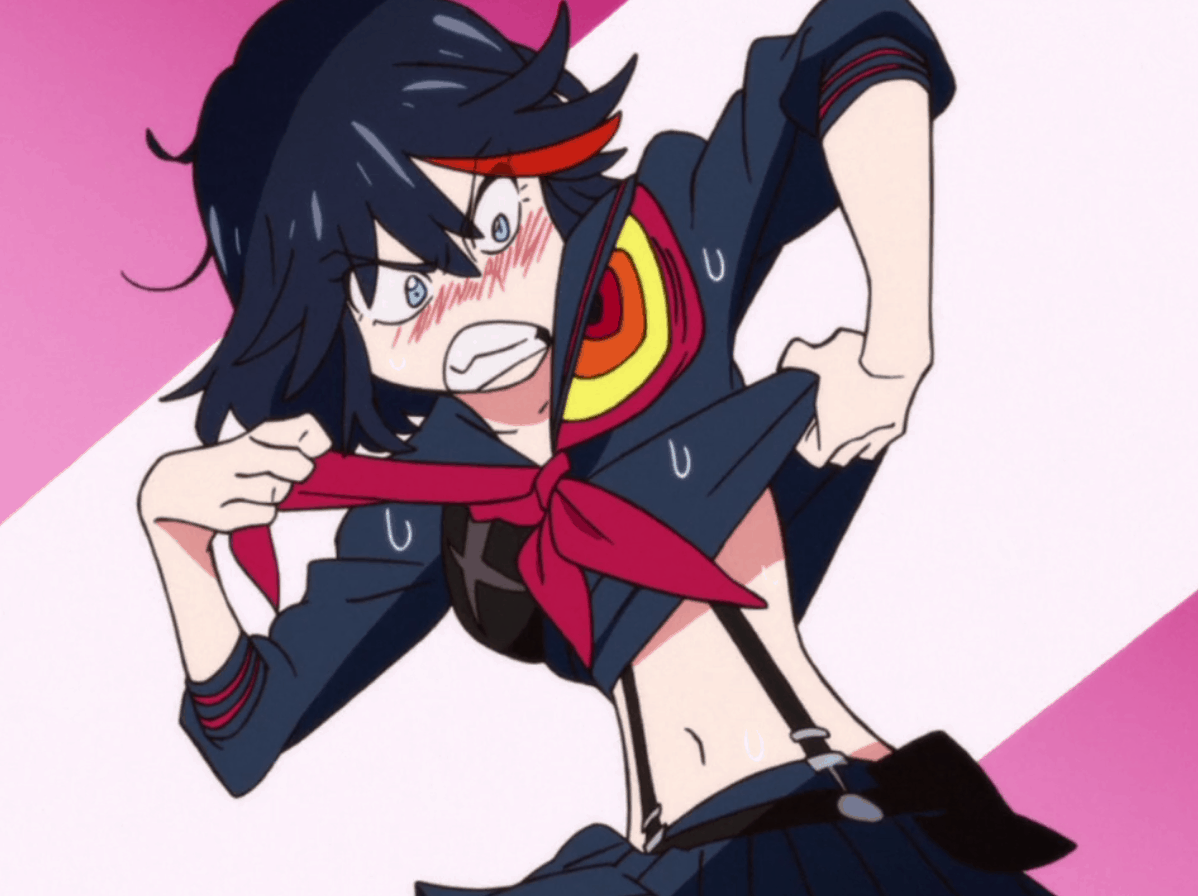 Ryuko, the series' main protagonist, is a rebellious, independent, and stubborn 17-year-old who was known for getting into (and winning) fights before her father's death. Due to her experience with fighting, Ryuko is a tough opponent even when she isn't wearing her kamui, Senketsu.
Though outwardly Ryuko is tough and singularly driven, she is also deeply sensitive and lonely, prone to bouts of self-doubt, insecurity, and depressive thoughts. Through her relationship with Senketsu and Mako-chan, she is able to develop a stronger sense of self-worth and appreciation for her father.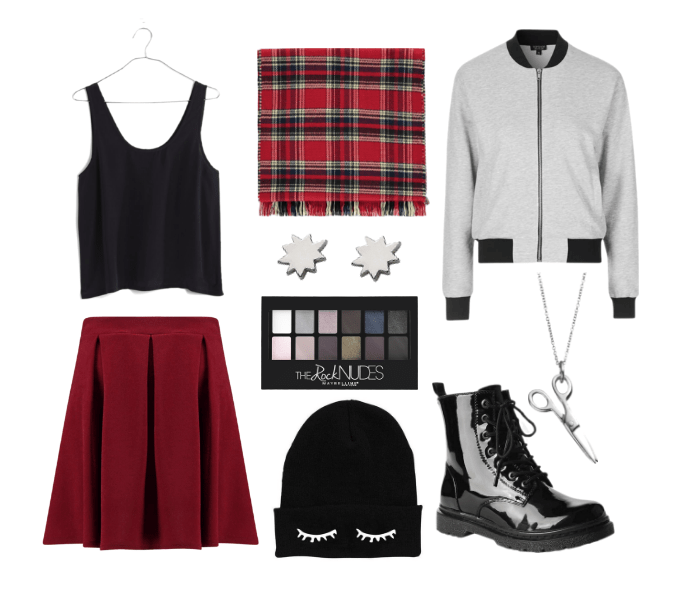 Products: Top, scarf, jacket, earrings, eyeshadow, skirt, hat, boots, necklace
An outfit that nods to Ryuko and her kamui should be tough but girly, with just a touch of skin. A silky crop top, paired with a flouncy skirt, creates a feminine silhouette that doesn't look out of place with punk-y elements like a graphic beanie, combat boots, and a plaid scarf.
A bomber jacket lends a tough, urban feel to the outfits, while starburst earrings and a scissor necklace nod to important symbols in the series. Finish the look with a subtle smokey eye in a muted neutral, like gunmetal gray.
Satsuki Kiryuin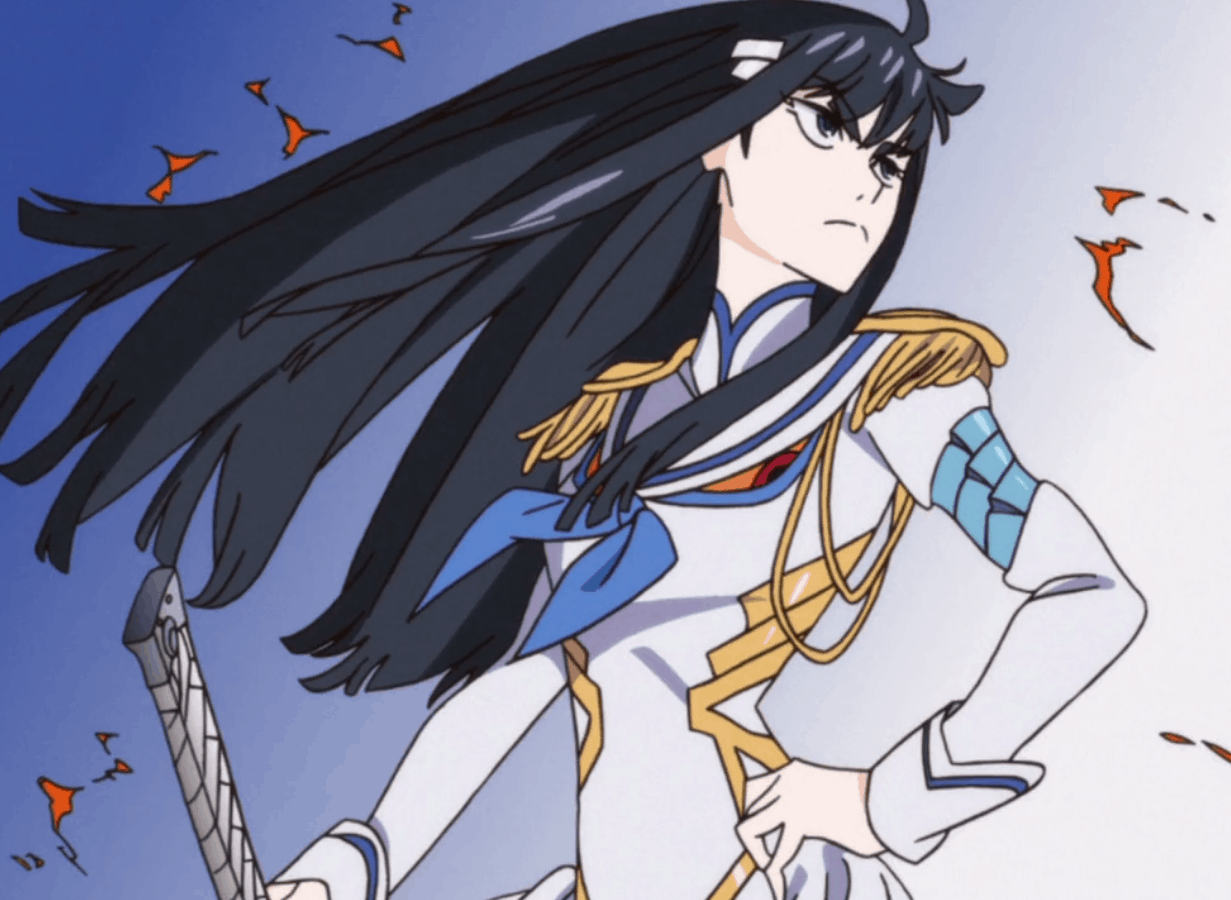 Satsuki Kiryuin, the series' deuteragonist, is the ruthless and much-adored student body president of Honnouji academy and heir to her mother's fashion empire. Satsuki is disciplined, no-nonsense, and imbued with a deep sense of purpose in her life's mission.
Satsuki is extremely self-confident and skilled in combat, and commands her subordinates in the academy with the strategy and intelligence of a military general. Like Ryuko, Satsuki also wears a kamui designed specifically for her, called Junketsu.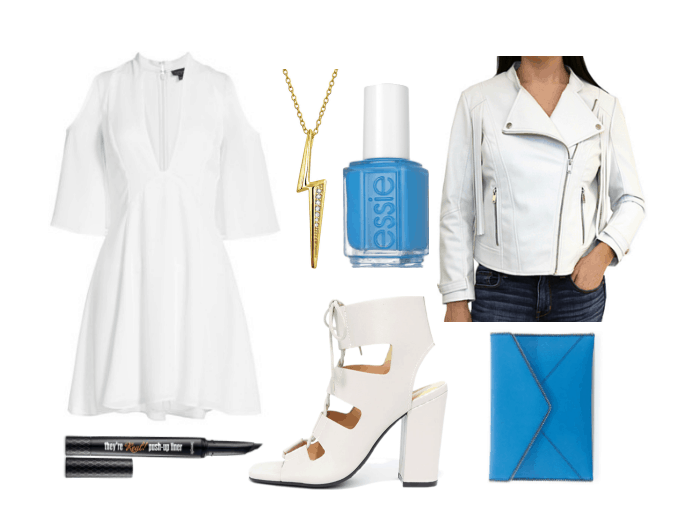 Products: Dress, necklace, nail polish, jacket, eyeliner, heels, clutch
For a look that Satsuki would rock, reach for a structured white dress with a surprising detail or cutout, like the bell sleeves and deep v of this frock. (If you'd like more of a covered-up look, try adding a white leather jacket with a long fringe detail that nods to the military details of Junketsu.)
No outfit inspired by Satsuki would be complete without a pair of towering white heels. For a pop of color, try a bright blue clutch and a shocking blue pedicure. A fierce but classy cat-eye and a nude lip add final classic touches to this sexy but modern look.
Mako Mankanshoku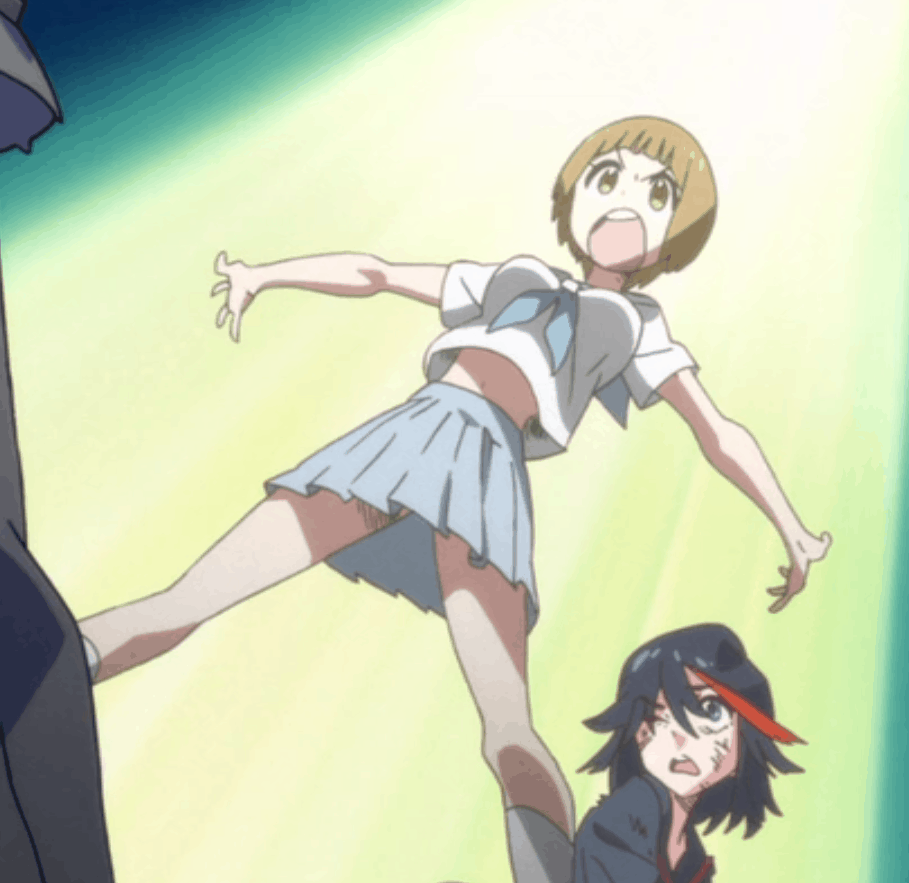 Boisterous, bubbly, and sometimes obnoxious, Mako declares herself to be Ryuko's best friend in the first episode, and Ryuko eventually ends up living with her and her rowdy family.
Though Mako is at first unable to fight and is a major target for Ryuko's adversaries, Mako proves herself to be unshakable in her devotion to her friend, often providing hilarious pep talks in the middle of battle.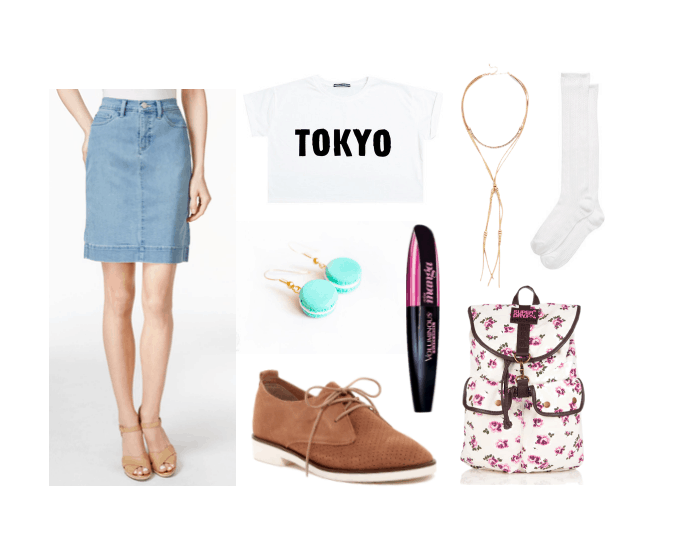 Products: Skirt, tee, necklace, socks, earrings, mascara, oxfords, backpack
Mako, as a 'no-star' student at Honnouji academy, wears a regular sailor uniform without any life fibers. To get a modern look inspired by the Japanese sailor uniform, pair a long on-trend denim skirt with a pair of fawn-colored oxfords, long socks, and a cropped white statement tee.
A cute backpack alludes to the outfit's schoolgirl origins, while a dangly pair of macaroon earrings is a nod to Mako's love of food and cute things. To finish this look with a manga-esque eye, swipe on a couple of layers of black mascara.
What do you think?
Are you a fan of Kill la Kill? What do you think of these looks? Do you have a favorite anime? Let me know in the comments below!