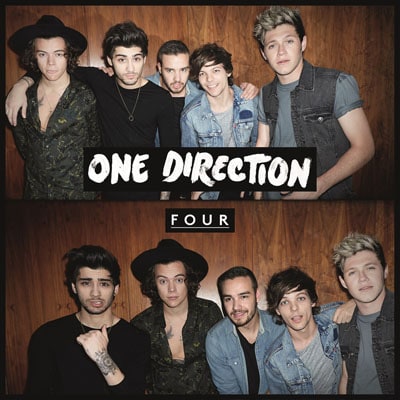 Official Album Cover
It's been four years since One Direction was formed on The X FactorUK; and although some believed, like most teen fads, they would quickly fade away, they're still here and stronger than ever. As their fan-base has grown (in both size and age), it's clear that 1D's music has grown with them. The group's latest album release, titled Four, shows a great progression from their old bubble-gum pop days: they've experimented with a new sound and gotten heavily involved in the writing process.
The album features fun pop tracks like "Girl Almighty" that, of course, has One Direction's irresistibly catchy touch, but those who aren't as familiar with their music may be surprised to find some slower and smoother songs, like "Fireproof." Other notable tunes from Four are "18," a beautiful love song written by Ed Sheeran, and "Stockholm Syndrome," a punchy and dynamic track with a bit of an '80s-inspired twist.
I say it's never too late to dive into the boy band craze! Below are FOUR looks inspired by four songs from "Four" (enough fours yet?):
Steal My Girl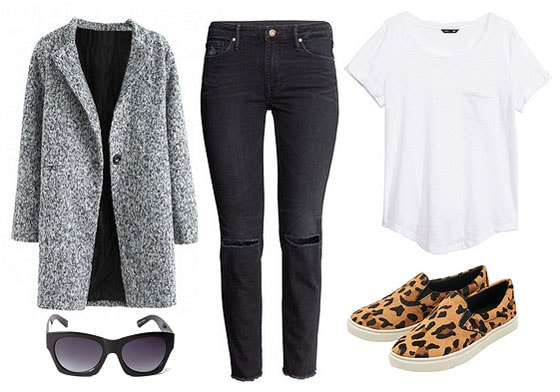 Product Information: Coat, Shirt, Jeans, Shoes, Sunglasses
Although the music video for "Steal My Girl" makes little sense, the boys' outfits are quite simple and casual (Okay, Harry's maybe not so much). This look combines some of the pieces of their outfits from the video, but also captures the vibe of that sought-after cool girl the song is about.
You can't go wrong with a plain white tee and black skinny jeans. The gray coat and slip-on skater shoes (with a not-so-subtle nod to Harry's leopard print coat) bring in a street-style chic element, especially when finished off with a pair of shades.
Ready to Run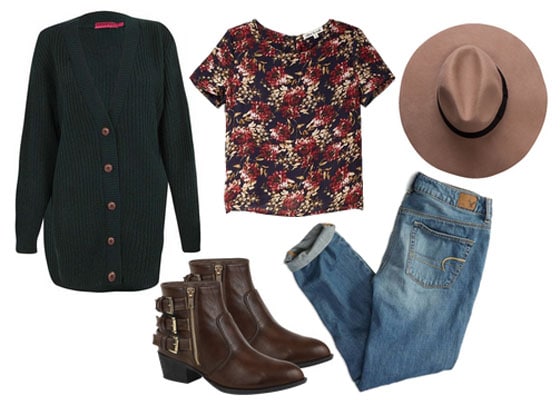 Product Information: Cardigan, Top, Jeans, Boots, Hat
"Ready To Run" is a very indie-folk inspired track; probably what you would get if their previous songs "Story of My Life" and "Through the Dark" had a baby. This songs feels adventurous, and also sounds like something you'd probably hear on a movie soundtrack (Are you imagining people running happily through a field? Me too). This look is definitely something you would see in said non-existent movie.
Start with an easy combo of cuffed jeans and brown ankle boots. A patterned t-shirt is the perfect way to stay comfy while adding detail to your outfit, and the cozy, dark green cardigan gives you more color and warmth. Last but not least, this indie-flick ensemble wouldn't be complete without a wide-brimmed hat.
Girl Almighty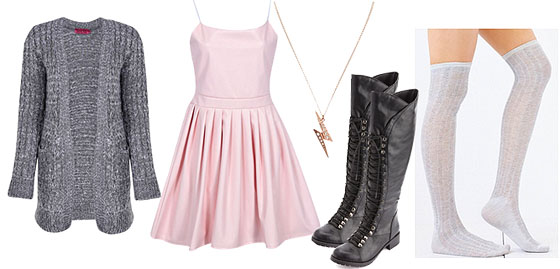 Product Information: Dress, Cardigan, Boots, Necklace, Socks
"Girl Almighty" paints the picture of a girl who is nothing short of extraordinary. She just seems to float around the room with confidence and light, and I definitely think there's a 'girl almighty' in all of us.
The pink skater dress paired with knee-high boots presents a style that is feminine but also effortlessly cool. A slouchy knit cardigan is perfect to throw over a sleeveless dress during the colder months of the year. The rose gold necklace ties in with the "stay made of lightning" lyric, while a pair of socks peeking over the top of the boots really tops off the look.
Night Changes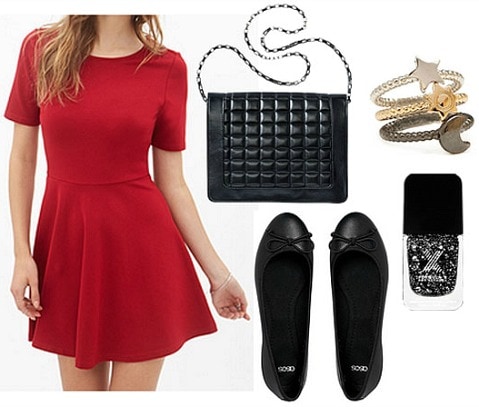 Product Information: Dress, Shoes, Nail Polish, Rings, Bag
"Night Changes" is one of the slower tracks from the album. Since this is a sweet love song, I thought it would be appropriate to create an outfit for an occasion like the music video suggests; a date.
The base of this outfit consists of a simple red dress, which represents some of the lyrics, and black flats. Accessorize with a cute crossbody bag, rings with the moon the sun and a star, and nail polish that's dark and glittery, like the night sky.
What Do You Think?
What are your favorite songs from 1D's new album? Would you wear any of these looks? Have any suggestions for future music inspiration posts? Let me know in the comments!