This post may contain affiliate links, which means we may receive a commission if you purchase through our links. Please
read our full disclosure here
.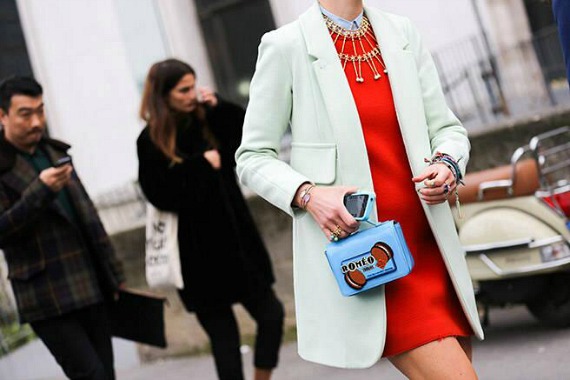 Photo Credit: ELLE
Spring is here… almost.
You're getting impatient and ready to break out your spring pieces, but it seems like every day the weather changes its mind. Is it cold? Is it warm enough for a lighter jacket? Is it snowing? Is it raining?
As annoying as this unpredictable winter-to-spring weather can be, it's also a fun fashion opportunity to break out cute mid-weight coats and experiment with layers.
I've put together three on-trend looks that allow you to stay warm, have options with extra layers, and pull out some of those pieces it has been just a touch too cold for (cropped jeans and slip-on sneakers, anyone?). Plus, I've included tips on how to make the looks even more versatile, so you're ready to go into March like a lion and out like a lamb.
Outfit #1: Grungy Mixed Textures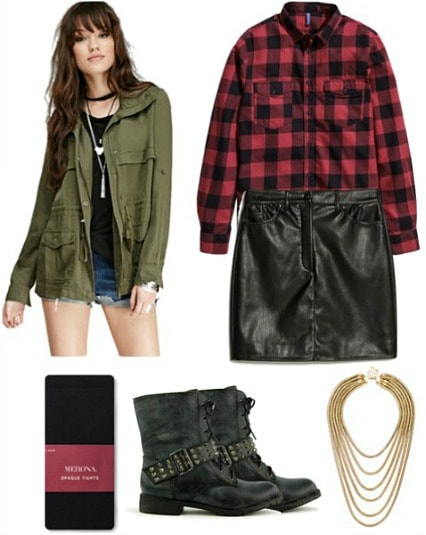 Product Info: Shirt–H&M, Skirt–Mango, Jacket–Forever 21, Tights–Target, Boots–Amazon, Necklace–Baublebar.
Although you may be dying to ditch jackets and tights, you'll be missing the fun of mixing layers and textures by the time summer is halfway over. March is the perfect time to play.
Your coziest flannel shirt will keep you warm in a chilly library and looks beyond cool tucked into a faux leather skirt. You may be sick of tights and boots by now, but all-black on bottom will streamline the look and, now that the snow is melting, you can rock boots that are a little more posh (stud-embellished, perhaps?) than practical.
An army-green (basically a neutral) utility jacket plays off the plaid and faux leather in the coolest way, and will help you brave wind and rain. The great thing about a jacket like this is that it looks great layered with other outerwear, be it a fleecy vest (worn either under or over it), a moto jacket, or a thick coat. If it's warmer, swap the jacket out for a denim or utility vest.
Keep this grungy look feminine and pulled together by tucking a layered or statement necklace under the folds of your collar. One big hit of sparkle is all you need.
Outfit #2: Sporty-Chic Jumpsuit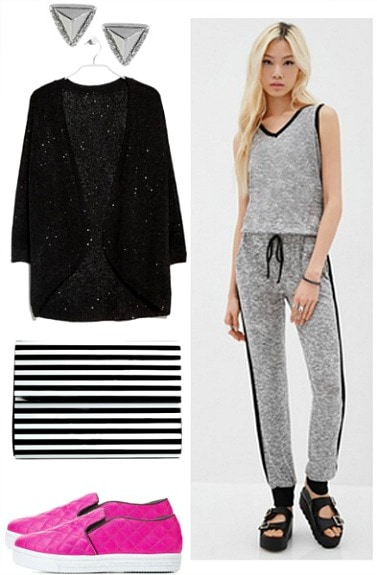 Product Info: Jumpsuit–Forever 21, Sweater–Mango, Shoes–Charlotte Russe, Clutch–Necessary Clothing, Earrings–Express.
The sleeveless, thick-knit jumpsuit I recently acquired is my favorite piece for transitioning to spring. In warmer weather it will look great without a jacket and paired with simple flats, or even with a vest. But for now, it looks good with faux-leather or denim jackets or a cozy cardi, like this one, layered over it.
Jumpsuits are also chic under long coats or with a heavy scarf in colder temps. You could even get creative and throw a long-sleeved shirt underneath.
With a full jumpsuit, opt for flats, cool sneakers, or ankle booties. I love that these quilted sneaks add a pop of color and incorporate both fashion and athletic vibes, just like the slouchy jumpsuit. With a jumpsuit this chill, make sure to dress it up a bit while still allowing it to take center stage – a structured clutch and one or two pieces of glittery jewelry are just enough. Plus, this cardigan has a hint of sparkle.
Outfit #3: Electric Eclectic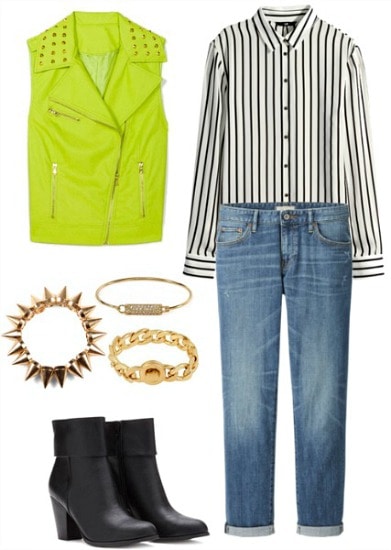 Product Info: Shirt–H&M, Jeans–Uniqlo, Vest and Booties–Forever 21, Spike Bracelet–Grand Social, Pave bangle–Rebecca Minkoff, Chain bangle–Lord & Taylor.
I don't know about you, but I have missed my boyfriend jeans. Most pairs I own are ripped, so it may still be too soon to break those out (although they could totally work with tights underneath). But it is getting to the point where rip-free, cuffed boyfriends won't leave your ankles solid ice.
Ankle booties are great for just that reason, because you can wear socks with them and they keep your feet and ankles warm without weighing down the look (it's okay if the top of the boots are covered by the cuff of the jeans if they have a little heel like these). Once it's warmer, flats, sneakers, and wedges would also work well with this outfit.
With BF jeans, opt for something polished on top, like a pretty blouse or crisp collared shirt. Long sleeves keep the outfit winter-appropriate. While this look would be great with any number of jackets or even a pull-over sweater (picture this: your best cable-knit and your favorite structured jacket over that striped top), I love it most with a bold vest if it's a little warmer. This getup is ideal for when it (finally!) hits the 60s.
Make the look an even more eclectic mix by stacking gold bracelets in different shapes. So chic, and they'll make you smile every time they peek out from under your sleeve.
What do you think?
Are you planning on trying any of these looks? What are your weather struggles this March? How do you dress for unpredictable weather? What's your go-to layering piece? Tell meabout it in the comments!