This post may contain affiliate links, which means we may receive a commission if you purchase through our links. Please
read our full disclosure here
.
If you've been following the news recently, you can agree that we all could do with a little luck these days. Thankfully St. Patrick's Day is approaching. Many cities have been banning large scale events, and I would suggest you avoid any large events even if you are in a city without this protocol.
All that said, why not dress to celebrate the holiday regardless?
Green is completely in this year, and thanks to Billie Eilish, lime green is the real color of the year. While I initially thought only she could pull it off, brands are showing everyone how we can all work this shade.
Personally, I'm scared of taking this risk, so what a better time to test out the lime green trend than a day when everyone is wearing green anyways?
Still not up for the challenge? Why not just try on an accessory, like a scarf, a pair of socks or a hair clip? There are so many ways you can incorporate green in what I'm hoping is a lucky day.
Here are a few outfit ideas for you to try on when spending time with your friends or family this St. Patrick's Day. All items you can wear year-round, for year-round luck.
What to Wear on St. Patrick's Day: Outfit 1
Products: Sweater – Urban Outfitters, Skirt – H&M, Sneakers – Nike, Scrunchie – Asos
Without a question, lime green is in! A cute sweater balances the edginess of the color, and you can wear it anytime and with pretty much anything. A faux leather skirt makes the look cool but still very girly.
Throw on your favorite white sneakers for a casual look for a gathering with your friends.
Top it off with a hair accessory, like a scrunchie, a barrette or a hat.
Don't like wearing green or color in general? Try wearing just this cute lime green scrunchie with a neutral outfit — no one can say you're not participating in the festivities.
What to Wear on St. Patrick's Day: Outfit 2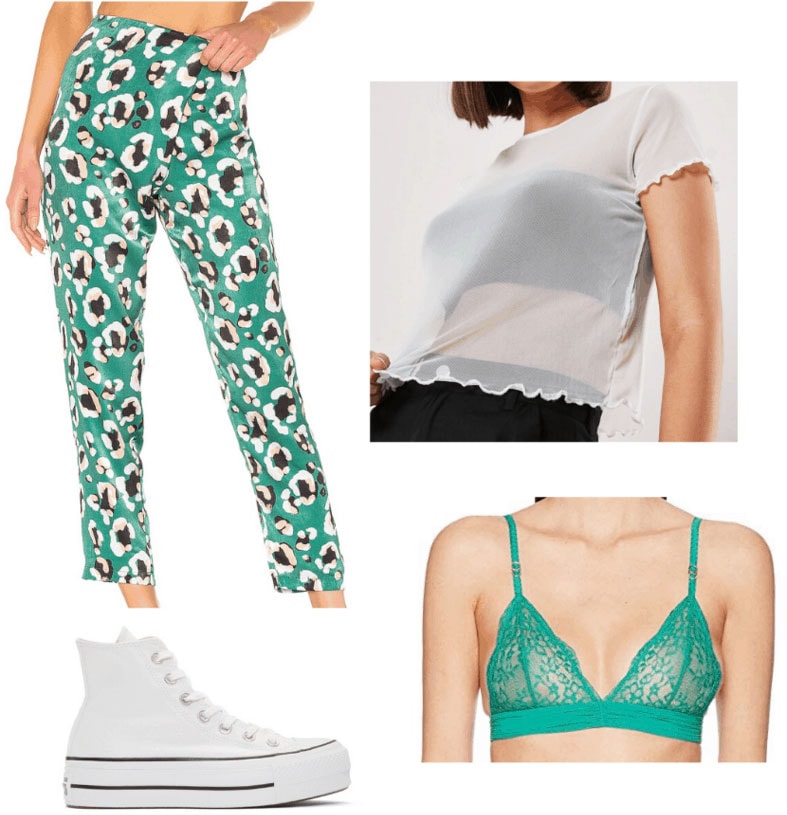 Products: Pants – Revolve, Top – Missguided, Bralette – Stella McCartney, Shoes – Converse
Deep green is one of my favorite colors — it's just so elegant. Mix it with a funky print, and it couldn't be more on trend.
These printed pants aren't only on trend, they're also super comfy because they're made of satin. But we have more green to add to this outfit. Create an edgy look with a see through white shirt and a green bralette. Top it off with some go to sneakers like a pair of Converse.
This is a look that's super easy to style and you can dress it up or dress it down simply by swiping the shoes for combat boots for a party or heels for a fancier event. And if you're not down with sheer, just wear a regular white tee with these pants — so easy!
What to Wear on St. Patrick's Day: Outfit 3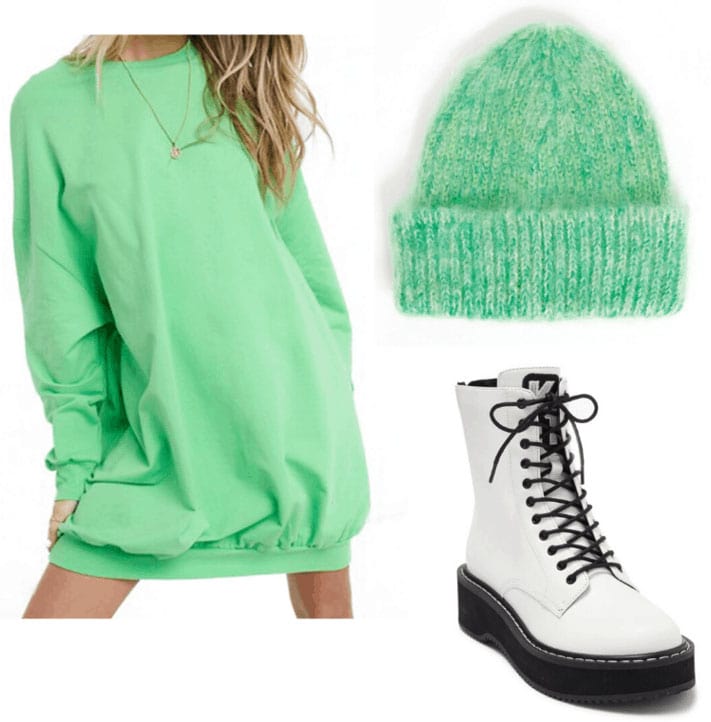 Products: Sweater dress – Asos, Combat boots – Kendall + Kylie, Beanie – Asos
A lazy girl outfit for St.Paddy's? Sign me up. Full disclosure: I created this look because this is what I'll be wearing.
Not only is a sweatshirt dress super comfy, they are so cute and can be worn year round. A green beanie adds a little more luck to your outfit. (Obviously that's the reason you're wearing it, not because you haven't washed your hair in a week.)
Throw on some white shoes to create a cool contrast; these combat boots will bring a little edge to your adorable look.
What to Wear on St. Patrick's Day: Outfit 4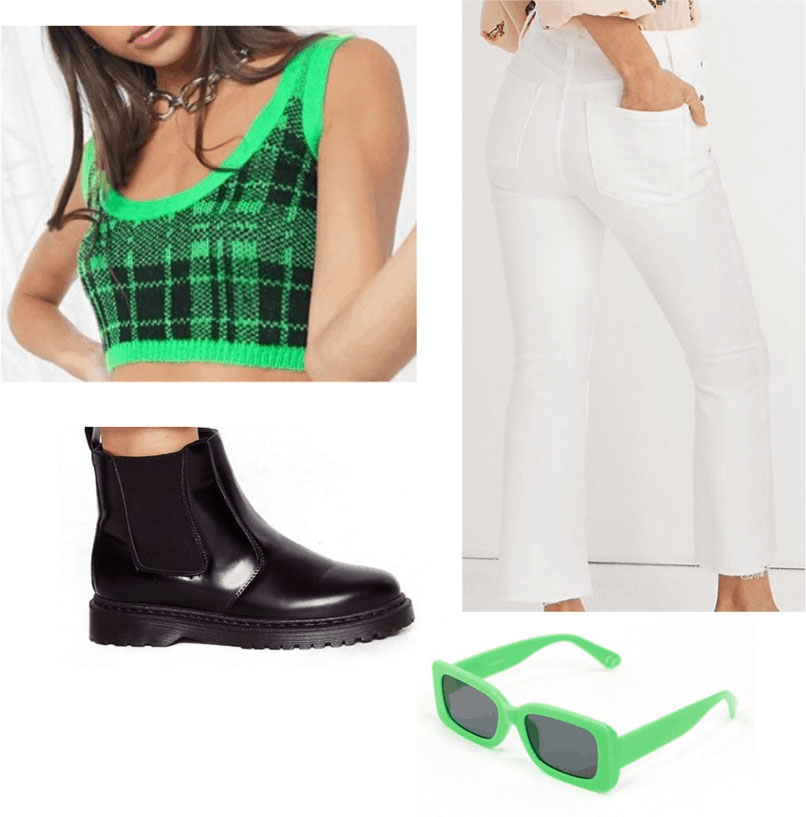 Products: Sweater vest – Asos, Jeans – Madewell, Boots – Nasty Gal, Sunglasses – Asos
Plaid has been on trend for like two years now and it doesn't seem to be going anywhere. So when you're thinking about what to wear on St. Patrick's day, why not go for a plaid green top?
Match your top with a pair of white flared jeans that are all the rage at the moment. Some cute Chelsea boots will bring a cool vibe to the look. Top it off with these super cute green sunglasses.
This is a super easy party look when hanging out with your friends.
This St. Patrick's Day is gonna be a little different than most, but it doesn't mean we can't have fun and look cute for some quick Instagram shots.
And keep your fingers crossed for a little luck on Tuesday, because the whole world is in need right now. Good luck ladies!
Did you like our St. Paddy's Day looks?
Did we miss any outfit ideas? What are your plans for St.Patrick's Day this year and what will you be wearing? Let us know!