For my first blog here on CF, I wanted to post about something that reflects my life as a UW Madison Student, as well as one of my favorite things about college: Game Day!
My roommate has already threatened to wake me up at 8 AM for football games, so I will not have time to fret over what I am going to wear!
To make life easier for those of you worrying about what to wear while cheering for your team, look no further – I have highlighted two affordableoutfits depending on what the weather is on that particular day.
What to Wear When it's Smoldering Hot Outside:
In order to stay cool in the hot weather, it's a good idea to stick with a basic tank and cute cuffed shorts. You can then dress them up with accessories.
For accessories, I chose to dress the basic look up with a flower clip (for a ponytail or to pull some of your hair back), gladiator sandals in a contrasting color, and a ribbon to put on your shoulder to help your basic tank stand out from the rest! Ribbons are one of my favorite accessories because they're a cheap, instant way to make an outfit (or your hair) really pop!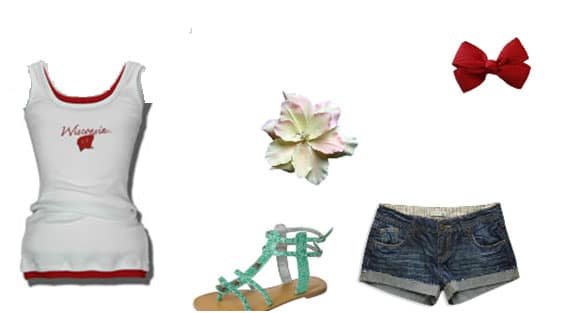 Product Info: Tank – University Bookstore, Gladiator Sandal – Charlotte Russe, Hair Clip – flowerclip.com, Shorts – Forever 21, Bow – Amazon
When the Fall Weather Starts to Kick In:
Since it's only really hot for part of the fall, a tank top and shorts will not work all season long. It's important to be cozy while cheering when it gets breezy in the stadium or on the soccer field!
Here I decided on a fun and feminine way to dress up a T-shirt, adding in a few trends as well. A white cardigan is a great basic to have in your wardrobe and an essential for every college girl – it can be dressed up or down depending on the occasion. This particular one from Old Navy has really pretty feminine detail, which I personally love.
The boyfriend jean is huge for fall and a great way to be comfortable and stylish for the big game at the end of the season. Also if it gets warm, they look super cute cuffed up.
For accessories, pointy toed flats (pictured below) are a great staple because they actually elongate the leg, making you seem taller. These particular ones are in a funky red plaid to go with my school's colors. The headband reminded me of Blair Waldorf, while layers of bangles are so in this fall it's insane. These particular animal print bangles are great because they can be worn all together or just a few at a time.
Product Info: Cardigan – Old Navy, T-shirt – University Madison bookstore, Shoes – Target, Headband – Charlotte Russe, Bangles – Miss Selfridge
Of course the colors are reflecting my school spirit, so have fun with your colors! Make outfits pop with some contrast and stand out with accessories. Also these outfits can be easily mixed and matched depending on the weather or what you are in the mood for that day!
What are your favorite ways to stand out in a sea of your school's colors? Share your thoughts!