This post may contain affiliate links, which means we may receive a commission if you purchase through our links. Please
read our full disclosure here
.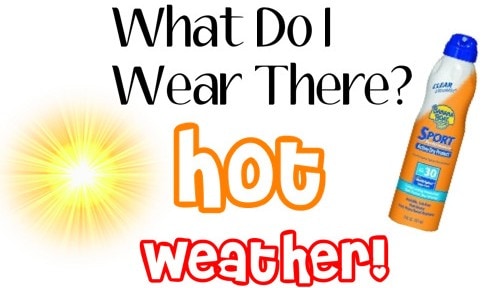 For the past week or so, those of you spending your summers on the East Coast have probably shared the exact same thoughts with me:
First—it's really, really hot!
And then second—how am I supposed to look cute in this ridiculously hot weather?
With temperatures skyrocketing well above 100 degrees in some areas, it's definitely difficult to put together an outfit that keeps you cool AND looks cool. Therefore, I wanted to tackle the challenge of what to wear when it's super hot for this week's What Do I Wear There! Read on for some cute outfits that will have you feeling cool while looking as hot as the temperature outside.
Look One: It's Gettin' Hot in Here…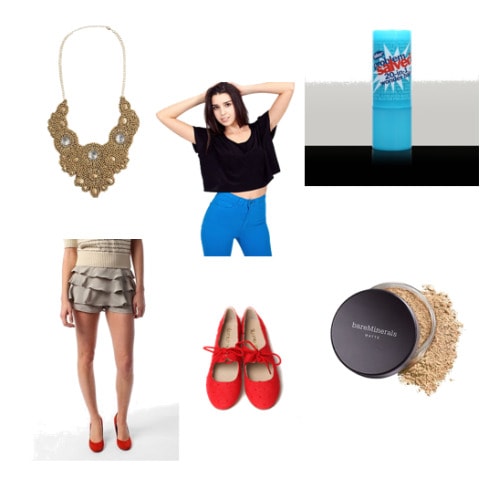 Product Information: Shirt: Americanapparel.net, Shorts: Urbanoutfitters.com, Necklace: Ardenb.com, Balm: Asos.com, Shoes: Shopruche.com, SPF Powder: Drugstore.com
This look is perfect for when the temperature is climbing but still pretty manageable. I wanted to create a look that would work from day to night (assuming you're spending your day in a pretty laid back environment) with you only having to tweak your hair and makeup a bit.
I love the variations on basic shorts that have been everywhere this summer and these breezy, ruffled shorts are not only unique but also lightweight and perfect for hot weather. Since they have a higher waist, I paired them with a cropped top. (Hint: if you want to avoid showing your stomach, go for a larger size that will skim the waistband of the shorts.)
To add a pop of color to this look, go for fun, red shoes. These are a bit more summery than regular sneakers but just as comfortable! However, to prevent any blisters, get a great balmlike this to use on your feet before slipping on your sneakers. This one is particularly great, as it also can be used as a lip balm or to tame flyaway hairs.
To add some sparkle for day or night, throw on a bejeweled bib necklace. These are especially great in hot weather, as they are fastened with ribbon—chains and metals can sometimes be uncomfortable in heat!
Finally, and I'm mentioning it here but mean it for all of these looks: absolutely do not forget your SPF! I'm a big fan of powders with SPF, like the one above, as they give you a bit of coverage while protecting your skin. They're also great for your scalp since they'll protect it from burning while absorbing any oil.
Outfit Two: Temperature's Rising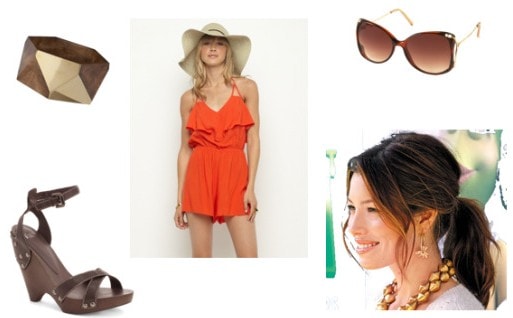 Product Information: Romper: Roxy.com, Bangle: Oasis-stores.com, Shoes: (the ones above are sold out but here are similar styles from the store) Asos.com, Sunglasses: Topshop.com
Another great option for sweating out summer heat is a lightweight romper. This one is a thin, floaty fabric in summer's hottest hue, so it's perfect for battling the summer heat! Once again, it would definitely work for day or night since it is sweet but sexy and can easily be dressed up or down.
Here, I styled the romper for day, adding a geometric metal cuff and similarly funky sunglasses. I wanted shoes that would also be a bit more edgy, so I went with some studded wooden heels. The wedge-like shape of these heels ensures that they'll be comfortable all day (and night) long!
As the temperature climbs, one of the hardest things to deal with is your hair, so keep it simple but stylish in a deconstructed ponytail like Jessica Biel's. This will keep it from getting frizzy and sticky on your shoulders, and it will also show off your outfit!
Outfit Three: Feeling Hot Hot Hot!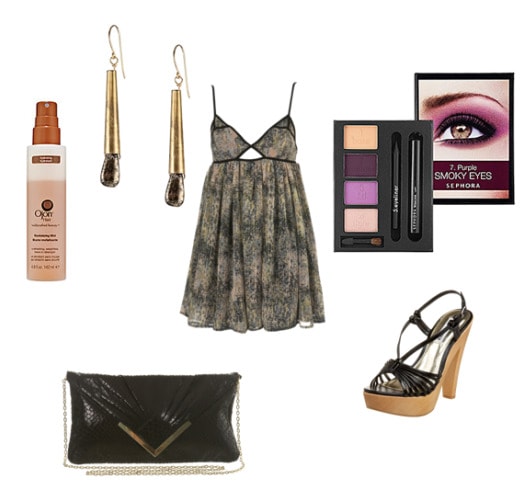 Product Information: Dress: Topshop.com, Earrings: Maxandchloe.com, Revitalizing Mist: Sephora.com, Clutch: Missselfridge.com, Shoes: Endless.com, Smoky Eye Palette: Sephora.com
Now it's time for a super hot look for super hot weather! I wanted to do a night look the second I saw this amazing sundress. Cutouts are a huge trend right now and this one has a cutout in a flattering spot that shows just enough skin. If you want to wear it for day but feel like it's too revealing, you can simply slip a black tank underneath.
For night, add a pair of wooden heels that are a bit higher than the ones in the previous outfit. A classic black clutch keeps the focus on the dress, while I tried to pick up on the smoky purple undertones with this eye makeup palette.
If you do wear this look at night, perk up flat, frizzy hair with refreshing style spray before twisting it back into a messy bun. For extra glamour, these dangling earrings with purple stones at the ends are the perfect finish for a fun night out!
How do you deal with the summer heat?
You've seen my outfit choices, but now I want to know: how do you dress for hot weather? What are your favorite summer styles? What sort of hair and beauty looks work best for you in the strong summer sun? Let us know what you think in the comments!
Also, if you have any "What Do I Wear There" questions, leave them below; yours may be featured in the next article!