Picture this: You've just bought the cutest tank top and decide to wear it to brunch with your besties. As you sit under the not-so-shady umbrella, you feel something wet under your arms. To your disbelief (because you definitely applied deodorant this morning), you find that stains have started to appear in your armpits. Sound familiar?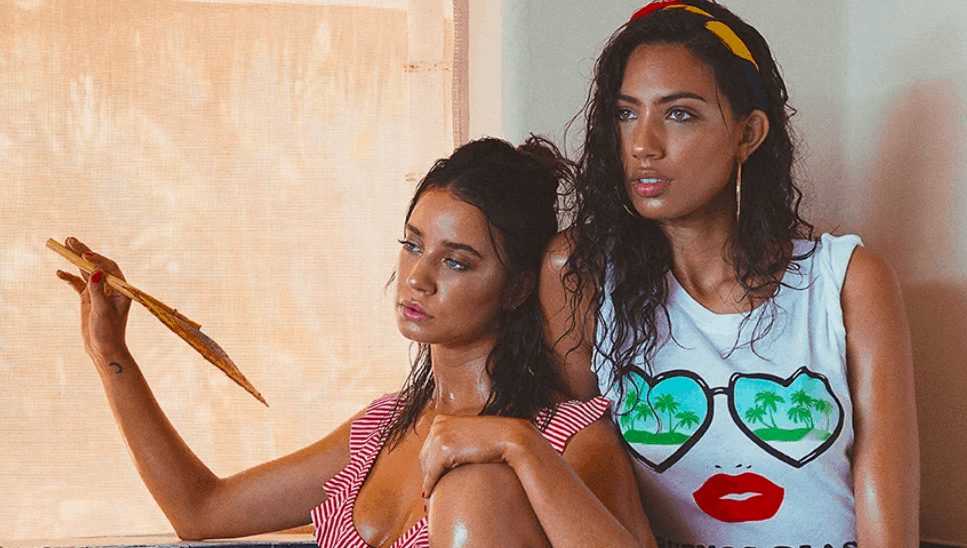 While it can be kinda embarrassing to talk about, sometimes you just have to confront the harsh reality of heat-induced pit stains (or, ahem, sweating through your shirt in other places). If you're walking around or just being outside for more than twenty minutes at a time, you will probably face this problem.
But, don't sweat it (bad pun, I'm sorry), we've got hacks to help you avoid that underarm sweat mortification and the other sweaty issues you encounter when getting dressed in the summer.
Here are our favorite tips for how to dress to minimize sweating through your clothes:
Tip #1: Cotton is your best friend.
Do you remember those ads with the peaceful guitar in the background and someone singing "Cotton is the fabric of life"? Ads CAN be truthful sometimes. Cotton is ideal for summer weather; polyester is not. Take note.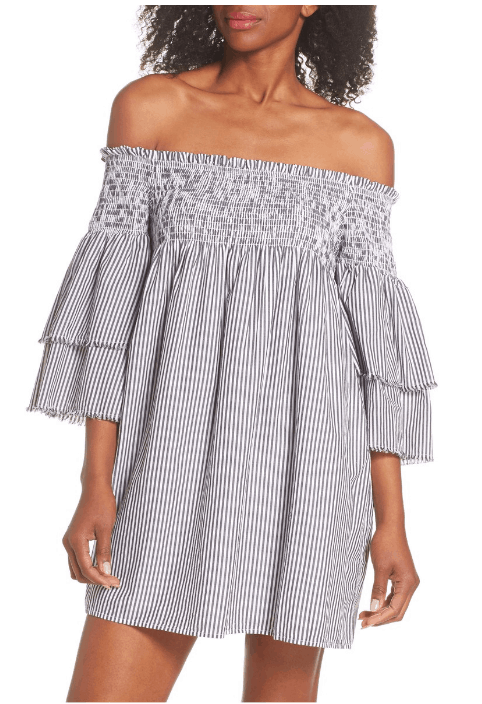 Some fabrics will breathe better than others and some will get you sweaty immediately, so be careful of which you choose if you know you're going to be outside or doing any kind of sweat-promoting activity (or if you just sweat a lot).
Good fabrics include natural fibers, such as:
Bad fabrics include synthetic fibers, such as:
Most man-made fabrics are made to repel water, meaning they'll just repel the sweat back onto your skin. This is obviously not what you want, so avoid them.
Tip #2: Choose your colors wisely.
This is going to sound like a bit of a letdown, but bright neon hues show sweat much, much faster than neutrals.
The alternative, however, is to go with light colors, prints (yay florals!), white, and black (ugh, I know), which can last through a balmy summer day. (Indeed, black does trap heat, but it also hides sweat, so I still consider it a good summer choice.) Just avoid gray and bright, non-print colors at all costs – these show sweat the most. But bright colors are SUMMER colors, you insist. You're right. I'm sorry.
Here are some pieces that won't let you look damp. Because you can, of course, sweat all over your body, I didn't stick to pieces for your upper half.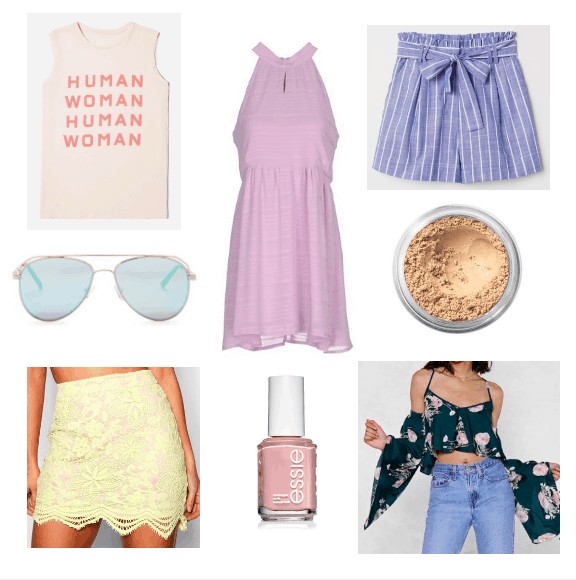 Products: Tank Top – Everlane, Sunglasses – Vince Camuto, Skirt – Boohoo, Halter Dress – Yoox, Nail Polish – Essie, Shorts – H&M, Concealer – bareMinerals, Green Top – Nasty Gal
I also threw in sunglasses (of course) and concealer with SPF because sun protection is so important and it can be such a hassle to buy products with SPF already in them. Now you don't have to add 5 steps to your beauty routine and your skin will be beautiful and healthy!! Also, pale pink polish. Because it's timeless and chic.
Tip #3: Find What Works for You
If sweating through your clothes is a persistent issue for you, there is no magic pill solution. Even though it sucks and can be embarrassing at times, trial and error is your best bet.
Experiment with deodorants. Some women swear by men's deodorants, for instance. Invest in clothing with cutouts (i.e. ventilation), especially dropped armholes!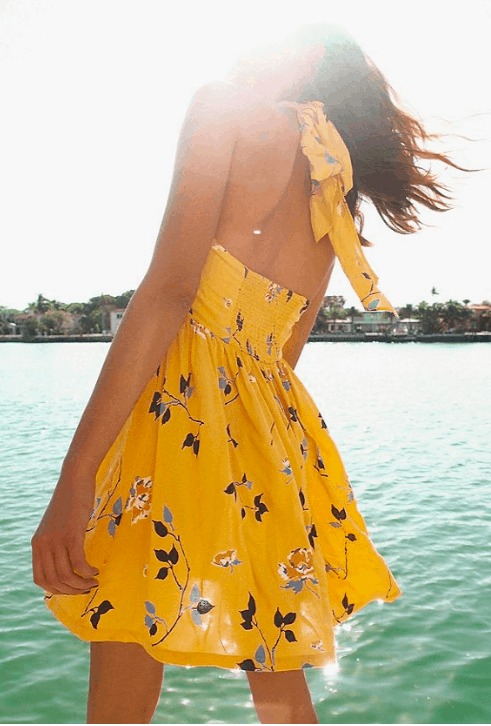 And, if you want to make SURE there won't be any stains, sweat shields are always an option. You can buy them here.
With all that being said, summer should be your season to relax and enjoy those months off, not to constantly worry about all the things that could go wrong. Remember we're all human. We all make mistakes and say dumb things and have pit stains at times. It's not the end of the world.
What Do You Think?
Is this a problem for you? Have any special hacks for summer weather? Have you tried any of the ones above? Let us know in the comments below!