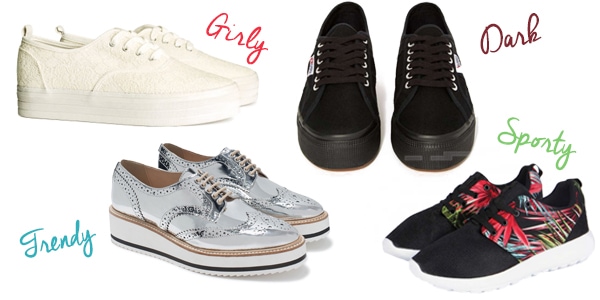 Photos: H&M, Nasty Gal, Zara, Boohoo
Do you have a favorite item in your closet? Want more ideas on how to accessorize it for different occasions? We're here to style, mix, match, and accessorize so you can get the most out of your best-loved wardrobe staple – and Wear It All Month.
New shoe trends are all the rage right now – and your feet can still be cute and trendy without tying yourself up in lace-up flats or getting blisters from your kitten heels. Enter the most comfortable shoe trend (possibly of all time): the platform sneaker.
For the longest time, sneakers have been reserved solely for the gym, volleyball practice, and the quick midnight run to Dairy Queen. Gone are those days; time to dress up your sneakers!
With the unpredictable spring weather, it's important to dress for the elements. We styled one pair of sneakers three different ways, with hats, sunnies, and outerwear to be prepared for anything nature throws at you. Scroll down to see all three outfit ideas:
Outdoor Brunch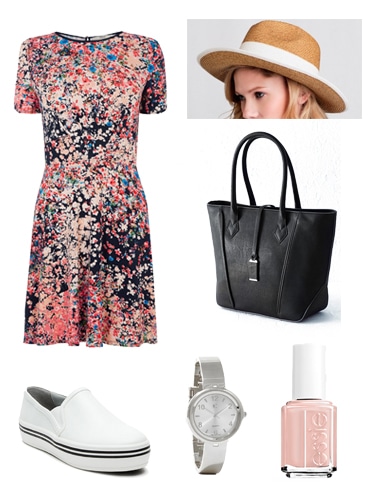 Product Information – Sneakers: Dolce Vita, Dress: Oasis, Bag: Warehouse, Watch: Charming Charlie, Hat: Ruche, Nail Polish: Essie
Whether it's girls' day with Mom or an office treat, brunches seem to come up every now and then on the calendar. We want to enjoy our cinnamon rolls and orange juice without being distracted by the 4-inch strappy heels our feet are crammed into. White platform sneakers are just dressy enough to be the perfect alternative, while still giving you a little bit of height.
The birds may be chirping and the bees may be buzzing, but that sun is beating down on your curls. Keep your eyes and skin safe with a wide-brimmed hat; it's cute and protective! And remember, you are wearing sneakers, so keep the look feminine with a skirt or dress and some simple jewelry. This watch is classy and perfect for the occasion.
A Day on the Boat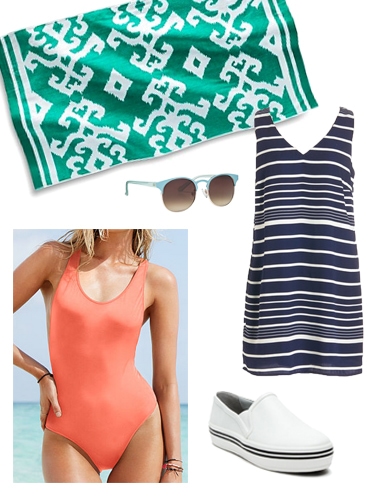 Product Information – Sneakers: Dolce Vita, Dress: ModCloth, Sunglasses: Maurices, Swimsuit: Victoria's Secret, Towel: Target
Who said flip-flops are the only acceptable shoe to wear with a swimsuit? These slide-on sneakers give you good traction on a slippery boat, and go perfectly with a solid-colored swimsuit peeking out from under a nautical tunic dress.
As long as you keep the patterns simple, you can add as many colors to this look as you want. A day on the boat is fun and bright, just like your outfit! Grab a cute mosaic towel and pastel sunnies to top off this warm weather-ready look.
Game Day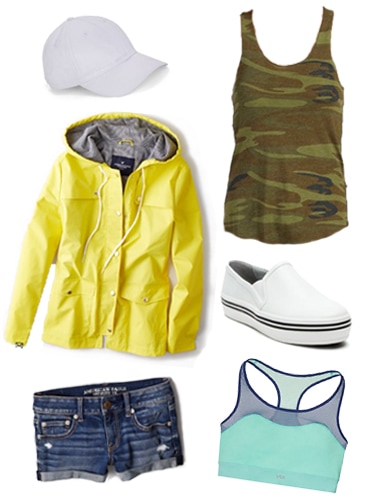 Product Information – Sneakers: Dolce Vita, Shorts: American Eagle, Tank: Bluefly, Rain Jacket: American Eagle, Baseball Hat: Levi's, Sports Bra: Victoria's Secret
Whether it's your little sister's softball tournament or the KC Royals game you've had tickets for since February, game day can be pretty unpredictable when it comes to weather. You can show up at 10 am in the pouring rain, and then you're peeling off layers at 3 pm due to the 90-degree-humidity and sun rays.
Stand out in the gray mist with a pop-of-color raincoat, and stay comfy by layering racerbacks underneath. This sports bra will be forgiving if it gets humid outside, and also looks cute contrasted against the camo tank. If it's raining, just be careful not to step in the mud with your white shoes!
What do you think?
Would you wear platform sneakers? Which style would look best in your closet? Which look is your favorite? Where else could you wear a platform sneakers and how would you style them? Remember to leave a comment below and tell us what you think!