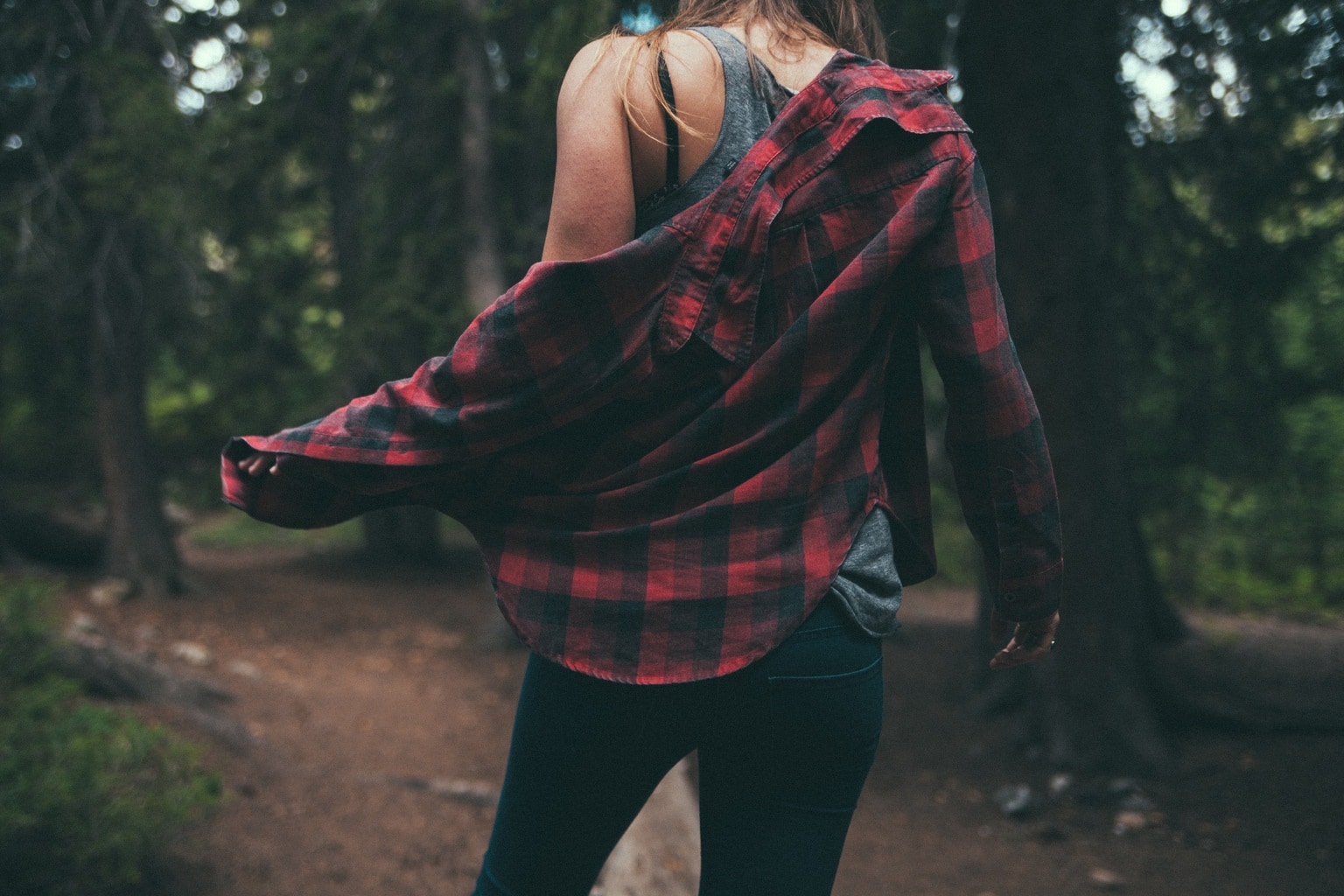 Soft Grunge: a pale, sensitive, emotional, brooding, and otherwise Tumblr #goals movement that somehow – over the past year or so – has turned fashion.
If you've been following along over the past month, you may have seen the last two installments in my Underground Trends series: Cutester and Seapunk. Both featured bright, eye-catching outfits and trends that verged on ridiculous. Therein lies the beauty of the internet – taking the simply silly and turning it into the simply inspirational. This week I'm taking shots at a new trend, something a little bit…softer.
Rooted in the grunge–punk movement of the '90s, soft grunge is the spawn of Nirvana, flannel, ripped tights, moody teenagers, and wannabe punks. It's the grandchild of a movement that swept the nation. Or, perhaps, it's the meek-mannered cousin.
Either way, soft grunge has made quite an impression. Girls across the internet turned Kurt Cobain, crosses, pastel hair and pixie faces into a Kate Moss-esque fashion statement. Soft grunge is all about flannels, floral patterns, platform sneakers
However fabulous the fashion, the message behind the movement is nothing short of troubling. Should negative self-talk be so blatantly glorified? Should pictures of anguished faces, bruises, half-smoked cigarettes, and angular bones be lifted up as an iconic, or even desirable, look? The '90s seemed to think so, but we don't.
So today I want to make it clear that we're separating the fashion from the Tumblr movement a bit. We can talk about the styles yet still aim to treat ourselves – and those with mental illnesses – with respect.
If you're interested in the grunge look or just edging up your everyday casual, take a look at these (safe) (unique) (interesting) ways to bleed a bit of soft grunge into your wardrobe.
Look #1: Fab Flannel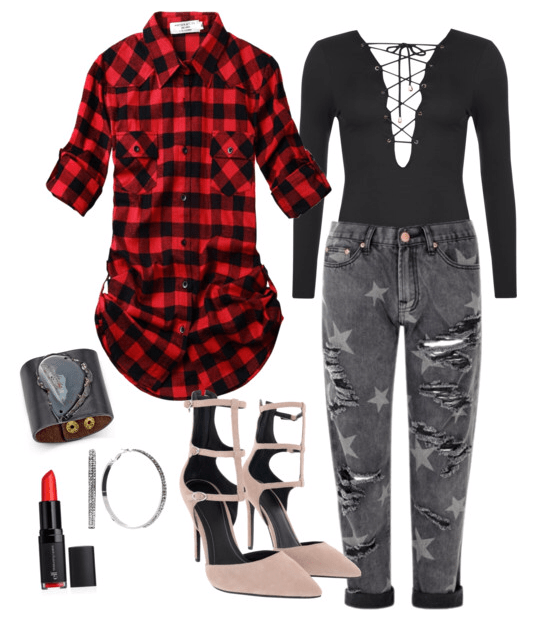 Product Information: Flannel, Bodysuit, Jeans, Heels, Hoops, Lipstick, and Cuff.
Punk it up with a pair of shredded, printed jeans and a flannel tunic. An of-the-moment black lace-up bodysuit keeps things cool for a muggy fall day. Pair it with silver hoops, red lipstick, and fun heels for a fresh, modern, comfortable look that can transition from class to night out. Subtract the flannel, add heels, and you're good to go!
Look #2: Broken-In Boots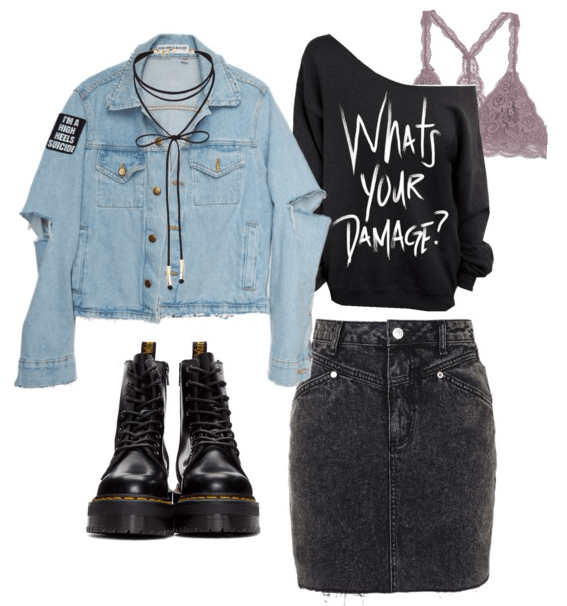 Product Information: Sweatshirt, Skirt, Boots, Necklace, Jacket, and Bralette.
Kick things up a notch with this all-black ensemble. "But wait," some of you cry, "Denim on denim! And not even…the same color, denim on denim!" Fear not, fashion lovers: Black denim and blue denim can be worn together. Be tasteful with accessories or rock out with a leather necklace and Dr. Martens. The choice is yours: pretty sweet, or pretty stoic?
Look #3: Punk Rock Pastel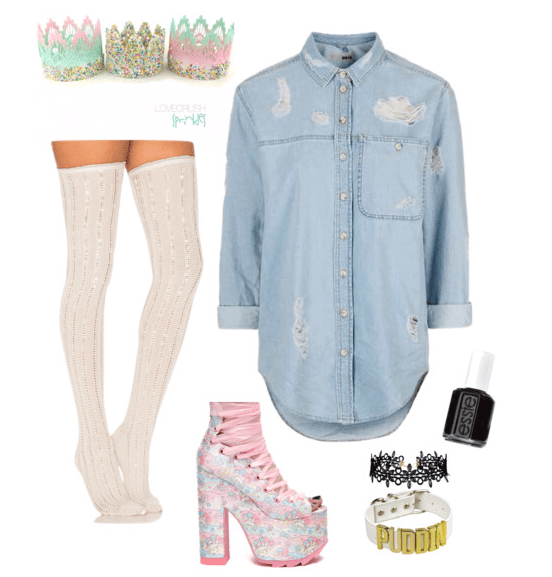 Products: Shirt, Socks, Shoes, Sprinkle Crowns, Choker #1 and #2.
Look pretty in pastels in these sweet ribbon heels and over-the-knee socks. Add a little spice by wearing an oversized denim shirt as a tunic. Pair two chokers (or layer on another necklace) for a fun, quirky vibe. Finish things off with black nail polish and your pastel-hued crown of choice.
What do you think?
What are YOUR thoughts on soft grunge (and its many faults)? Would you / could you / have you rocked it? Are you a fan of the Underground Trends series? Looking for more of the cyber-strange, or the ultra-modern? Sound off in the comments!