Products L-R: Urban Outfitters, Dolls Kill, Forever 21, Dolls Kill.
We know what you're probably thinking: Track pants? For anything other than the gym or studying? Yes indeed. And we're about to show you how to make them work.
The designs and styles of track pants are similar across the board. Most track pants (like those above) have buttons on the side, stripes on the side, or both. That's about it for details. They come in different colors, from basic to bright.
Track pants are a favorite among celebrities. Some celebs, Kim Kardashian for example, like to wear track pants with less casual pieces. For instance, Kim was once seen wearing a lace bodysuit with track pants.
Below are some styles to display how you can style track pants for class and a night out.
How to Style Track Pants – Outfit for Class: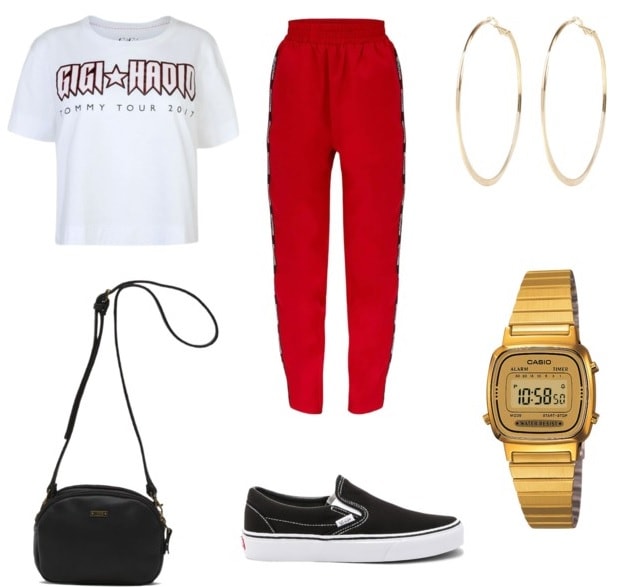 Products: Shirt – Flannels, Track pants – Pretty Little Thing, Earrings – River Island, Shoes – Vans, Watch – Casio, Purse – Vans.
For your class look, rock black Vans with these Pretty Little Thing red track pants. I personally prefer slip-on shoes like these with track pants, but any sneaker would work here.
Keeping with the sporty look, add some simple accessories, such as hoops or studs and a gold Casio watch. These extras give the outfit some more interest. This Vans purse is a cute option that you can just throw over your shoulder for class.
How to Style Track Pants – Outfit for a Night Out: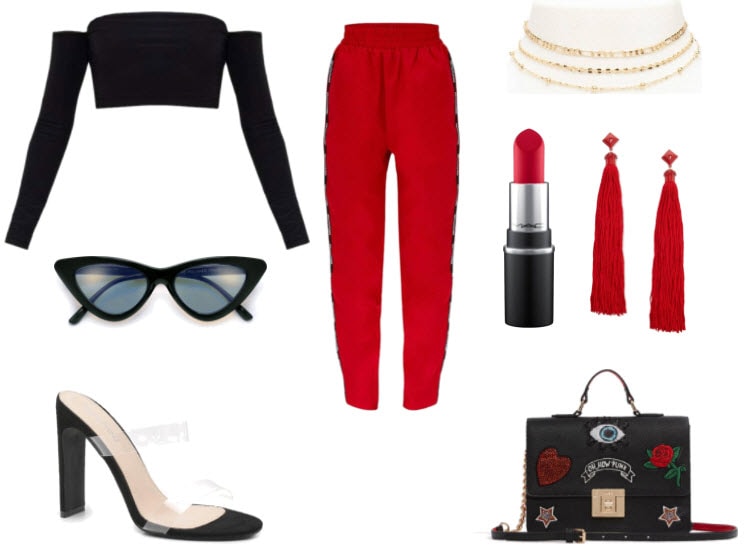 Products: Earrings – Forever 21, Lipstick – MAC Cosmetics, Heels – Boohoo, Crop top – Pretty Little Thing, Track pants – Pretty Little Thing, Choker – Forever 21, Sunglasses – Sunglasses Spot, Purse – Aldo.
For this going out look, Kylie Jenner came to mind — I could totally see her wearing this outfit. Many celebrities style their track pants with crop tops, so why not give the look a shot yourself?
I love the details and accessories of this outfit. They make the look stand out and come together at the same time. The funky, adorable, patched satchel from Aldo gives this look a fashion-forward vibe, while Boohoo's clear band mule heels scream designer even though they aren't.
Small cat-eye sunglasses are so stylish (though optional for night). I'm calling it now: This type of frame will be summer's hottest accessory.
Finish this look with red tassel earrings from Forever 21 and Ruby Woo by MAC Cosmetics (pro tip: Bloomingdale's has Ruby Woo and other lipsticks in mini sizes for $10!) for extra pops of glam.
Track pants, are they hot or hmm?
Inexpensive track pants can be found at Dolls Kill, Pretty Little Thing, Forever 21, and many more stores. Will you be grabbing a pair? What does your perfect track pants outfit look like? CF wants to hear from you. Comment and let us know!