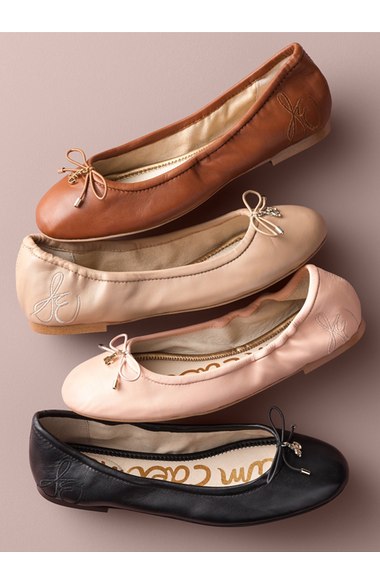 The ballet flat has had a long and interesting fashion history, with various versions coming in and out of style since its very first iteration. This is perhaps because it exudes timelessness and femininity, while being easily adaptable to seasonal trends. If you want to learn a little bit more about the ballet flat, you've found the right place!
Below, I'll share a quick history of the ballet flat, give you some outfit inspiration, and suggest some tips on buying the perfect pair.
A Brief History of the Ballet Flat
The ballet flat actually originated from ballet shoes. Although ballet shoes first came on the scene in the 18th century, the modern ballet shoe we can see on stage today was created by Salvatore Capezio. After seeing the shoes and realizing their potential, a designer named Claire Mccardell asked Capezio if he could add a hard sole to the shoe so she could use them as the shoes in her collection in 1941.
In 1947, Rose Reppetto designed her famous style. Brigitte Bardot loved the look and wore them in one of her movies. With this style icon on board, the ballet flat really took off. Throughout the years, other style mavens like Princess Diana and Audrey Hepburn loved and wore the style and increased its popularity.
Despite some style updates like buckles, new fabrics, new shapes, laces, and more, the classic ballet shape has never changed too much. As ballet flats are perfect for a comfortable and put-together look, it's really no surprise.
2 Ways to Wear the Ballet Flat
Below the ballet flat is styled in two different ways. Although I usually try to use the same product for each outfit, this time I decided to show how to wear two different pairs – a modern ballet flat and a more classic one.
Ease in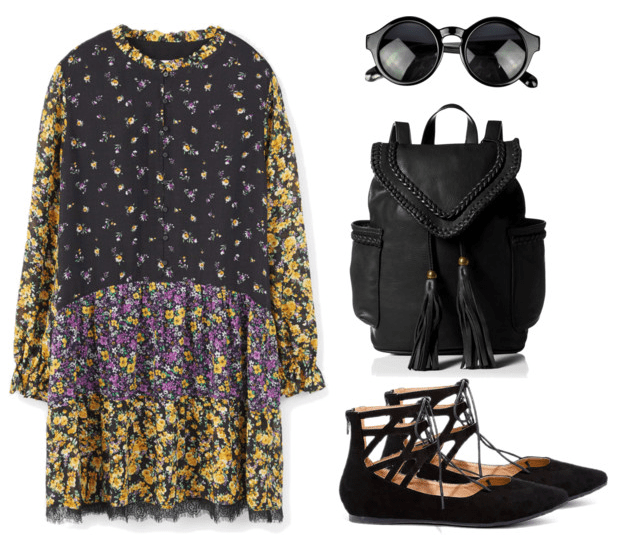 Products: Dress, Sunglasses, Backpack, Flats
Ease into ballet flats by rocking a modern lace-up style. These trendy shoes look great paired with a flowy floral dress. A backpack and sunnies are practical additions to your look and match nicely with the flats.
Go for It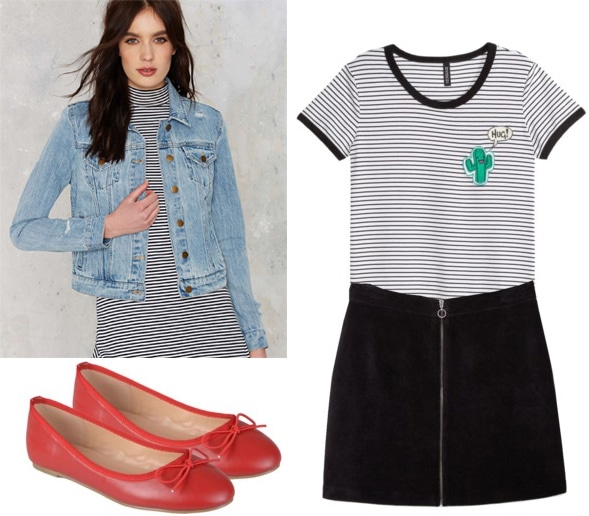 Products: Jacket, Flats, Shirt, Skirt
Embrace the classic ballet flat with its rounded toes, bows, and all by wearing it with a 2016 look. This denim jacket, while a classic piece, keeps you looking cool with its oversized fit and star-shaped studs. The a-line mini's shape works well with the feminine flats, and its dark black shade keeps it hip. Tuck your favorite graphic tee into the skirt and you're ready to go!
3 Tips on Buying Ballet Flats
Seek out flats with 2016 style updates. Although the classic ballet style always works, this season we have some cool new variations. Miu Miu's punk-rock strap styles are selling like crazy and serve as edgier inspiration. Lace-up flats are still trending on from 2015 and we're still wearing them regularly.
Consider your price range. Flats are so ubiquitous that you can find some for under $10. Of course, cheap shoes may not last as long or be as comfortable as pricier pairs, so decide what purpose you want them for, then buy accordingly.
Think about comfort. Although comfort isn't always at the top of the stylish person's mind, the ballet flat can offer it anyway (without compromising style). Don't buy an uncomfortable flat just because it looks cute! There are so many other comfortable styles out there that it would be silly to. Inserts can add comfort to your favorite pair as well.
What do you think?
How do you feel about ballet flats? Do you have any tips on how to wear them or what to consider when buying? Any other classic fashion pieces you'd like to know more about? Leave a comment and let me know!