Okay, I have a confession to make. More times than not, I completely forget to put on accessories. I know, how can I call myself a fashion fanatic when I don't even properly accessorize my outfits? It's definitely something I want to work on since I know what a difference accessories can do for a look.
So for one week, I challenged myself to use one statement accessory each day to tie my outfit together! I feel like this will encourage me to wear accessories more often and help me realize what a big difference one good piece can make. I'm challenging you to try this out too! See my outfit sets below for some inspiration and have fun with it.
Monday: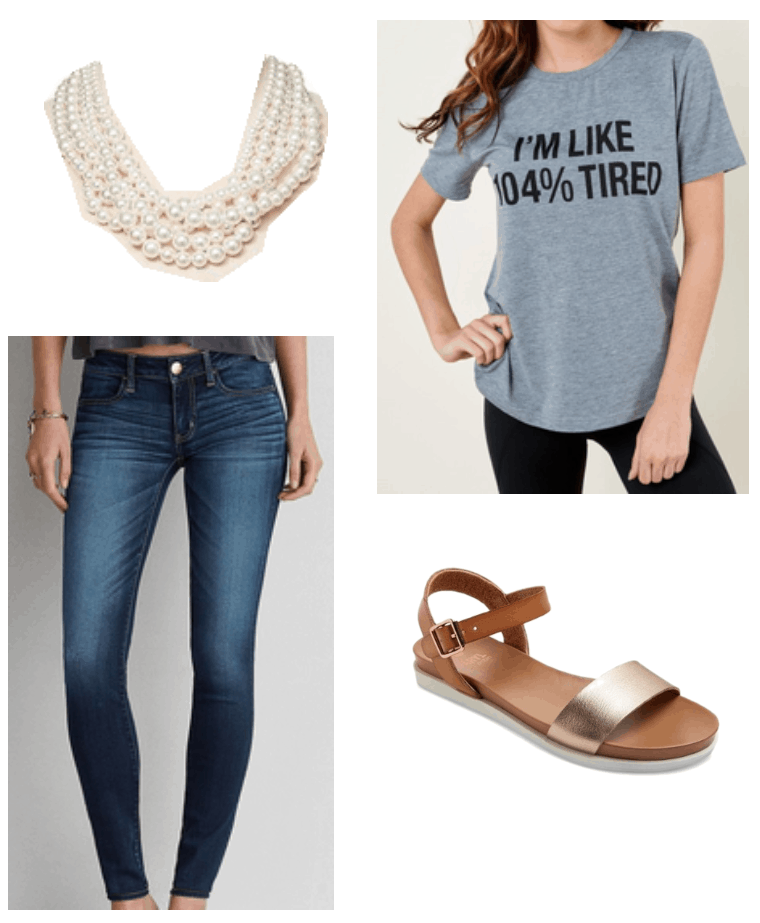 Products: Top – Red Dress Boutique, Jeans – American Eagle, Sandals – Target, Necklace – Target
I thought I'd start the week out with a shirt that sums up how I feel on Mondays! I paired this precious graphic tee with a classic pair of jeans and some sandals. To tie it together, I added this pearl statement necklace with a ribbon in the back. The necklace definitely dresses up this look and really brings it all together.
Tuesday: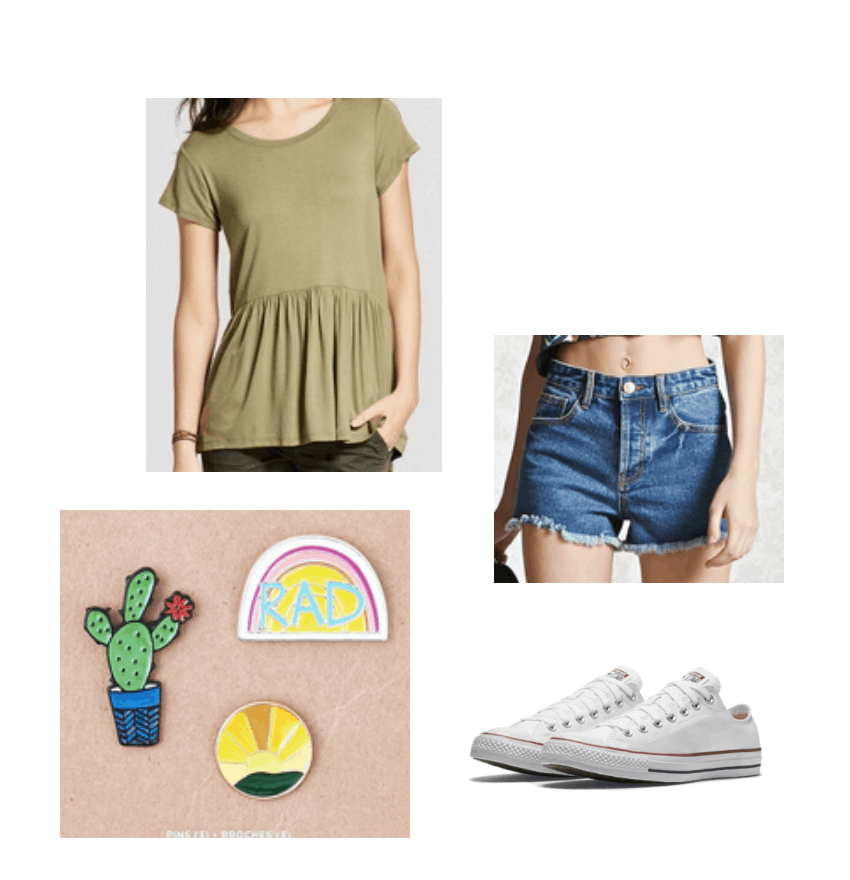 Products: Top – Target, Shorts – Forever 21, Pins – American Eagle, Shoes – Converse
Instead of a traditional accessory, I decided to use trendy enamel pins for this look. Pins can be worn a ton of different ways, but I love the way they look pinned on the pockets of denim shorts. I finished this outfit with a green peplum top and some white Converse for a casual, but super cute look.
Wednesday: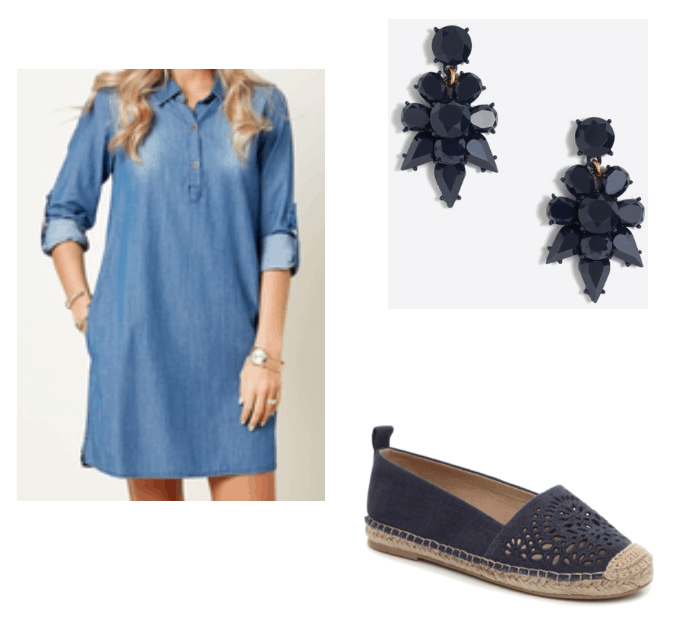 Products: Dress – Red Dress Boutique, Earrings – JCrew Factory, Shoes – DSW
For Wednesday, I paired these navy statement earrings with this classic denim dress. The statement earrings are bold, but tie in with the color of the dress nicely. For shoes, I went with these cute navy espadrilles to match the earrings.
Thursday: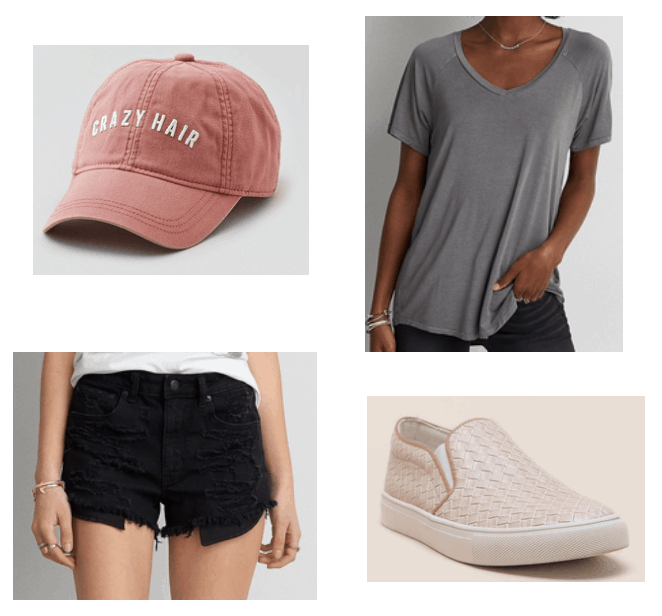 Products: Hat – American Eagle, Top – American Eagle, Shorts – American Eagle, Shoes – Francescas
These cute baseball hats are another trendy accessory this spring. I love the pink color and funny message on this one! I paired it with a basic gray tee and some black denim shorts. To finish this look, I added some light pink sneakers to match the hat.
Friday: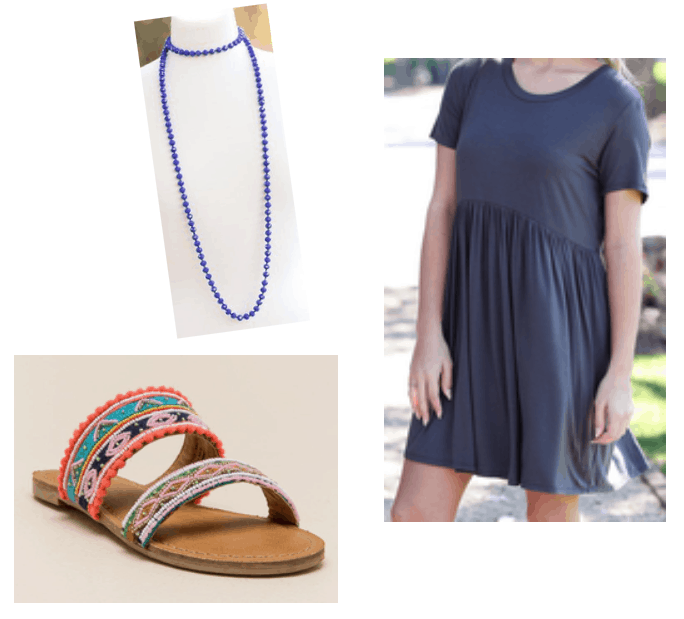 Products: Dress – Piko, Necklace – A Cut Above Boutique, Shoes – Francescas
I'm obsessed with this bright blue wrap necklace! I paired it with a gray babydoll dress so the color would really pop. To finish the look, I added some multi-colored sandals. I love that this outfit isn't super matchy-matchy but still comes across as put together.
Saturday: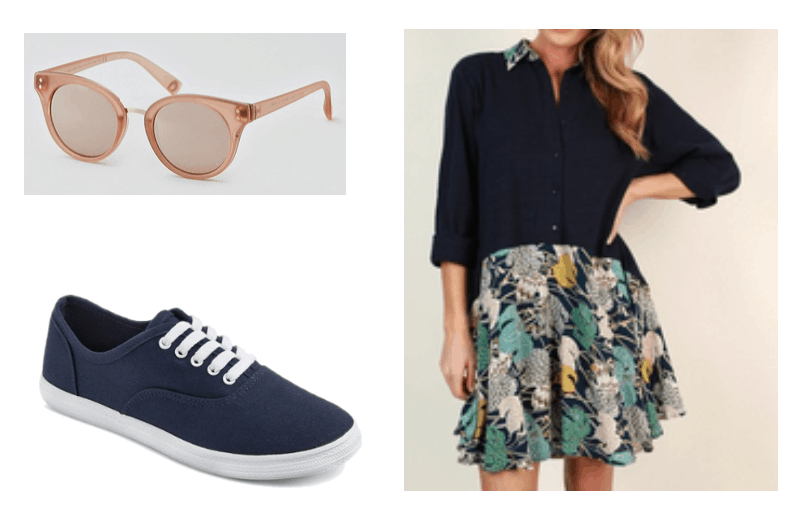 Products: Dress – Impressions Boutique, Sunglasses – American Eagle, Shoes – Target
For Saturday, I built an outfit around these statement sunglasses – I love the vintage vibe of the cat-eye shape. I paired them with this cute partially patterned dress and some navy sneakers. This look is so classic and easy, perfect for the weekend.
Sunday: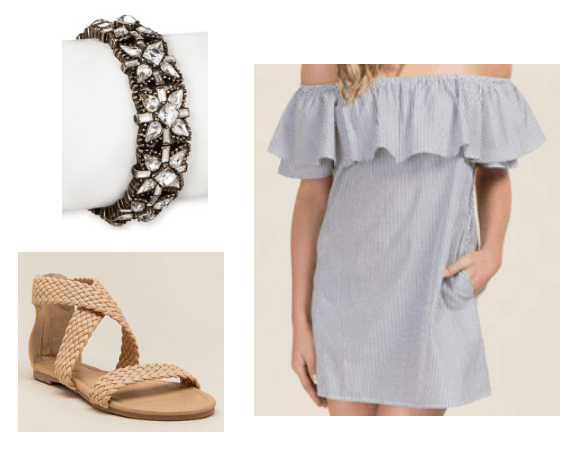 Products: Dress – Francescas, Shoes – Francescas, Bracelet – Target
To finish the challenge, I wanted to use this gorgeous bracelet from the BaubleBar and Target collaboration. I paired it with an on-trend off-the-shoulder dress perfect for spring. To finish the look, I added these adorable nude sandals.
What do you think?
Do you like to wear statement accessories? Which outfit is your favorite? Let us know in the comments below!