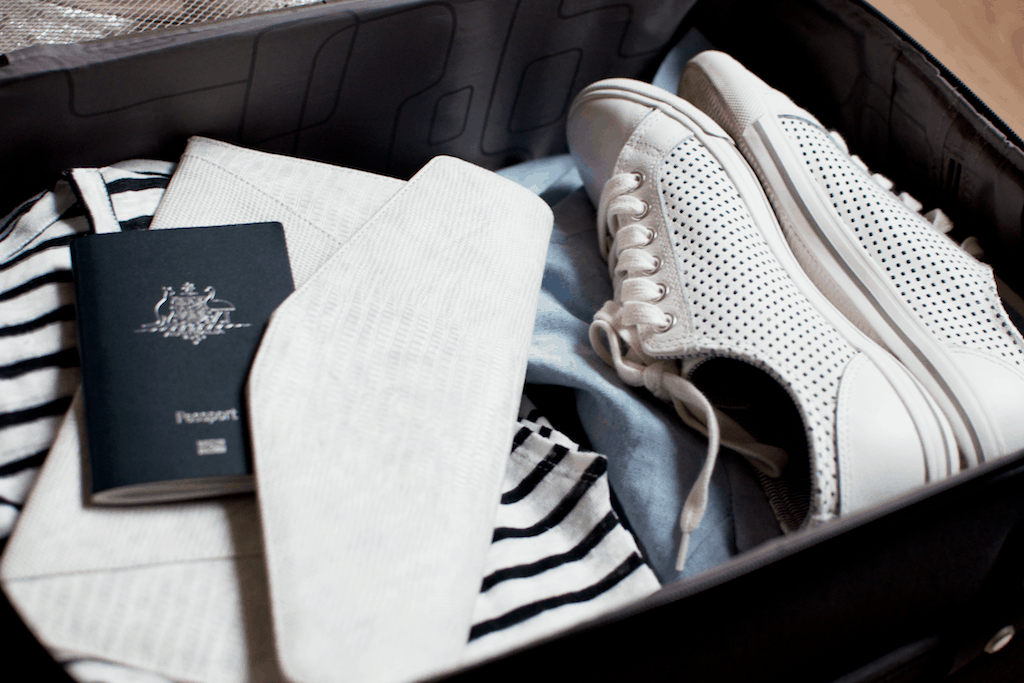 Here at CF, we've talked about capsule wardrobes before, including our recent article on Project 333, but today, I'm going to show you exactly how I'm personally using a capsule wardrobe this spring.
I'm studying abroad in Plymouth, England this semester, so before I left in January, I decided to employ a capsule wardrobe to save suitcase space. Three months later, I never want to go back! It's so easy to mix and match outfits and I love every single thing I wear.
Below, I'll share every single piece of my capsule wardrobe and show you a week's worth of my outfits. But first, I'll share the basics of capsule wardrobes and how I decided on mine.
3 Tips for Creating a Capsule Wardrobe
1. Limit your entire wardrobe to a specific number of items (usually under 40).
We just did a post on Project 333, which requires 33 items, but you don't have to adhere to that necessarily. I chose lucky number 23 when packing things to go abroad and it worked out well for me, but whatever number you chose for a capsule wardrobe should reflect your needs.
2. Quality over quantity.
That's the mantra for creating a capsule wardrobe. It means that when you're creating your capsule, you should be choosing items of high quality so you can wear things in many different ways, for many different occasions. Instead of choosing three cheap jackets in various different styles or colors, pick one classic jacket that's more expensive but will look fabulous with everything.
3. You will wear things more than once every week, and that's okay.
It's okay to wear things a lot. It's also okay to repeat an outfit or two, but with a capsule wardrobe you actually have a wide range of combinations you can make. And when you fill your wardrobe only with things you love or need, then you'll love every outfit you come up with.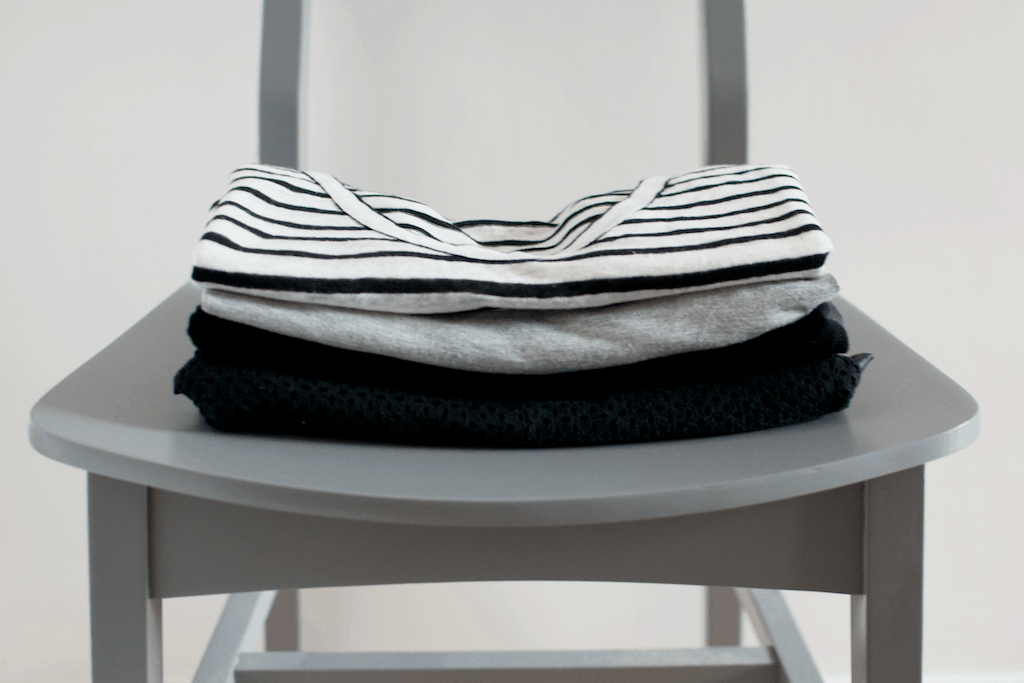 My Spring Capsule Wardrobe
Now that you know the basics of the capsule wardrobe, I can tell you about my own. Before coming to England, I knew I only wanted to bring one suitcase. So I only considered packing things that I absolutely loved or desperately needed. Since England is known for its poor weather, I knew I needed warm outerwear and rain-proof footwear.
I've gotten a few new shirts and a sweater since I've arrived here (which I swapped in for a couple of winter sweaters), but not much else needed changing for spring. Here are the pieces I currently have in my spring capsule wardrobe:
Capsule Wardrobe Items: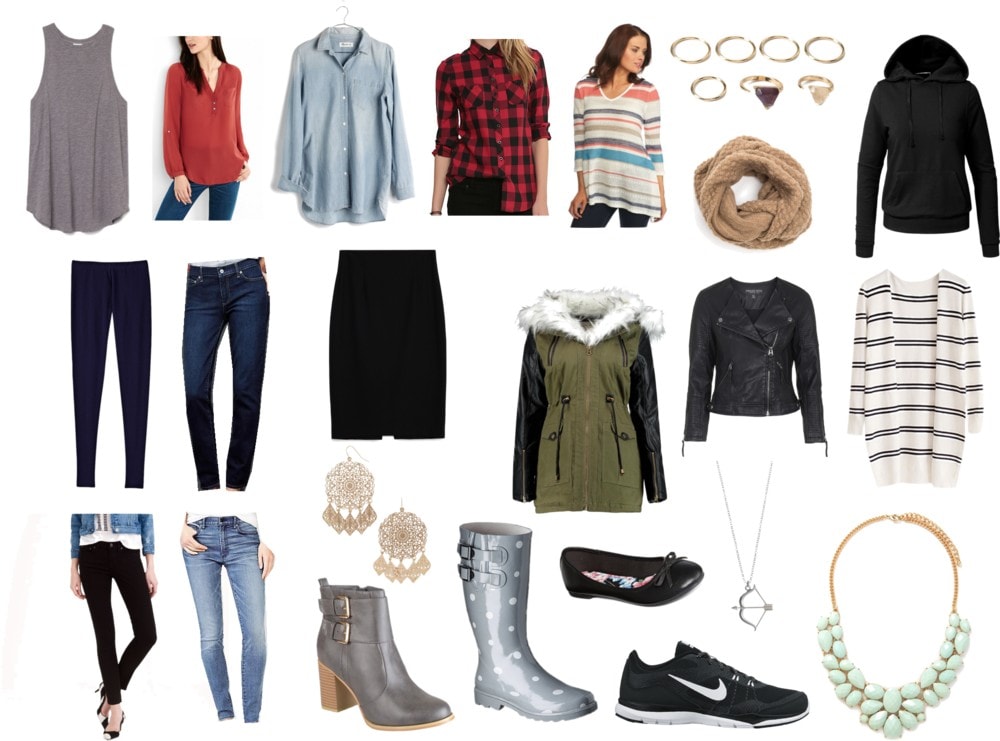 So there's my 23 – as you can see, there's a lot of variety! I knew I had to bring things that went with a lot of different outfits, not just one.
A Week's Worth of Capsule Wardrobe Outfits
Below, I'll show you a full week of my capsule wardrobe outfits (except for Sunday because I just lounged inside all day…). You may notice that not all of the items are used in the outfit sets below. Again, I don't wear every piece every week – this just shows how versatile a capsule wardrobe can be!
Monday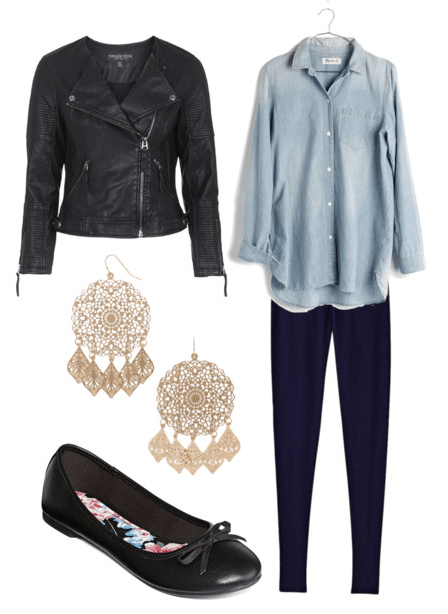 This was a bit of a casual day with a bit better weather than usual, so I wore comfy leggings with some staple ballet flats since for once it wasn't raining! A chambray shirt is easy to wear with everything while a jacket protected me from the wind. I accessorized with some gold dangly earrings.
Tuesday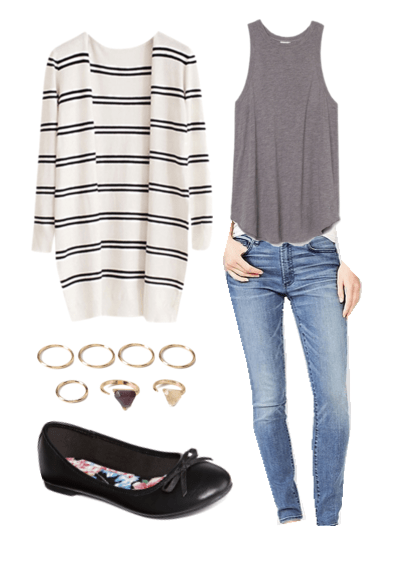 Tuesday was an even better day, rare for English spring weather. This tank top and these jeans can be mixed and matched with just about everything, including each other. My ballet flats came out to play again, along with a fun cardigan and gold rings.
Wednesday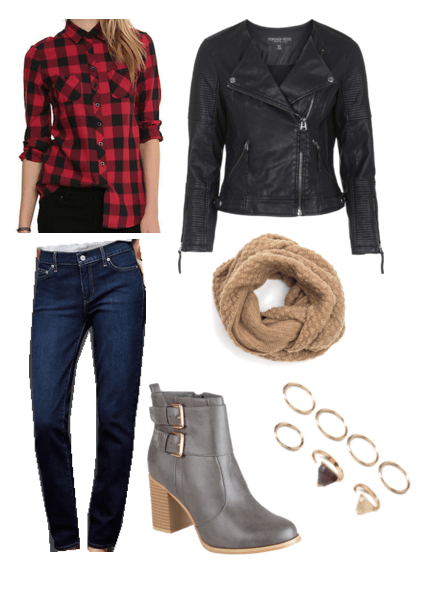 Wednesday was a bit of a drippy day, which was made bearable by some nice booties and a warm flannel paired with my holy grail faux-leather jacket. These comfortable and practical dark jeans and warm scarf go well with the dark neutral palette. For the pièce de résistance, I threw on a ton of cool rings.
Thursday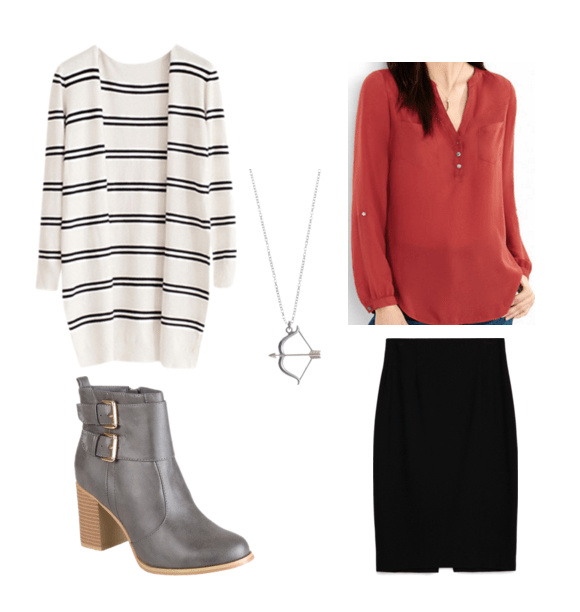 It is definitely possible to dress up with a capsule wardrobe. This fine spring day I had coffee with friends after class, so I wore these booties again with a chiffon shirt tucked into a cute skirt. The cardigan kept me warm outside but was easy to take off inside, while this beautiful necklace added some pizazz.
Friday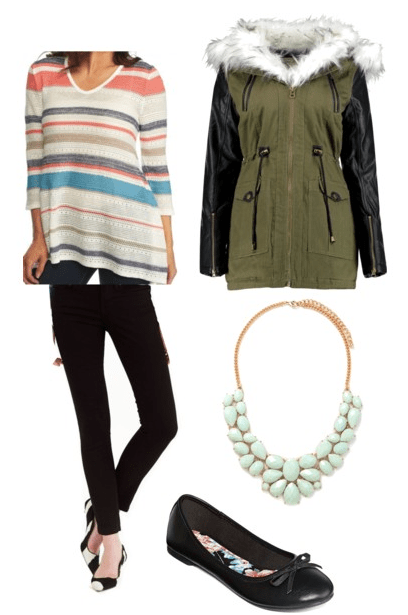 It started pouring rain on Friday, so my hooded parka made an appearance. I still felt like dressing for spring, though, so I brightened up my black jeans and flats with a colorful striped sweater and jeweled statement necklace.
Saturday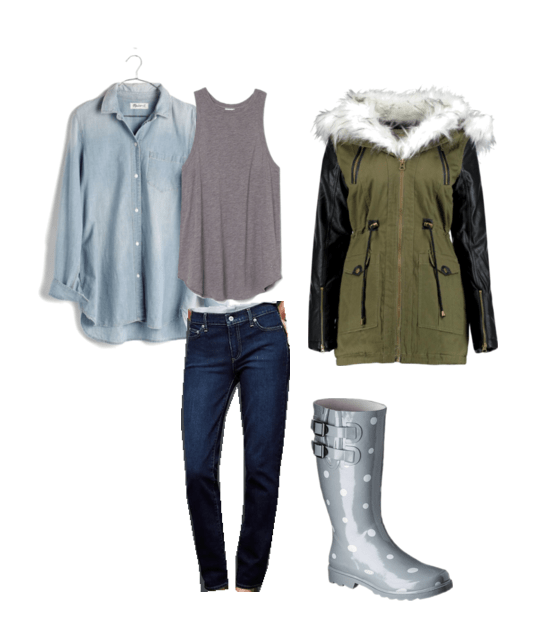 Rainy weekends have actually become comforting for me. I love sitting by the window with a good book and a hot coffee to watch the rain go by. But to go get said coffee, the parka is again needed for the run across campus. When it gets too rainy, booties or flats aren't good enough anymore, so some nice rain boots were my pick. I layered the chambray shirt over the tank top to stay warm and cozy indoors.
Final Thoughts
The thing about a capsule wardrobe is, while there are pretty strict rules you have to follow, you decide those rules for yourself. You can choose whether leopard print flats are a staple for your wardrobe or not. You can decide whether you have more pants or skirts because it depends on what YOU want to wear. Sure, you definitely need to factor in some basic pieces, because the whole idea of a capsule wardrobe is minimalism, but it is also about defining your personal style and deciding what YOU find important.
Of course a capsule wardrobe is not for everyone, but it is great for keeping an uncluttered and more frugal lifestyle, especially when traveling abroad.
I highly recommend that you try one for a season, and see how it goes. You may end up loving it!
Have you tried creating a capsule wardrobe?
If you have a capsule wardrobe, or want to start one, tell us about it! Leave a comment below along with any questions you may have. Is there anything else you'd like to know about capsule wardrobes? What are your wardrobe staples? Let me know in the comments!