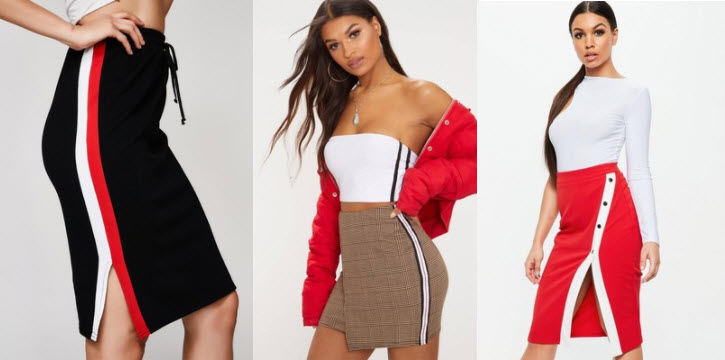 Products L-R: Dolls Kill, Pretty Little Thing, & Miss Guided.
Side stripes are what's hot in fashion right now. Side stripe clothing items are, as you might assume, pieces of clothes that have a stripe going down on the side. There are side stripe pants, side stripe skirts, and side stripe tops as well. There are even side stripe denim skirts!
We're seeing them everywhere this season and we love them — they're the perfect mix of sporty and girly, and they can be dressed up or down.
Below are two sets to demonstrate how to wear a side stripe skirt to class and a night out on the town.
How to Wear a Side Stripe Skirt – Outfit for Class: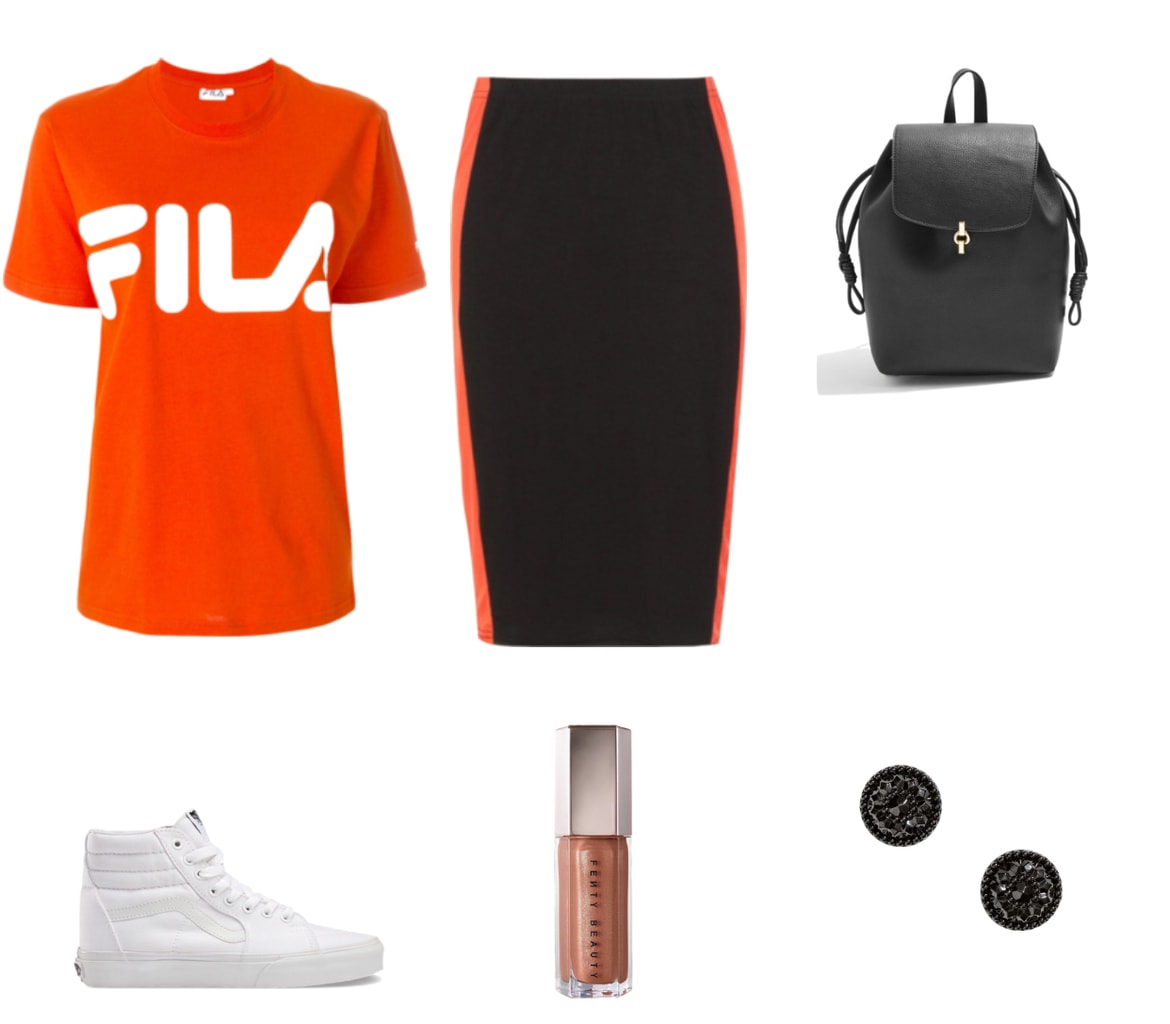 Products: Lip gloss – Fenty Beauty, Backpack – Topshop, Skirt – Boohoo, Shirt – Fila, Earrings – H&M, Sneakers – Vans.
Before you even think it, yes, you can wear sneakers with a midi skirt and yes, you can wear this combo to class. The idea with the top and skirt is that you have the Fila tee tucked into the midi skirt. Pull your tuck out a little bit so the shirt puffs up.
You do not want to overdo it with orange with this set (see our post on how to wear orange for more) so wearing all white high top Vans instead of brightly colored shoes is ideal. Finish the look with minimal accessories and a swipe of Gloss Bomb by Fenty Beauty.
How to Wear a Side Stripe Skirt – Outfit for a Night Out: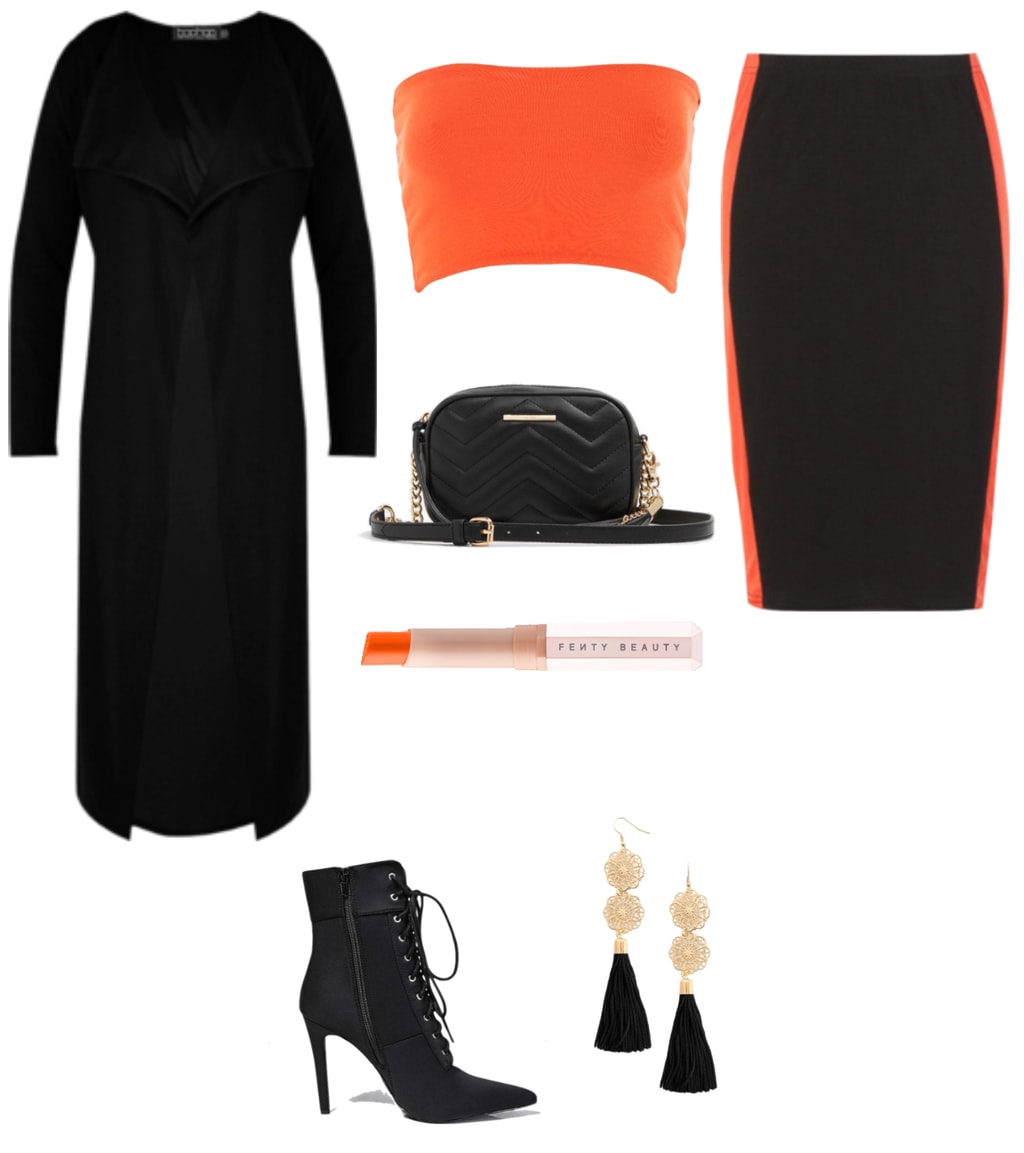 Products: Purse – Aldo, Duster – Boohoo, Bandeau top – Topshop, Skirt – Boohoo, Booties – Forever 21, Earrings – Forever 21, Lipstick – Fenty Beauty.
This chic look would work for nearly any nighttime event. It's super stylish and fashionable. Since spring will be here next week, it's the perfect time to pull out those spring colors and the perfect time to wear your booties. The orange bandeau top from Topshop is ultra bold and mixes well with the orange and black side stripe skirt.
Fenty Beauty's Saw-C lipstick, which is an exotic orange, is the ultimate makeup go to for this set. Now, if you're not comfortable with the orange lippie, you can always do a bold lip gloss or a nude-ish orange lipstick.
What is your thoughts on the side stripe skirt trend?
So after reading this article, do you think side stripe skirts are hot or not? Do you think this will be a trend that'll be in for a long time? CF always wants to hear from our readers so comment and let us know what you think!