Welcome to the latest edition of Ask CF! Every two weeks, we select a reader fashion question and answer it here on the site. Do you have a specific fashion question for us? Scroll to the bottom of this post to learn how to send it our way!
Ask CF Question
Hey College Fashion!
This summer, I'll be heading to Peru on a volunteer trip. We'll be spending half the time in Cuzco to help at an orphanage (where it can get a little chilly) and then the other half in Lima to help with construction (by the ocean). Don't forget the hikes into the mountains and, of course, Macchu Picchu!
As these are all such different environments and tasks, I'm in a bit of a rut to figure out an effective capsule wardrobe that can fit into a carry-on. If you could help me figure out a capsule wardrobe that will abide by their conservative culture and help me stay cool/warm, I would love it!! It's a bit of a big task, but I'm counting on you!
Thanks much,
Maggie
Our Response
Dear Maggie,
Your volunteer trip definitely sounds like it'll be an adventure, and, of course, every adventure needs an awesome wardrobe to go with it! Today, I'm here to help with your perfect Peru packing list.
Instead of showing you four outfits to wear as I would normally do, this time I'm going to mix things up: First, I'm going to show you a capsule wardrobe for vacation in its entirety, and then I'm going to show you six (!) ways that you can mix and match the items into outfits to wear on a volunteer trip.
Of course, there are many other ways to wear the items on this Peru packing list, so feel free to get creative. Keep scrolling to see the capsule wardrobe for vacation and some volunteering outfit ideas below.
The Capsule Wardrobe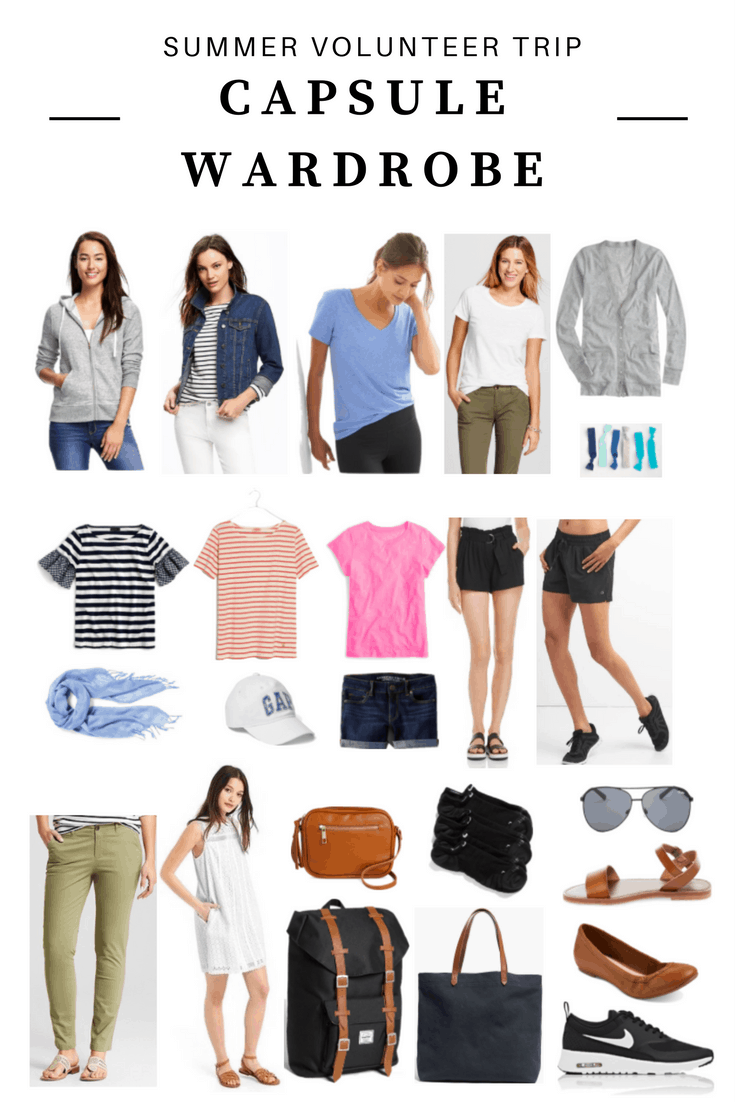 Products: Sweatshirt – Old Navy, Denim Jacket – Old Navy, Blue T-Shirt – Gap, White T-Shirt – Target, Cardigan – J.Crew, Hair Ties – Etsy, Ruffle-Sleeve T-Shirt – J.Crew, Red-and-Beige T-Shirt – Madewell, Pink T-Shirt – J.Crew, Belted Shorts – Bloomingdale's, Activewear Shorts – Gap, Scarf – Nordstrom, Baseball Cap – Gap, Denim Shorts – American Eagle Outfitters, Pants – Target, Dress – Gap, Cross-Body Bag – Target, Backpack – Nordstrom, Socks – Nordstrom, Tote – Madewell, Sunglasses – Bloomingdale's, Sandals – Target, Flats – Target, Sneakers – Barneys New York
As you can tell, in order to pack an effective and cohesive capsule wardrobe for a trip, you need to keep in mind which pieces go with one another, and to make sure that you can wear each item that you bring with you at least two-three different ways.
In addition, it's a good idea to have a basic color scheme in mind; my main colors are blue, black, gray, and cognac-brown. That's not to say that you can't deviate a little (I did, for example, with the bright pink t-shirt), so long as you're not going too far off the map in terms of matching with other items.
Lastly, I assumed from your letter that you're going on a volunteer trip for the whole summer, which is why this vacation capsule wardrobe is a little on the large side; if you'll be away for less time, feel free to eliminate or add a piece or two, depending on your needs.
What to Pack for a Volunteer Trip: Outfit #1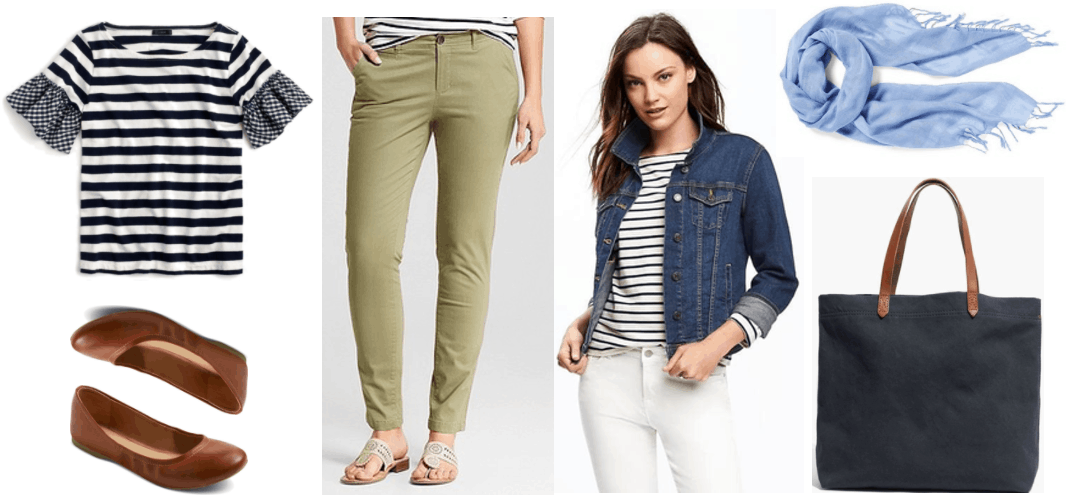 I put this outfit together with your volunteering in mind. It features fashionable-but-easy-to-move-in pieces, such as an elegant update on the classic striped t-shirt, basic chino pants that are perfect should you find yourself needing to sit down on the floor with the kids, and a denim jacket and lightweight scarf to keep you warm. (If it's really chilly, feel free to layer up some more with the cardigan or sweatshirt.)
Note that I kept everything on the modest side; no super-tight pants, deep v-necks, etc., since you mentioned that you need your outfits to fit Peru's cultural standards.
In addition, these cute flats look super-wearable, while a navy tote is the perfect way to carry around anything extra that you might need for the day; not to mention that, because it's canvas, when it comes time to pack, you can easily fit it into your carry-on suitcase by folding it or laying it flat.
What to Pack for a Volunteer Trip: Outfit 2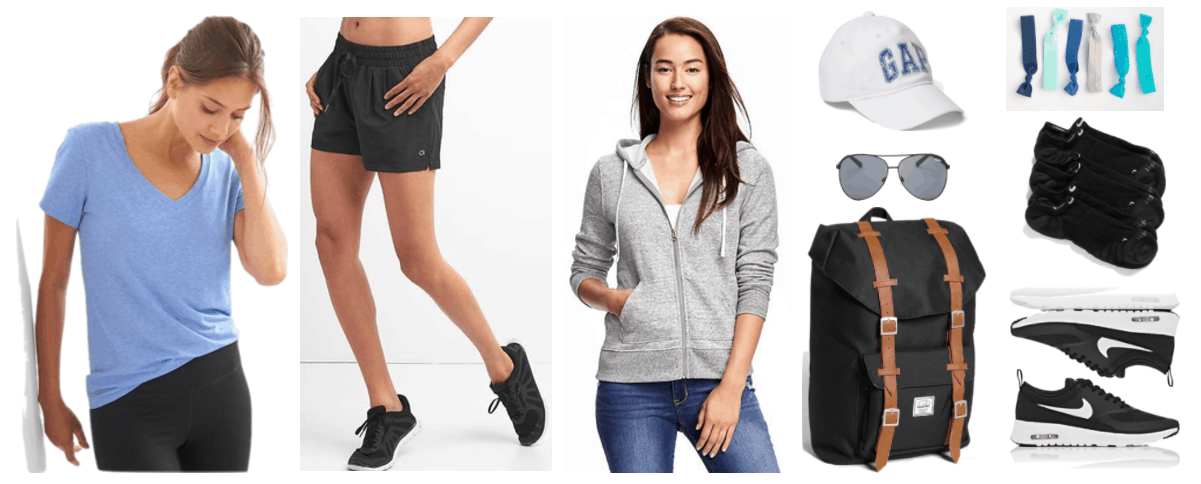 This is the perfect outfit to pack for hiking; it features an activewear t-shirt that is nice enough to wear with the jeans, shorts, or chinos on your Peru packing list; as well as some loose-fitting shorts that are easy to move in and aren't too revealing. In addition, I've added a sweatshirt, in case you need something to keep you warm throughout the day.
I also chose to include a hat and sunglasses to protect your face from the sun, and some fun hair ties that will keep your hair out of your face in style.
As for shoes for hiking, a comfortable pair of sneakers will do just fine; here I chose to pair them with socks that are designed to keep your feet feeling cool and dry.
Lastly, I have included a Herschel Supply Co. backpack in which you can carry your hiking essentials. I realize it is a bit of a splurge. However, I own this exact model, and I can tell you from personal experience that it's well worth the money; it's withstood years of classes, traveling–you name it!–and still looks brand-new! It's the perfect backpack for a trip abroad. You can even bring it with you on the plane in addition to your carry-on suitcase, giving you even more room to stow clothes, a laptop, etc.
What to Pack for a Volunteer Trip: Outfit #3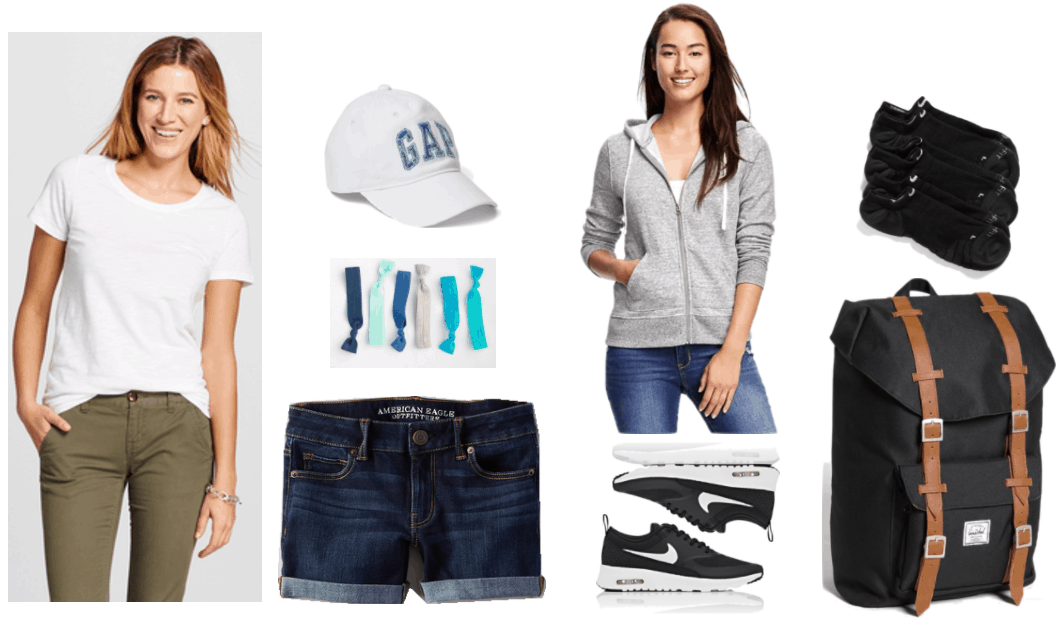 You mentioned that you'd be doing some construction on your volunteer trip, so I put together this work day outfit with comfort and ease-of-wear in mind.
Just pair a simple white t-shirt with mid-length denim shorts for a look that is unfussy and laid-back, while also erring on the side of conservatism.
This look actually includes the same hat, hair ties, sneakers, socks, sweatshirt and backpack from Outfit #2, as they are all stylish, comfortable, and practical options for any volunteering activity involving lots of movement.
What to Pack for a Volunteer Trip: Outfit #4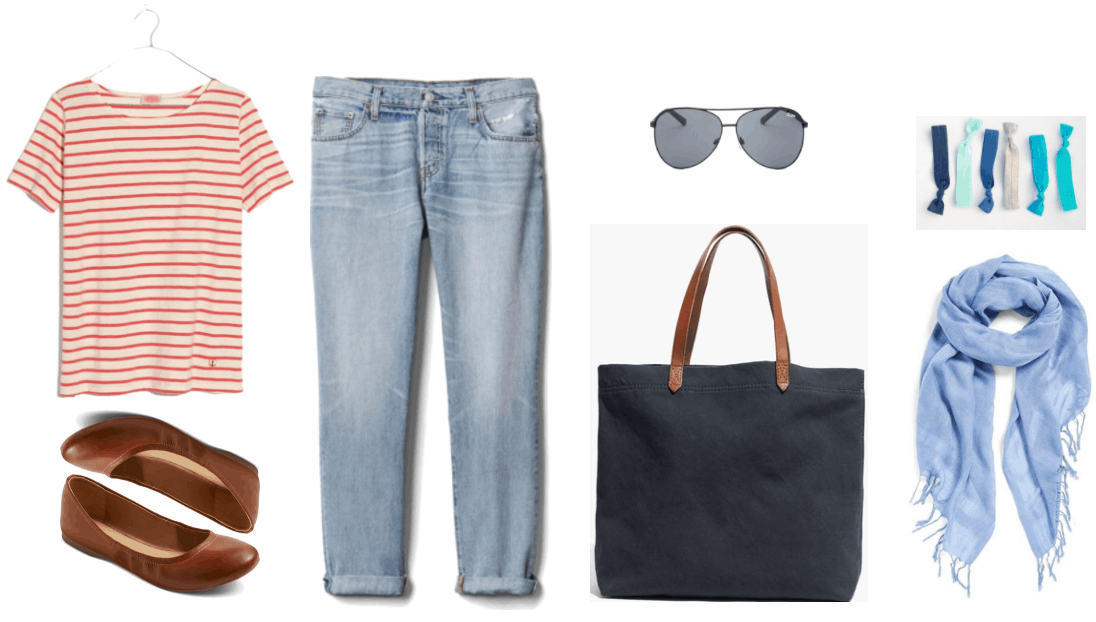 This outfit would be great for walking around and taking in some tourist attractions, but you could also totally wear it for your volunteer work at the orphanage.
Start off with a basic striped t-shirt and a pair of light-wash boyfriend jeans. (Note: I'd avoid any jeans with lots of rips/holes that show a lot of skin out of respect to Peru's modesty standards.)
Next, add the chic flats, breezy scarf, and classic tote from Outfit #1, and, if it's sunny out, the goes-with-everything sunglasses from Outfit #2.
If you choose to put your hair back, the hair ties featured in Outfit #2 and Outfit #3 will do the trick just fine.
What to Pack for a Volunteer Trip: Outfit #5
Like Outfit #4, this look would be perfect for taking in some sights, and just walking around and relaxing in your spare time while on vacation.
Featuring a bright pink t-shirt, black belted shorts, and a long gray cardigan, this outfit has everything you need to look fashionable while still remaining comfortable and relatively modest.
I chose to include the sandals as "nice-to-have" item, since you could easily substitute them for the flats, or even the sneakers, if you'll be doing a lot of walking on your summer trip abroad. However, if you do have room to pack them, I'd recommend doing so, as it's always nice to have an extra change of shoes!
Finally, I chose to accessorize with a small cross-body bag, which can be worn on its own, or even be used as a wallet if you're carrying it in the backpack or the tote.
Furthermore, I think that a small purse is a flying essential, as it helps you keep the extra-important stuff (e.g. passport, boarding pass, cell phone) separate from everything else, so you don't find yourself digging for any of them and holding up others who are also in a rush to board the plane.
What to Pack for a Volunteer Trip: Outfit #6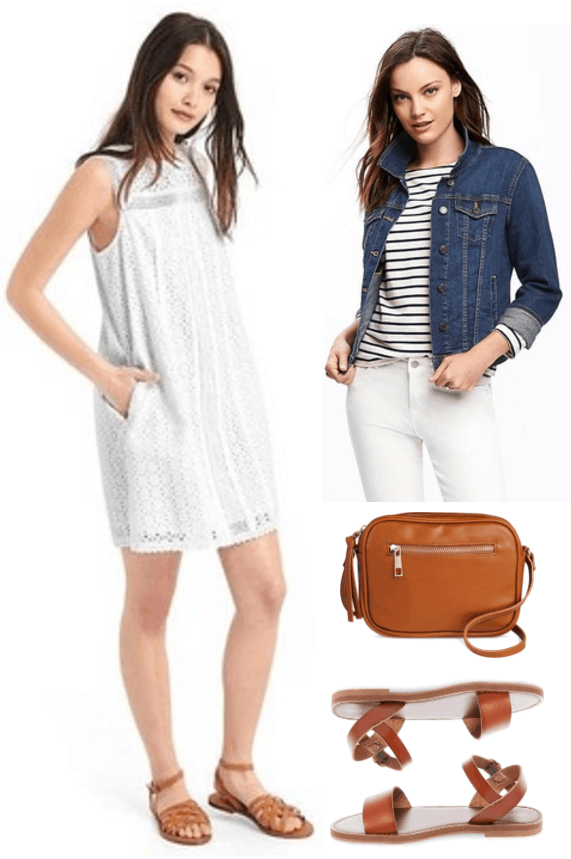 The final outfit I included as a sort of "bonus," in case you have extra room in your carry-on. I chose this dress specifically because it strikes the perfect balance between casual and dressy, and can therefore easily be dressed up (with the sandals and cross-body bag) if you find yourself with the opportunity to go out somewhere a little nicer, like maybe a restaurant or bar (if you're of legal drinking age, of course).
You could wear this outfit with the denim jacket, as shown here, if you want it to look a little more casual for day. You could even add the scarf if it's cooler out.
And there you have it; a chic and versatile capsule wardrobe to pack for a Summer abroad! Have fun on your trip, and thank you for your question!
Do you have a fashion question? Send it to us!
Is there something in your closet that you want to wear but have no idea how to style? Do you need advice on what to wear to an upcoming event? Do you have a specific fashion conundrum? If you have a fashion-related question that you would like to see answered in this column, simply email it to askcf @ collegefashion.net, and one day you might see your question answered right here on the site!
What do you think?
Have you ever had to create a capsule wardrobe for vacation? What did you include in it? Have you ever gone on a volunteer trip? What did you pack? What are your fashionable and/or practical travel essentials?
Let me know in the comments!