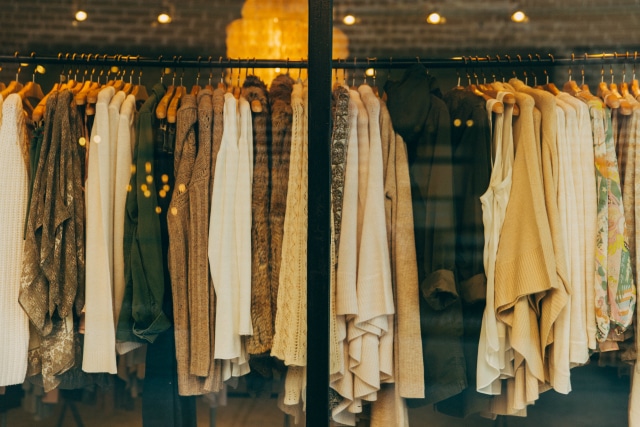 For this week's article, I decided to save you some time so you don't have to stand in front of your filled wardrobe thinking, " I have nothing to wear."
Inspired by the stress of career fairs, figuring out what I'm doing for the rest of my life, and my home-skillet biscuit Cynthia, I decided to base the article on three classic pieces that are usually worn for nerve-wracking things like presentations or interviews.
The good news is that these pieces can immediately amp-up any weekend outfit. Look in your closet, and pull out your blazer, button-up blouse, and trouser pants so we can get to stylin'!
TGIF – $96.70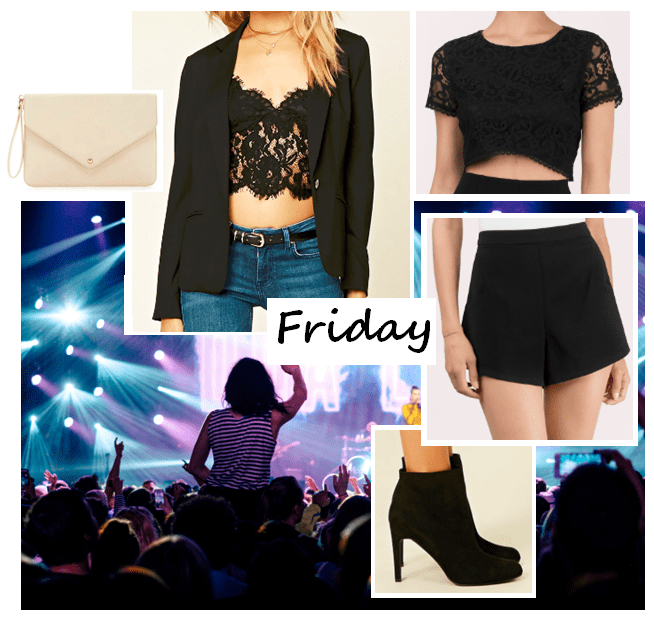 Products: Blazer | Top | Shorts | Shoes| Wristlet
This monochrome outfit, fit for a fun Friday night out, features a black blazer for an "a-blazing" look. (#sorrynotsorry) Dress it down with a lace crop top and structured high-waisted shorts. Slip on a pair of black booties for height, and carry this cream-colored wristlet to store your essentials. Then get ready to unwind with friends after a long week!
Saturday Brunchin' – $85.26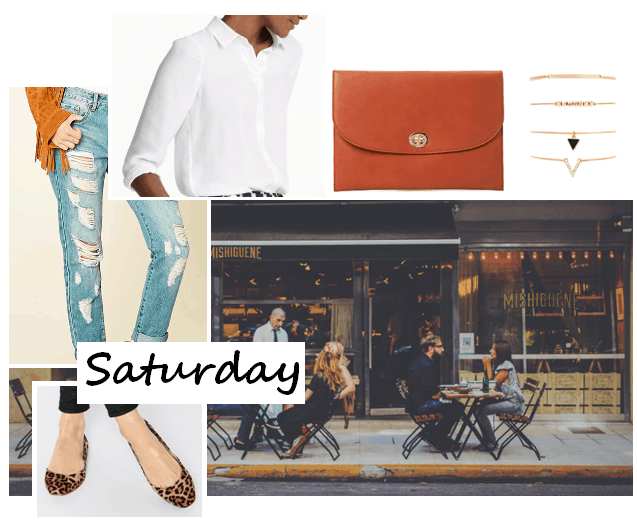 Products: Shirt | Jeans | Shoes | Clutch | Bracelets
After a fun night out, relax with OJ and an eggs Benny with a brunch of friends – I mean a bunch of friends. White button-ups are usually crisp and stuffy for interviews, but you can create a laid-back look by leaving the top two buttons open and cuffing the sleeves just below your elbows.
Match it with your worn-in boyfriend jeans and leopard print flats. Then accessorize with a cognac-hued clutch and layered gold bracelets to finish off this effortlessly put-together look.
Sunday Studying – $90.14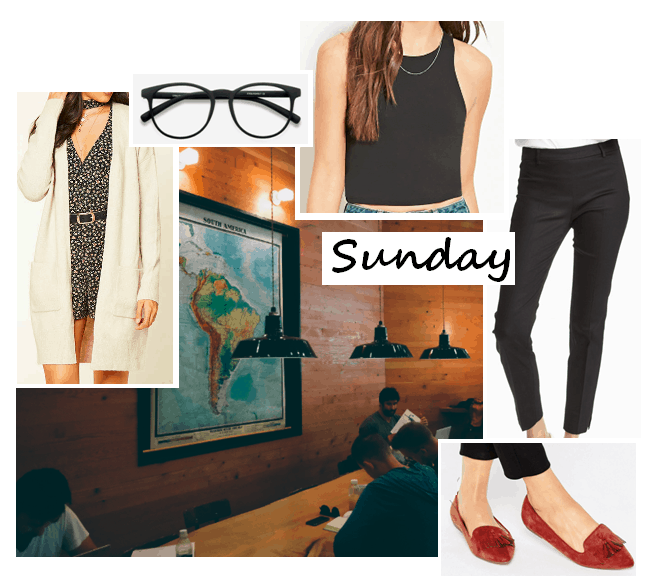 Products: Cardigan | Top | Trousers | Shoes | Glasses
Sundays are made for catching up on work and meetings. Pull on these trouser-leggings for a comfortable, but sleek vibe. On the top, wear a black crop top and a long cream cardigan, which basically serves as a portable blanket.
Grab your reading glasses, and slip on a pair of loafers with old-school tassels for the ultimate lazy day outfit. Get down to business turning in your essays or problem sets… or College Fashion articles filled with lame word-play. (Sunday Punday, am I right?)
How do you like to unwind at the end of the week?
What is your favorite part about the weekend? How do you dress down more professional pieces? Let me know in the comments below!