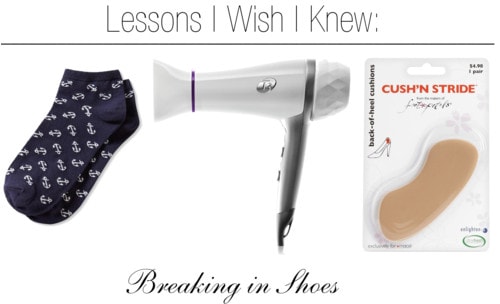 While I'm not sure about you, I know for a fact that I am a sucker for a pair of cute pair of shoes. However, as I leave the store, already contemplating how to style them, I remember I have to once again repeat my least-favorite task: breaking in shoes.
Now, I have plenty of new shoe-related horror stories (which I'll share below) and memories of blisters all over my feet, but I have also learned the "tricks of the trade," so to speak. I no longer have to struggle (well, not as much, anyways) to break in my shoes.
Here, I'll share three methods I've used to break in new shoes, as well as my missteps along the way:
1. Using Thick Socks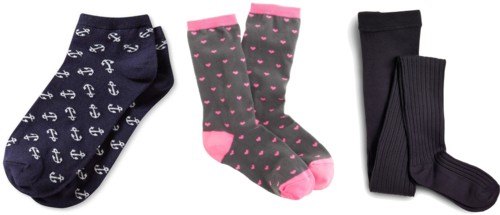 Product Information: Left to Right – Banana Republic, J.Crew, and Sperry Top-Sider
Growing up, I always shopped with my mom. She had a rule: any time I wanted to buy a pair of flats, she would check the back for stiffness. If they were very stiff, she would insist I leave them behind for the sake of my feet.
Unfortunately, as I aged, I slowly strayed away from shopping with my mom. With this new freedom, I was granted access to any shoes I wanted. I remember trying on the cutest pair of flats from Steve Madden and leaving with them minutes later. As soon as I returned home, I realized my mistake: due to the all-over studded design, the pair of flats were completely stiff and inflexible. I was determined to break them in, for the sake of proving my mother wrong.
For the rest of the day, I stomped around the house in those flats and the thickest pair of socks I could find. The next day, I deemed the shoes comfortable enough for a day's wear… I lasted an hour (looking back I'm very surprised I even made it that long!) at school. The socks had helped, but Mom, you won this battle.
2. Using a Blowdryer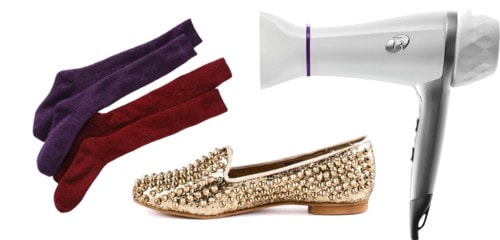 Product Information: Socks – Target, Shoes – Steve Madden, and Blowdryer – Bloomingdale's
After my brief battle with the shoes mentioned above, I left them in the closet until I was ready to attempt another wear. This second time, I was more prepared. I was going for the blowdryer method.
Now, if you're familiar with my past articles, you know that my stories don't often end well. But for once, this is one of the few times that I succeeded.
My only problem was actually attacking my shoes with a hairdryer. Looking back, I don't understand why I was scared I would ruin the shoes; I have literally taken a hammer to shoes before (it actually fixed my problem, too!). I was definitely scared that using heat on a pair of shoes would ruin them, so it took me a while to decide to do this.
Nonetheless, I later had to give in: I wasn't willing to wear the shoes again if they were still as painful as the first time, and either way, my money was wasting away in the corner of my closet. So, I slid on socks, slipped on those shoes, and aimed the heat toward the areas that needed work. It was a success!
3. Using Cushions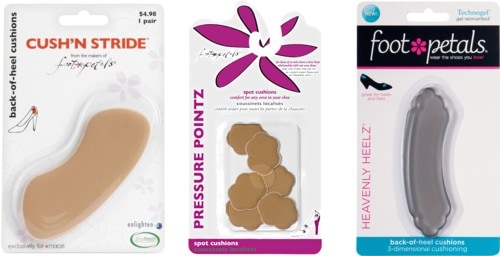 Product Information: Left to Right – Macy's, Nine West, and Nine West
This does cost a bit of money (under $10 for each pair of shoes), but it's the easiest and least worrisome way to go about "breaking in" shoes. By using a cushion, you can simply ignore the breaking in process and go right ahead and wear those new shoes.
My first time using these had gone well: I bought them for a pair of leather flats I didn't want to try the blow-dryer technique on. The cushion made the shoes feel completely broken in, and I was foot-pain free for the whole day.
However, I did once have a problem with cushions that inspires a warning for all of you: For a Valentine's Day dance my sophomore year of high school, I already had my dress picked out, and I realized I needed a pair of heels to match. Knowing the magic of the cushions, I gave myself the freedom to pick a pair of shoes that looked painful to break in.
The night of the dance, I put the cushions into place and slid my foot into the shoe. Or, tried to anyways. Turns out, the cushions took up too much room in the shoes and made my feet feel very uncomfortable.
I pushed through it (for the sake of wearing really nice heels that matched perfectly with my dress), but please, ladies, learn from my mistake: make sure to test out shoes with the cushions before a big event. Don't wait until the night of like I did!
Thoughts?
Have you also had a rough time breaking in shoes? What methods to you use to break in new shoes? Any blister horror stories? Let us know what you think in a comment below!