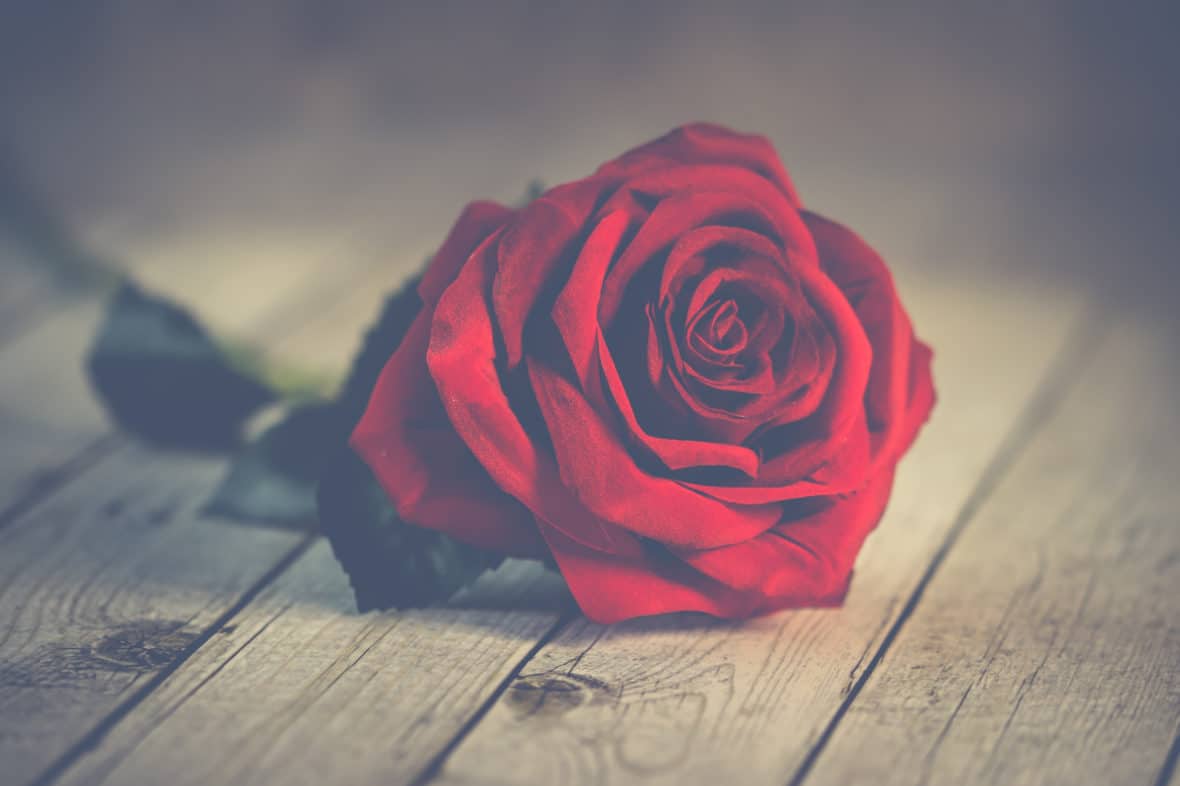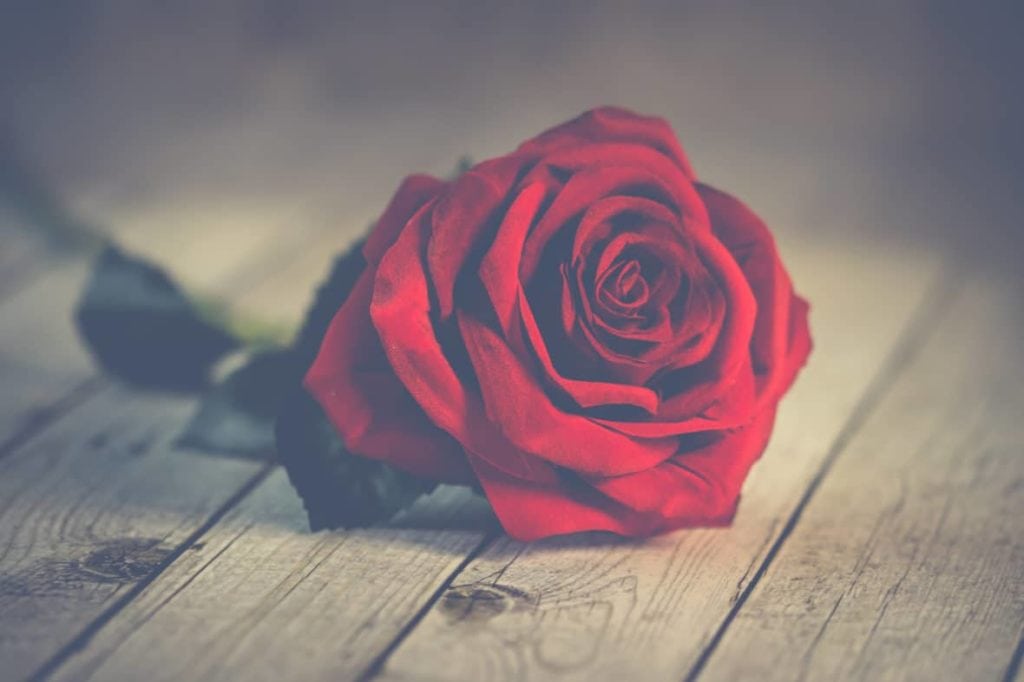 Valentine's Day is just around the corner. Whether you're going out to celebrate with a partner or your girls, finding an outfit can be somewhat tedious. For any of you who like to wait last minute to find an outfit or still don't know what to wear, hopefully these last minute Valentine's Day outfits give you an idea.

Valentine's Day Night Outfit #1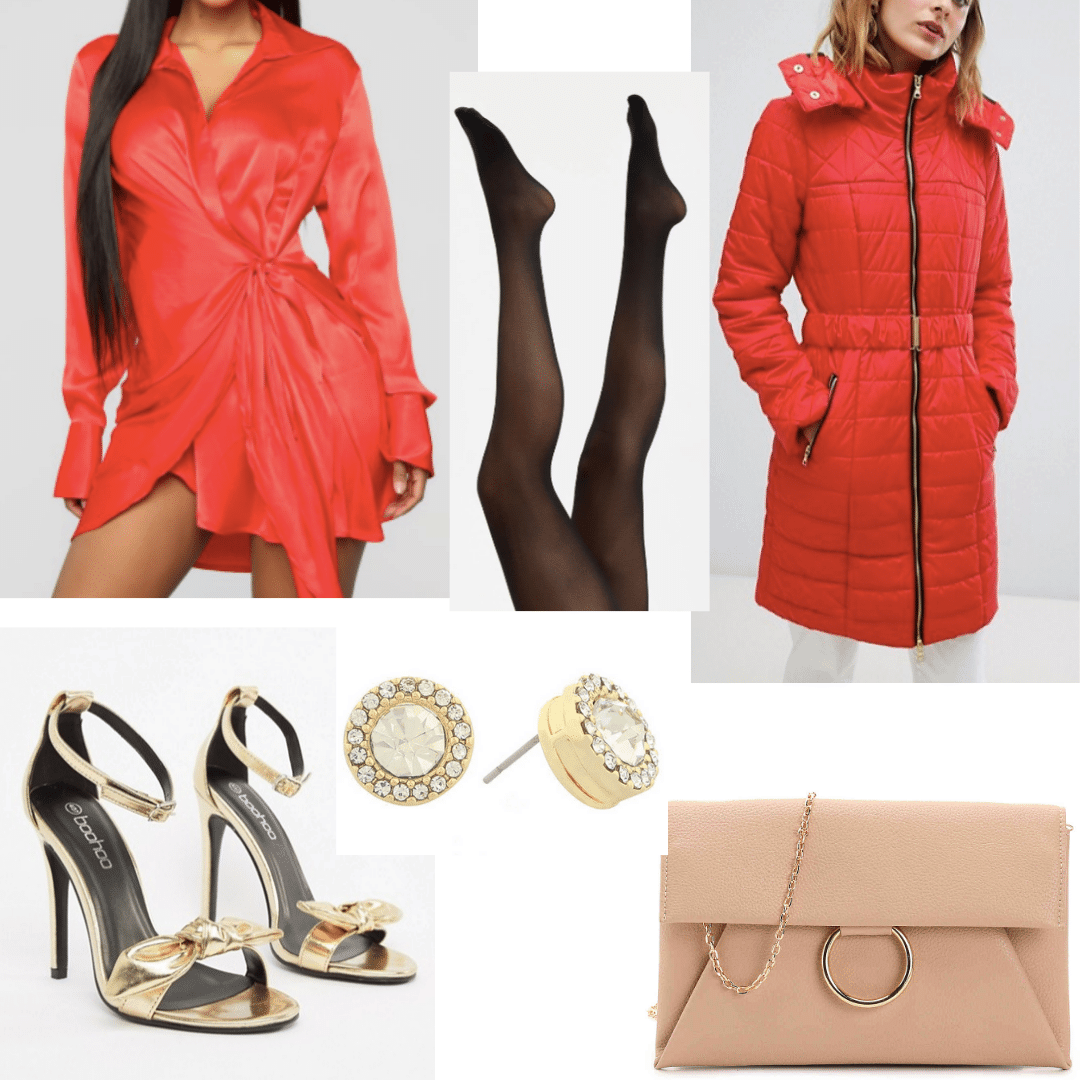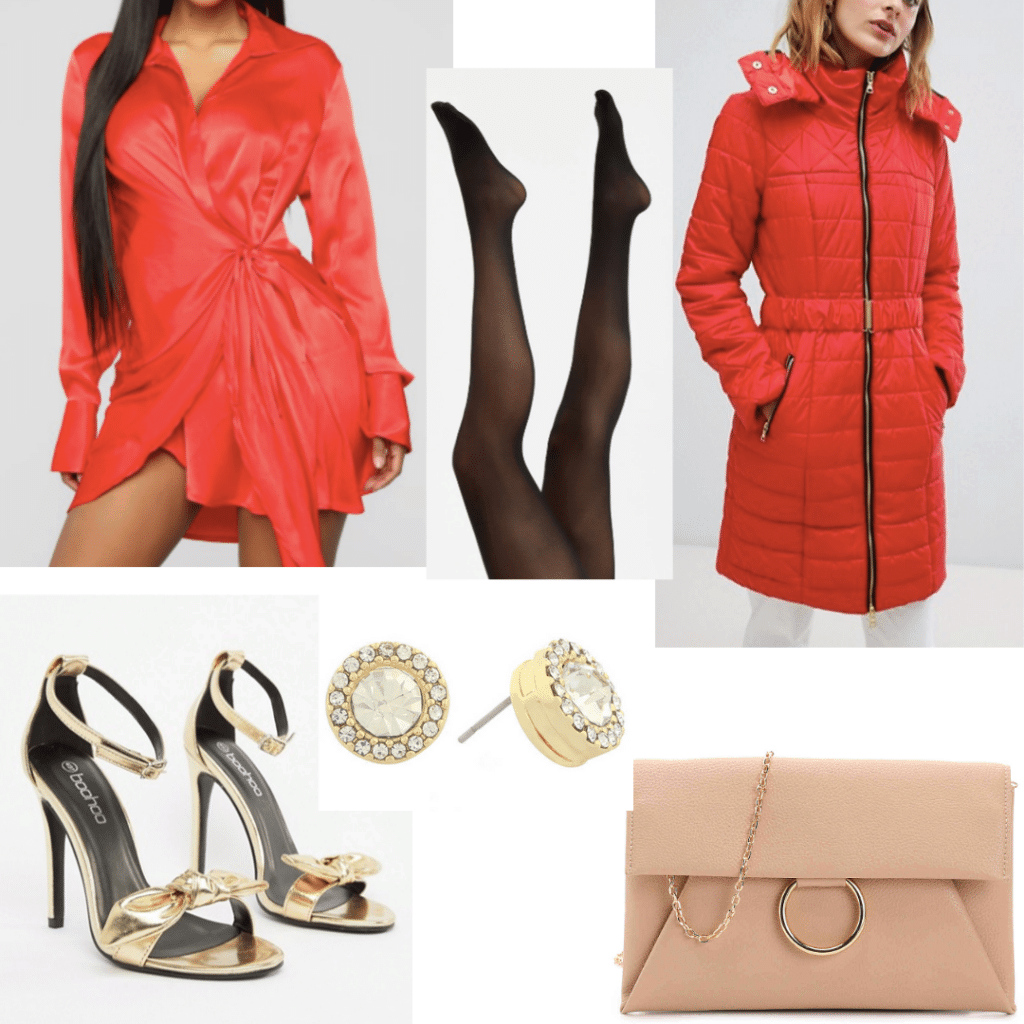 Products: Mini Wrap Dress – Fashion Nova, Tights – Forever 21, Gold Heels – ASOS, Gold Earrings – JC Penney, Purse – DSW, Coat – ASOS.
Valentine's Day isn't everyone's ideal holiday or favorite holiday, and that's okay. Some of you may dread the day but are agreeing to go out with friends to have fun.
This fun outfit is ideal for making a statement on your night out.
This mini wrap dress is perfect for Valentine's Day. The color fits right in with the holiday and will help you fit right in. With this wrap dress, you won't look too overdressed but you also won't be underdressed either.
Just in case it is freezing where you are, tights are recommended! But if you plan on being outside for less than two minutes, ie going from your car to the restaurant or your car to your friend' place, then skip the tights for a cuter look.
Red and gold is a gorgeous color combination so with this outfit, gold heels look especially gorgeous (swap some pumps in black if you're wearing the tights).
To complete this look, gold studded earrings are ideal, especially if you are not too much of an accessory person and don't entirely want to go all out for the night.

Outfit #2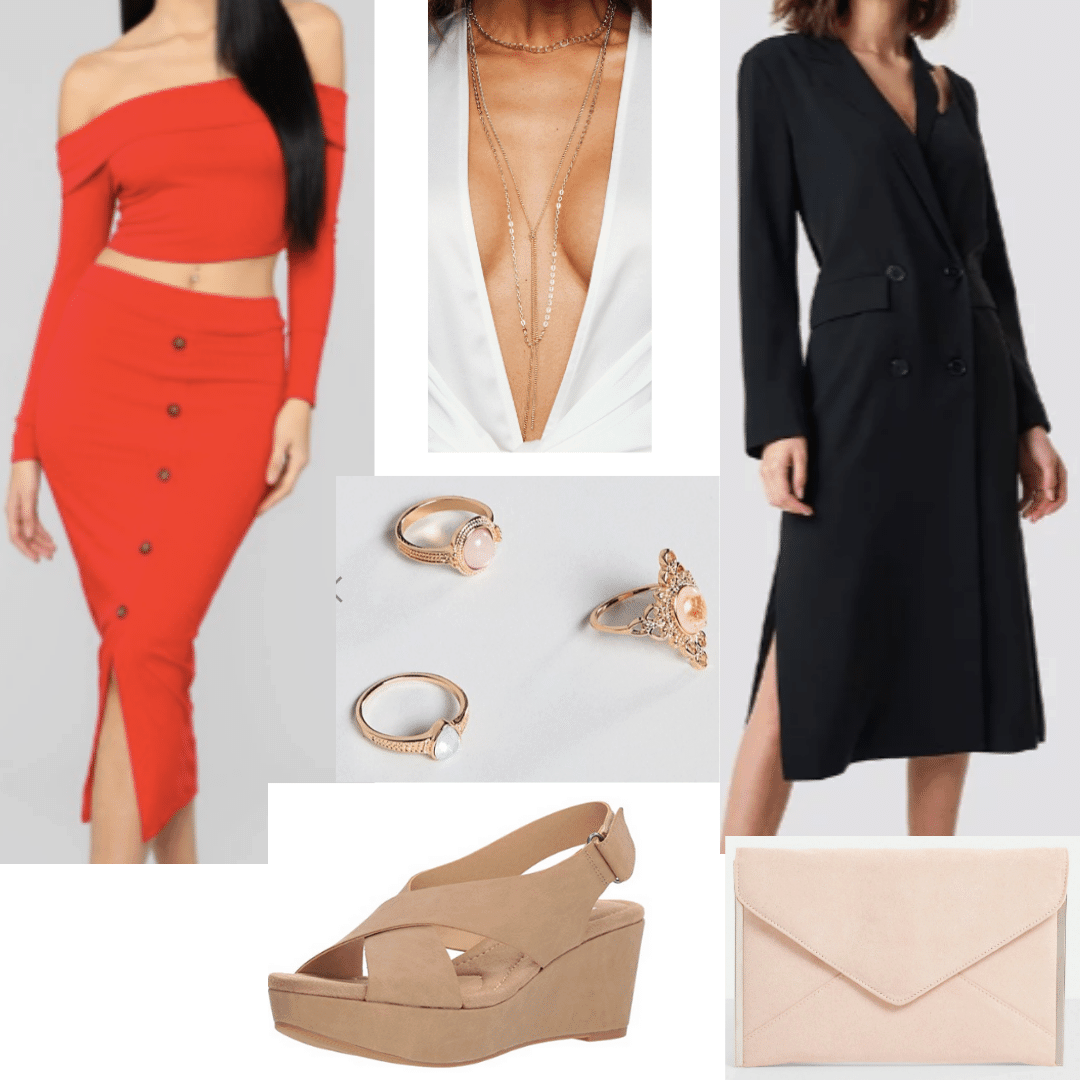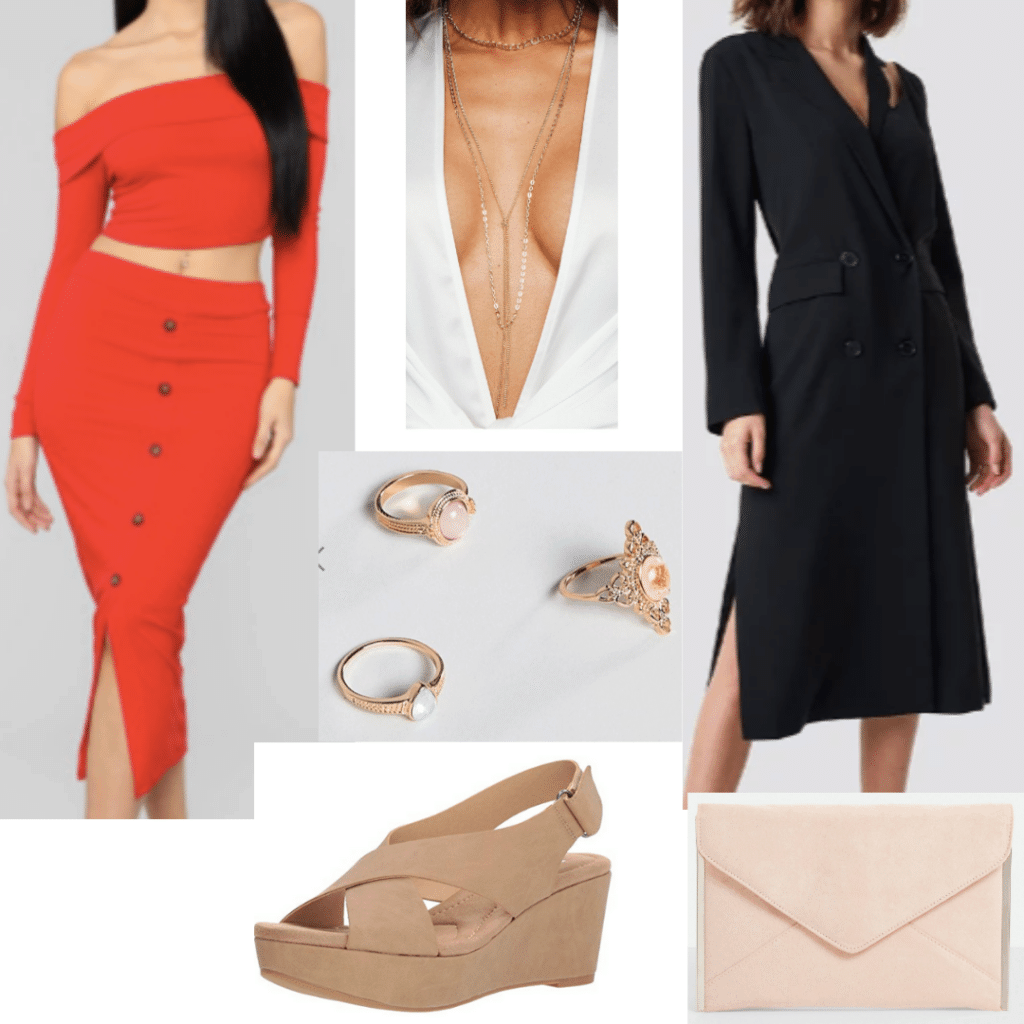 Products: Two-Piece Set – Fashion Nova, Wedges – Amazon, Statement Ring – ASOS, Layered Necklace – Missguided, Purse – Missguided, Coat – NA-KD.
For those of you who plan on going all outfit for Valentine's Day, whether you're going on a romantic date or spending the evening with a bunch of your girlfriends, this last minute outfit idea is ideal for you!
This outfit consists of a two-piece set. It's easy to throw on especially for those deciding on what to wear last minute. It consists of a skirt and an off the shoulder crop top. The material is thick to ensure to keep you warm for the times that you are outside. This is a perfect last minute outfit idea because it's completed and you don't have to worry about finding a top to match with your bottoms or vice versa.
Because you are wearing an off the shoulder top, a layered necklace will look great so that your neck isn't too plain. A statement ring will help to keep your outfit accessorized.
Pair this outfit up with your favorite pair of nude heels — I love these comfy nude wedges. They're perfect if you plan on dancing the night away as they give you height while being comfortable!

Outfit #3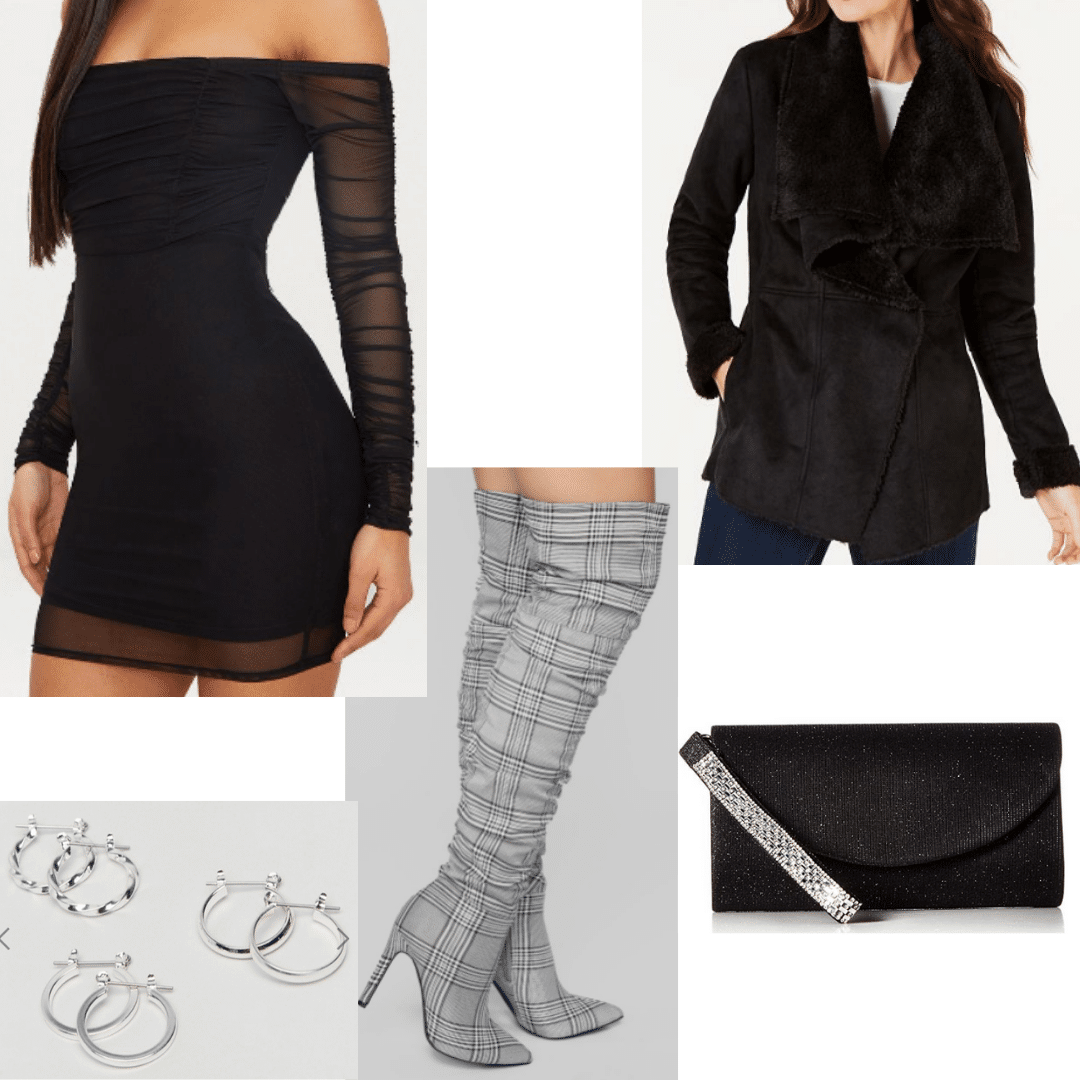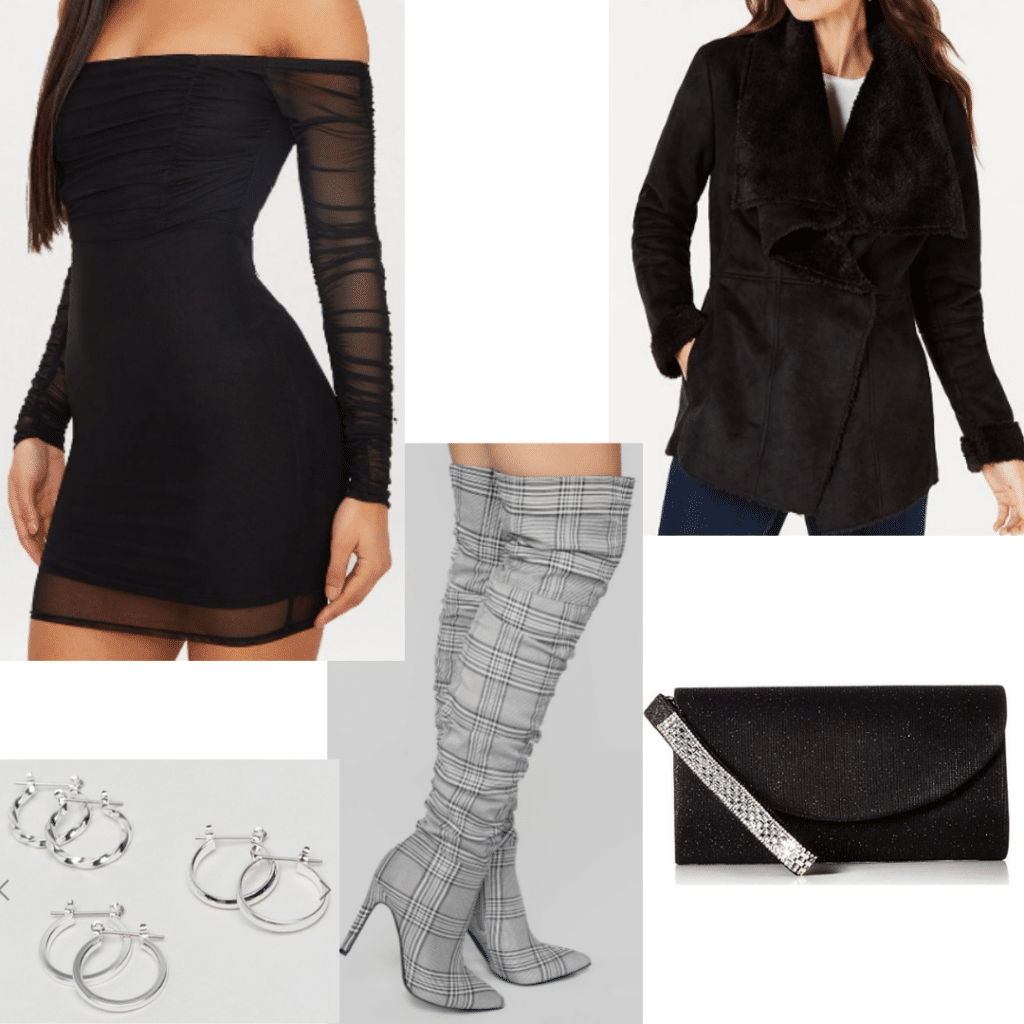 Products: Black Dress – Pretty Little Thing, Plaid Boots – Fashion Nova, Earrings – ASOS, Purse – Amazon, Coat – Macy's.
Valentine's Day is the perfect time to go on a romantic date with your partner. For this last minute outfit idea, we're styling a gorgeous bodycon dress for date night.
Red isn't everyone's ideal favorite color to wear, and that's okay, too! Black is still a favorite color for people to wear on Valentine's Day.
For a winter-appropriate look, wear the black dress with over the knee boots. These boots are plaid and go well with the dress. Not only that, but they'll also keep your legs warm in case you did not want to wear tights.
Finish the look with simple jewelry.
What are you going to wear to go out on Valentine's Day?
Finding an outfit for Valentine's Day can be a little overwhelming especially since it's just days away. Hopefully, these last minute outfit ideas will give you an insight on what to put together.

If you know what you're wearing for Valentine's Day, share it in the comments below. We would love to hear your ideas!