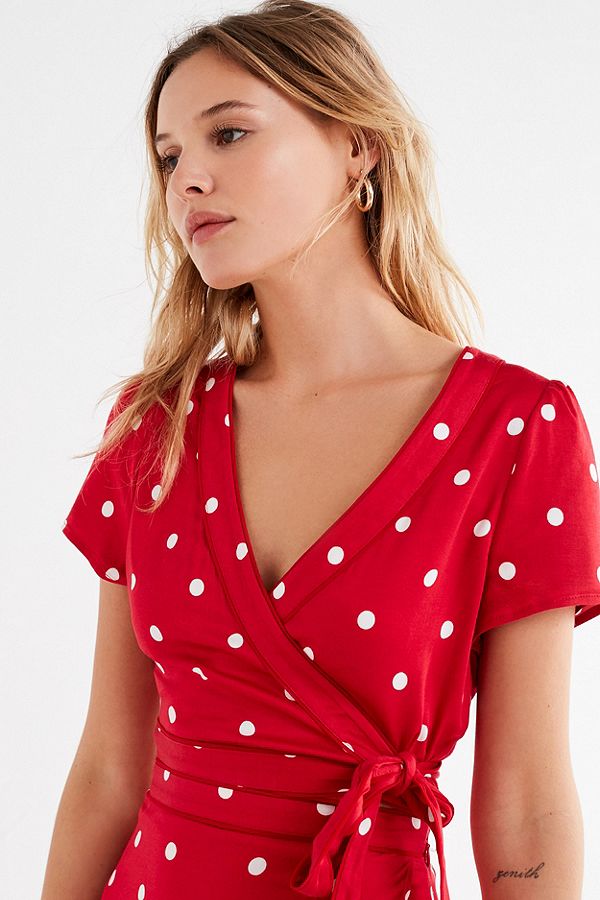 For the past couple of seasons, as far as t-shirt/blouse/top trends go, brands have been focusing on the shoulders and arms. From off-the-shoulder tops to cold-shoulder tops, and from puffed sleeves to bell sleeves, if you wanted a way to call attention to your shoulders and arms, there were (and still are) plenty of ways to do so.
However, recently, it seems as though designers have been taking a different approach as to what goes on your top half, and are shifting the focus towards the chest and waist area instead.
Enter: the ultra-flattering, works-on-everyone wrap top!
Essentially a shorter version of the classic wrap dress, wrap tops are characterized by, you guessed it, the way that they wrap across your body to create a feminine silhouette that shows off your shape in the best way possible.
One of the great things about wrap tops is that they come in a bunch of different variations, from looser-fitting ones that tie at the hip, to more fitted ones that tie at the waist show off every curve, meaning that you're sure to find a wrap top that works for your body and personal sense of style.
Want to learn more about how to wear a wrap top? Just keep scrolling to see three cute and wearable wrap top outfits.
Wrap Top Outfit #1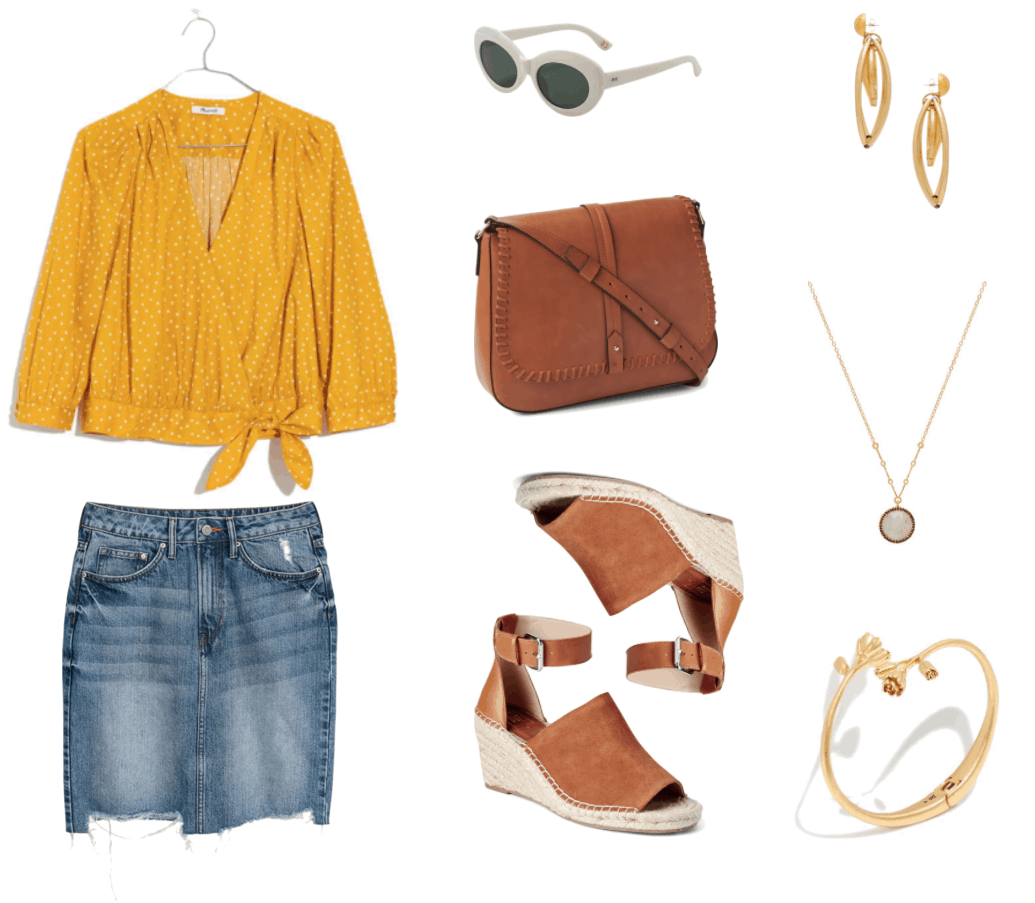 Products: Top – Madewell, Skirt – H&M, Sunglasses – Mango, Bag – Gap, Espadrilles – Gap, Earrings – Revolve, Necklace – Revolve, Bracelet – Madewell
This sunny, spring-y outfit is so easy to throw on and go! Simply put on a pretty yellow star-printed wrap top. (Note: The neckline on this top, like many wrap tops, is a little on the lower side, so don't be afraid to layer a simple tank or camisole underneath if you're uncomfortable showing a lot of skin.) Next, add a denim pencil skirt with a destroyed hem for some cool contrast.
You can't go wrong with a timeless whip-stitched cross-body saddle bag, while these chic peep-toe espadrille wedges are a daytime-appropriate way to add some extra height. (More ways to wear espadrilles here!)
Because they have V-necks, wrap tops are perfect for showing off pretty necklaces, which is why I chose this gorgeous and unique pendant.
Finish off the look with some artsy drop earrings, a girly rose cuff bracelet, and a pair of on-trend white sunnies, and you've got yourself an elevated-casual look that's perfect for wearing to class, or even for brunch with friends on the weekend.
Wrap Top Outfit #2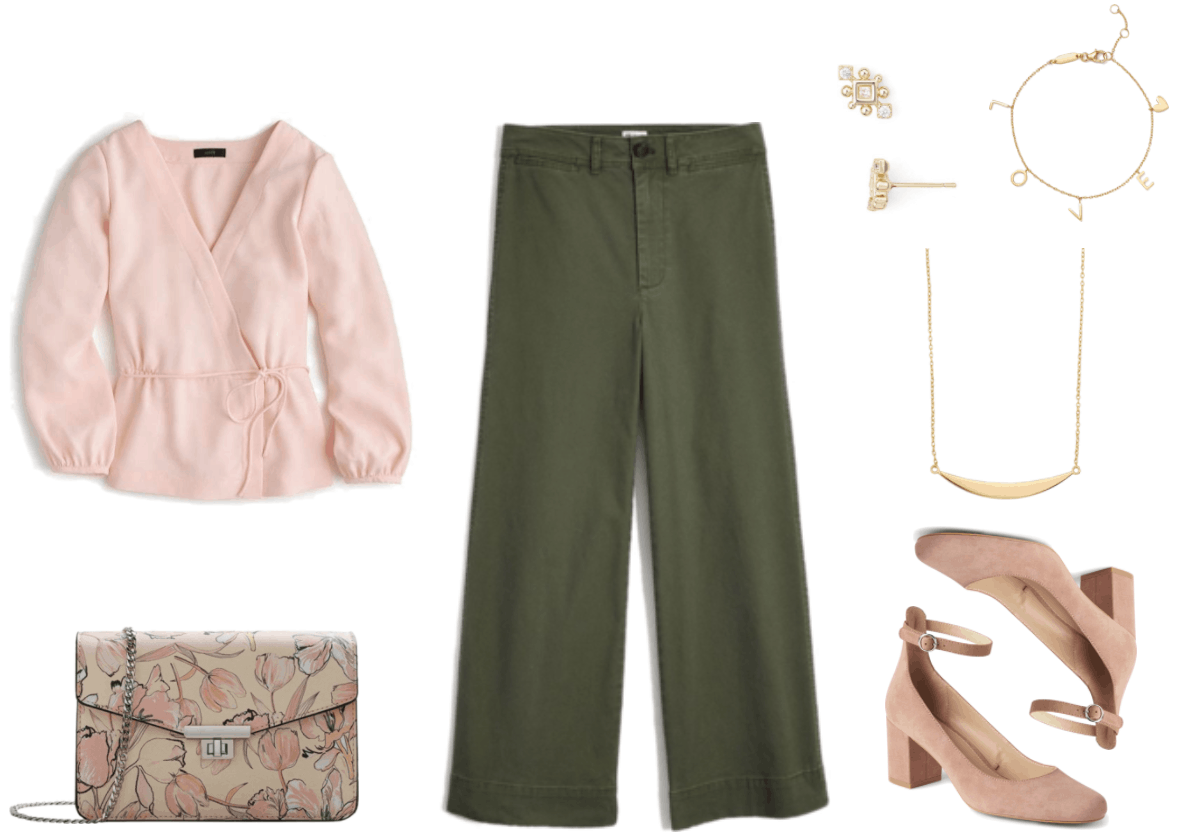 Products: Top – J.Crew, Bag – Mango, Pants – Madewell, Earrings – Bloomingdale's, Bracelet – Bloomingdale's, Necklace – Shashi, Heels – Gap
This look combines casual and elegant pieces for a look that is at once sophisticated and laid-back. It would be great for wearing to a job/internship at a creative workplace, or even on a date at a cool restaurant.
To get it, put on a beautiful pale pink wrap top (Okay, so this one's technically a faux-wrap top, but it still counts!), as well as a pair of olive-green cropped wide-leg pants. Then, grab a lovely floral-printed bag.
Put on a pair of sturdy block-heel pumps to balance out the looseness of the clothes and add some structure.
Finally, for jewelry, keep things simple with dainty stud earrings, a cute charm bracelet, and a modern half-moon necklace.
Outfit #3
Products: Top – Abercrombie & Fitch, Hat – ASOS, Mules – Topshop, Skirt – J.Crew Factory, Earrings – Revolve, Bracelet – Revolve, Necklace – Revolve, Tote – Mango
This fun, breezy outfit can be worn in Spring and into Summer, and would look great on anyone. Get it for yourself by pairing a feminine floral-print wrap top with a timeless navy blue skirt. Next, put on a pair of of-the-moment white woven mules.
Gold heart drop earrings, a hammered cuff bracelet, and a romantic "Oui" pendant necklace add a sweet touch.
This woven tote has a minimal air about it that adds style without distracting from the rest of the look, while a straw fedora tops off the ensemble in style.
What do you think?
Are you a fan of wrap tops? How would you style one? Do you have any go-to retailers for buying cool wrap tops?
Let me know in the comments!