Spaghetti-strap everything is yet another trend that has come back from the '90s to conquer today's fashion scene. Over the last few years, spaghetti straps were so left out of the fashion spectrum that we would only see them in our mom's closets, hidden in the back and sprinkled with thick layers of dust.
Yet, if your mom didn't throw her spaghetti strap items away, you should be more than thankful now! Spaghetti strap tops are back, and if you're not completely familiar with how to wear them — we get it, the 90s were a while ago! — we're here to help with our best picks of spaghetti strap tops styles and how to rock them:
Plain and Simple Silk Top & Skinny Jeans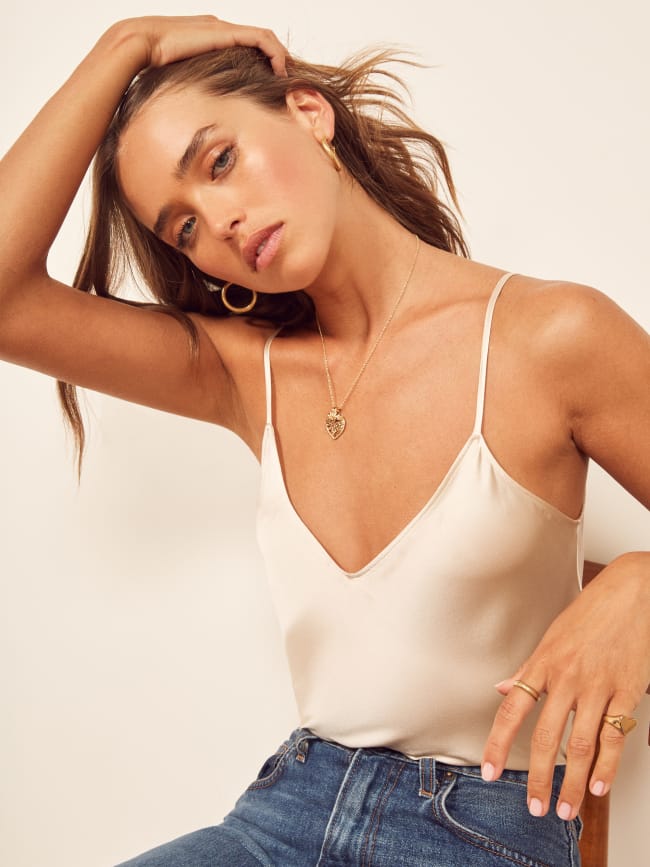 Silk tops (whether real or faux) are absolutely adorable, and thanks to their sinuous and soft lines they're the perfect choice for a romantic dinner or even just a fun night with your friends. The spaghetti straps help to enhance your shoulder line as well as your neck and, together with the silky fabric, they'll give you a refined look. Match the top of your choice (we're obsessing over this sustainable splurge from Reformation) with low waist skinny jeans for an elegant, yet slightly casual look for the night!
Faux Silk Top Over White Tee
Sometimes it's way too cold to wear just a spaghetti strap silk top, we get it. And here's why this trend is your best friend. Wear your top over a white t-shirt or even over a white long-sleeved shirt, et voilà: you're trendy, channeling the '90s, and ready to go. One amazing thing about this outfit choice is that it's totally acceptable as a daytime look — and it still gives you a glamorous vibe. My advice: messy bun hairstyle and big, black sunglasses for a chic rock 'n' roll look.
Spaghetti Strap Crop Top & Boyfriend Jeans
If you look closely and thoroughly enough in your mom's or older sister's closet (or even your favorite thrift store), I'm pretty sure you can find some of those '90s cotton spaghetti strap crop tops. And you should use them now! With or without front print, they're the best top to wear with a pair of boyfriend jeans. They highlight your waistline and are now cute enough to be worn outside of the gym. Think pastel colors: with light denim, they're the best!
Lace Spaghetti Strap Top Under a Boyfriend Blazer
You probably once bought a spaghetti strap cami with lace and haven't worn it since. We've been there: Lace is hard to wear, especially for a college girl, because it can look like it's "too much" for everyday wear. But don't worry, we have the perfect solution for that! Get a black boyfriend blazer and pop it on over your lace spaghetti strap top, and the problem is solved. You'll look confident, trendy, and cute at the same time
Matching Sets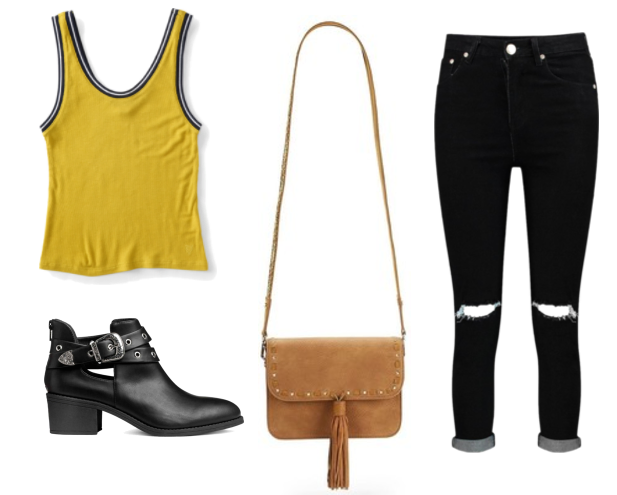 One of the best — and easiest — ways to wear spaghetti strap tops is as part of a matching set. Many brands are now offering flared checked pants combined with matching spaghetti strap crop tops, and we absolutely love it! It's the best way to go if you don't feel like wearing a dress, but don't want to combine different items either. And guess what? You get all the benefits from the spaghetti strap top too: it makes you trendy, gives you a vintage classy look, and is just plain fun. You're welcome!
Are you liking the spaghetti strap trend?
Are you ready to sport your spaghetti strap top collection now? Let us know in the comments below — we'd love to know if you have any other outfit ideas, too!