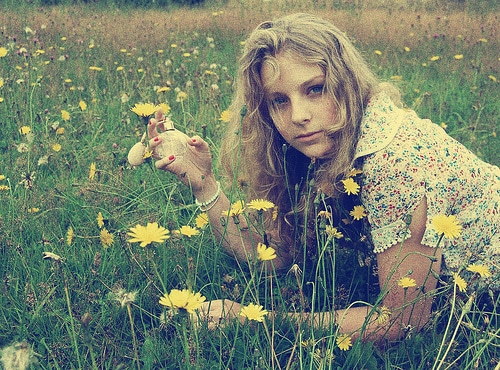 Every year around this time, floral prints start to emerge on the fashion scene. It seems as if when warmer weather begins to hit, the need to "lighten up" our style comes along with it. Most of us start highlighting our hair, wearing pastels, and embracing a girlier, more feminine aesthetic. Floral prints are a great incarnation of this feminine spring style, and lucky for us, they're super trendy!
Whether you choose a floral print dress, leggings, or a pretty floral top, there are plenty of opportunities to add some flower power to your spring look. This guide will show you how!
General Tips for Wearing Floral Print
Pick a size. We've all seen traditional "ditsy" floral print–dainty, feminine, and totally classic. While this look will continue to be popular, this season you can also expect to see a more contemporary take–large, statement-making graphic florals, on tops and dresses. Middle-of-the-road kind of girl? Mid-range floral might be your thing! Expect to see medium-sized floral prints on leggings and patterned tights.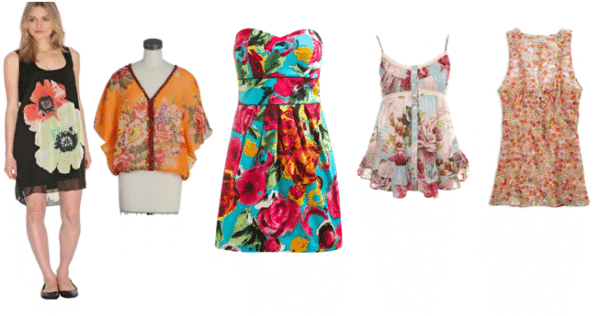 Product Information: Mina Flower Print Dress, Asos. Sheer Genius Floral Top, Piperlime. Floral Print Tube Dress, Arden B. Large Floral Cami, Miss Selfridge. Floral Chiffon Cami, American Eagle.
Make a statement. Floral print accessories are a great way to try the floral print trend as seasons transition. A floral print umbrella or pair of shoes will brighten up your day without looking over-the-top. If you're wary of this trend, try incorporating it into your outfit in a statement accessory piece–you'll make an impact, but it will still be subtle!

Product Information: Ditsy Floral Bangles, Monsoon. Blue Floral Scarf, Dorothy Perkins. Floral Vision Glasses, ModCloth. Dr. Martens 1460 Floral Wildpoppy Boots, British Fashion Underground. Louche Padded Floral Bow Headband, Joy.
Outfit Inspiration
1. Go girly. Floral print is a definite staple in the girly-girl closet: think Lilly Pulitzer meets Vera Bradley. If southern-inspired style isn't your thing, you can still create a totally girly look by picking up your favorite skirts, dresses, and blouses in tiny floral prints. Traditionally girly styles are made even more feminine with the addition of this fun print.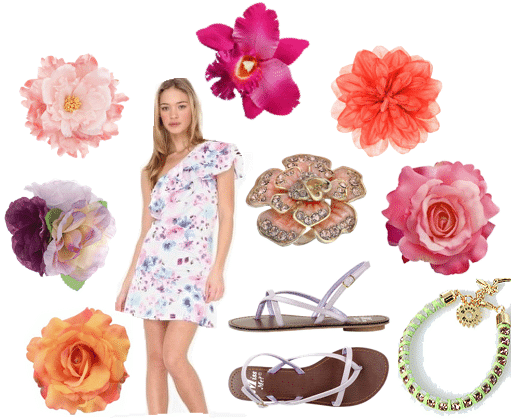 Product Information:Vila One Shoulder Flower Print Dress, Asos. Encrusted Flower Ring, Topshop. Miss Me Finn Paent Sandal, Delia's. Disney Couture Jewelry The Tink Crystal Wrap and Leather Charm Bracelet, Karmaloop.
2. Go edgy. With the right outfit, floral print can also have an edgy feel. Instead of picking dainty pastel florals, try a larger print in darker colors. As a bonus, these darker florals can be worn into cooler seasons, too! Another way to give your floral look an edgier vibe is to pair a feminine floral with tougher accessories. Think a floral print dress with a leather jacket and oxfords, or floral print leggings and a black tunic. Mix and match for a look that's all your own!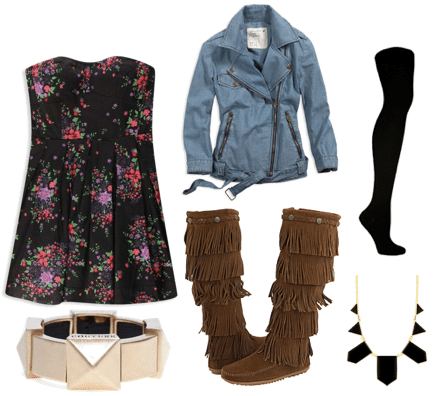 Product Information: Free People Poison Apple Floral Dress, Bluefly. Juicy Couture Pyramid Stretch Bangle, Ssense. Chambray Moto Jacket, American Eagle. Minnetonka 5-Layer Fringe Boot, Zappos. Black Thigh High Sock, The Sock Boutique. House of Harlow 1960 Geometric Necklace, The Trend Boutique.
What do you think?
Has floral print been a part of your spring wardrobe in the past? Will it make an appearance this season? Finally, what trends or pieces would you like to see discussed here? Are there items in stores or on the runways that you're dying to wear, but unsure of how to? Let me know with a comment!