Up until recently, corduroy was one of those fabrics that was considered to be stuffy and frumpy. Sure, you might have been able to find the odd corduroy piece here and there in more modern and trendy stores, but it has been a long time since the fabric has had a real fashion moment. Seriously though, I remember the last time I wore corduroy was in sixth grade—back in 2005!—so you know that it's just destined to be a big thing now!
Needless to say, then, I was pleasantly surprised to find that corduroy has been making a real comeback this year, in the form of everything from mini skirts to pantsuits; I've even seen corduroy hats making the rounds!
So, if you're interested in seeing how to make this slightly tricky trend work for real life in the present day (because I'm pretty sure that the low-rise, dusty pink corduroy flares I wore at age 11—as awesome as they were back then—just aren't going to cut it anymore), just keep scrolling!
Outfit #1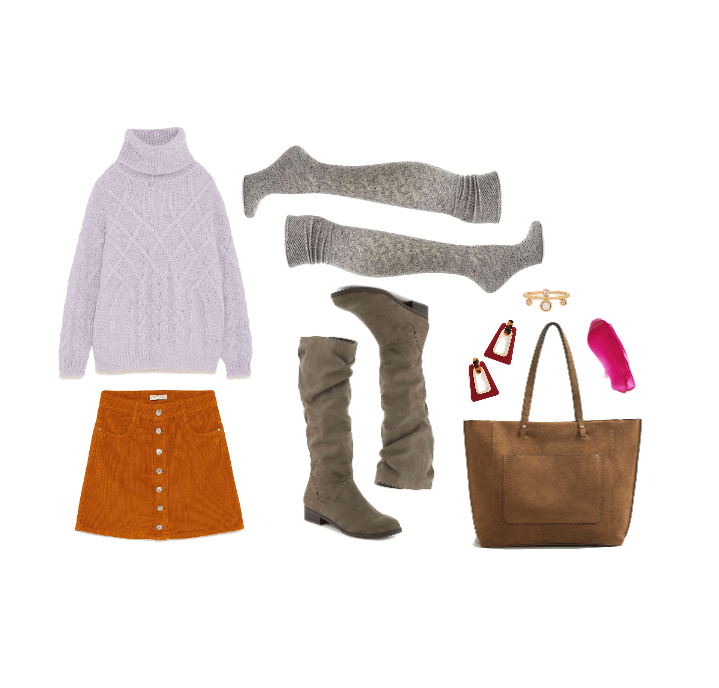 Products: Sweater – Zara, Skirt – Zara, Socks – DSW, Knee-High Boots – DSW, Earrings – Shopbop, Ring – Revolve, Tote – Mango, Blush – Glossier
For this look, I wanted to create something super-cozy, yet ultra-stylish, that really captures the overall fall mood. I envision this outfit being worn to class on a chilly fall day, or even on a romantic fall date in a cute café.
To start, put on an oversized lavender turtleneck sweater. Next, add a burnt-orange button-front corduroy skirt for some cool contrast in both color and texture.
Over-the-knee socks and knee-high boots are one of my favorite cool-weather combos, and I really like the neutral color palette going on with the socks and boots shown above.
A roomy brown suede tote is definitely fashionable enough to wear both in and out of a school setting, while '60s-esque drop earrings and a unique boho ring are both unexpectedly chic ways to accessorize the outfit.
Finally, lightly apply a magenta cream blush to the apples of your cheeks for a pretty and flushed, just-got-in-from-the-cold look.
Outfit #2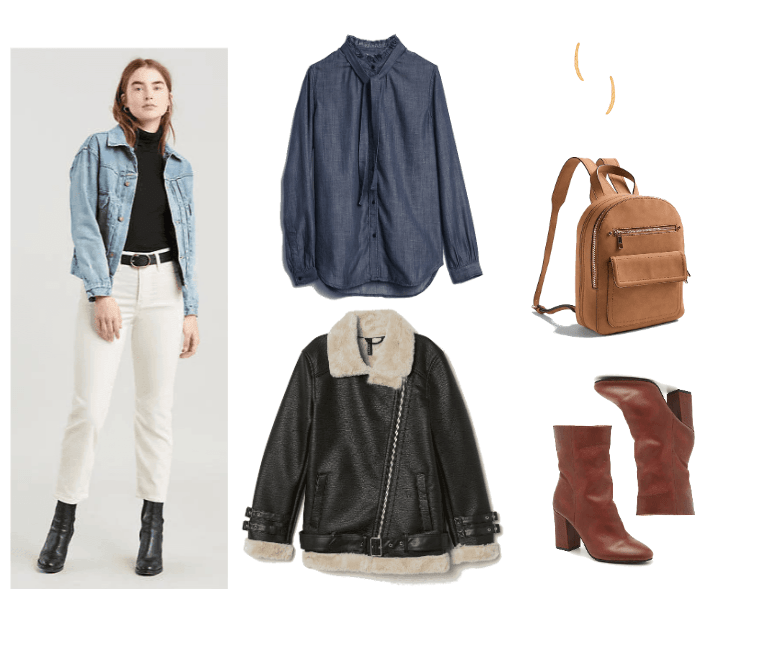 Products: Pants – Levi's, Blouse – Gap, Jacket – H&M, Earrings – Revolve, Backpack – Gap, Ankle Boots – DSW
For Outfit #2, I decided to go with something a little more casual that combines both masculine and feminine elements.
To get the look, put on a classic-with-a-twist denim tie-neck blouse, and pair it with some ultra-trendy white corduroy straight-leg pants.
A faux-shearling-lined motorcycle jacket is the perfect way to keep warm in fickle fall weather, while modern ear climber earrings add just a sliver of shine.
Put on a pair of brown heeled ankle boots for some extra sophistication, and lastly grab a faux-leather backpack for an of-the-moment alternative to a traditional bag or tote.
Outfit #3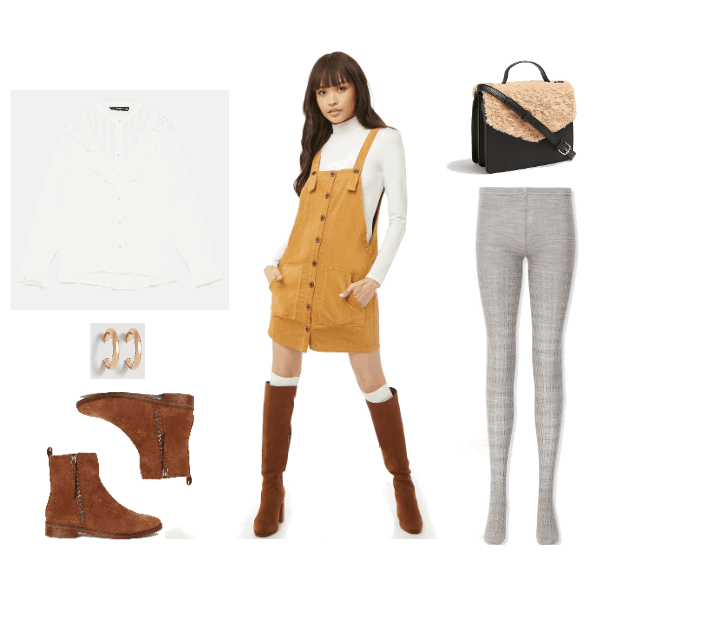 Products: Blouse – Zara, Earrings – Mango, Ankle Boots – H&M, Overall Dress – Forever 21, Bag – Gap, Tights – Uniqlo
Overall dresses are a trend that has been around for a couple of years now, and, as far as I am concerned, they are the perfect complement to the corduroy trend.
Since these dresses can sometimes look too little-girl-ish if paired with the wrong pieces—especially if they are in a non-neutral color, like the mustard yellow one shown here—I decided to style this cute button-front one with a more elegant and sophisticated tonal Swiss dot ruffled white blouse.
Flat ankle boots in a rich shade of cognac brown and cable-knit gray tights really bring out the saturated color of the dress, while thick gold hoops are a simple-yet-statement-making way to accessorize this chic ensemble.
Finally, pick up an accordion bag with a quirky faux-fur accent to complete the look.
Outfit #4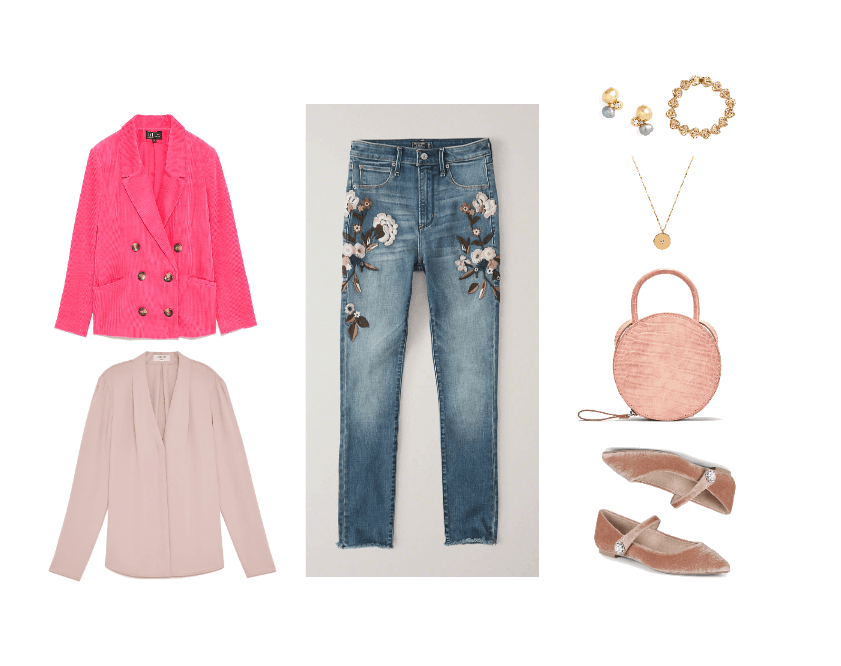 Products: Blazer – Zara, Blouse – Aritzia, Jeans – Abercrombie & Fitch, Earrings – Nordstrom, Bracelet – Revolve, Necklace – Revolve, Bag – Zara, Flats – Saks Off 5th
While corduroy isn't exactly the fanciest fabric out there, there are definitely ways to style corduroy pieces with other, slightly dressier, items to create a more elegant look, as I did here with this surprisingly versatile and wearable hot pink, double-breasted corduroy blazer.
Begin by throwing the blazer on over a silky pale pink blouse, which serves to soften up the boldness of the blazer by just the right amount. After that, put on a pair of sweet floral-embroidered jeans to turn up the femininity factor by several notches.
These pretty bluish pearl cluster earrings, along with a heart bracelet and locket necklace serve as lovely accents to the outfit without distracting from the various different elements going on. The mini pink croc-embossed circular bag adds visual interest without being gaudy or over-the-top.
Last but not least, these gorgeous velvet, pointed-toe, bejeweled Mary Jane flats—which are my favorite part of the look—add just the right amount of luxe to finish off the ensemble.
What do you think?
How do you feel about corduroy's comeback? Have you tried the trend for yourself yet? If so, how have you worn it?
Let me know in the comments!