Welcome to the latest edition of Ask CF! Every two weeks, we select a reader fashion question and answer it here on the site. Do you have a specific fashion question for us? Scroll to the bottom of this post to learn how to send it our way!
Ask CF Question
Hi CF,
I'm a student doing an internship in a nanoscience lab. My area has a really hot and humid climate (we're having 95 degrees right now, I can't imagine how August is going to be…), and the internship takes all of summer.
I'm a pear-shaped girl, and I cannot wear skirts or dresses as they are really impractical under the mandatory Breaking Bad-esque lab suit, nor full-length pants because I might melt in the heat.
The best option is to choose shorts, but how can I wear them in a way that is both internship-appropriate (there is a lot of office work too, and weekly meetings) and flattering?
Thank you very much,
Heat-wave Squint.
Our Response
Dear Heat-Wave Squint,
While styling shorts in a professional way might seem hard at first (after all, shorts aren't really what we normally think of when we think "work/internship-appropriate"), it's actually not so different from styling a skirt.
As long as you're willing to put the time into finding shorts that are more polished than your average pair of cut-offs, you'll see that finding the right shorts for your situation can be a breeze.
Having said that, there are a couple of things that you should keep in mind while on the hunt for professional-looking shorts:
Pay attention to fabric: This is one of the most important things to consider when looking for shorts to wear to work, as you don't want to choose a pair of shorts that'll make you look like you're headed for the beach! Stick with dressier materials such as cotton, flowy crêpe, linen, or even chambray. Also, this is probably obvious, but holes and distressing are a big "no" when it comes to choosing work-appropriate shorts.
When in doubt, go looser: Many pairs of shorts today are made to fit rather tightly, so, when in doubt, it's always a good idea to choose a pair that skim your legs rather than cling to them. Not only will they keep you cooler than their skin-tight counterparts, but shorts that flow away from the body slightly tend to be flattering and appropriate.
Consider length: Another important point to keep in mind is the length of the shorts that you're wearing. It's a good idea to think in terms of the length of skirts you'd wear in a professional setting, and then apply that guideline to the shorts you're considering. Personally, I'd recommend going no shorter than mid-thigh length in a business-casual or casual work environment.
Now that that's out of the way, keep scrolling to see some professional outfits featuring shorts that I have put together for you:
How to Wear Shorts to Work: Outfit #1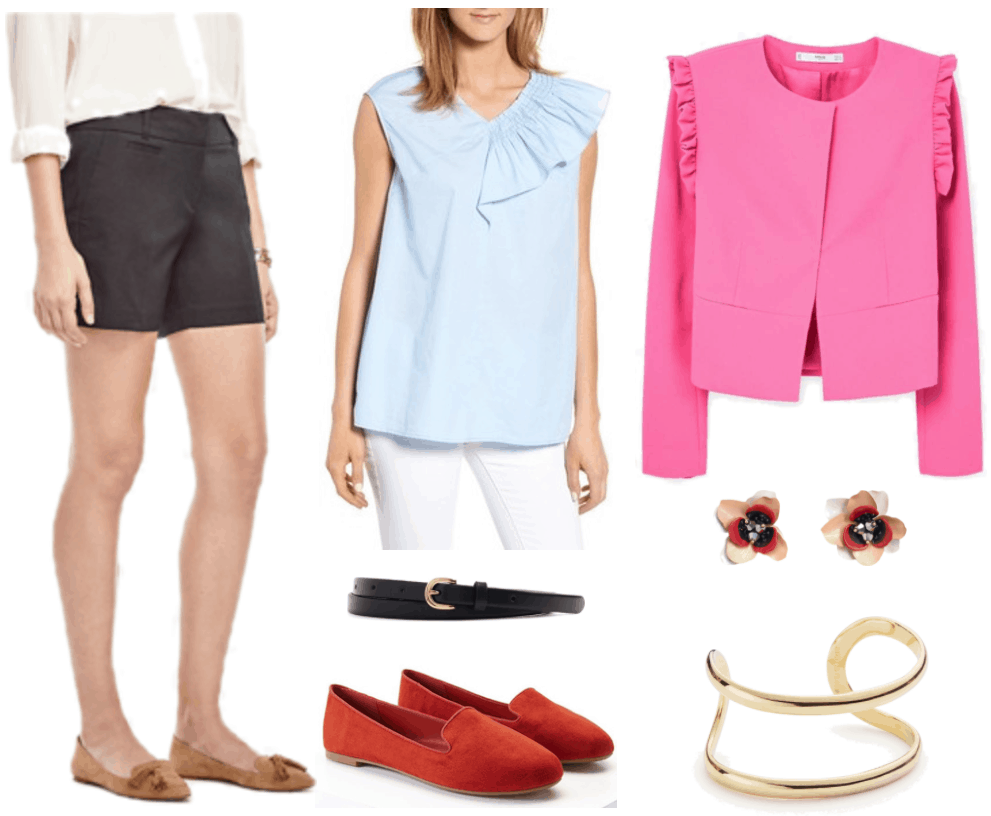 Products: Shorts – Ann Taylor, Blouse – Mango, Belt – J.Crew, Loafers – Forever 21, Blazer – Mango, Earrings – Mango, Cuff – Ann Taylor
Although this outfit is a little on the formal side, it is still very much appropriate for work, and it shows that shorts don't necessarily have to look casual.
These black shorts from Ann Taylor are basically the Summer version of classic black trousers, and would look amazing on any body type due to their mid-thigh length and ultra-flattering cut.
For this look, I paired them with a lightweight sleeveless ruffled blouse, which would look great either left out or tucked in with a simple black belt.
Since you're working in a lab and are therefore probably required to wear closed-toe shoes, I found you some cute loafers, which also add a nice pop of color to the outfit.
As for jewelry, these pretty flower earrings and interesting cuff bracelet add just the right amount of sophistication.
Lastly, since you mentioned that you're required to do office work and attend meetings as part of your internship, I thought I'd include a trendy-yet-professional-looking blazer that you can throw on once you are no longer wearing your lab suit.
How to Wear Shorts to Work: Outfit #2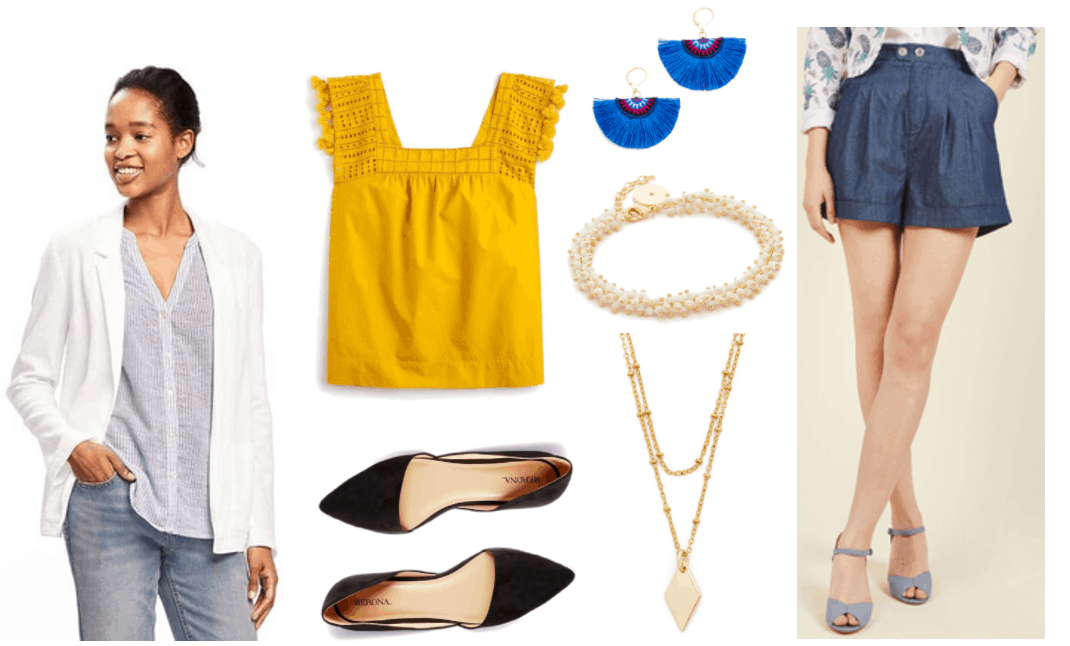 Products: Blazer – Old Navy, Top – J.Crew, D'Orsay Flats – Target, Earrings – Shopbop, Bracelet – Shopbop, Necklace – Shopbop, Shorts – ModCloth
The chambray shorts in this outfit are a little more on the casual side, but they are made work-appropriate thanks to the more structured nature of the rest of the look.
Start by tucking in a gorgeous golden-yellow top into the shorts to show off their high-waisted silhouette. The shorts actually do a great job of subtly showing off your legs, thanks to the shorts' length and the way that they flare out a little.
Next, add some boho jewelry, including some amazing fringe earrings, a beautiful bracelet, and a dainty layered necklace.
Finish off the look with an elegant pair of d'orsay flats, and don't forget to take along a lightweight blazer (this one's a linen-rayon blend) to dress things up a little for your non-lab-related internship duties.
How to Wear Shorts to Work: Outfit #3

Products: Blouse – Uniqlo, Shorts – Banana Republic, Cardigan – Abercrombie & Fitch, Earrings – Banana Republic, Necklace – Old Navy, Bracelet – Banana Republic, Flats – Old Navy
This feminine outfit with shorts for work is perfect for those days when you don't feel like putting a lot of effort into your look, but still want to look polished and professional.
To achieve the look, all you have to do is tuck a loose-fitting sleeveless blouse into a pair of white sailor-style shorts.
Next, add some girly jewelry, like this lovely ombré necklace, cute bow earrings, and delicate floral cuff.
Finally, for those times when you're not in the lab, put on a bright red cotton-linen-blend cardigan for a fun touch.
How to Wear Shorts to Work: Outfit #4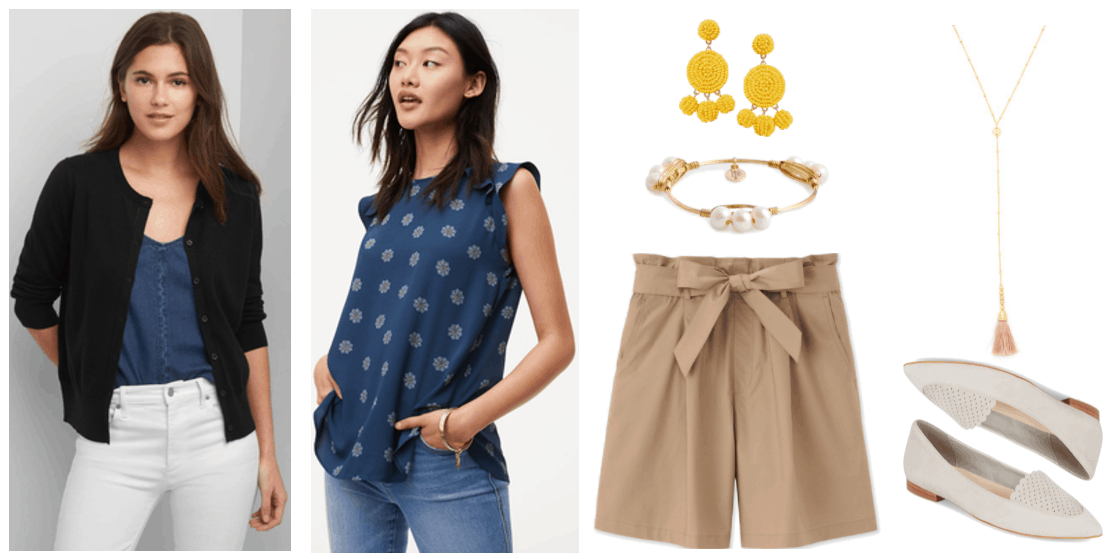 Products: Cardigan – Gap, Top – LOFT, Earrings – Humble Chic, Bracelet – Nordstrom, Shorts – Uniqlo, Necklace – Shopbop, Loafers – Saks Off 5th
If your style is classic but fun, then this is the look for you! I chose this blue floral-print top for its subtly playful floral print, and because I think it'd look great tucked in to these classy and practical shorts.
I really like the perforated and scalloped details on this pair of white loafers, which would also look great with a variety of different outfits.
In terms of jewelry, I decided to go with a bright pair of beaded earrings, a pearl bangle, and a long lariat necklace, all of which add a polished touch to the look.
For the finishing touch, add a classic black three-quarter-sleeved cardigan for when you're not in the lab.
I hope tips help you to stay cool yet professional-looking over the summer! Thank you for your question!
Do you have a fashion question? Send it to us!
Is there something in your closet that you want to wear but have no idea how to style? Do you need advice on what to wear to an upcoming event? Do you have a specific fashion conundrum? If you have a fashion-related question that you would like to see answered in this column, simply email it to askcf @ collegefashion.net, and one day you might see your question answered right here on the site!
What do you think?
How do you dress to stay cool in the Summer when you have to dress for an internship/job? Do you have any styling tricks to make shorts look work-appropriate? Which of these looks would you be most likely to wear in a professional setting? Let me know in the comments!