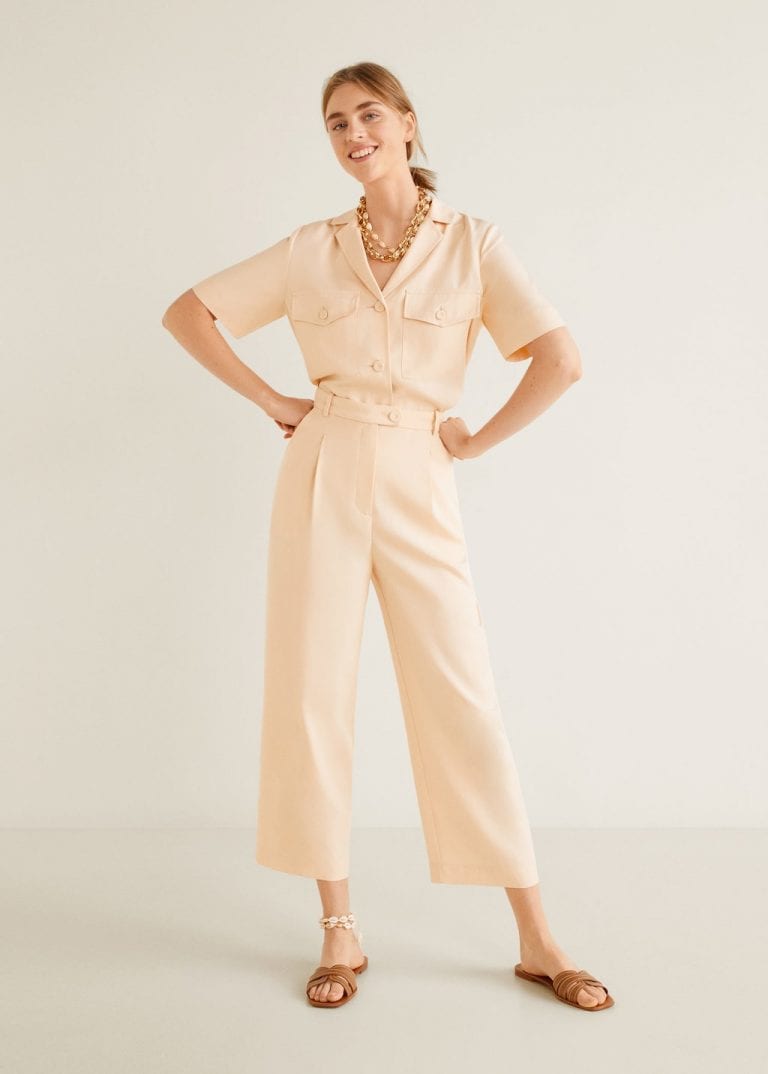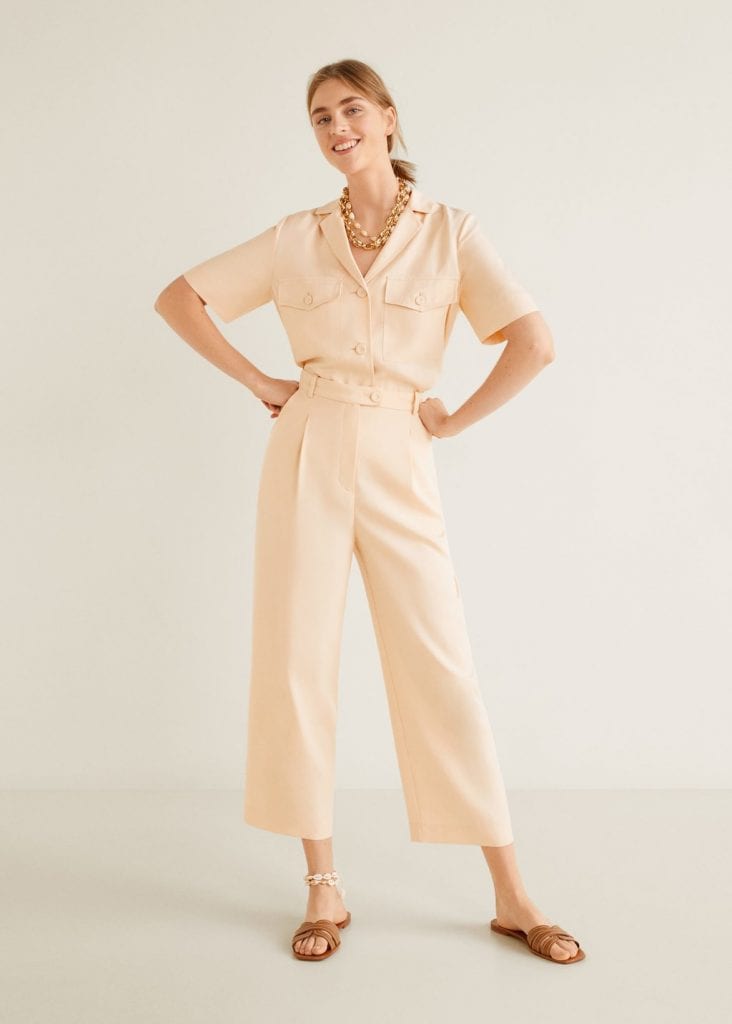 Granny chic has been a popular look for the past couple of years. However, lately, with trends like midi skirts, mules/slides, and structured bags becoming increasingly popular, this jolie laide aesthetic has become more widespread.
The hardest part about dressing granny chic is, well, not looking like an actual granny. (Because, unless you are actually granny-aged, dressing too much like one would be a little strange. Similarly, an elderly person dressing exactly like a college student would be equally weird.)
So, there should be an element of cheekiness to your look. This means acknowledging that, yes, you are wearing a dress that looks like it belongs to someone triple your age. (But also, you look pretty fabulous in it!)
How do you do this, you ask?
Well, the easiest way is to incorporate one or two more modern elements into your look. These elements could take the form of an updated silhouette or an of-the-moment accessory. That way, you end up looking youthful and modern, rather than too old and out-of-place.
If you want to learn more about how to pull off the granny chic trend, simply keep reading!
Outfit #1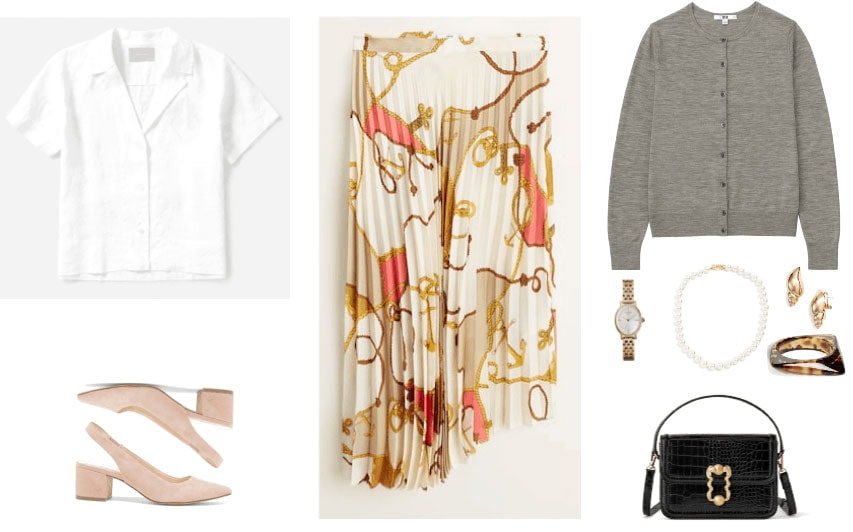 Products: Shirt – Everlane, Heels – Sole Society, Skirt – Mango, Cardigan – Uniqlo, Watch – Nordstrom, Necklace – Shopbop, Earrings – Nordstrom, Bangle – Nordstrom, Bag – Zara
This outfit has plenty of granny-inspired elements. But, crucially, it manages to remain modern thanks to its more modern features, such as the skirt's uneven hem and the bag's quirky clasp.
To create this look, I chose a loose-fitting short-sleeved shirt, which is meant to be tucked into a pleated midi skirt with a fun, vintage-inspired print. Next, I added a simple lightweight cardigan over top.
I decided on these low block slingback heels, which allow you to add some height, while still maintaining a more traditional sensibility. Furthermore, I like this structured bag as it adds the perfect amount of polish.
To complete the look, I couldn't say no to some granny-chic jewelry. Here I chose a small, ladylike gold watch, a classic faux-pearl necklace, a vintage-esque resin bangle, and a pair of gold shell earrings that look like clip-ons (but are actually for pierced ears).
Outfit #2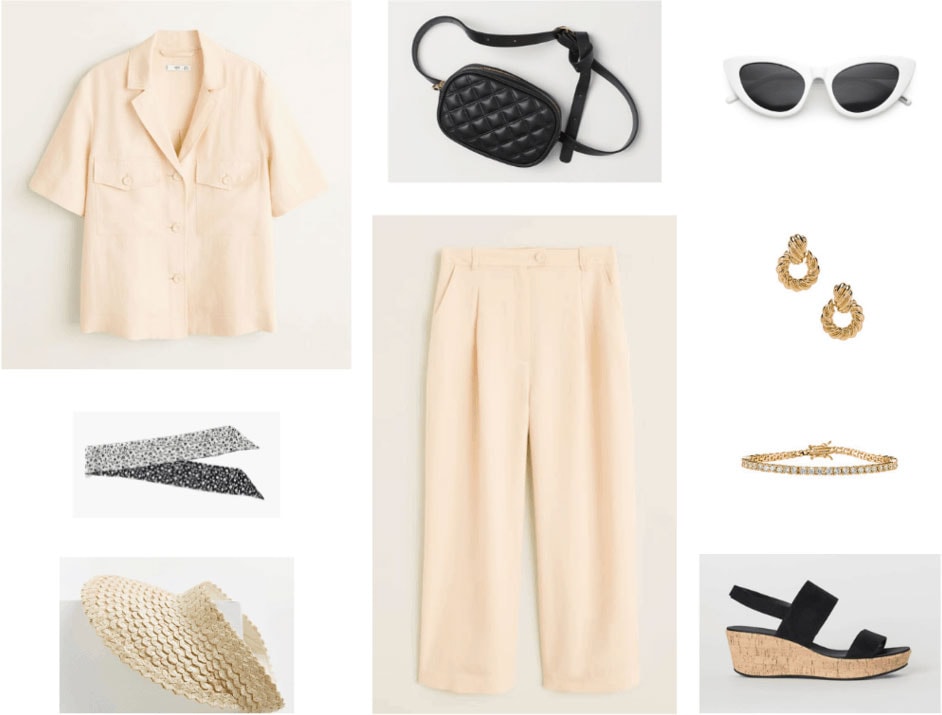 Products: Shirt – Mango, Bandana – Madewell, Visor – Urban Outfitters, Fanny Pack – H&M, Pants – Mango, Sunglasses – ZeroUV, Earrings – Revolve, Bracelet – Revolve, Sandals – H&M
For this look, I was inspired by something a retired lady of leisure might wear during the summertime.
It features a pale pink matching pants-and-shirt set. (Matching sets, as long as they are on the more conservative side, are very granny chic, by the way!) I paired the set with a cute floral-printed skinny silk bandana, along with a quilted fanny pack. (You can wear the fanny pack at the waist, if you tuck the blouse in, or on the hips, if you leave it out.)
As for shoes, I decided to go for a comfortable-yet-chic pair of low wedge sandals. For accessories, I chose chunky gold statement earrings, a luxe, splurge-worthy tennis bracelet, and a retro-inspired pair of white cat-eye sunglasses. Finally, since you can't go wrong with a visor — a beloved warm-weather granny staple — I decided to go with this cool straw rendition to top off the look.
Outfit #3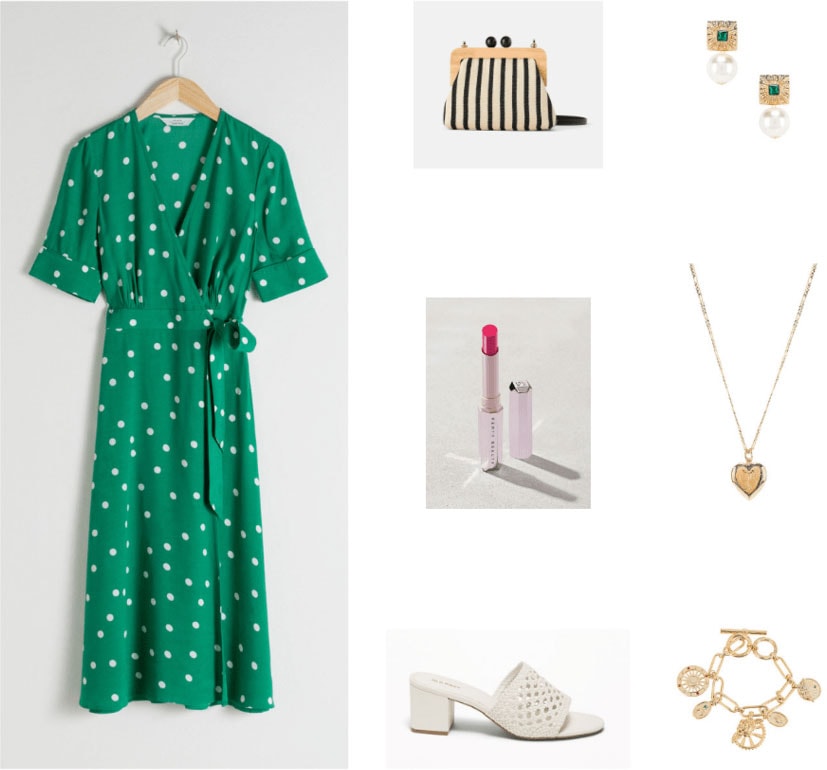 Products: Dress – & Other Stories, Bag – Zara, Lipstick – Fenty Beauty, Heeled Sandals – Old Navy, Earrings – Revolve, Necklace – Revolve, Bracelet – Revolve
For the final look, I decided to put together something that can easily transition from day to night. And, because you can't have an article about granny style without a polka dotted piece, I decided to pick out a fun wrap dress that's perfect for summer!
I love this particular wrap dress because it can look either youthful or mature depending on how you wear it. Here, I styled it in a more mature way with white woven heeled slide sandals and a cute kiss-lock clasp bag.
I also added classy drop earrings, a sentimental locket necklace, and an old-style charm bracelet to jazz things up.
Last but not least, I picked out a bright fuchsia lipstick — a perennial granny fave — to complete the look.
What do you think?
Do you ever dress granny chic? If not, would you ever try it out? Are there any other granny chic staples that I missed here?
Let me know in the comments!