When preparing for winter break, most girls think about dressing for New Years parties, Christmas dinner, and cozy evenings by the fire. While these are all important things to think about, here, darling readers, is my top three list of the lesser-known Winter Break occasions you may be faced with before you head back to school.
Night Out with a Group… That Includes Your Ex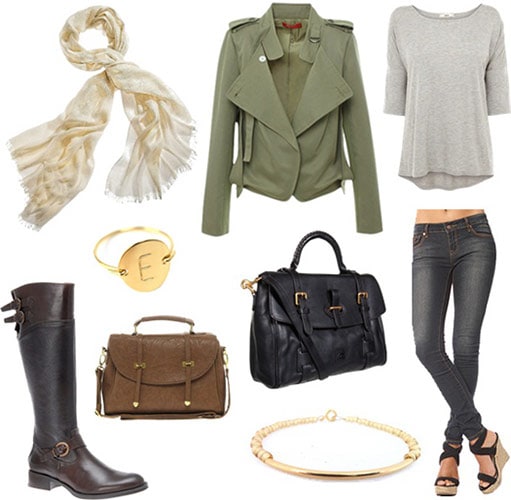 Scarf, Jacket, Tee, Boots, Ring, Brown Bag, Black Bag, Bracelet, Jeans
If you go to school far away or just don't see your HS friends often, there's a 90% chance that at some point over break, you're going to be invited out for dinner or drinks with a big group to "catch up." This should be fun, but can also be potentially awkward, as you'll likely run into an old high-school fling (or, like one of my best friends, literally run into them- aaawkward).
My best tip in this situation is to dress simply, but elegantly- no ruffled uber-minis or cleavage-baring tops here! Your outfit should show you off, so stick with timeless, well-fitting pieces, like a great structured jacket paired with skinnies and high leather boots. I love this great black bag from Dooney & Bourke – a staple item! – but, for a more affordable option, this brown bag from ASOS looks luxe at a fraction of the price. Simple gold jewelry and a soft white scarf finish this effortlessly stylish outfit.
The Day After the Night Out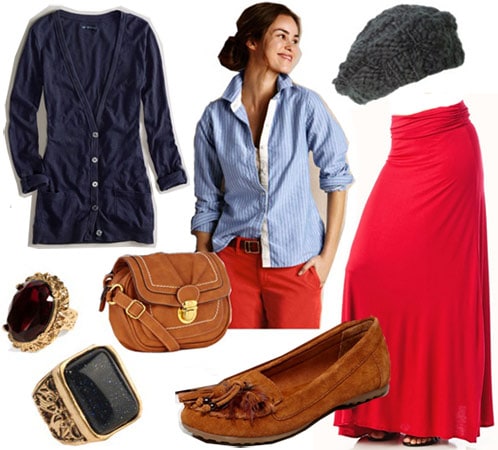 Cardigan, Shirt, Beret, Purse, Black Ring, Red Ring, Moccasins, Maxi Skirt
Another occasion no one talks about dressing for is the day after a late night out. When you wake up and wonder why your mouth tastes like a dead raccoon and your hair could double as a bird's nest, you're going to have to get out of bed and make yourself look presentable for whatever activities you have planned… and it won't be fun.
This look mixes preppy polish with a boho silhouette. Instead of slipping on sloppy sweats or constricting jeans, pull on a gorgeous red maxi skirt, and winterize it with a striped oxford and a navy cardi. Comfy moccasins and a cross-body bag are functional, but stylish, and some eclectic rings add a touch of glamour. Add a loose beanie and sunglasses (if necessary) to disguise second-day hair and tired eyes.
Random Party Invite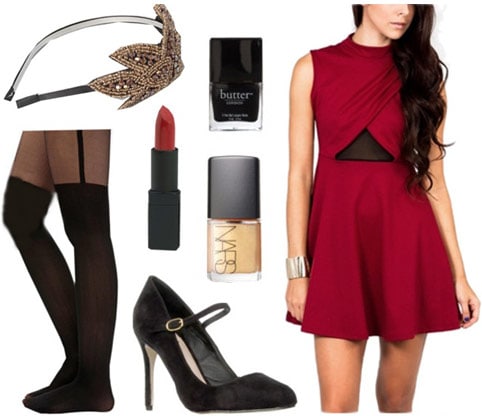 Headband, Tights, Heels, Lipstick, Black Nail Polish, Gold Nail Polish, Dress
At some point during the holiday season, you will be called upon to attend a random party, whether it's a friend of your parents' dinner party, a new years soiree, or a confusing invite from a friend to a 'festive' dress party. You'll want an outfit that's stylish, but still practical, so you can stand around answering each individual dinner guest's question: "So how's college?" (Kill me now.)
Channel a little Gatsby-esque glamour with a flapper-style headband and retro tights. This beautiful dress combines cutouts with rich red velvet for an effect that's both winter-appropriate and utterly flattering. (Bonus: the dress is on sale right now, as Ashley mentioned earlier this week! ) Little black Mary Janes are comfy but cute, and gold accent nails pop on a black backdrop. A great red lip keeps your look classically elegant.
What do you think?
Have you encountered these occasions? Would you wear these outfits? Got anymore events you didn't expect over the break? What's your favorite break activity? Leave any thoughts, questions, suggestions or grade school crush's initials in the comments below!