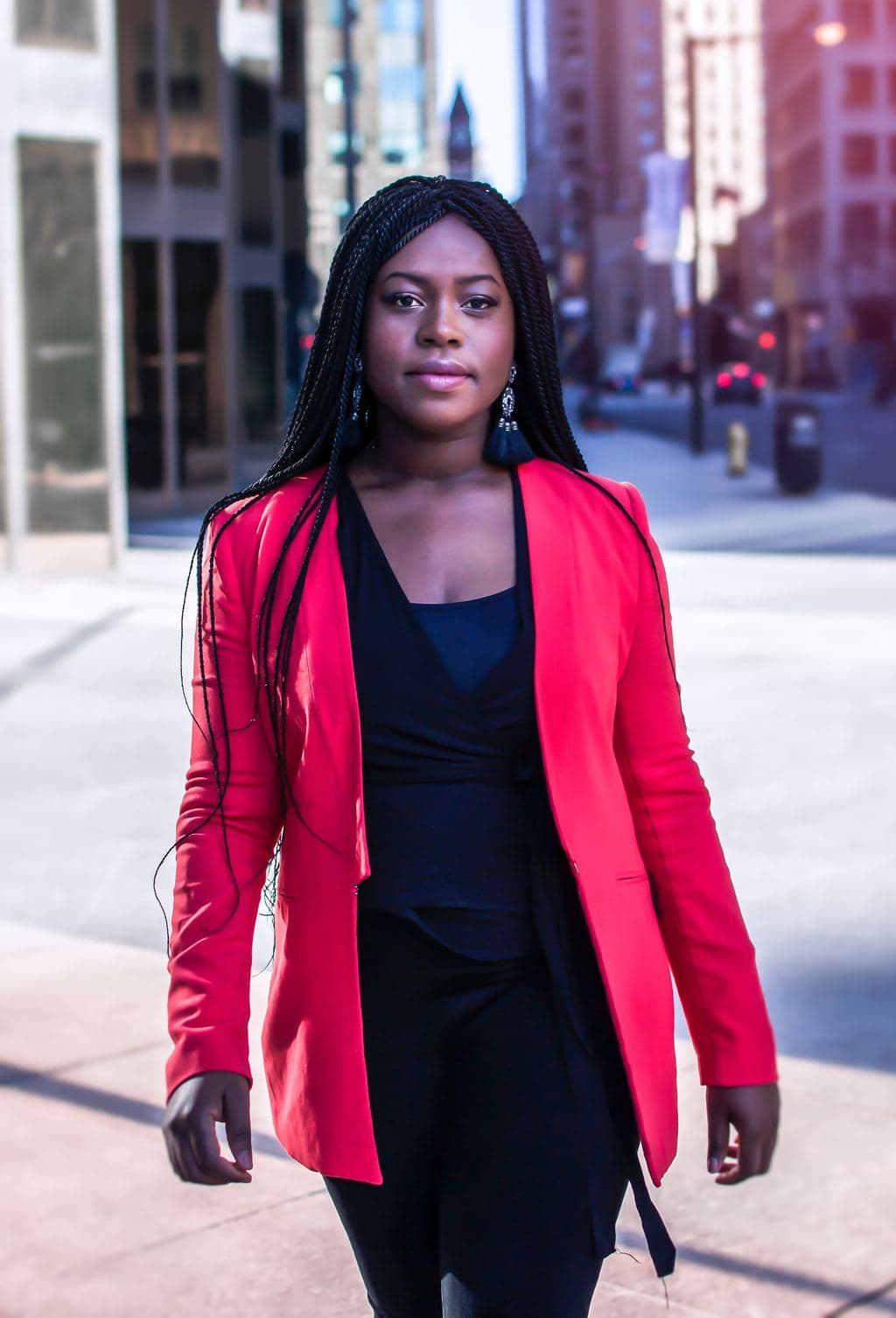 Welcome to the latest edition of Ask CF! Every two weeks, we select a reader fashion question and answer it here on the site. Do you have a specific fashion question for us? Scroll to the bottom of this post to learn how to send it our way–including a brand new way to submit your most pressing fashion dilemmas!
This week's short but sweet question comes via CF's Instagram:
Ask CF Question
How do I add more color to my neutral wardrobe?
Our Response
If you're the type of person who wears mostly neutrals on a day-to-day basis, wearing color can seem pretty intimidating at first, as it might seem as though you need to go from wearing all-black one day to a full rainbow of colors the next! Furthermore, it can sometimes be difficult to know where exactly to start, as there are so many different ways to wear colors with neutrals.
However, there is definitely a way to integrate more color into your wardrobe that involves moving at a more gradual pace, so that you won't feel out of place or uncomfortable in your own skin, or like you need to make the change all at once.
Want to learn more about how to do it? Just keep scrolling for four outfits that demonstrate how to wear more color, ranging from just a touch to a bolder look.
Outfit #1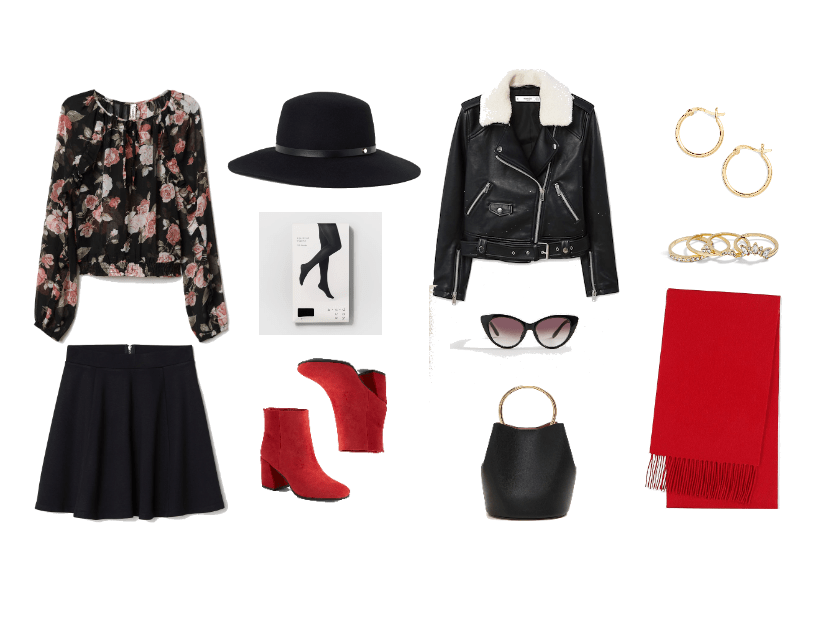 Products: Blouse – H&M, Skirt – H&M, Hat – H&M, Tights – Target, Ankle Boots – Gap, Jacket – Mango, Sunglasses – Mango, Bag – Mango, Earrings – Nordstrom, Ring Set – Nordstrom, Scarf – Uniqlo
This outfit demonstrates two great ways to start incorporating more color into your wardrobe; feel free to experiment with them together in the same outfit, or wear them on separate occasions for a more subdued look.
The first way is through adding smaller pops via an accessory–or two! Personally, I think that red is the best color to do this with, as it is classy and fun and works well with every neutral tone.
Style the red accessories–which in this look take the form of square-toe heeled ankle boots and a scarf–with a black circle skirt, opaque black tights, and a black motorcycle jacket with a faux shearling collar to keep you warm as the cold weather starts to set in.
As for the blouse, I chose one that features a colorful print set against a neutral background–the second way to start adding more color to your look. Here, I chose a feminine floral print that goes well with the red accessories, should you decide to wear all of those pieces together.
To complete the look, add a chic black wide-brim hat, small gold hoop earrings, a bunch of delicate rings, a trendy pair of cat-eye sunglasses, and a super-cool bag with a metal handle.
Outfit #2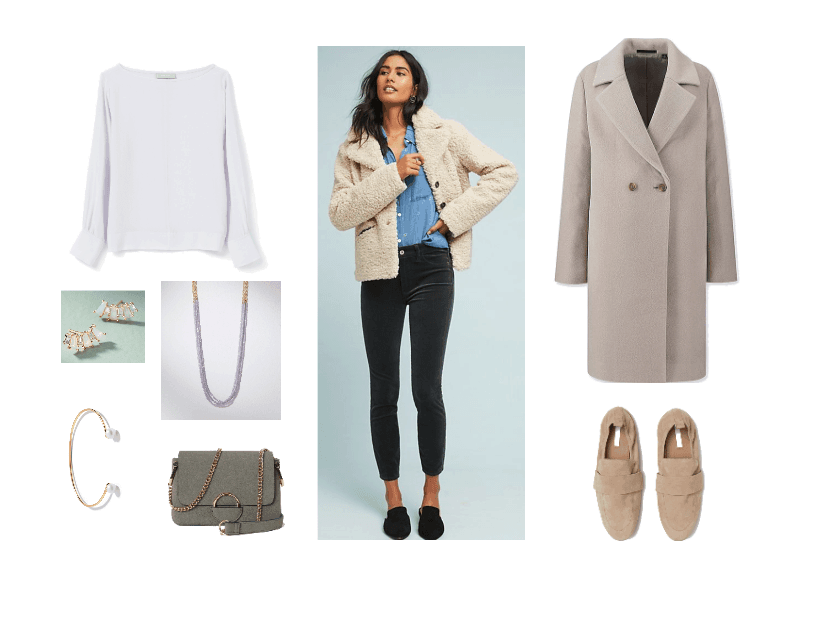 Products: Blouse – Everlane, Earrings – Anthropologie, Necklace – Loft, Bracelet – Nordstrom, Bag – H&M, Pants – Anthropologie, Coat – Uniqlo, Loafers – H&M
If you're looking to go beyond the "multiple pieces in one neutral shade + one or two colored pieces" outfit formula but aren't ready to start wearing a ton of color just yet, then you should definitely try wearing multiple neutral shades along with a colored piece or two to switch things up a little bit. I love the idea of doing this with softer neutrals and pastels, as they naturally work really well together.
To copy this outfit for yourself, pair a silk pale lavender boatneck blouse with some of-the-moment dark gray corduroy pants; next, put on beige loafers and an elegant light taupe coat for a luxe look. A khaki green bag is not only a great way to expand your neutral palette beyond the usual grays, whites, and blacks, but also contrasts really nicely with the blouse, thereby adding further visual interest.
Finish off the ensemble by adding pretty jewelry, such as this multi-strand beaded lavender necklace, sparkly stud earrings, and a classy pearl cuff bracelet.
Outfit #3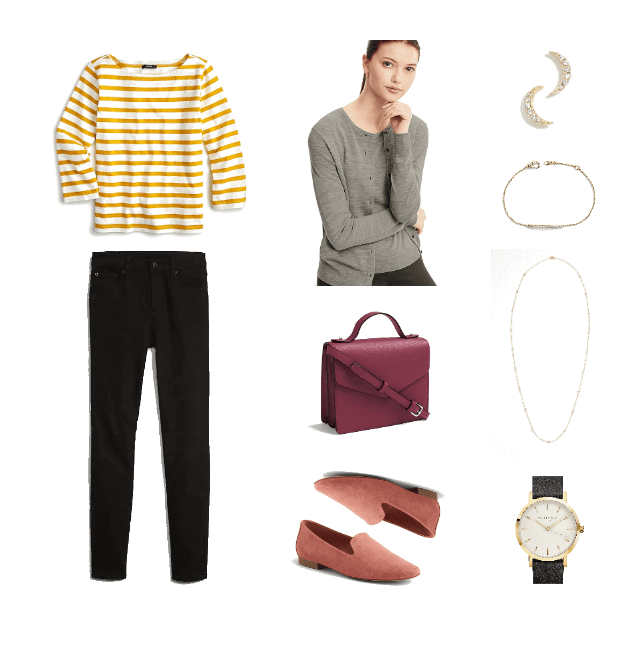 Products: T-Shirt – J.Crew, Jeans – Gap, Cardigan – Uniqlo, Bag – Gap, Loafers – Gap, Earrings – Shopbop, Bracelet – Nordstrom, Necklace – Shopbop, Watch – Nordstrom
This cute and casual look contains several pops of different colors; however, because they're all muted, they work together harmoniously, rather than clashing with each other.
Begin by putting on a mustard-yellow-and-white striped t-shirt. Then, add a pair of black skinny jeans and a simple gray cardigan, which both serve as the perfect canvas for the yellow in the t-shirt to really stand out.
Pick up a burgundy satchel and slip on a pair of dusty pink loafers for a beautiful-yet-unexpected fall combo.
Lastly, put on a pair of pavé crescent moon stud earrings, a bar bracelet, and a dainty long jeweled necklace to complete this sweet outfit.
Outfit #4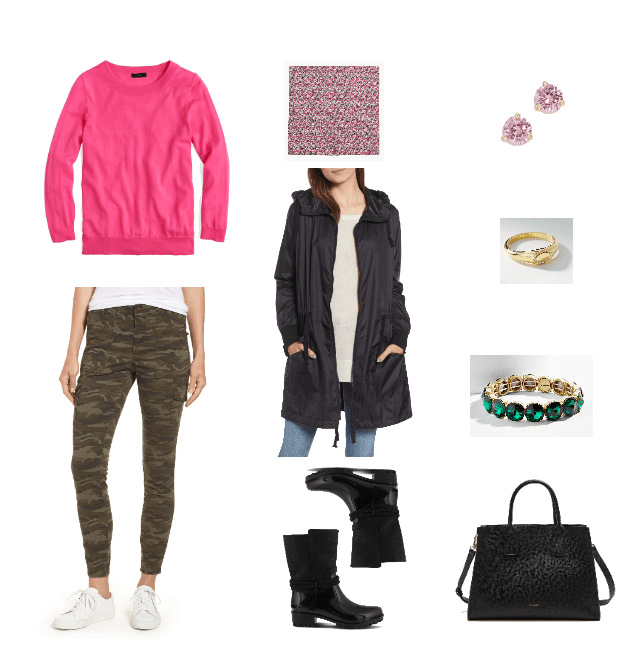 Products: Sweater – J.Crew, Pants – Nordstrom, Bandana – J.Crew, Anorak – Nordstrom, Rain Boots – Nordstrom, Earrings – Shopbop, Ring – Anthropologie, Bracelet – Baublebar, Bag – Mango
This look mixes both neutrals and colors and prints, so it's definitely a little on the bolder side.
To pull it off, you'll want to choose a color scheme and stick to it, so as to avoid looking over-the-top. I chose two neutrals and a color: olive green, black and pink, but you could always reverse this and choose two colors and a neutral instead for a bolder look!
First, put on a bright pink sweater in a classic silhouette, like this pretty round-neck style from J.Crew. Next, put on a pair of olive green camo pants, whose slightly edgier print contrasts with the femininity of the rest of the ensemble.
You can't go wrong with a black anorak and rain boots on days when it's rainy outside; nor can you go wrong at any time with a bandana featuring a beautiful Liberty floral print, a sophisticated saffiano-effect bag, cute pink stud earrings, an oval signet ring, and a sparkly green bracelet to finish off this lovely look.
I hope that these outfits have shown you that adding more color to your look can be both easy and fun, and that they have inspired you to experiment more with color! Thanks for your question!
Do you have a fashion question? Send it to us!
Is there something in your closet that you want to wear but have no idea how to style? Do you need advice on what to wear to an upcoming event? Do you have a specific fashion conundrum? If you have a fashion-related question that you would like to see answered in this column, simply email it to askcf @ collegefashion.net, and one day you might see your question answered right here on the site!
Also, you can now message us your questions on College Fashion's Instagram account, @collegefashion!
What do you think?
Have you ever had trouble integrating color into your wardrobe? If so, how did you end up doing it? Do you have any further advice regarding adding more color to your look?
Let me know in the comments!