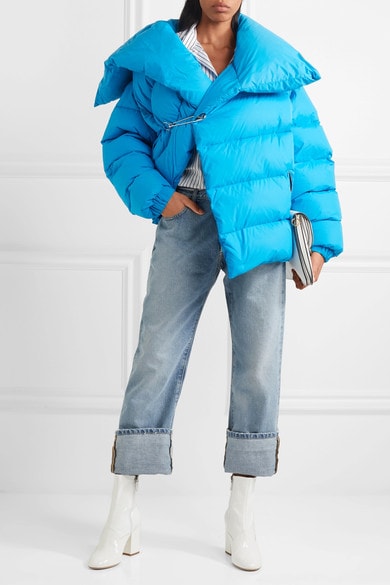 While Fall is usually associated with cozy fashion staples such as chunky knits, boots, and warm coats, sometimes, the weather can get a bit dreary, and it can feel like we're mainly dressing for function, not style.
And, while this can make it easy to fall into a rut of dark colors and dull basics, it doesn't have to be that way. Enter: colorful outerwear, AKA the answer to all of your fall fashion dilemmas!
While colorful outerwear may seem intimidating at first, it's actually not much different from wearing a colorful top or dress. Furthermore, it gives you a great excuse to have fun with an area of fashion which, let's face it, often gets a bad rap for being boring and repetitive.
Ahead, see four colorful coat outfits, and get inspired to try the look for yourself!
(Note: Some of the outerwear featured here is a little more expensive than what we'd normally feature on CF, but they are all amazing, versatile pieces that you'll reach for time and time again.)
Colorful Coat Outfit #1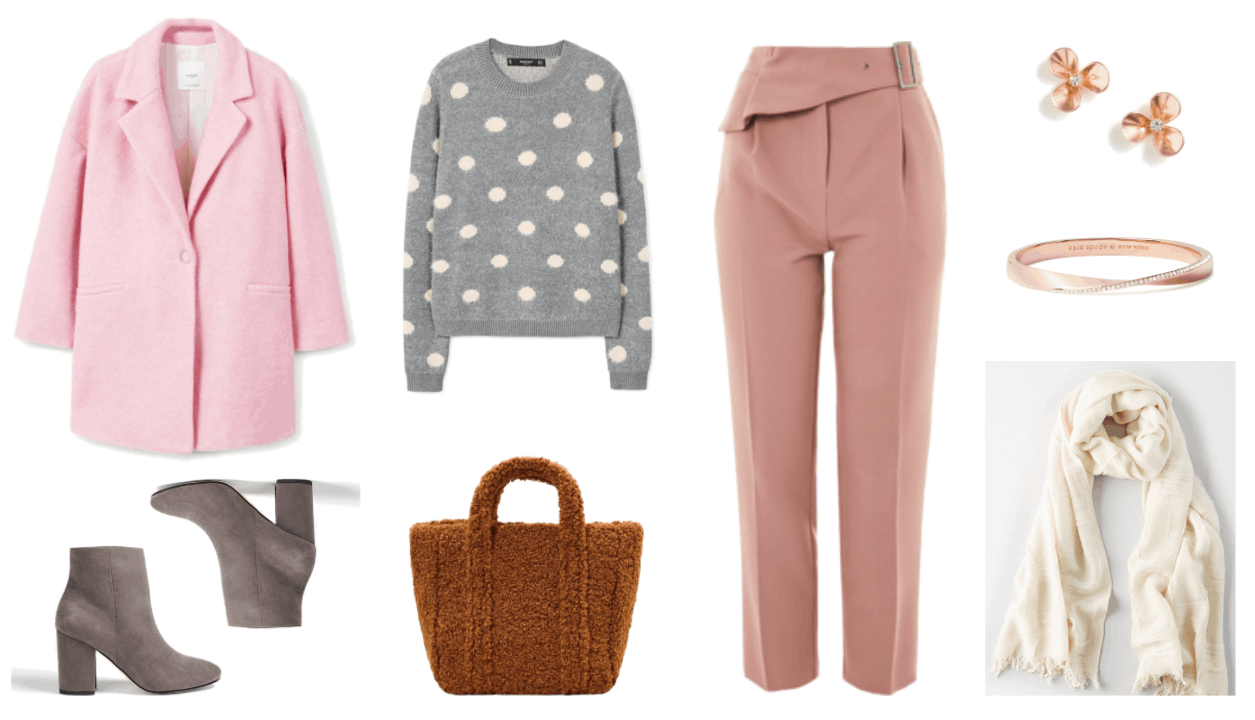 Products: Coat – Mango, Ankle Boots – Express, Sweater – Mango, Bag – Mango, Pants – Topshop, Earrings – J.Crew, Bangle – Bloomingdale's, Scarf – American Eagle Outfitters
This fun and feminine pink coat outfit is perfect for anyone who's looking to start wearing colorful outerwear, but doesn't want to make a huge statement.
To get the look, pair a gray-and-pink polka-dot sweater with some dusty-pink pants; the ruffle detail on these ones from Topshop is so pretty! Next, add some chic gray ankle boots with a block heel and a cute faux-shearling bag.
Accessorize with an elegant pair of rose gold flower stud earrings and a twisted bangle, as well as a cool shredded cream-colored scarf.
Finally, add the pièce de résistance: The bubblegum-pink coat! This coat works well with both neutrals and other colors, making it a piece that you're sure to get lots of use out of.
Colorful Coat Outfit #2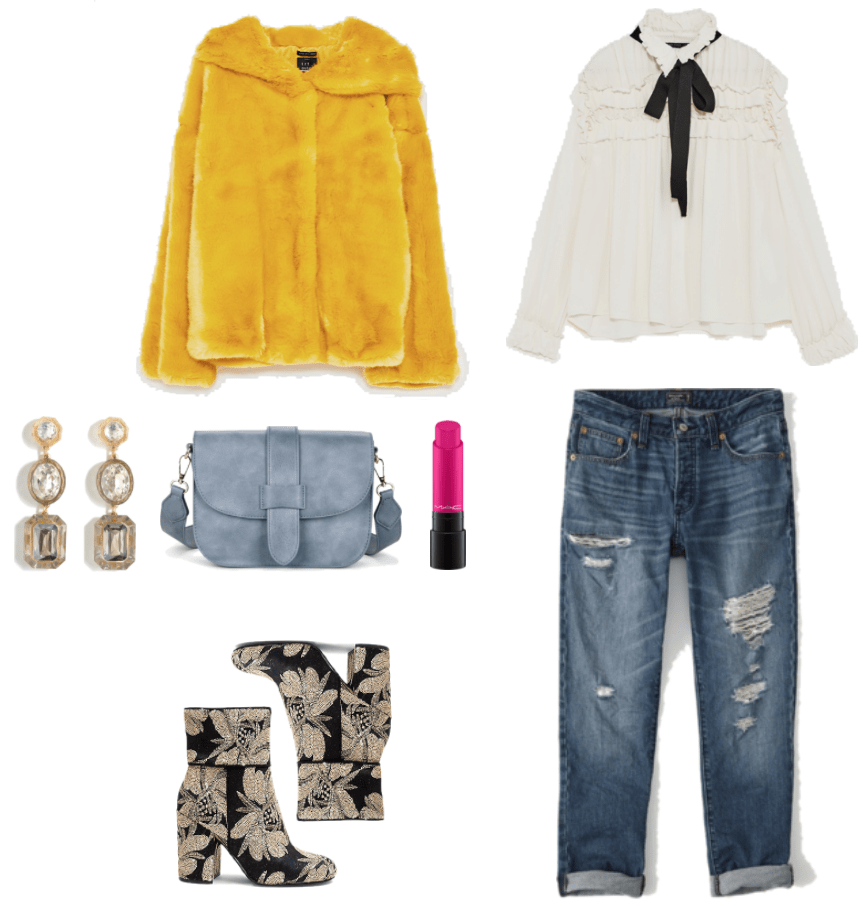 Products: Jacket – Zara, Earrings – J.Crew, Bag – Sole Society, Lipstick – MAC, Ankle Boots – Steve Madden, Blouse – Zara, Jeans – Abercrombie & Fitch
This luxe yellow coat outfit is easy to put together, but it sure doesn't look that way!
Start off by putting on a ruffled tie-neck blouse. Next, add a pair of slim ripped boyfriend jeans. A gorgeous pair of drop earrings and sequin-embellished ankle boots add a heavy dose of glamour, while a light blue cross-body bag adds a subtle pop of color.
Throw on a beautiful faux-fur jacket in a mustard-yellow shade, and swipe on some bright pink lipstick for the finishing touch.
Colorful Coat Outfit #3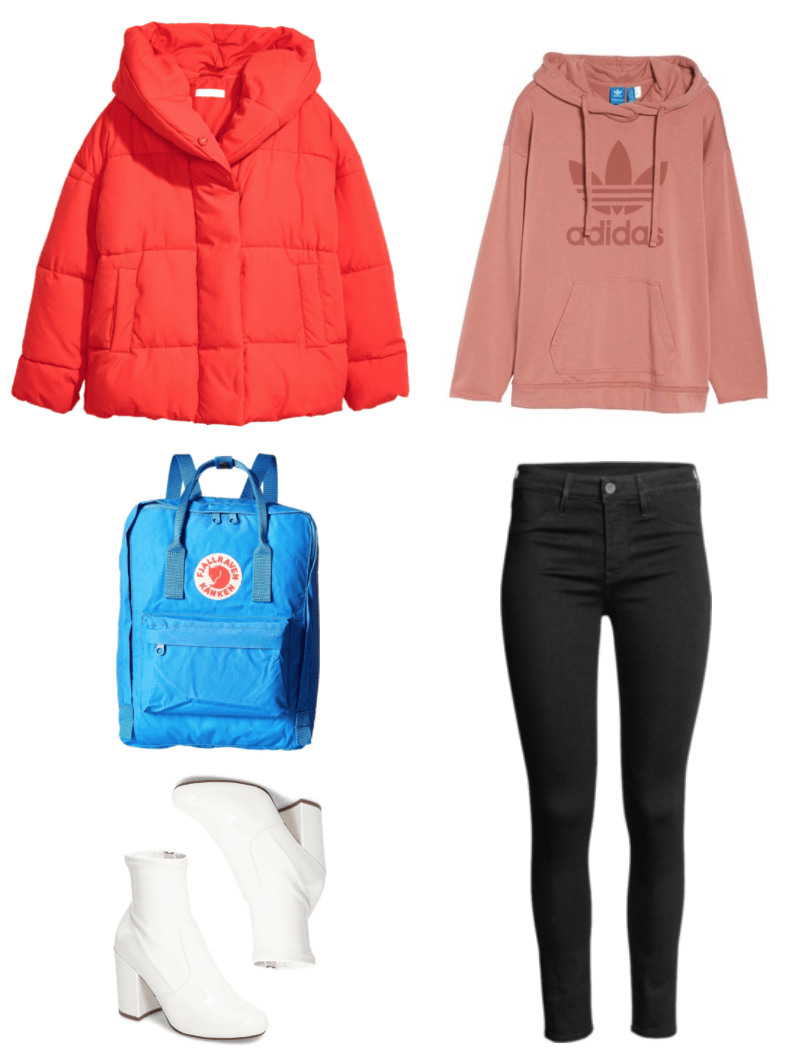 Products: Jacket – H&M, Backpack – Zappos, Ankle Boots – Amazon (Cheaper version here), Sweatshirt – Adidas, Jeans – H&M
Up your wear-to-class outfit game with this sporty and trendy red puffer coat outfit that's so easy to just throw on and go!
Begin by putting on a classic Adidas hoodie. Next, add a pair of basic black skinny jeans. Some white patent ankle boots add an unexpected touch, while a bright red oversized puffer jacket is the perfect outerwear piece to liven up cold and dreary fall days.
Grab a blue backpack to add an extra shock of color, and you're all set to run out the door!
Colorful Coat Outfit #4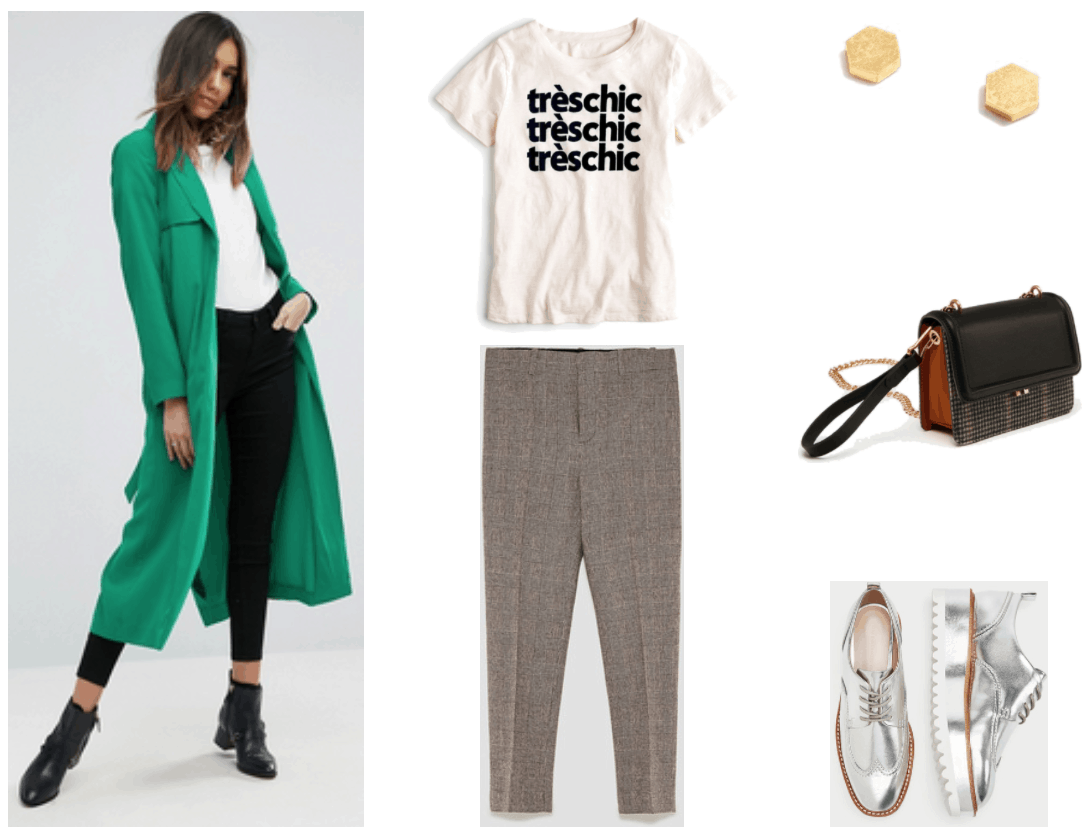 Products: Coat – ASOS, T-Shirt – J.Crew, Pants – Zara, Earrings – Madewell, Bag – Zara, Brogues – Zara
If you like business-casual outfits with a fun and modern twist, this green coat outfit is the look for you!
To recreate this look, begin by putting on a cute graphic t-shirt. Next, add a pair of classy checked straight-leg pants. Accessorize with artsy pieces, such as these gold hexagon studs and mixed-media cross-body bag, and lace up a pair of statement-making silver flatform brogues.
Finally, throw on a green duster coat, and you've got yourself an interesting and unique look that would be great for wearing to a creative job or internship, or even to class on days when you feel like getting a bit more dressed up.
What do you think?
Would you wear colorful outerwear? If so, how would you style it? Which of the outerwear pieces featured here is your favorite?
Let me know in the comments!