A well-stocked closet is the cornerstone of every fashionista's wardrobe, but sometimes, keeping it clean, organized, and up-to-date can seem intimidating and time-consuming.
This is especially true in college, when your time is filled with school and social commitments, and decent closet space is hard to come by–particularly if you're living in a dorm or have to share it with a roommate.
However, maintaining your closet doesn't have to be hard work, nor do you need a ton of closet space to do so.  All you need are some general guidelines as to which items you no longer need, and what to buy instead.
So, keep scrolling to see five things to get rid of (or donate!), and what you should be buying instead.
Toss: Hosiery with holes
Buy Instead: Cute socks and opaque tights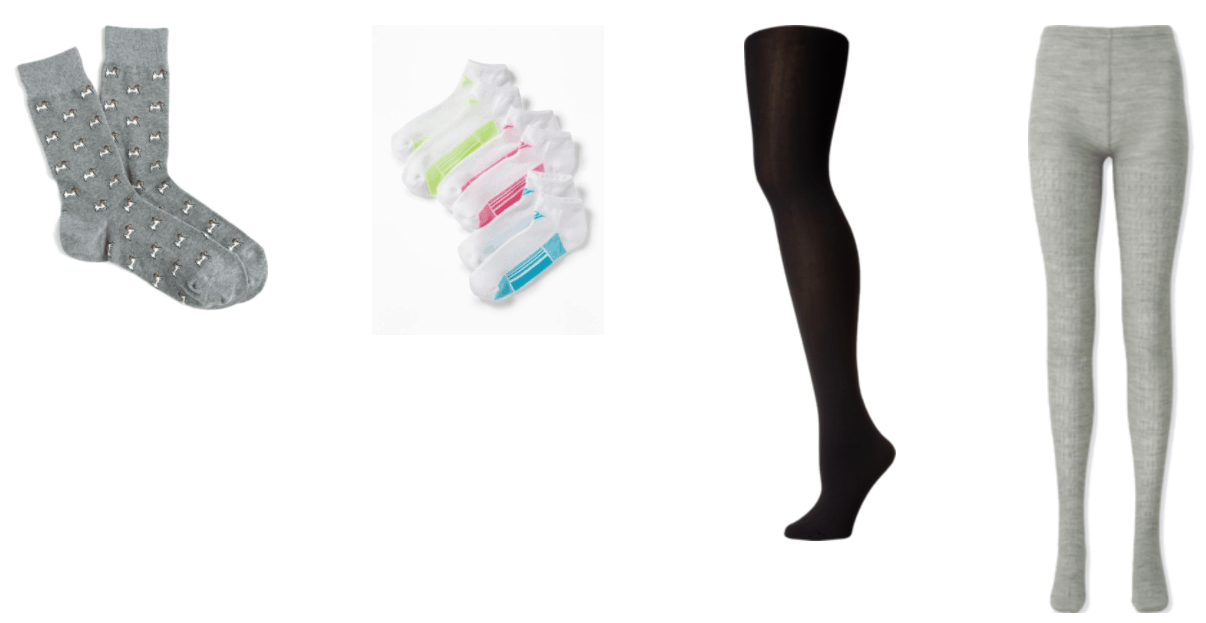 Products: Trouser Socks – J.Crew, Ankle Socks – Old Navy, Black Tights – Zappos, Gray Tights – Uniqlo
Grungy socks or tights can make even the most put-together outfit look a little sloppy, so toss all of your pairs that look like they've seen better days.
To replace your old socks, buy some cute trouser socks (how sweet is the dog print on these ones?!). They'll look great with dressier shoes like loafers. Basic ankle socks are also essential for wearing with sneakers and more casual shoes. (See our guide to the best cute socks for more options!)
In terms of tights, stick with classic opaque ones in solid black, navy, or gray to add sophistication and polish to any look. Also, it's usually a good idea to spend a bit more on tights made of sturdy and non-itchy materials that will keep you comfortable and not rip or run after you wear them a few times.
Toss: Too-tight party dresses
Buy Instead: A chic dress that emphasizes your waist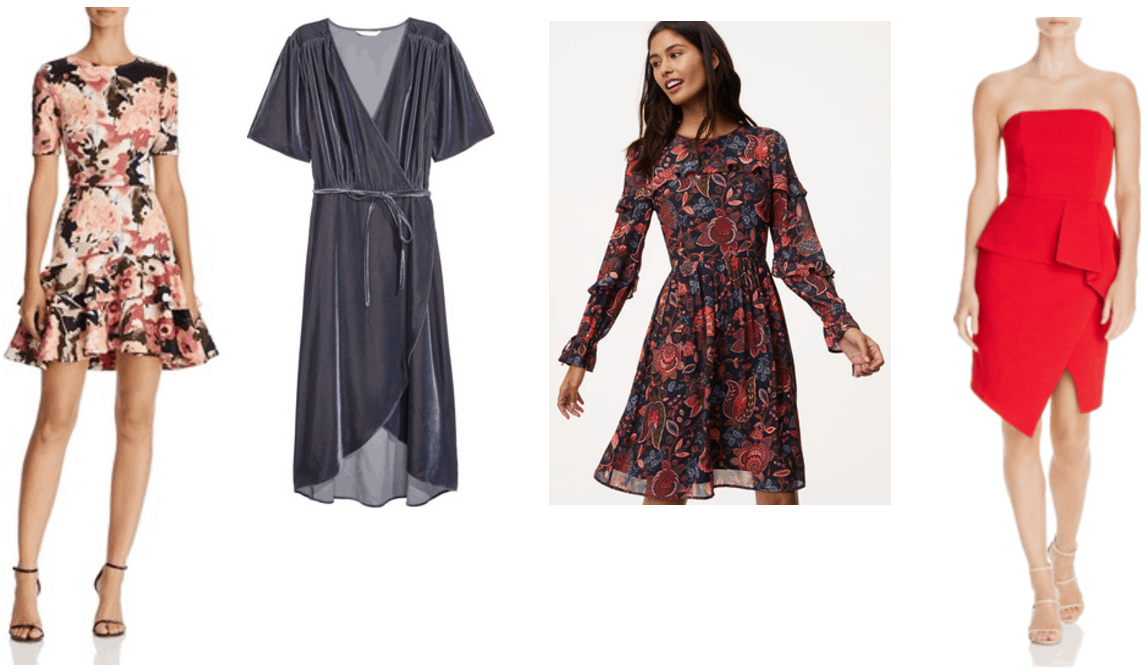 Products: Short-Sleeved Floral-Print Dress – Bloomingdale's, Velour Dress – H&M, Long-Sleeved Floral Printed Dress – Loft, Red Dress – Bloomingdale's 
Let's face it: Those super-tight dresses that many college girls wear to parties and special events might work in college, but afterwards…not so much.
And, because here at CF, we're advocates of smart spending, why not get a dress that will last you through college and beyond?
A classic dress that emphasizes your waist not only looks amazing on absolutely everyone, but is much more versatile and wearable than one that is super-body-conscious. Not to mention that, depending on what style of dress you choose, you might even be able to get away with wearing it to places other than parties/special events.
For example, the velour dress shown here would look so cool with a turtleneck layered underneath and a pair of black heeled ankle boots for class, while the long-sleeved floral dress shown here would look pretty and polished with a pair of opaque black tights and heels for a job/internship interview at a creative workplace!
Toss: Raggedy old sweatpants
Buy Instead: A sporty pair of joggers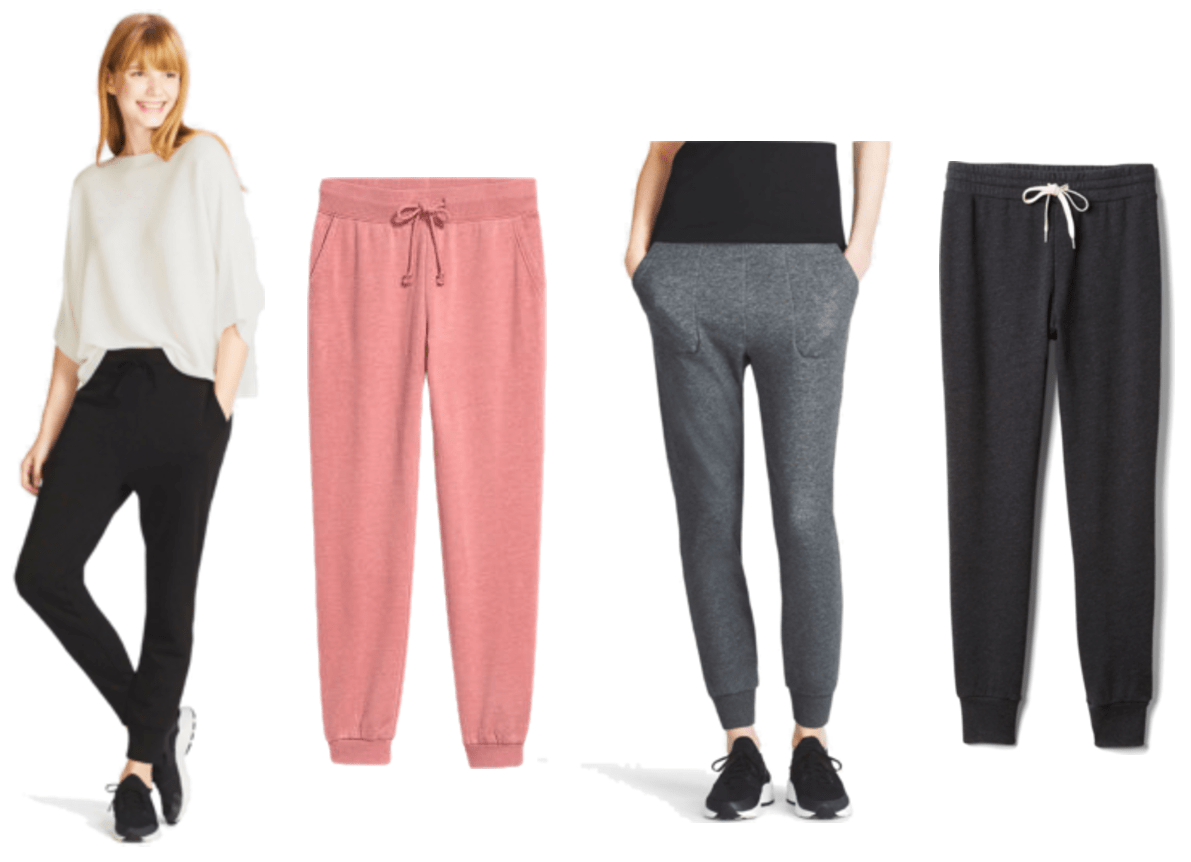 Products: Black joggers – Uniqlo, Pink joggers – H&M, Gray Joggers – Uniqlo, Washed-Black Joggers – Gap
When running small errands or studying in your room, it's tempting to simply throw on a pair of raggedy old sweatpants and call it a day. But why settle for something less-than-stylish when you can wear something that's not just a million times better-looking, but also just as comfortable?
That's where sporty joggers come in. With a slimmer, more tapered fit than your average sweats, these trendy pants are perfect for wearing during late-night study sessions, and can even be styled with a loose-fitting t-shirt, casual sneakers or ankle boots, and a cozy scarf to go to class.
Not only will you look a million times more put-together, but you'll also feel better about how you look, which some people say inspires them to study harder!
Toss: Uncomfortable ultra-high heels
Buy Instead: Shoes that you can actually walk in

Products: Embellished Flats – Zara, Kitten Heels – Zara, Chelsea Boots – Forever 21, Gold Flats – Nordstrom
If you've worn uncomfortable ultra-high heels, chances are you've had to take them off prematurely because wearing them for any longer would have just been too painful.
Thankfully, though, there are other options that look just as good, minus the pain!  Personally, I'm a fan of mid-height heels and kitten heels, but embellished or metallic flats, or even a pair of sparkly ankle boots, are great options as well.
Lastly, unlike super-high heels, these lower pairs are much easier to style for a variety of occasions–not just formal ones. For example, any of the shoes shown here would really dress up a skinny-jeans-and-t-shirt combo for class or going out with friends during the day on weekends.
Toss: Cheaply-made jewelry
Buy Instead: Versatile, high-quality pieces that you'll have for years to come

Products: Earrings – Etsy, Cuff – Saks Off 5th, Ring – Erica Weiner, Necklace – Revolve, Watch – Bloomingdale's
Cheaply-made jewelry can be fun for a little while, but it's hard to justify buying it when you know it's just going to break (or change color) after wearing it a few times.  Not to mention that it's a much smarter shopping strategy to invest in things you'll have for a long time, as I've said before.
Of course, no one's saying that you have to go crazy and spend hundreds of dollars, but setting aside some money for those special glittery earrings or that unique ring can really help amp up your wardrobe!
Also, while many fashion experts recommend going with more classic pieces–such as pearl earrings, a (faux) tennis bracelet, or a menswear-inspired watch–don't feel as though you have to spend your money on those types of things if they aren't your thing.
Jewelry is very personal, after all, and should reflect your individual sense of style and lifestyle.
What do you think?
Do you agree with this list?  What are some items that you would recommend tossing from your closet, and what do you think you should buy instead?  How do you ensure that your closet stays up-to-date?
Let me know in the comments!