This post may contain affiliate links, which means we may receive a commission if you purchase through our links. Please
read our full disclosure here
.
Suspenders probably don't pop out at you as the most trendy item nowadays, but how great of a fashion opportunity does this present? After all, it's always fun to rock something unexpected and try a new look.
When worn correctly, suspenders can give you a chic, androgynous look with a bit of a retro vibe. We know CF readers are fearless, so why not pick up a pair to play with and learn how to style them?
Ready to take on this week's challenge? Read on for ideas to help get you started!
Tips and Tricks for Wearing a Pair of Suspenders
Add them to a pair of shorts. As seen in the photos of Lauren Conrad and Taylor Momsen above, suspenders look cool when attached to a pair of shorts and worn with a comfy t-shirt or tank top. Bonus points if your shorts are high-waisted or nautical!
Try them with a skirt. This is the perfect way to give a basic skirt-and t-shirt combo a nice vintage flair. Just don't let your outfit get too busy — one pattern and two solid colors will look just right.
Dress pants are probably the most obvious way to wear a pair of suspenders (check out Selena Gomez photographed above or any picture of Chuck Bass you can find). Pair your look with a dress shirt, girly heels, and an androgynous watch.
Jeans work well with suspenders, too. Check out Kristen Stewart's look above.
Jumpers can give you the same look as suspenders, but you don't have to worry about buying a new pair or dealing with matching them to a pair of shorts.
Add girly accessories to keep from looking too masculine. Try dangling earrings, a delicate necklace, or a cocktail ring.
Wear with confidence. This is a bold look, so don't you dare leave the house without a huge smile on your face! 🙂
Outfit Inspiration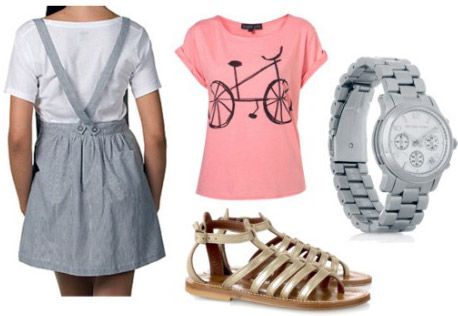 Jumper, T-Shirt, Sandals, Watch
This outfit is girly and sweet – perfect for a summery day at the park! The great thing about this jumper is that the suspenders come with it, taking the hard part out of the equation. Pair it with a simple, pretty t-shirt — I love this bicycle print one because it's cute and quirky without being too busy. Finish with a pair of sandals and a mens watch.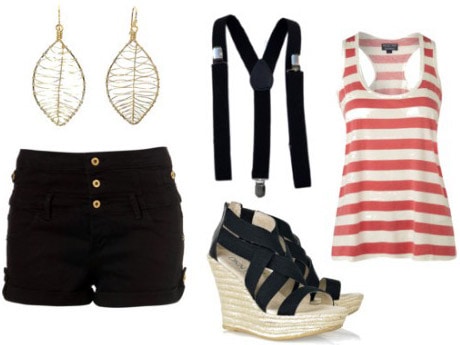 Shorts, Suspenders, Shoes, Tank, Earrings
This outfit makes me think of cute Parisian girls riding around on bicycles with baguettes in their front baskets! To get this look, tuck a striped tank top into a pair of high-waisted shorts, and strap on a pair of suspenders. Finish the look with a pair of wedges and some girly earrings.
Challenge Accepted? Send Us Evidence!
Did you rock a pair of suspenders this week? Take a few snapshot and send them to fashionchallenge AT collegefashion.net along with your name, school, a description of what you're wearing, and any styling tips you might have! Also, include the URL of your blog if you have one for a little extra traffic 🙂
We can't see what you girls come up with!
Thoughts?
What do you think about suspenders? How would you style them? Are you going to take the challenge? Leave a comment and let us know what you think!