This post may contain affiliate links, which means we may receive a commission if you purchase through our links. Please
read our full disclosure here
.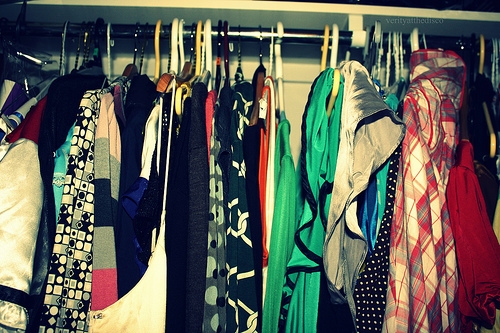 Shopping at thrift stores, to me, has always felt a bit like exercise: I know it's beneficial and gets easier with practice, but most of the time, I'm just too lazy to do it. To tell you the truth, aside from shopping for date party costumes, I haven't thought about going to a thrift store in years — that is, until I asked my friend last week where she got the most adorable romper I've ever seen, and she gleefully replied "the Salvation Army, for six dollars!"
As most of you probably know, there are gems to be found in thrift stores — it just takes a little bit of practice to sort out the wearable pieces from the atrocious. Since school is out, you've probably got a little bit of extra time on your hands. This is the perfect week to take a stroll through a thrift store and pick out an item and wear it for this week's fashion challenge!
Don't know where to begin? Read on for ideas on how to turn thrift store trash into treasure!
Tips and Tricks on Rocking a Thrift Store Find
Quality still counts. This is a no-brainer, but don't waste your money on clothes that are frayed, pilling, or stained. Most of these problems are not fixable.
Clean clothes before wearing them! This should be obvious too, but be sure to wash or dry clean anything you find before wearing it out.
Check out the dress section. Often, an old fashioned dress can be modernized by adding a belt, removing shoulder pads, or shortening a hem.
Get scissor happy. A pair of jeans can be transformed into a pair of boy-shorts, or try making a vest by cutting the sleeves off of a denim jacket.
Look for quirky shirts. Thrift shops are a great place to find old band t-shirts and graphic tees with funny phrases on them.
Pick up a blazer. We did a DIY article a few seasons back on how to make a thrift shop blazer into a unique work of art!
Use the "pre-owned" aspect to your advantage. Look for items like flannel shirts or leather belts that get better over time.
The great shoe debate. Wearing someone else's shoes sort of creeps me out, but I could see where the thrift store could be a great place to look for cowboy boots, high top sneakers, or combat boots. Since socks are typically worn with these shoes, the "ick" factor is minimized.
Accessorize. The thrift shop is a good place to find brooches, cross-body bags, and silk scarves.
Look for novelty items. If you have a costume party of some sort coming up, the thrift store is a great place to begin looking. They have pieces perfect for any hippie, western, white trash, or decades themed party. I found a neon fanny pack at a Goodwill four or five years ago that I still love to wear when I can get away with it!
CF Reader Looks
Caitlin- Simon Fraser University
This blazer I got for $4 at a thrift store and it's one of my favourite pieces in my wardrobe! It's super versatile and can be worn with just about anything. I also got these Paris Blues capris at the same thrift store and wear them all the time. My tip for shopping at thrift stores is to really take the time to go through everything on the rack, because if you just walk in everything can look like junk – you really have to dig and look at each item individually! I shop thrift all the time and have saved oodles of money by doing so, not to mention you can find pieces that no one else will have.
For more of Caitlin's fierce style, check out her blog here!
Rocked the Challenge? Want Some Extra Traffic On Your Blog? Tell Us Your Story!
You girls know the drill: If you took this week's fashion challenge, take some snapshots and send us an email at fashionchallenge AT collegefashion.net along with your name, school, the URL of your blog if you have one, and a description of what you're wearing and how you styled it. We would also love to hear your tips on how to navigate your way through a thrift store!
We'll then post your responses here for everyone to check out. We can't wait to hear from you!
Thoughts?
How do you feel about shopping at thrift stores? Do you do it often? What sort of items do you look for? Are you going to take this week's challenge? Leave us a comment and let us know what you think!