This post may contain affiliate links, which means we may receive a commission if you purchase through our links. Please
read our full disclosure here
.
I don't know about you, but I'm more than excited for September – fall weather means I can rock my favorite scarves, sweaters, and hats from last year and arrive at class without looking and feeling like a sweaty mess! But with temperature changes come wardrobe adjustments, and sometimes transitioning between seasons can be tough. This week's challenge may help you fill in those awkward weeks between summer and fall.
This week, be adventurous and rock a dress with pants!
I know many of you have mixed feelings on this trend. Give the challenge a chance, though–it's a lot easier to pull of than one might think. Think you're ready? Then throw on your fashion thinking caps and read on for some tips for rocking a dress with pants!
Tips and Tricks for Pairing a Dress with Pants
It's all about proportions. I think this trend looks best with a short dress that hits around your mid thigh. Some girls can pull off the look rocked by Jessica Alba in the picture above, but it will overwhelm most frames.
Simple, fitted dresses work best. A dress with a really full bottom half or lots of material and draping may not be the most flattering choice.
Pair a dress with jeans. Skinny jeans or jeggings will no doubt look great with most dresses, but a pair of boot cut jeans or even flares can work, too! Flared jeans look best when paired with a dress that is more fitted around its hemline.
Try it with other pants, too. Linen pants, clam diggers, capris, even yoga pants can look neat when styled the right way!
Did your favorite dress shrink? Or did you get a late growth spurt? If you have a dress that's just a little bit too short to wear comfortably, wear it with a pair of jeans instead of leggings for a fierce look.
3 Dress-Over-Pants Outfit Ideas
Night on the Town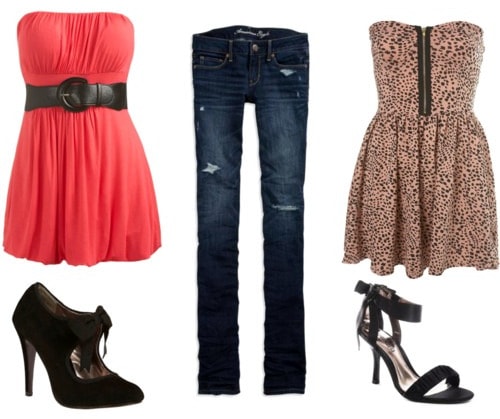 Dress, Heels, Jeans, Animal Print Dress, Sandals
The dresses pictured above are short–they definitely approach tunic territory! Rather than pairing these with opaque black tights, try them out with a pair of skinny jeans. It will give you a more edgy look, and might be the unexpected touch you need to set your outfit apart. Pair your look with a cute pair of shoes and wear with lots of attitude!
Hippie Chic
Pants, Dress, Sandals, Bracelet, Necklace
This looks gives off a laid back, boho-hippie vibe perfect for going to class, a concert, or a walk around your college town! Start with a pair of lightweight linen pants, and pair them with a simple tank dress. This dress by American Apparel has elastic in the waist, giving it a bit of shape. Finish with gladiator sandals, a nautical-inspired bracelet, and a pendant necklace.
Lounging Around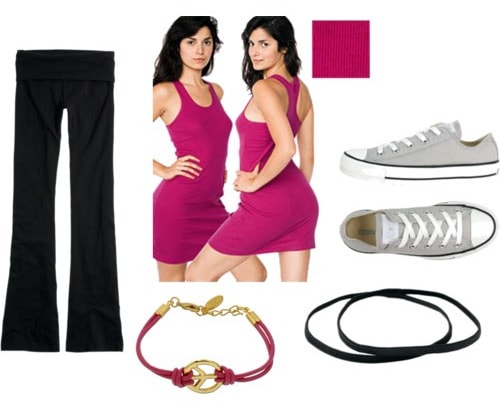 Pants, Dress, Shoes, Headbands, Bracelet
So, I know this look may be a little "out there" for many of you, but hear me out–when it comes to studying or watching tv, nothing is cozier than a t-shirt and pajama pants, right? For an updated take on the loungewear uniform, swap out pajama pants for yoga pants, and pair them with this racerback dress. The dress will be fitted throughout the butt and thighs, balancing out the fullness of the yoga pants, but not so tight that it's restraining.
Finally, throw on a pair of sneakers and a cute bracelet, and keep your hair out of your face with a couple headbands. This look is perfect for lounging in your dorm room, studying in the library, or running errands.
Rocked the Challenge? Send in Photos & Get Featured Here!
Now that you're inspired, we want you to take the challenge and send us photos of your challenge outfit and we'll feature them on CF!
To see your challenge pics here (along with a blurb about you and a link to your blog, if you have one), take some photos of you wearing a dress over pants, and attach them in an email to fashionchallenge AT collegefashion.net with your name, school, blog link (if you have one), and a description of what you're wearing. (See examples here and here!)
Can't wait to see what you girls come up with!
What do you think?
Will you try this fashion challenge, or is it something you already do on a regular basis? How do you keep it looking fab instead of frumpy? What challenges would you like to see in the future? Sound off with a comment!