This post may contain affiliate links, which means we may receive a commission if you purchase through our links. Please
read our full disclosure here
.
Celebs in skinny cargos: Vanessa Hudgens, Rachel Bilson, Jessica Alba, Khloe Kardashian, Leighton Meester
Over the last few months, our Fashion Challenge posts have focused on new ways to put together clothes you already own. (After all, the Carrie Bradshaw in me would love to blow my entire monthly income on clothes, but a girl's gotta eat!) However, sometimes it's fun to play with a trend or two as well. So this week's challenge focuses on a hot trend for fall that I believe is totally worth trying: skinny cargos.
If you don't already own a pair of skinny cargo pants, I highly recommend buying a pair. It's easy for college girls to get in a rut when it comes to leg wear – most girls I see on campus wear only jeans, leggings, or sweatpants – it's so boring! A pair of skinny cargoes will add variety to your wardrobe, without breaking your budget; although these were popularized by J Brand, bargain stores like Forever 21 have nicely cut pairs for around $20!
Hesitant about buying a pair of these because you don't know how to style them? Fear not – skinny cargo pants are a lot easier to style than you'd think! Ready to take on this week's challenge? Read on for ideas on how to style your fierce new pants.
Tips and Tricks for Pulling off Skinny Cargo Pants
Pick a color you can wear with things you already own. I recently bought a pair, but opted for a tan instead of army green because I already have several army green jackets. Besides army green and tan, you can also find these pants in navy, brown, and gray.
Try them with a neutral top. As pictured above, many stars wear these pants with tops in basic colors. Rachel Bilson and Vanessa Hudgens rocked their skinny cargos with loose t-shirts, while Leighton Meester paired her cargo pants with a button-down shirt.
Wear them with something girly. This masculine trend looks awesome when paired with a floral or lace top. It's all about the contrast!
Consider your footwear. Skinny cargos look amazing when paired with sandals, ballet flats, wedges, or heels. If you're feeling really fierce, try them out with some funky high-heeled ankle boots for a leg-lengthening effect.
Pair them with a jacket. This trend looks great with a basic blazer or other basic jacket. A sweater would look great too!
Accessorize. Stack on scarves, necklaces, bangles, rings, sunglasses, or a hat for a fierce look.
Outfit Inspiration – 2 Ways to Wear Skinny Cargos
Outfit #1 – Casual Day Look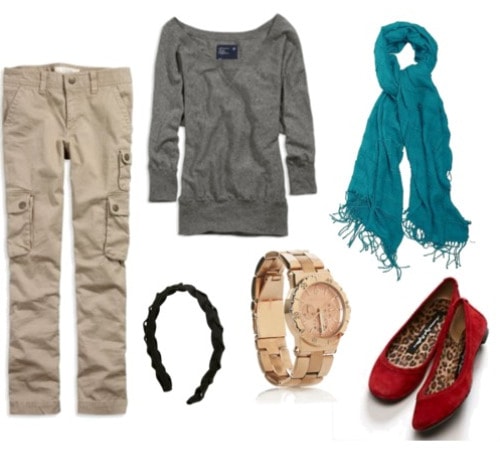 Pants, Sweater, Headband, Scarf, Watch, Flats
This outfit is perfectly casual and ideal for class! Start off with a pair of skinny cargos and pair them with a cozy sweater. The one pictured has bat wing-style sleeves, which adds interest to this otherwise-basic outfit. Accessorize with a colorful scarf, headband, and menswear-inspired watch. Finish with some cute suede ballet flats.
Outfit #2 – Fun "Night Out" Look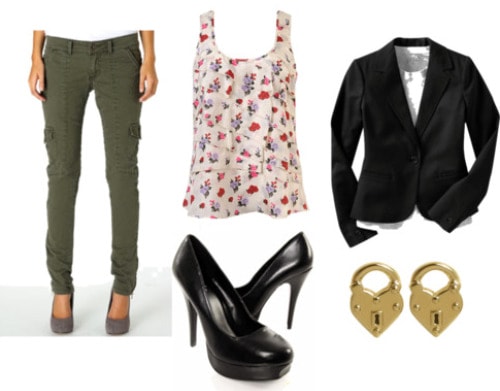 Pants, Floral Top, Blazer, Heels, Earrings
This outfit is perfect for a date or night out with the girls! Pair a ruffly floral top with your skinny cargos for some chic contrast, and dress up the outfit with a pair of black pumps and a black blazer. The blazer could easily be swapped out for a cardigan if that is more your taste. Finish with some cute jewelry.
Rocked the Challenge? Send in YOUR Outfit & Get Featured Here!
Did you sport a pair of skinny cargo pants this week? Did you just buy an amazing pair? Send us a picture of you wearing this look and we'll feature you here (see pastexamples) to help inspire other CF readers!
To get featured here, send your outfit photo via email to fashionchallenge AT collegefashion.net, and include your name, school, a description of your outfit, and your blog URL (if you have one). Can't wait to see what you come up with!
Thoughts?
Is this a trend you've already been rocking? What are your favorite things to pair it with? What fashion challenges would you like to see in the future? Can't wait to hear what you all think!