This post may contain affiliate links, which means we may receive a commission if you purchase through our links. Please
read our full disclosure here
.
Despite my affinity for heels and wedges, sometimes my feet need a break! Ballet flats and boat shoes certainly make great alternatives, but if you're like me, you love making a statement (even on your laid-back days).
Once reserved for hipsters or basketball players, high-top sneakers are on their way to making a full-fledged comeback on college campuses. I was hesitant to buy a pair at first, but when I spotted the perfect pair of black, yellow, and pink Nike Dunks on sale at an outlet mall, I knew I had to have them!
It took me a little while to figure out how to style these babies — at 5'2", shoes with no heel and thick ankles can easily make me look stumpy. But I did a bit of research and found out that my new high top sneakers can be stylish and flattering if worn correctly.
Ready to take on the challenge? Read on for secrets to pulling this look off right!
Tips and Tricks for Wearing High-Top Sneakers
Make a statement on your lazy days. Most people reserve sneakers for their "blah" days — I know I do! The great thing about high top sneakers is that they push boundaries just enough to make a statement without being over-the-top. Pair them with jeans and a hoodie for an extra kick.
To tuck or untuck? Stars like Sam Ronson like to tuck their skinny jeans into their high-top sneakers, whereas Leighton Meester prefers to wear hers with skirts. I think they look cool with a pair of untucked boot cut jeans as well!
Scared you're channeling middle school emo vibes? Don't worry. As long as you don't pair your high-tops with neon leggings, a bandana, and Taylor Momsen-inspired makeup, all at the same time, you should be fine.
Outfit Inspiration
Outfit #1: Sporty and Casual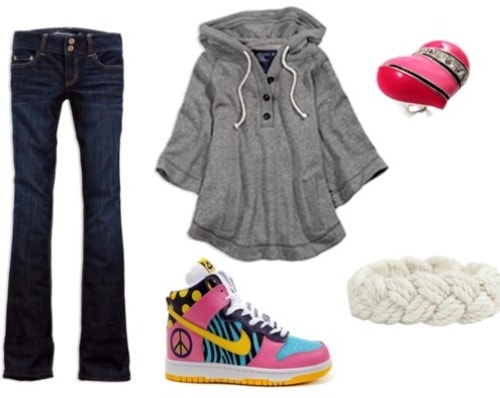 Jeans, Hoodie, Dunks, Bracelet, Ring
This outfit is perfect for a lazy day at class! Boot-cut or slightly flared jeans go great with high top sneakers — they'll fall over the sides of the shoe, but leave the front on display. Next, just pull on a hoodie and simple accessories and you're good to go!
Outfit #2: Classic and Cute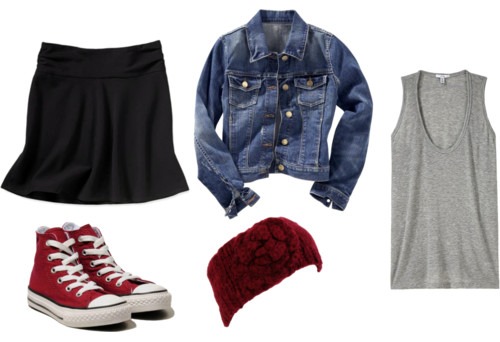 Skirt, Jacket, Tank, Converse, Headband
This outfit combines quite a few classic pieces, but is far from boring! Tuck a plain tank top into a black skirt, and throw a denim jacket on top for warmth. Lace up some high-top Converse All-Stars and finish with a cozy knit headband.
Outfit #3: Trendy and Daring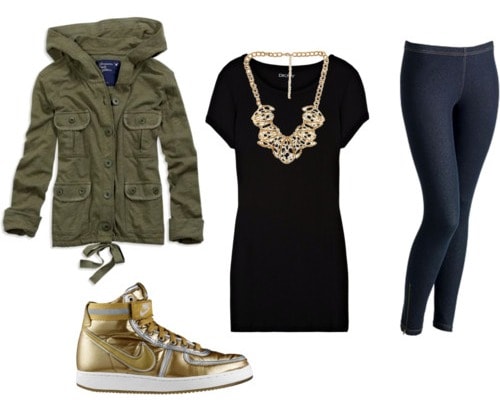 Jacket, Dress, Necklace, Jeggings, Dunks
This urban-chic outfit is a little daring, so be sure to rock it with lots of confidence! Wear a simple pair of jeggings under a black t-shirt dress, and add an on-trend military jacket. Strap on the loudest pair of sneakers you own, and accessorize with pieces that will make your shoes pop!
Rocked the Challenge? Send in Your Photos!
Now that you have some ideas, we want to see how YOU wear your favorite high-top sneakers! Send a photo of you wearing this look along with your name, school, a description of what you're wearing, and your blog's URL (if you have one) to fashionchallenge AT collegefashion.net.
We'll feature your photos here to inspire other CF readers! Can't wait to see what you come up with.
What Do You Think?
Do girls at your school wear high-top sneakers? What are your favorite things to pair them with? What do you like to wear on lazy days? What fashion challenges would you like to see in the future? Sound off with a comment!