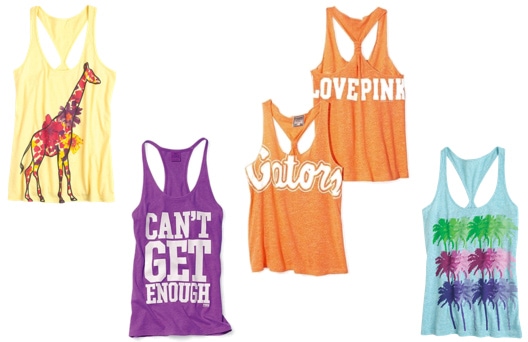 Party Tanks (L-R): Delia's, Victoria's Secret, Victoria's Secret, Delia's
As college girls, we've seen our fair share of ridiculously popular items on campus that aren't necessarily the cutest or most stylish pieces on the market (Uggs, Sperrys, North Face jackets, etc). Back in high school these items would have been our closet staples, but these days, it's safe to say that most CF readers don't like to blend in with the crowd.
In the same realm as Uggs, Sperrys, North Faces, and the like are party tanks — simple over-sized racerback tank tops typically decorated with a student organization's graphic on the front or back. These tanks have been seen all over college campuses for the past few years. While these tops are comfortable and fun, they are usually associated with lazy days at the pool or the "sorority" uniform – they're not exactly the most fashion-forward items around.
Own at least a dozen party tanks, but aren't sure how to wear them and still look fashion-forward? Read on for tips and tricks!
Tips and Tricks for Adding Style to Your Party Tanks
It's all about layering. Try wearing one under a cardigan or jacket, over a bandeau bra, or throw on a bright colored tank top underneath.
These colorful tank tops usually have a bit of a retro feel to them. Play up this vibe by wearing one with a track jacket or a pair of high-top sneakers.
To avoid looking like a walking cliche, it's probably best to avoid wearing these tanks with a pair of Nike shorts, Sperry's, and a neon-colored hat, a look that could have you confused with an advertisement for Total Frat Move.
As always, accessories are the easiest way to make an outfit look intentional and stylish. Try wearing a party tank with a fedora, sunglasses, or cute jewelry.
As stated before, these make great swimsuit cover-ups. Rock them with some foxy Daisy Dukes and gladiator sandals for a boost of style.
The truth is, we all have our lazy days where fashion is just not at the top of our list. Your favorite party tank under a cardigan and a pair of jeans can be a nice upgrade from a t-shirt and sweatpants.
Outfit Inspiration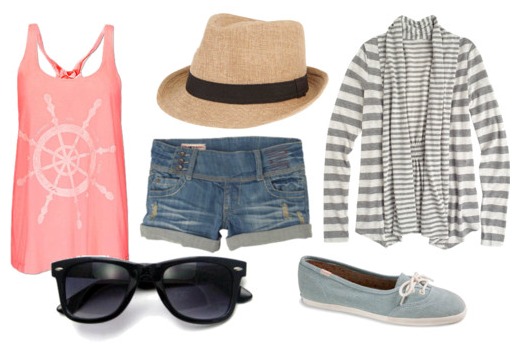 Tank, Shorts, Cardigan, Shoes, Hat, Sunglasses
A graphic party tank can be styled up for warm weather with a cute striped cardigan and retro-inspired denim shorts. Keep it looking fashion forward with a fedora, and stay cozy by finishing the outfit with canvas shoes and a pair of sunnies.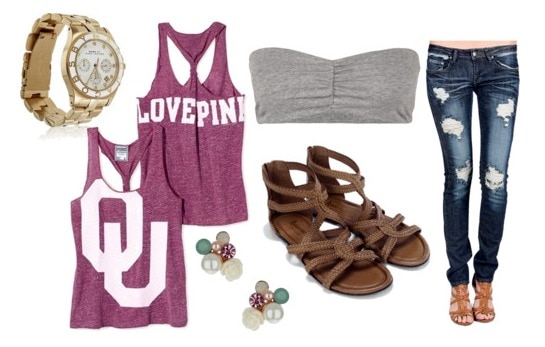 Tank, Jeans, Bandeau, Sandals, Earrings, Watch
Okay, so I couldn't resist doing a small shoutout to OU here (Boomer Sooner!), but Victoria's Secret makes this cute tank for tons of different schools, so feel free to substitute your own college's tank here. Wearing a bandeau top underneath (which was a HUGE trend a few seasons back, and can still be seen on college campuses) will keep you cool without exposing too much skin. Finish with a pair of distressed jeans, gladiators, and some simple jewelry.
Rocked the Challenge? Send Us Your Photos!
Did you take your party tank and turn it into a fashion statement? Send your photos to fashionchallenge AT collegefashion.net along with your name, school, a description of what you're wearing, and the URL of your blog if you have one. We'll feature your photo here to inspire other CF readers (and drive a little extra traffic to your blog).
Can't wait to see your pics!
Thoughts?
Are party tanks popular at your school? Do you think they can be styled in a fashionable way, or is it impossible? What other pieces are really popular at your college? What future fashion challenges would you like to see? Let us know what you think by leaving a comment!