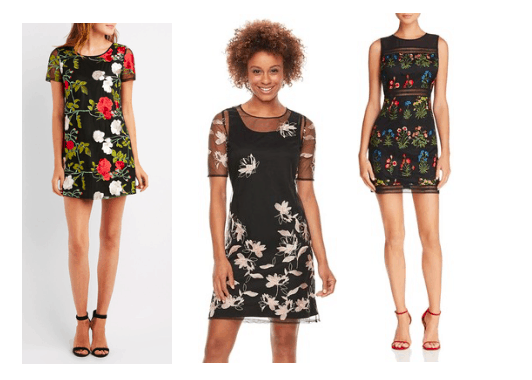 With a single turn on a runway, what was old is now new again. Embroidered fashion dates as far back as fifth century BC, and more recently, was a massive trend in the 1970s.
Over the past year or so, the embroidered fashion trend has taken off again, led by fashion houses like Gucci and Valentino. And we, naturally, are huge fans of the look.
Want to rock embroidery on campus? We recommend an embroidered dress — it's dramatic, interesting, and surprisingly versatile. We liken it to fall's take on the summer floral dress.
So lets embrace our inner flower child with an embroidered dress, and take it from day to night.
How to Style an Embroidered Dress for Class: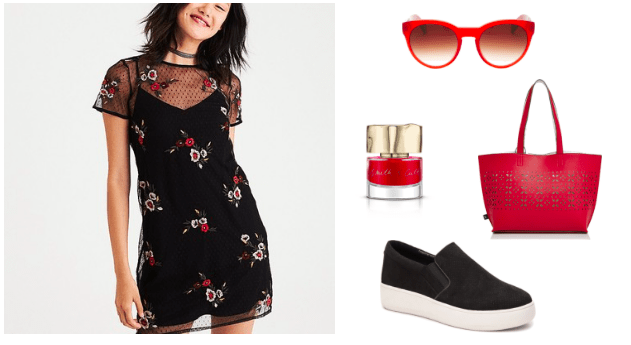 Products: Dress – American Eagle, Shoes – DSW, Nail Polish – Saks 5th Avenue, Tote – Bloomingdales, Sunglasses – Nordstrom Rack
This black floral embroidered dress from American Eagle is gorgeous and surprisingly affordable. (Embroidery, due to its intricate nature, can often be quite expensive!)
At first glance you might think this dress would be strictly reserved for a nighttime look. However, with the right accessories, you can absolutely make it daytime-appropriate.
For this look, we're going to dress it down with a pair of leather slip-ons. (You can further dress it down by throwing a medium-length denim jacket, like this one, overtop.) This red tote bag holds your books while bringing out the red flowers on the dress.
As you're jetting off to class, don't forget your sunnies! These red shades are super cool and it might be one of your last opportunities to wear them before winter clouds roll in.
How to Style an Embroidered Dress for a Night Out: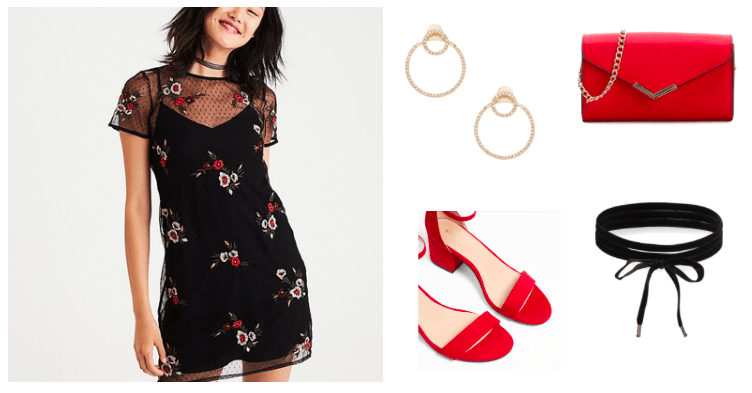 Products: Dress – American Eagle, Shoes – Express, Earrings – Revolve, Purse – DSW, Necklace – Boohoo
After a long day of classes, it's time to enjoy a night out. As with our daytime outfit, red is going to continue as our pop of color throughout the night.
To transform this look, we're going to ditch our slip-ons for a pair of bright red heels. This red purse from DSW pairs well with our shoes and overall look. The sheer overlay of the dress provides a great transition to the slip dress as we make our way into fall, and subsequently cooler nights.
Are you into the embroidered clothing trend?
Are you loving this trend as much as we are? Do you have an embroidered dress? If so, how do you style it? Let us know in the comments.