Products: Sweatshirt, Jeans
You know those days – the ones where you roll out of bed (after hitting the snooze button too many times), stumble into your closet, and have no idea what to wear? Our series Easy Outfit Formulas is here to help! Every other week, I'll feature two items (which you might own already) that can be paired into outfits for those days when you need some quick and easy inspiration.
A sweatshirt and baggy jeans are classic lazy day staples, but did you know they can also look chic enough for a night on the town? Try taking these comfy and casual pieces up a notch with a printed or graphic sweatshirt (to add some visual interest) and a pair of trendy boyfriend jeans.
With the right accessories, these pieces can easily take you from a day of classes to running errands to an evening with friends. Here are three ways to wear this outfit formula:
Look #1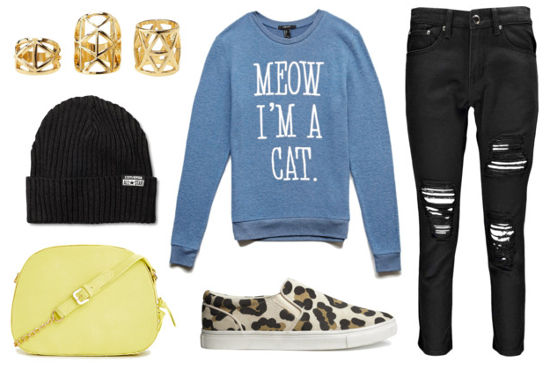 Products: Sweatshirt, Jeans, Hat, Sneakers, Bag, Rings
I like to think of this first look as being a modern take on grunge. It starts with black, ripped boyfriend jeans and a fun graphic sweatshirt. To keep with the sweatshirt's feline-themed message, try a pair of comfy slip-on leopard sneakers. Add a black beanie for warmth. Lastly, balance out the grunge with a sleek yellow crossbody bag and geometric gold rings.
Look #2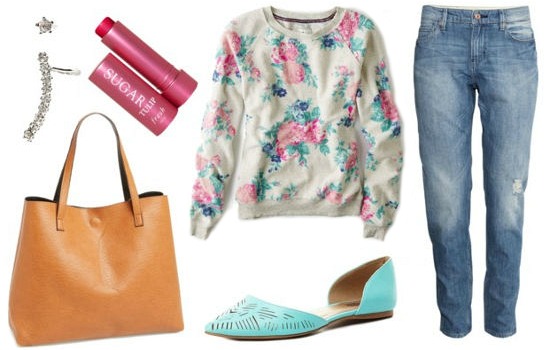 Products: Sweatshirt, Jeans, Flats, Bag, Lip Balm, Ear Cuff
For a more feminine touch on this formula, try pairing a floral sweatshirt with light wash boyfriend jeans. Add a pair of cute pastel flats, a faux leather tote, and a swipe of tinted lip balm for the perfect casual weekday ensemble. Don't forget a bit of edgy sparkle with a trendy rhinestone ear cuff.
Look #3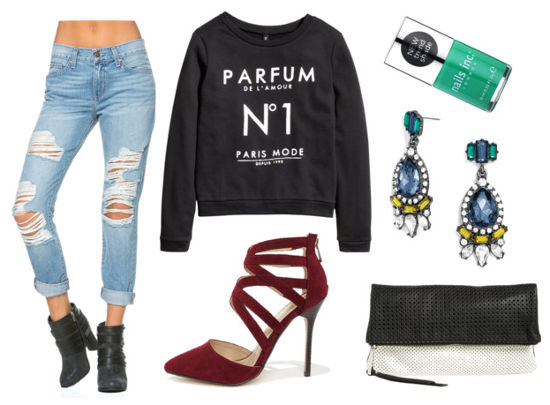 Products: Sweatshirt, Jeans, Heels, Clutch, Earrings, Nail Polish
Now, the pièce de résistance: here's how to make this casual combo work for a night out. Pick a simple black-and-white sweatshirt paired with distressed boyfriend jeans, then add a pair of bold, strappy heels. To finish the outfit with a chic and adventurous vibe, add statement earrings, a sleek clutch, and a bright nail polish.
Thoughts?
Which outfit is your favorite? Would you wear a graphic sweatshirt and boyfriend jeans as an alternative to your lazy-day sweats? Let us know in the comments!