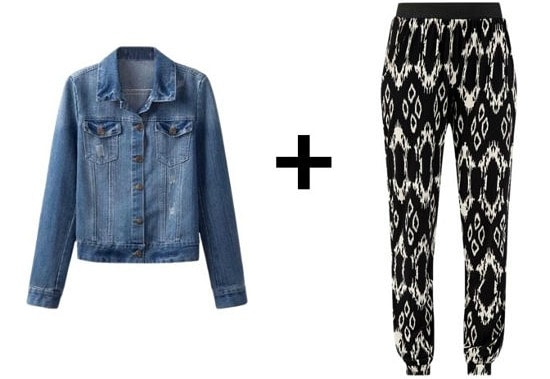 You know those days – the ones where you roll out of bed (after hitting the snooze button too many times), stumble into your closet, and have no idea what to wear? Our series Easy Outfit Formulas is here to help! Every other week, I'll feature two items (which you probably already own) that can be paired into outfits for those days when you need some quick and easy inspiration.
This week's combo is the perfect pairing of a neutral go-with-everything staple – the denim jacket – and a trendier, bolder piece that also deserves a place in your wardrobe – printed pants.
If you love your denim jacket but just end up wearing it the same way over and over, this is a great way to mix things up and try something new and stylish. Brighten up a dreary fall day with one of the fun looks below:
Chic & Sophisticated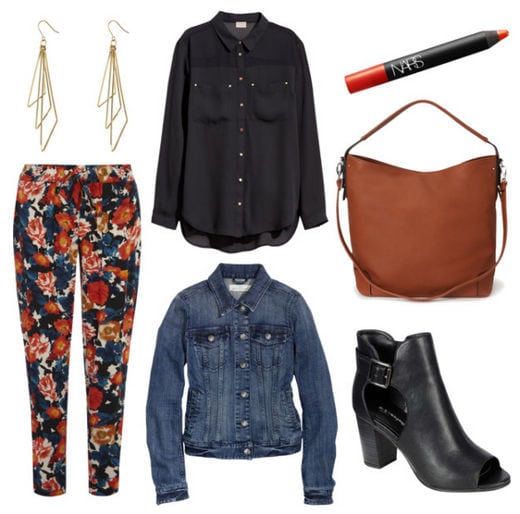 Product Info: Pants, Blouse, Jacket, Booties, Bag, Earrings, Lip Pencil
If your style is a little more polished and sophisticated, or if you constantly find yourself perusing trendy street-style blogs, this is the perfect outfit to channel your fashion sense to a casual campus setting.
Start with a comfy pair of loose-fitting floral pants and a sleeveless black blouse, then layer on your trusty denim jacket. A simple faux leather tote is perfect for class, while a pair of cutout black booties add a touch of cool. Lastly, dress up the look with dangly gold earrings and a bright red-orange lip.
Casual & Eclectic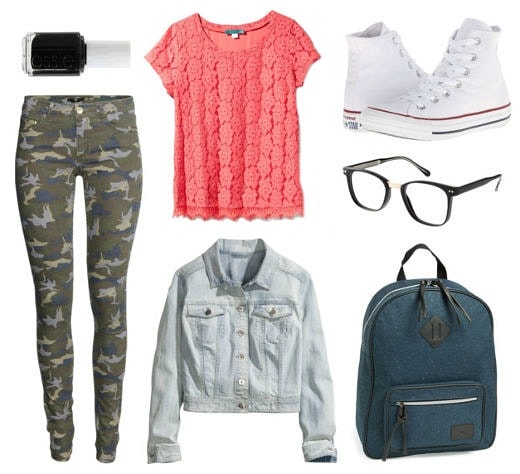 Product Info: Jeans, Top, Jacket, Backpack, Sneakers, Glasses, Nail Polish
If you love color and print and your style tends to be more eclectic, try this fun but casual look. Start with a pair of trendy camo print jeans, then add a pink lace blouse for a bold color statement and contrasting texture. Add on a light wash denim jacket and a pair of white high-top sneakers to help keep the outfit from looking too over-the-top. Before heading off to class, throw on a simple teal backpack, a pair of nerdy-but-cute glasses, and a coat of edgy black nail polish.
Comfy Grunge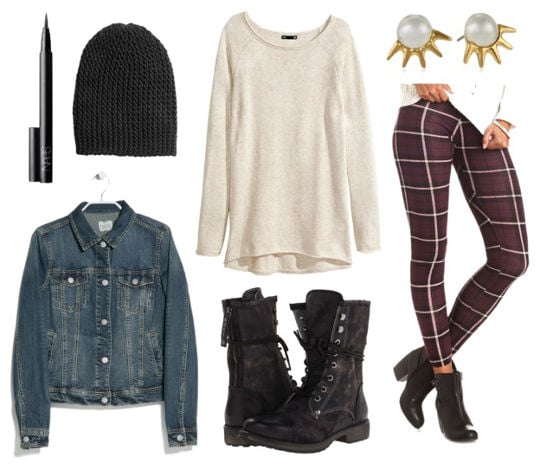 Products: Sweater, Jacket, Leggings, Boots, Earrings, Beanie, Eyeliner
This look is grungy and cool, but is also easy to pull off on one of those just-rolled-out-of-bed mornings. Simply throw on a pair of plaid leggings with a long, beige tunic sweater and your denim jacket over the top. Distressed black combat boots and a knit black beanie help toughen up the ensemble, but for the full effect, add a pair of spiked earrings and some bold black eyeliner.
Thoughts?
Would you wear this outfit formula? Which look is your favorite? How would you style a denim jacket and printed pants? Let us know in the comments!